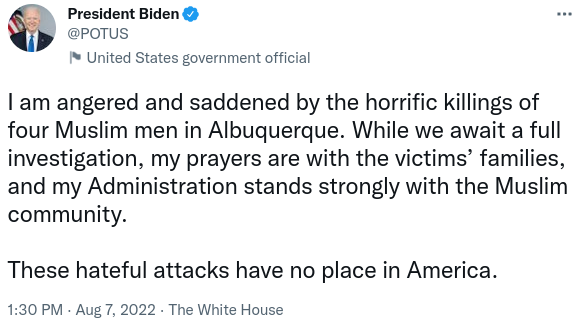 ITEM 1: The Daily Beast reported, "Marriage of Suspect's Daughter Eyed in Albuquerque Slayings."
Paragraph 4 said, "Ahmad Assed, president of the city's largest mosque, told The New York Times that authorities informed him the shooter is a Sunni Muslim who may have targeted the victims because he was angry over his daughter marrying a Shiite Muslim."
Biden says his administration stands with the Muslim community.
Shi'a or Sunni?
Can we just stop with this nonsense that America is filled with a bunch of intolerant madmen? Most murders are within the tribe. Whites mainly kill white people, blacks mainly kill black, Indians mainly kill Indians, and so on.
But racists like Biden want to keep things stirred up.
ITEM 2: The Foreign Desk reported, "Following the military conflict between the Palestinian Islamic Jihad and Israel from Aug. 5-7, criticism was leveled in Saudi Arabia and the United Arab Emirates against the terror organization entrenched in the Gaza Strip, appearing in both the press and social media.
"According to a report by MEMRI, critics claimed, among other things, that the PIJ is an Iranian proxy organization acting for the benefit of Iranian interests and thus inflicting suffering on Gaza residents. Further, they argued that the conflict erupted due to Iran's desire to expedite nuclear talks in Vienna. One writer criticized the launch of Iranian missiles from within the civilian population in Gaza.
"Elements in Saudi Arabia and the UAE also mocked recent statements by commanders of Iran's Islamic Revolutionary Guard Corps (IRGC) warning that Israel would pay a high price for its crimes in Gaza and that Hezbollah would strike Israel hard when the time was right. They questioned why Iran was not following through on its threats."
Most of the Arabs gave up on Palestine terrorism long ago. Saddam Hussein kept funding it. Now Iran does.
Nobody likes Iran. Not even the Iranians.
ITEM 3: The FBI raid of Mar-a-Lago has backfired.
Breaking: https://t.co/zt3c5Nkwh6 is shattering all fundraising records and I'm told has raised more money in the past 24 hours than ever before in recent history! The American people are pissed!

— Eric Trump (@EricTrump) August 10, 2022
Bigly.
ITEM 4: Politico reported, "GOP Rep. Jaime Herrera Beutler has lost her bid for reelection in a primary in Washington state, the latest blow for the group of 10 House Republicans who voted to impeach then-President Donald Trump early last year."
Liz is next.
ITEM 5: But those hearings were worth losing her job because it changed public opinion so much that...
New Monmouth poll finds the January 6th hearing has had almost no effect on public opinion pic.twitter.com/ry3UUB9r53

— Ryan James Girdusky (@RyanGirdusky) August 9, 2022
..never mind.
ITEM 6: The New York Post reported, "The Biden administration quietly ended the Trump-era Remain in Mexico immigration policy Monday — clearing the way for potentially tens of thousands more migrants to enter the US.
"In a late-night statement, the Department of Homeland Security announced it would no longer enroll asylum-seekers in the Migrant Protection Protocols program – which forced about 70,000 people south of the border over the past three years to await their immigration hearings."
Hold the hearings in New York City.
ITEM 7: CNN ran a column that began, "Imagine if America's ultra-wealthy invested the financial gains they made during the pandemic in affordable housing, child care centers or any of our country's other urgent human needs.
"As of May, U.S. billionaires had seen their wealth rise by more than $1.7 trillion — an increase of almost 60% since the beginning of the Covid-19 crisis, according to the Institute for Policy Studies and Americans for Tax Fairness. They could easily marshal their vast resources to make people's lives better — or at least blunt the pain many are still feeling from the height of the pandemic."
The federal government has invested (spent) trillions of dollars on social programs.
The poor are still there.
Oh, public housing has improved. It has AC now.
You want wealth equality? Get off your ass and work.
ITEM 8: Post Millennial reported, "An unsent resignation letter from US Army General Mark Milley, the chairman of the Joint Chiefs of Staff, has been released in an article by the New Yorker. The letter reads like that of a petulant teenager airing grievances, and shows you can somehow get degrees from the Ivy League without learning how to properly express yourself at an elite level. (Milley has three degrees, from Princeton, Columbia, and the US Naval War College).
"The letter was written in the days after the events that unfolded at Lafayette Square on May 29, 2020, when President Donald Trump held up a Bible in front of a church that had been burned by militant activists during one of the several nights of civil unrest that took over Washington, DC."
Milley is a clown. He's a North Korean general with tons of participation medals who is blindly loyal to the party that controls the capital.
A real man who felt that way would have quit and never looked back.
But like his old high school football teammate Richard "Rachel" Levine, Milley does not know how to be a man.
The letter shows he's sufficiently woke to get a nice six-figure salary to go with that six-figure pension. Maybe he will get a million-dollar advance to write one of those Orange Man Bad books.
Clowns make money.
BRAG OF THE DAY: I made The Compendium of quotes for writing, "The FBI cannot a solve a crime it did not commit itself."
I don't remember writing it.
The actual quote is more likely, "The only crimes these Clouseaus solve are the ones they commit."
Close enough.
ITEM 9: Bloomberg reported, "It was only a matter of time, really.
"Europe's fertilizer plants, steel mills, and chemical manufacturers were the first to succumb. Massive paper mills, soybean processors, and electronics factories in Asia went dark.
"Now soaring natural gas and electricity prices are starting to hit the US industrial complex.
"On June 22, 600 workers at the second-largest aluminum mill in America, accounting for 20% of US supply, learned they were losing their jobs because the plant can't afford an electricity tab that's tripled in a matter of months. Century Aluminum Co. says it'll idle the Hawesville, Kentucky, mill for as long as a year, taking out the biggest of its three US sites. A shutdown like this can take a month as workers carefully swirl the molten metal into storage so it doesn't solidify in pipes and vessels and turn the entire facility into a useless brick. Restarting takes another six to nine months. For this reason, owners don't halt operations unless they've exhausted all other options."
There is plenty of coal in West Virginia.
Only an idiot would not use it.
We have a half-million idiots living in Washington.
Sigh.
ITEM 10: Remember when the Biden administration's response to rising gasoline prices was to go electric?
Ford raises price of F-150 Lightning EV due to significant battery cost increases @CNBC https://t.co/EiPFqD6FLn

— Jake Novak (@jakejakeny) August 10, 2022
Sweet.
ITEM 11: The Center Square reported, "The U.S. Bureau of Labor Statistics released new economic data Tuesday showing the sharpest quarterly decline in labor productivity since 1948.
"BLS reported a 4.6% decrease in labor productivity in the second quarter of this year as the economy shrank and labor costs rose. This data follows a decrease in productivity the first quarter of 2022 as well."
We are in a recession, which is why Democrats want to goad Donald Trump into doing something foolish.
ITEM 12: Michigan News reported, "After a library millage failed to pass in last week's August primary, voters in Ottawa County's Jamestown Township will have another chance to decide funding for it in the November general election.
"The Patmos Library Board voted unanimously on Monday night to put the millage to another vote. It will seek a renewal of the library's current millage, as well as a slight increase of one-tenth of a mil so it can be self-sufficient rather than relying on the township."
Get another chance to tax themselves to death. LOL.
Voters declined to fund a library that distributes LGBT porn to children.
I hope they sue the library board to stop another vote.
ITEM 13: AP reported, "A Mississippi grand jury has declined to indict the white woman whose accusation set off the lynching of Black teenager Emmett Till nearly 70 years ago, most likely closing the case that shocked a nation and galvanized the modern civil rights movement."
It will never close because too many people make money off it.
By the way, the story was not by an AP reporter. It was a freebie from a non-profit to peddle stories like this to cash-strapped newspapers. It's like Zuckerbucks for newspapers. Nothing in life is free.
ITEM 14: Law and Crime reported, "A federal judge today ordered the forfeiture of a jet Michael Avenatti bought with stolen client money.
"The five-page order from Senior U.S. District Judge James V. Selna in the Central District of California provides 30 days for anyone other than Avenatti to request a hearing to adjudicate the validity of their claimed interest in the Honda HA-420 aircraft, originally valued at $4.5 million."
Batman has his Bat Plane.
Avenatti has his Creepy Porn Lawyer Plane.
ITEM 15: I propose a 28th Amendment.
"All presidents must be able to dress themselves."
FINALLY, Sarah Hoyt wrote, "I'll believe documents justify an FBI (Who knew their real name was Federal Bureau of Infamy?) raid when they raid Sandy Berger's socks."