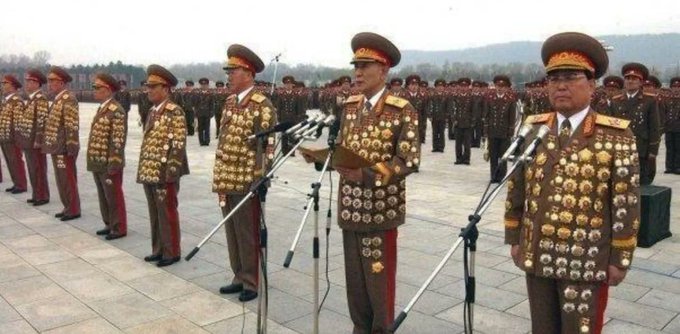 ITEM 1: The Daily Telegraph reported, "100,000 North Korean soldiers could be sent to bolster Putin's forces fighting Ukraine."
That's 100,000 soldiers, 10 million medals.
ITEM 2: The Tampa Bay Times -- which runs the silly Politifact site -- is upset that its George Soros-funded prosecutor is gone. DeSantis suspended him for failing to uphold the law.
Imagine that.
So it ran an editorial, "DeSantis: You're not king of Florida. Removing a Hillsborough prosecutor amounts to overturning two elections."
The state constitution allows a governor to suspend public officials for malfeasance, misfeasance or neglect of duty.
The editorial ended, "The case now goes to the state Senate. Will the Republican-led chamber dare to defy DeSantis, dare to do the right thing, or will it hold a show trial to remove Warren from office? This was a terrible day for the rule of law, for the image of Republicans and area law enforcement, for democracy in Florida — and for what it says about the fate of abortion rights in America's third-largest state."
Ah, abortion.
It's all about abortion. Florida limits it to 15 weeks, which is the same as the Mississippi law that the Supreme Court upheld 6-3.
I understand Southern newspapers also had a problem with the Supreme Court's de-segregation ruling in 1954.
ITEM 3: Blaze Media reported, "Democrat congressional staffer poses as FBI agent at Trump rally, leads Secret Service on chase in DC, steals $80,000, gets arrested in Georgia after T-shirt tips off law enforcement."
Sterling Devion Carter, until recently Democrat Congressman Brad Schneider's operations director, not only posed as a federal agent but when confronted, he fled the scene.
Meanwhile, he forged signatures to get himself an $80,000-a-year raise.
When caught, he was allowed to resign rather than be fired.
This case began in November 2020. He pleaded guilty in February.
Carter admitted in court that he openly carried a firearm in the District of Columbia – where it is illegal to do so.
The Daily Beast reported, "Federal prosecutors dropped the law enforcement impersonation charge, and he narrowly avoided prison time (When Carter pleaded guilty at 24, he barely made the age cutoff to take part in a local District of Columbia prison diversion program for young first-time offenders, according to his lawyer)."
He was not placed in jail. In fact, he is still walking DC free as a bird. He will begin his mere 9 month sentence later this month when he gets around to it.
No FBI raid at dawn. No perp walk. No press conference by the police.
Must be nice to be a Democrat in DC.
ITEM 4: Speaking of the FBI, the Daily Wire reported, "Leftists Dominate FBI Top 10 Domestic Terror List, Despite Warnings About Far Right."
There are a few black nationalists and a bunch of commies on the list. There is even a dead woman. But no white supremacists, even after sending 15 FBI agents to look for a NASCAR noose.
ITEM 5: Vice reported, "A Trump-loving Californian visiting Anchorage for a MAGA rally last month showed local police a novelty white privilege card after she was pulled over for swerving in her lane.
"But instead of citing or ticketing the woman for failing to show her driver's license, cellphone video taken by the motorist shows officers had a laugh, took a selfie with the woman, and let her go.
"'You like my white privilege card?' the woman, Mimi Israelah, asked Officer Nicholas Bowe, while holding the card that reads 'White Privilege Card Trumps Everything.'"
It all was fun and games until she posted it on Facebook. The officers were put on administrative leave for 11 days. They violated some rule.
Maybe it was the fact that she was Filipino and not white, right?
ITEM 6: NYT reported, "A man charged with murder last month in the killing of a Chinese food delivery worker amid a dispute over duck sauce was found dead on Friday after shooting himself in his Queens apartment, according to two people with knowledge of the matter."
(The link is to a third party.)
One less trial, but nobody wins. Never cave in to your anger.
ITEM 7: The Daily Mail reported, "People will be 'blown away' by Tesla's Optimus humanoid robot, claims Elon Musk, who says it could serve as a companion or do menial tasks after it debuts at AI day on September 30."
Blown away?
Dear Lord, don't arm the thing!
ITEM 8: Come back to the five and dime, Jen Psaki.
Doocy: "Why is Biden bragging about gas prices?"

Jean-Pierre: "It's gone down."

Doocy: "It's still $1.72 higher than when he took office... Is that good?"

Jean-Pierre: "You want to talk to a nurse, a teacher, or a firefighter if having that breathing room doesn't matter." pic.twitter.com/dLdwc53qFa

— Greg Price (@greg_price11) August 5, 2022
What does she even mean?
ITEM 9: I blogged on it yesterday, but I have another thought about Dick Cheney's ad for his daughter that trashes Trump.
Why is Cheney attacking a man who received 69% of the vote in Wyoming two years ago? Trump did better than Liz. Is Dick that out of touch with his former state?
Maybe he believes this will endear him to the liberals who wanted him tried for what they called war crimes.
ITEM 10: NBC reported, "The last time tensions soared between Beijing and Washington over Taiwan, the U.S. Navy sent warships through the Taiwan Strait and there was nothing Red China could do about it.
"Those days are gone.
"Red China's military has undergone a transformation since the mid-1990s when a crisis erupted over Taiwan's president visiting the U.S., prompting an angry reaction from Beijing."
The hawks are pushing for a trillion dollar military.
As long as we have Milley and other pansies running the show, no thanks. Let Raytheon find some other sucker to buy its missiles.
ITEM 11: The Army Times reported, "The Army is working on a tactical bra."
Just ask Austin Powers how it is done.
Oh behave!
ITEM 12: The New York Post tattle-taled, "NY Times real estate writer sued, accused of owing $35K in rent dispute."
If that's the NYT standard, I want to cover banks for it.
ITEM 13: PhysOrg reported, "South Korea joined the stampede to the moon Thursday with the launch of a lunar orbiter that will scout out future landing spots.
"The satellite launched by SpaceX is taking a long, roundabout path to conserve fuel and will arrive in December.
"If successful, it will join spacecraft from the U.S. and India already operating around the moon, and a Chinese rover exploring the moon's far side."
We had a 50-year lead. Liberals talked us into solving problems here on Earth instead. The problems are still here. Our lead is evaporating.
Put a man on the moon? We now have a Supreme Court justice who doesn't know what sex she is.
ITEM 14: Reuters reported, "Scientists say that climate change is increasing the likelihood of lightning strikes across the United States, after lightning struck at a square near the White House, leaving three people dead and one other in critical condition."
Actually, lightning deaths have fallen. The data is hard to find but in the 1950s and 1960s, annual lightning deaths ranged from 59 in 1950 to 153 in 1959.
Now, the National Weather Service reports they average 27 a year!
But as with the Great Barrier Reef, global warming propagandists lie.
Far from dying, the reef is more vibrant than it has been in 36 years.
ITEM 15: The Asheville Citizen Times in North Carolina reported, " In response to the Texas school shooting that left 19 children dead May 24, the local school system and Sheriff's Office are rolling out some beefed up security measures in 2022-23, including putting AR-15 rifles in every school.
"Madison County Schools and Madison County Sheriff's Office are collaborating to enhance security in the schools for the upcoming school year after the Uvalde, Texas, tragedy revealed systemic failures and poor decision-making, with responding police disregarding active-shooter trainings, according to a report from the Texas state house."
Better to have a rifle and not need it than to need a rifle and not have it.
ITEM 16: Variety reported, "A judge has ordered Kevin Spacey to pay House of Cards production company MRC nearly $31 million for alleged sexual misconduct behind the scenes of the Netflix White House drama.
"Spacey, who played Frank Underwood, was kicked off the series during its sixth season after facing allegations that he had sexually assaulted and preyed upon young men, including a House of Cards production assistant who said Spacey groped him, prompting MRC's investigation."
Sexual assault is a polite term for rape. He deserves a quick trip to a long stretch in prison.
ITEM 17: And now, a message from the Florida Republican Party.
Fact-check: TRUE.
FINALLY, Via Just the News, Ted Cruz told CPAC Texas, "We've got out-of-control inflation, and the cost of everything is going through the roof. Cost of food – through the roof. Cost of electricity – through the roof. The cost of healthcare – through the roof. The cost of gasoline – through the roof.
"It's so bad ANTIFA can't afford bricks."