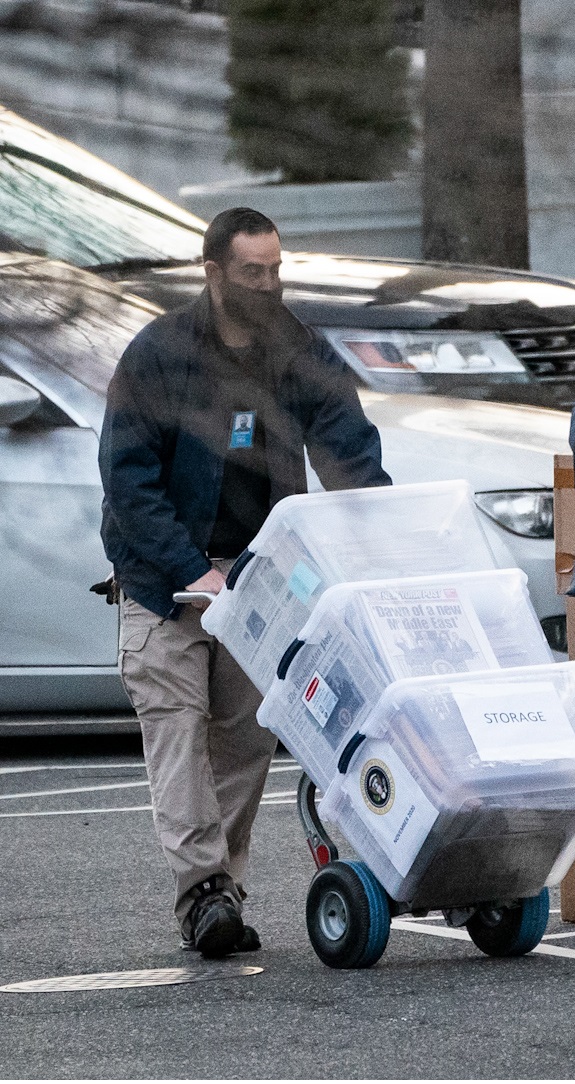 ITEM 1: The Washington Post said, "FBI searched Trump's home to look for nuclear documents."
Who knew that three bins of newspapers are nuclear documents?
The media wants to hide the brooms in this witch hunt.
ITEM 2: Other items the FBI said it searched for at Mar-A-Lago were Jimmy Hoffa's body, Hillary's graduate paper on Saul Alinsky and Obama's birth certificate.
They also wanted to pick up some nice shoes for Richard "Rachel" Levine in Melania's closet.
ITEM 3: Just the News reported, "Two months before his Florida home was raided by the FBI, former President Donald Trump secretly received a grand jury subpoena for classified documents belonging to the National Archives, and voluntarily cooperated by turning over responsive evidence, surrendering security surveillance footage and allowing federal agents and a senior Justice Department lawyer to tour his private storage locker, according to a half dozen people familiar with the incident."
The FBI are con men. They gain your trust before knifing you with some fake kidnapping plot, some bogus lying to the FBI charge or some insurrection.
Never talk to the police without a lawyer.
Never talk to the FBI.
ITEM 4: CNN reported, "The professional association that advocates for federal law enforcement agents warned members of the US Secret Service Tuesday that their personal phone numbers the agency recently released will likely be used in a criminal investigation, according to a copy of a letter sent to agents and obtained by CNN."
I am more interested in texts from the agents assigned to Hunter Biden who never reported his drug use, bribe collecting and whoring.
ITEM 5: Wyoming Public Radio reported, "Liz Cheney is appealing to Wyoming Democrats. Will it make a difference?"
The Lizard is appealing to Wyoming Democrats?
They have no taste in women.
ITEM 6: The Washington Times reported, "NORAD tracks Russian aircraft flying into Alaska-area air defense zone."
Before Biden, the only thing NORAD ever had to track was Santa Claus.
ITEM 7: Media-ite reported that former New York Times opinion page editor "Bari Weiss spilled the details of an internal battle at The New York Times over an op-ed piece submitted by Senator Tim Scott during his appearance on her podcast this week."
Weiss said, "I was at the New York Times and you or your staff sent in an op-ed about the bill and why it fell apart.
"And this is the part I'm not sure if you know. There was a discussion about the piece and whether or not we should run it. And one colleague, a more senior colleague said to a more junior colleague who was pushing for the piece, 'Do you think the Republicans really care about minority rights?'
"And the more junior colleagues said, 'I think Tim Scott cares about minority rights.' And then, and here's the pretty shocking part. The more senior colleague said, 'Let's check with Senator Schumer before we run it.'"
The only thing white liberals fear more than a black man with a gun is a black man with an opinion of his own.
ITEM 8: Fox reported, "A Queens man went swimming at Rockaway Beach during the heat wave last weekend but ended up arrested and dragged off the beach in handcuffs for swimming past the beach closing.
"Swimmers are required to leave the water at 6 p.m. when lifeguard shifts end. Andre Velasquez was in the water around 7 p.m. on Friday when he says Parks Department officers called out to him.
"When he refused their request to see his driver's license he claims the officers threw him to the ground and handcuffed him. They hauled him off barefoot and shirtless as other people on the beach watched."
Meanwhile, it is OK to loot stores in New York.
I would have told them I am an illegal alien and showed them my illegal alien driver's license. They would have given me a ride home.
ITEM 9: Reuters reported, "Wednesday's consumer price index report showing U.S. inflation didn't accelerate in July was the first positive reading on price pressures since the Federal Reserve began tightening policy, Chicago Fed President Charles Evans said, even as he signaled he believes the Fed has plenty more work to do.
"With consumer prices unchanged last month compared to June, but up 8.5% from a year earlier, inflation is still unacceptably high, and the Fed will likely need to lift its policy rate, currently in the 2.25%-2.5% range, to 3.25%-3.5% this year and to 3.75%-4% by the end of next year, Evans said."
4%?
4% once was considered normal interest rates.
I'll unload my stocks if banks start offering that again.
ITEM 10: Oh no! Looks like Joe is going low in the polls.
YouGov Poll: Joe Manchin Favorability before and after "Inflation Reduction Act"

BEFORE(July 20, RV)
Overall: 34/35
Dem: 18/54
GOP: 49/19
Indie: 26/26

AFTER (Aug 7-9, RV)
Overall: 21/51
Dem: 18/55
GOP: 26/45
Indie: 18/44

Net Decline:
Overall: -29%
GOP: -49%
Indie: -26% pic.twitter.com/dT405k4iI2

— InteractivePolls (@IAPolls2022) August 11, 2022
Don't you know, Joe knows so. Joe don't care. He got his dough.
ITEM 11: The Washington Examiner reported that 59% of Americans are worried about Biden's mental health.
Can we trade him for Brittney Griner?
ITEM 12: CNSNews.com reported, "The federal government collected a record $4,104,725,000,000 in total taxes in the first ten months of fiscal 2022 (October through July), according to the Monthly Treasury Statement.
"That was up $503,787,000,000—or 13.9%—from the then-record $3,600,938,000,000 (in constant July 2022 dollars) that the Treasury collected in taxes in the first ten months of fiscal 2021."
A 13.9% boost.
Tax collections are ahead of the rise in inflation. No one else is.
ITEM 13: Breitbart reported, "One of the stars of ABC's General Hospital is urging the FBI to dig up the body of the late Ivana Trump, claiming in an insane tweet that former President Donald Trump hid classified documents in the casket."
General Hospital?
Sounds more like Dark Shadows.
ITEM 14: The New York Post reported, "Fargo school board drops Pledge of Allegiance over 'under God' phrase."'
They said it wasn't inclusive.
It wasn't meant to be inclusive. It was meant to weed out the communists.
ITEM 15: Breitbart reported, "Rep. Liz Cheney's (R-WY) net worth ballooned from an estimated $7 million when she first took office in 2017 to possibly more than $44 million in 2020, according to analysis from the Center for Responsive Politics and her most recent financial disclosure forms."
Meanwhile, Trump's net worth dropped a billion bucks during his presidency.