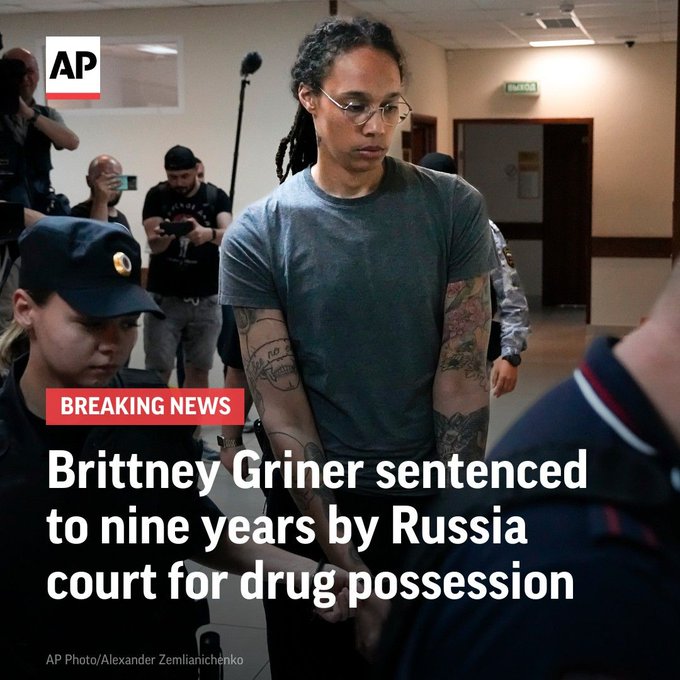 ITEM 1: Basketball player Brittney Griner received a 9-year sentence for smuggling drugs into Russia. While she is listed as a WNBA star, she makes 4 times as much money in Russia as she does in the USA. That is why the WNBA is a summer league. The real money for 6-foot-8 women is in Europe.
Griner refuses to stand for the American national anthem but now wants to come back.
Biden denounced the sentence and promised to trade a Russian terrorist for her.
Meanwhile in D.C., Guy Wesley Reffitt received a 7-year sentence for protesting inside the U.S. Capitol.
Pardon me, but when did we become the Soviet Union?
ITEM 2: I already wrote about DeSantis suspending Andrew Warren as prosecutor because he refused to uphold abortion and transgender laws.
But I was fascinated by how real journalists handled the story.
AP said, "DeSantis suspends elected prosecutor over new abortion law."
The New York Times said, "DeSantis Suspends Tampa Prosecutor Who Vowed Not to Criminalize Abortion."
CNN reported, "DeSantis suspends Tampa prosecutor who took stance against criminalizing abortion providers."
What if he refused to prosecute gun cases?
Would that be a refusal to criminalize gun ownership?
ITEM 3: The Epoch Times reported, "A fifth child is presumed to have monkeypox in the United States since the country's first two pediatric cases were reported in July.
"California health officials announced the latest presumptive pediatric monkeypox case in a Long Beach child on Tuesday, four days after Indiana health officials confirmed that two children in that state also tested positive.
"Last month, another California toddler tested positive for monkeypox as well as an infant resident of a foreign country who was passing through Washington D.C., bringing the total U.S. pediatric cases to five."
What if gay men are deliberately infecting children so they can claim anyone can get monkeypox, just as they did AIDS?
ITEM 4: The FBI figured out the easiest way to solve a crime is to get someone commit it.
Under questioning from Sen. Ted Cruz, FBI Director Chris Wray admits the FBI Special Agent in Charge of the Detroit Field Office who oversaw the Whitmer kidnapping entrapment and "absolute debacle" is now in charge of the Washington, D.C. Office, overseeing the J6 investigation. pic.twitter.com/85Y7QJXeyy

— Steve Guest (@SteveGuest) August 4, 2022
Defund the FBI?
RICO it!
ITEM 5: Zero Hedge reported, "Houston city officials banned 3D-printed firearms at future gun buyback events after one man recognized an opportunity to exploit the system and print money.
"The anonymous man told local news Fox 26 that he made 62 3D-printed guns and handed them over in Houston's first gun buyback event last weekend. He said the city offered him $50 per gun, cutting him a check for $3,100.
"The man said the cost of production per gun was $3, netting a profit of $47 per weapon."
This is America. We have guns. And entrepreneurs.
ITEM 6: The New York Times reported, "Sinema Agrees to Climate and Tax Deal, Clearing the Way for Votes."
Boy, those Democrats are skilled negotiators who can get even Democrats to support them.
ITEM 7: Reuters reported, "China deployed scores of planes and fired live missiles near Taiwan on Thursday in its biggest drills in the Taiwan Strait, a day after U.S. House of Representatives Speaker Nancy Pelosi made a solidarity trip to the self-ruled island."
I thought they were going to shoot her plane down.
Man, are they lousy shots.
They are so bad, they qualify as Star Wars stormtroopers.
ITEM 8: The Austin American-Statesman reported, "Conspiracy theorist Alex Jones must pay the parents of Sandy Hook victim Jesse Lewis damage awards totaling $4.1 million, an Austin jury determined Thursday — far below the $150 million requested."
The jury will determine punitive damages next.
The massacre was 10 years ago. The wheels of justice are too slow.
ITEM 9: Ace reported, "New York Times: It's Not Fair to Send the Illegal Aliens Demanded by East Coast Elites to the East Coast."
The actual NYT headline was, "G.O.P. Governors Cause Havoc by Busing Migrants to East Coast
"Thousands of migrants have been arriving on buses sent by the governors of Texas and Arizona. Many have ended up in homeless shelters and on the streets."
The NYT story closed with a quote from an SJW, who said, "The infrastructure in New York is not built for this. We are not on the border."
NIMBY.
ITEM 10: The Daily Caller reported, "FBI Director Christopher Wray said during a Thursday Senate Judiciary Committee hearing that payments from China and other countries to Americans like Hunter Biden could be part of a 'malign foreign influence' campaign."
Now you know why Wray sat on Hunter's laptop for a year.
He got a cut of the action.
RICO the FBI and audit Wray.
ITEM 11: DeSantis faces the winner of the Nikki Fried-Charlie Crist Democrat primary.
Nikki Fried, who's running for governor against Ron DeSantis, held a virtual press event with a couple of health experts. At the end, she asked to field questions from members of the media. None of them showed up. pic.twitter.com/T9rmENo3R1

— Ian Miles Cheong (@stillgray) August 4, 2022
I don't believe it will be Fried.
ITEM 12: Times Now News reported, "'No Bra Money': Shop tells customers to stop paying sweat-soaked cash stored in bras during heatwave."
It is Mattress Mick's in Dublin, Ireland.
ITEM 13: The Washington Post reported, "Great Barrier Reef has most coral in decades. Global warming could reverse it."
Actually, the increase in carbon dioxide may be causing the build up.
But it is nice of the Jeff Bezos publication to admit the horrors stories about the Great Barrier Reef dying were all lies.
Now to get his rag to admit Russiagate was a hoax.
ITEM 14: Fox reported, "Former Vice President Dick Cheney calls former President Donald Trump a coward and argues that Rep. Liz Cheney of Wyoming is fearless, as he stars in the latest ad released by his daughter's re-election campaign."
Politics as an episode of That Girl with Danny Thomas as the guest star.
But neither Trump nor the candidate who will bring Liz down in 11 days started it.
Flashback to January 28, when Politico reported, "Rep. Matt Gaetz fired off a barrage of insults against his colleague Liz Cheney during a rally in her home state of Wyoming on Thursday — a raw embodiment of the cleavage across the Republican Party following President Donald Trump's exit from office.
"Gaetz's rally flouted Republican leadership's appeal to temper the intraparty conflict. House Minority Leader Kevin McCarthy urged members of his caucus Wednesday to lay off the attacks on each other."
Remember, Republicans then voted to keep her as a House leader after her vote to impeach a Republican president. She got kicked out months later when she wouldn't shut up about Trump.
ITEM 15: The Root reported, "The Kettle Moraine School District of Wisconsin decided to bar their employees from displaying pride flags in classrooms or displaying their preferred pronouns in email signatures, according to The Associated Press. Superintendent Stephen Plum claims the new decision is simply a reinforcement of established policies."
You can't pray in school, you can't gay in school. Teach, teacher, teach.