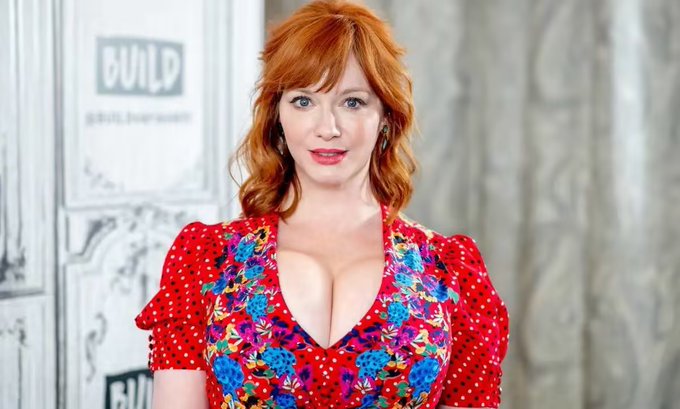 ITEM 1: Move over, Christina Hendricks. The biggest biggest bust in America are the J6 hearings.
Politico reported, "Of the more than $300 million spent by Democrats on broadcast advertisements this year throughout the country, ads that mentioned Jan. 6, the insurrection, democracy or stolen elections accounted for less than 4% percent of all spending, according to an analysis compiled for Politico by the ad tracking firm AdImpact. That's less than Democrats spent on subjects ranging from energy and the environment to education, roads and infrastructure, abortion, health care, Trump and guns."
4%.
That's despite two prime-time specials that were aired simultaneously on ABC, CBS, NBC and a bunch of cable outlets.
ITEM 2: It's the economy, stupid.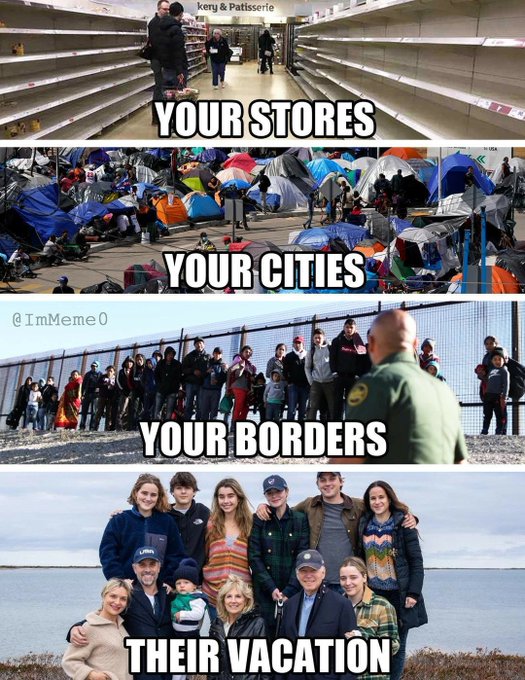 And the arrogance.
ITEM 3: What are the elitists in DC telling themselves about hiring 87,000 armed agents at the IRS?
Via Legal Insurrection, WaPo's fact-checker said, "The GOP is preying on people's fears of an audit — which is practically nil (and 80% of which are just an exchange of letters). The stated goal is crack down on well-heeled tax cheats, not ordinary Americans, to close a tax gap estimated at $381 billion a year."
Never talk to the FBI.
Never write the IRS.
ITEM 4: NBC News tweeted, "EXCLUSIVE: Texas Gov. Abbott's plan to curb illegal immigration has disproportionately targeted Latino counties."
Sending police where the crime happens is rayyyyyyycist.
ITEM 5: Speaking of NBC, its latest poll showed:
74% say the country is headed in the wrong direction.
42% approve of Biden.
47% want a Republican Congress. 45% say Democrat.
58% believe America's best years are behind us.
57% said continue to investigate Trump.
The poll did not ask about investigating Biden.
68% said we are in a recession.
50% say the worst is yet to come.
Americans have lost confidence. We're back in the Carter years without the disco balls.
ITEM 6: The Center for Immigration Studies reported, "On August 18, NPR's Morning Edition" ran the results of a poll the outlet conducted with research outfit Ipsos on respondents' perceptions of immigration.
"53% believe it is either wholly or partially true that there is an invasion occurring at the Southwest border, while support for immigration is falling and a border wall is becoming more popular. That poll also reveals the toll Biden's Border Fiasco is inflicting on Americans' support for immigration."
Public opinion does not matter.
Democrats got the 5 million illegal aliens they wanted in less than 2 years. They will never assimilate and they will always vote Democrat. They are the Democrat replacements for Real Americans.
ITEM 7: Reuters reported, "The Russian-controlled part of Ukraine's southeastern region of Zaporizhzhia is exporting up to 7,000 tons of grain per day, Russian-installed authorities there said on Saturday.
"Ukraine has accused Russia, the world's largest wheat exporter, of stealing grain from territories that Russia's army has seized since Moscow sent troops to Ukraine on Feb. 24. Moscow denies this."
War pays.
Expect more.
MORNING PSA: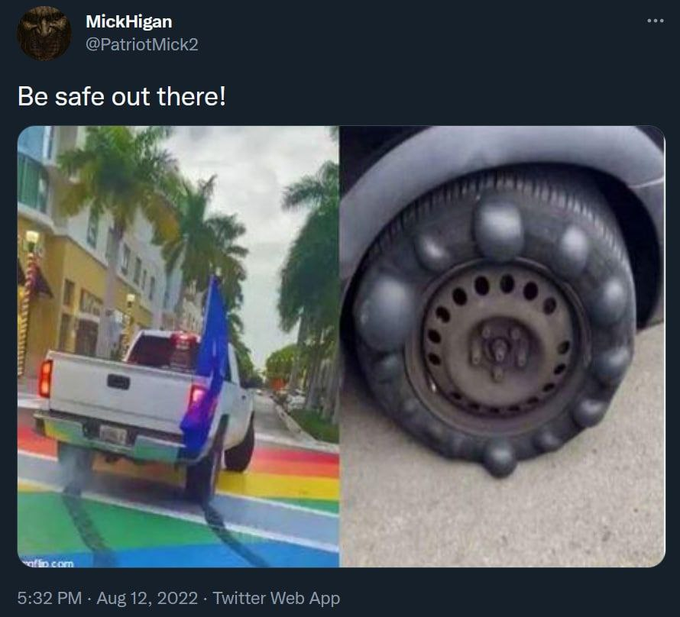 Don't do the funky monkey.
ITEM 8: On Saturday, I posted, "Media aghast at fake vandalism; ignores real vandalism."
The media insisted that hate crimes rose upon the election of President Donald John Trump.
It didn't. It skyrocketed under Biden.
Nationwide reported on February 15, "Hate crimes rose 44% last year in study of major cities."
The story managed to blame Trump for Biden's brigades of bigots in Democrat-run cities.
MAGA country doesn't care what color you are as long as your blood runs red, white and blue.
ITEM 9: The Daily Signal reported, "In a shocking report, the U.S. Census Bureau recently admitted that it overcounted the populations of eight states and undercounted the populations of six states in the 2020 census.
"All but one of the states overcounted is a blue state, and all but one of the undercounted states is red.
"Those costly errors will distort congressional representation and the Electoral College. It means that when the Census Bureau reapportioned the House of Representatives, Florida was cheated out of two additional seats it should have gotten; Texas missed out on another seat; Minnesota and Rhode Island each kept a representative they shouldn't have; and Colorado was awarded a new member of the House it didn't deserve.
"These harmful errors also mean billions in federal funds will be misallocated. Funding for many federal programs is distributed to the states based on population. Overcounted states will now receive a larger share of federal funds than they are entitled to, at the expense of the undercounted states."
The federal bureaucracy is an arm of the Democrat Party. This was deliberate sabotage.
ITEM 10: Breitbart reported, "An armed robbery occurred at a New York City coffee shop directly across the street from Councilwoman Tiffany Cabán's office, who is an advocate for defunding the police."
I wonder what her cut of the action was.
Democrat cities are crime capitals for a reason. In The Godfather, which party's judges did Don Corleone have in his pocket?
ITEM 11: Just the News reported, "A federal appeals court temporarily paused an order Sunday that required Sen. Lindsey Graham (R-S.C.) to testify in front of an Atlanta-area grand jury about attempts to illegally influence Georgia's 2020 election results.
"The 11th US Circuit Court of Appeals instructed the district court judge to consider whether the Fulton County grand jury subpoena of Graham should be modified to follow the Constitution's Speech or Debate Clause, CNN reported."
Every now and then, the federal government has to remind Georgia that there is this thing called The Constitution.
ITEM 12: AP reported, "The daughter of an influential Russian political theorist often referred to as Putin's brain was killed in a car bombing on the outskirts of Moscow, authorities said Sunday.
"The Moscow branch of the Russian Investigative Committee said preliminary information indicated 29-year-old TV commentator Daria Dugina was killed by an explosive planted in the SUV she was driving Saturday night.
"There was no immediate claim of responsibility. But the bloodshed gave rise to suspicions that the intended target was her father, Alexander Dugin, a nationalist philosopher and writer."
Nationalist is AP code for bad guy. Patriotism is banned in the authoritarian world of tomorrow.
ITEM 13: Just the News reported, "A sex offender continued working for a major Virginia school district for months after he was convicted of soliciting a minor for prostitution, state records show.
"50-year-old Darren Thornton began working for Glasgow Middle School in Virginia's Fairfax County in the fall of 2020 and continued working there not only after his arrest in November of that year for soliciting a minor for sex but even after his conviction for that crime in March of 2022."
School officials knew. The board should cashier them and void their pensions because they aided and abetted him after the fact.
ITEM 14: AP reported, "The fatal film-set shooting of a cinematographer by actor Alec Baldwin last year was an accident, according to a determination made by New Mexico's Office of the Medical Investigator following the completion of an autopsy and a review of law enforcement reports."
Who is in charge?
Sgt. Schultz?
ITEM 15: Fox reported, "Biden heads back to Delaware beach house, where he's building $500K taxpayer-funded security fence."
I thought walls were racist.
FINALLY, California censors great books. Florida promotes them.
False. The State of Florida has not banned To Kill a Mockingbird. In fact, Florida RECOMMENDS the book in 8th grade. (FL Standards linked, page 160). However, the book was banned by a progressive district in California, along with other classics, in 2020).https://t.co/5JQelH8XZK https://t.co/E5qPBQPhsn pic.twitter.com/OAVderItxD

— Bryan Griffin (@BryanDGriffin) August 21, 2022