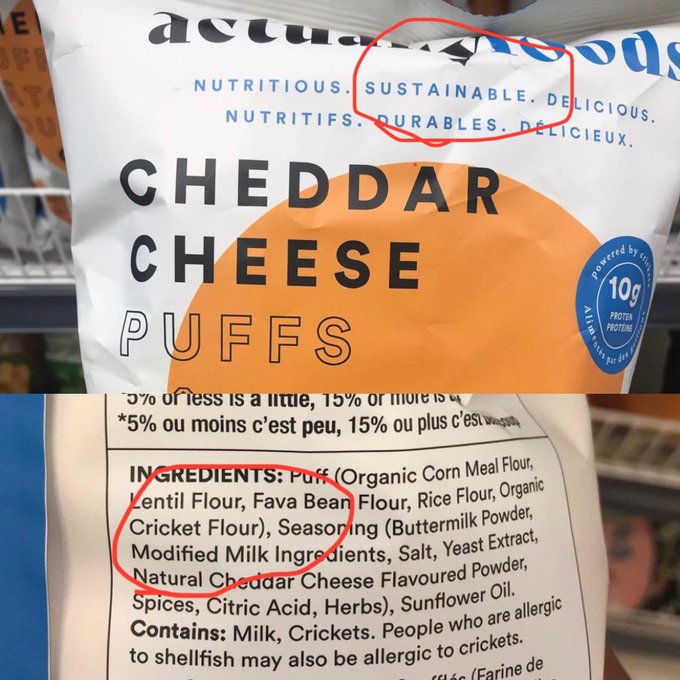 ITEM 1: Introducing Cheddar Cheese Puffs made with Organic Cricket Flour.
Cheese that goes chirp!
PSA: If you are allergic to shellfish, you may be allergic to crickets.
ITEM 2: Jonathan Turley reported, "It appears that Oberlin has another major controversy on its hand. For the last couple years, Oberlin has been embroiled in a fight with a small family-owned grocery that it defamed over a shoplifting case involving black students.
"Oberlin lost $25 million in a record verdict but Oberlin President Carmen Twillie Ambar continued to refuse to apologize. In the meantime, the school seems intent on running the 137-year-old grocery into insolvency as it delays paying on the judgment.
"Now the school is under fire over a faculty member, Mohammad Jafar Mahallati, who supported the fatwa against Salman Rushdie. The author of Satanic Verses is recovering from a savage knife attack. Hadi Matar, 24, is accused of carrying out the stabbing attack and has expressed support for Iran in the past. The campaign to have Mahallati fired could present some difficult free speech and academic freedom questions."
I see.
We are protecting the free speech of someone who supports killing an author over a book written nearly 40 years ago.
ITEM 3: CNBC reported, "Author Salman Rushdie's The Satanic Verses topped several Amazon bestsellers lists on Tuesday, days after he sustained serious injuries in a stabbing at a lecture in New York."
That's nice but I am pretty sure the trade-off is not worth it.
ITEM 4: The Verge reported, "Atlantic hurricane seasons are running ahead of schedule."
It propagandized, "Hurricane season in the Atlantic is arriving ahead of schedule as the oceans warm, a new study finds. Big storms in the North Atlantic are forming earlier in the year than they used to, and forecasters say this means coastal communities need to be on the alert sooner, too.
"Tropical storms that reach a certain strength are named by the World Meteorological Organization. And the first named storms to develop each year have come about five days earlier each decade since 1979, according to the study published today in the journal Nature Communications. Named storms that make landfall in the US, meanwhile, have shown up about two days earlier every decade since 1900."
Naming a thunderstorm a hurricane does not make it a hurricane.
The number of actual hurricanes in the first 21 years of this century range from 2 in 2013 to 15 in 2005.
ITEM 5: UPI reported, "Adding yet another wrinkle to the monkeypox outbreak, a new case study suggests that people can pass the virus on to their pet dogs."
Yes they can.
If they have sex with the dog because that is what happened in this case.
Monkeypox is a cute name for a disfiguring VD.
ITEM 6: The FBI raid has turned tables on the fascists.
.@EricTrump: we will be releasing the video surveillance footage when the time is right. pic.twitter.com/DjO2NwdVS7

— The Dirty Truth (Josh) (@AKA_RealDirty) August 16, 2022
GOOD!
ITEM 7: Zero Hedge reported, "China's worst heatwave in decades is curbing hydropower generation in one of the country's most populous provinces. Local authorities requested some factories in southwestern China to halt production to conserve electricity, adding to the financial pressures of an already rapidly slowing economy."
Why do all those sustainable clean energy rigs fail when you need them most?
QUOTE OF THE DAY: "The State of Florida is the place where woke goes to die. We're not going to let this state descend into some type of woke dumpster fire." -- Ron DeSantis, governor.
ITEM 8: Yahoo News reported, "Russian dissident Alexei Navalny has been placed in solitary confinement at the remote penal colony where he is serving a nine-year sentence for supposed fraud, raising renewed concerns for the safety of Vladimir Putin's top political foe."
From the comments, "Next year it will be the Biden administration sending Trump to Gitmo!"
We already have January 6 protesters in DC jails for 20 months without a trial.
ITEM 9: Dominique Luzuriaga Rivera wrote in Newsweek, "New York's finest are leaving the force in record numbers, and it's not hard to understand why. They make enormous sacrifices and put their lives on the line every day for this city, and in return they get hung out to dry by self-interested politicians and denigrated by corporate executives seeking to prove how "woke" they are.
"I know all about the sacrifices police officers make for their community. My husband, Jason Rivera, was killed in the line of duty earlier this year, along with his partner, Wilbert Mora. Jason was a rookie cop. We had been married for a little over three months when I got the call that every police officer's family dreads."
She said, "On January 21, 2022, Jason and his partner responded to a domestic violence call in Harlem. The perpetrator, Lashawn McNeil, had a long rap sheet and was on probation for a felony drug conviction. He should not have been out of prison.
"Instead of being confined to a prison cell, however, McNeil was lying in wait, heavily armed, in a back bedroom at the end of a 30-foot hallway. When Jason and Wilbert approached the room, McNeil swung open the door and opened fire, shooting both of them in the head. Jason died that day, and Wilbert succumbed to his injuries four days later."
She blasted Manhattan DA Alvin Bragg and the Black Lives Matter Global Network Foundation, which helped elect him.
She wrote, "It's impossible to separate groups like the BLMGNF from the corporate sponsors that bankroll their efforts to coddle criminals and stir up violent hatred against police officers.
"Coca-Cola, Comcast/NBC, Gatorade, Levi's, Microsoft, Nike, PayPal, Peloton, and Target—all have given financial or rhetorical support to the BLMGNF and other radical cop-hating groups. Their support of these groups makes them complicit in the attacks being carried out against police officers in New York and all over the country."
Go woke and you should go broke.
ITEM 10: I'm not saying Liz Cheney lost.
But she did.
ITEM 11: Trump gets credit, but let's not overlook the man who started her defeat 18 months ago.
On January 29, 2021, CNN reported from Cheyenne, "Republican Rep. Matt Gaetz of Florida railed against GOP Rep. Liz Cheney here at the state Capitol on Thursday, stirring hundreds of Trump supporters and counter protesters after she voted to impeach the former President.
"The Republican Party is now out of power and grappling with its future, and some elected officials like Gaetz are positioning themselves as the bearer of Trump's brand by attacking other Republicans like Cheney, who are hoping to move past it. Republican leaders have warned that the internecine fight hurts the party but Gaetz has decided to put himself at the center of it."
Politico reported at the same time, "House Minority Leader Kevin McCarthy urged members of his caucus Wednesday to lay off the attacks on each other."
So hooray for Gaetz. He helped show Liz the gate.
ITEM 12: The Guardian reported, "Asian Americans are buying guns in record numbers. What's caused this surge?
"More than 5 million people became first-time owners during the pandemic as gun sales to the community rose by about 43%."
Black-on-Asian violence is why. No one else will say it out loud, but that is what happened.
ITEM 13: Fox reported, "White House not saying when the Inflation Reduction Act will begin to cut inflation."
My guess is the day after never.
ITEM 14: The New York Times has the highest standards. NYT hires only the best.
"the Jews are sons of dogs and I am with killing them, and burning them like Hitler did to them (smiley face)" - Fady Hossam Hanona

This Hitler praising antisemite covers the Israel/Palestinian conflict for the NY Times, Guardian, and VICE News. pic.twitter.com/dWYmCdv1y3

— StopAntisemitism (@StopAntisemites) August 11, 2022
The Guardian and Vice too.
Oh and four days after that tweet appeared, the Daily Wire reported NYT cut ties with Hanona.
ITEM 15: The Christian Post reported, "A community college in California is facing a lawsuit for taking down flyers produced by a conservative advocacy group on campus.
"The Foundation for Individual Rights in Education has filed a lawsuit on behalf of students affiliated with Young Americans for Freedom at Clovis Community College in Fresno, California.
"At issue is a request by YAF in November 2021 to post anti-communist flyers on campus, which administrators initially agreed to, but then took the posters down about a week later.
"FIRE claims that the school's actions violate the First Amendment of the U.S. Constitution, which public colleges and universities like Clovis are bound to abide by."
College officials proved YAF's point.
ITEM 16: Palin won the Alaska primary for Congress and must win again in November under a Byzantine electoral ranking system that was designed to keep turds like Murkowski in power.
Let's go back to voting on Election Day in person and on paper ballots.
FINALLY, Liz's gig ends January 3. What should her next job be?
CEO of Halliburton?
Lobbyist for GLAAD?
Panelist on The View?
The new voice of Miss Piggy?