ITEM 1: According to Hanna-Barbera's bio, George Jetson was born on Sunday. Congratulations to Mister and Missus Jetson on the birth of their son.
Ah,
The Jetsons
cartoon show. People bemoan the fact that today there are no flying cars that fold into briefcases.
But as much as I hate this century, cars soon will drive themselves. Maybe the electric vehicle boondoggle will develop a nuclear-powered car. I have my doubts about it folding into a briefcase. But it could fly itself.
There are people who are making it possible to fly to Mars. Videophones are far better than the cartoon depicted. That treadmill he keeps slipping on is a relic compared to the exercise machines we have today with magic mirrors featuring a personal trainer.
The cartoon reminds me of a line from Frank-N-Furter in The Rocky Horror Picture Show, "Don't dream it, be it."
The Jetsons dreamt it. Rocket scientists are working to be it.
ITEM 2: The Hudson reporter reported, Democrat "Jersey City Councilwoman Amy DeGise will not resign from office despite calls to do so after CCTV footage released by the city shows she struck a cyclist at an intersection without stopping afterwards."
Will there be justice?
The story said, "DeGise was elected last year as an at-large councilwoman on Mayor Steven Fulop's slate in the City Council elections, unseating then-Councilman Rolando Lavarro after he had run as an independent and was no longer an ally to Fulop.
"She was also the chairwoman of the powerful Hudson County Democratic Organization for four years until a few months ago, and is the daughter of Hudson County Executive Tom DeGise."
We will see if the bicyclist is charged with scratching the paint on her vehicle.
ITEM 3: The Epoch Times reported, "Twitter Stops Censoring Epoch Times Content After Outcry."
Elon Musk's bid for Twitter unmasked it as a bastion of liberal fascism that seeks to shut down any and all dissent from the narrative. Activity on Twitter is down. Reporters are taking their accounts private.
This recession will bring many companies down to Earth. Twitter is on that list.
ITEM 4: This is CNN.
The town's previous city manager was black, a fact CNN doesn't bother mentioning until paragraph 17. Totally irresponsible journalism designed to create discord. pic.twitter.com/3mRLjV4t2x

— Mark Hemingway (@Heminator) July 29, 2022
The 5 cops protested her Defund the Police mentality. Imagine that.
ITEM 5: The Daily Caller reported, "Early in July, the Food and Drug Administration added a warning to multiple gonadotropin-releasing hormone (GnRH) agonists, drugs often used as puberty blockers in gender-confused youth.
"The FDA identified six cases where there was a plausible link between GnRH agonists and a condition called pseudotumor cerebri, which is caused by elevated fluid pressure in the brain. According to the FDA, all six cases were identified in biologically female children between the ages of 5 and 12; five of the six were being treated for early puberty, and the sixth was undergoing transgender care."
This is Mengele Medicine.
Ban it.
Send its practitioners to prison.
ITEM 6: Dr. Donald diagnoses our president.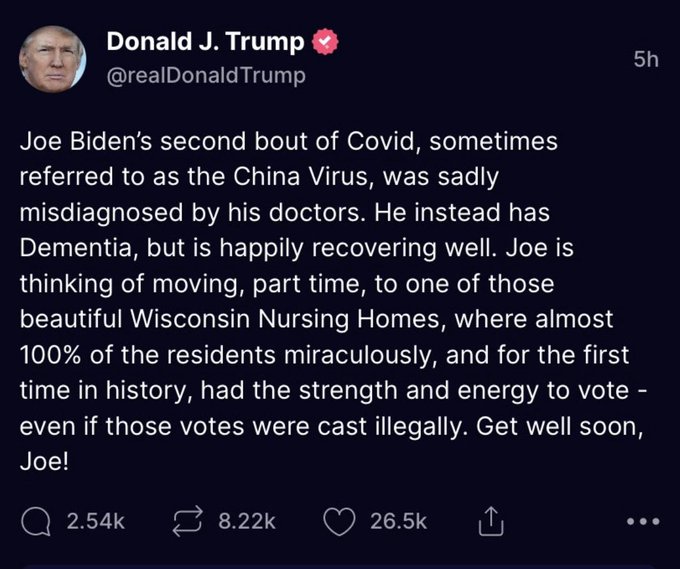 His presidency is elder abuse.
ITEM 7: Zero Hedge reported, "It'll probably come as zero surprise at this point, but New York City's DA has decided to take it easy on a 16 year old that was caught on film last week attacking and assaulting a police officer.
"The juvenile was stopped by the officer after he hopped a subway turnstile. The altercation then turned physical, with the youth engaging in a prolonged physical altercation with the officer before finally being controlled.
"And of course, New York City prosecutor Alvin Bragg is defending his office's decision to release the youth -- who has three felony arrests in less than four months -- and try his case in family court instead of Manhattan Criminal Court, according to Fox News.
"In family court, the youth will face rehabilitation instead of jailtime -- and the DA's office will no longer have any jurisdiction over the crime."
Meanwhile in Illinois, two cops decided not to become a statistic.
Two Oak Lawn, Illinois, cops beat a 17-year-old Arab kid where he ends up with a broken nose and bleeding on his brain.

We want Justice for Hadi Abuatellah. This is unacceptable. #PoliceBrutality #LoserTrump

pic.twitter.com/U9MWhIvB7R

— Chuck And Jim 🏳️‍🌈 👬🐻🌪🌊🌎 #IDWP (@fireman452a) July 30, 2022
The cops are delivering the whupping his dad should have.
For what it is worth, I never spanked my kids. They never pulled a gun on a cop.
ITEM 8: Judicial Watch announced, "FDA Officials: Biden Administration Vaccine Booster Timelines 'Make No Sense.'
"We can confirm that the FDA's decisions on Covid booster shots were not entirely about science.
"We received 112 pages from the Food and Drug Administration that show top officials being pressured by 'companies and, for that matter the Administration, who try to impose timeless [sic] that make no sense.'"
The pages are from an FOIA request of government records.
The only thing boosted was the profits of the companies.
ITEM 9: The same FDA that granted the vax makers immunity from civil suits is cracking down on suntan lotion.
Ah, the Food and Drug Administration. Once upon a time it protected consumers. Now it protects Big Pharma.
Banana Boat sunscreen recalled due to cancer-causing chemical https://t.co/axLLTeHEtM pic.twitter.com/qEGhLjmXRM

— New York Post (@nypost) August 1, 2022
If you use the lotion, you might get cancer. If you don't, you might get skin cancer.
ITEM 10: Axios blathered, "President Biden has slowly but substantially re-engineered significant parts of the American economy — achievements obscured by COVID, inflation and broad disenchantment.
"Why it matters: Love it or hate it, piece by piece, Biden has pumped billions into infrastructure projects, helped revive the domestic semiconductor industry, and accelerated U.S. viral research and vaccine production capabilities. He might be on the cusp of the biggest domestic clean-energy plan in U.S. history."
Nonsense.
President Trump's policies made America energy independent for the first time in 50. Trump already revived the domestic semiconductor business. (Intel announced it will build a $10 billion plant in Ohio.) And Trump left Biden with three covid vaccines. Biden blew it by making them mandatory.
Axios also said, "Biden hasn't done a dazzling job explaining this to the public."
He has dementia. He is in lala land.
But the new Democrat narrative is intriguing. They want Biden to take credit for what Trump accomplished.
ITEM 11: Nikki is getting fried.
Florida Democrat excited to have an army of NPC's behind her pic.twitter.com/xtd4YQuFTB

— Christina Pushaw 🐊 🇺🇸 (@ChristinaPushaw) August 1, 2022
A woman that attractive should be able to attract a real man, not an NPC.
ITEM 12: Human Events reported, "On June 17, Rep. Lois Frankel (D-FL) was caught on video shouting at a local diner owner and threatening retaliation for his daring to hang a campaign poster for her potential opponent, Republican Primary candidate Deborah Adeimy.
"Richard Kline, owner of City Diner in West Palm Beach, Florida, says that he has happily served Frankel for many years as a customer, despite completely disagreeing with her politics.
"Kline believes Frankel was made aware of the poster by a customer who questioned Kline's son, who works at the diner, about the poster shortly before Frankel arrived that day.
"The campaign poster includes a line that reads: 'Retire Lois Frankel.'"
She's 74. Her state has changed. She has not.
ITEM 13: The Ministry of Propaganda strikes again.
Post the mugshot https://t.co/dn3yMOWZgA

— Harry Khachatrian (@Harry1T6) August 1, 2022
The public tires of the manure media.
ITEM 14: KTLA reported, "California is a great place…to go broke; Golden State second-most broke U.S. state."
The story said, "If you're trying to fill that piggy bank, it might be best to stay out of the Golden State. California is No. 2 in the United States for going broke living on savings alone, according to Consumer Affairs.
"The consumer platform reports that it would take 64.4 days for an average Californian to go broke living on only savings. This number was arrived at by taking the average amount of money Americans have in savings ($9,647) and calculating how quickly it'd deplete while paying a mortgage or rent, utilities, gas and food, based on survey data."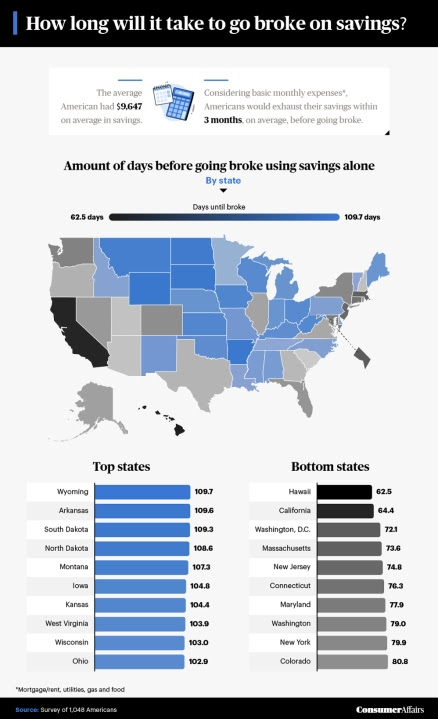 Once again, the blue states are doing it wrong while the red states have people who save money and live within their means.
ITEM 15: The Carolina Journal reported, "The U.S. Supreme Court will hear the case of Moore v. Harper in late 2022, with a decision expected about a year from now in the summer of 2023. The case is being pursued by Republicans in the North Carolina General Assembly that argue the North Carolina State Supreme Court's Democrat majority violated the state constitution's elections clause by twice rejecting congressional districts enacted by the legislature and eventually imposing court-drawn districts on the people of North Carolina."
Chief Justice John Roberts said in upholding Obamacare, elections matter.
Well?
FINALLY, John Nolte had a nice tirade about Hollywood.
He wrote, "The headline reads, 'More Than 400 TV Showrunners Demand Netflix, Disney and More Offer Safety Protocols in Anti-Abortion States,' but I think we all know what it really means….
"More than 400 fully grown adults, who also happen to be wealthy, helpless, neurotic, and angry crybabies, got together to demand the Hollywood studios make them feel safe in anti-abortion states."
They are not crybabies.
They are cry-bullies. They can get all the abortions they want in Hollywood.
No, what they want is to force everyone to conform to their lifestyle.