Happy Trump Day. Tomorrow is Hump Day, which celebrates camels and
old GEICO commercials
.
But today is Trump Day. If the polls are right and ranked voting doesn't wreck things, voters will move Sarah Palin (the beta version of Trump) a step closer to Congress and begin Liz Cheney's retirement.
Today also marks the Eight Day Anniversary of the FBI raid of Mar-a-Lago.
In 1976, 100 Israeli commandos raided Entebbe to rescue 94 passengers from a hijacked flight.
46 years later, 30 FBI commandos raided Mar-a-Lago to rescue 15 boxes of presidential mementoes, including 3 bins of newspapers.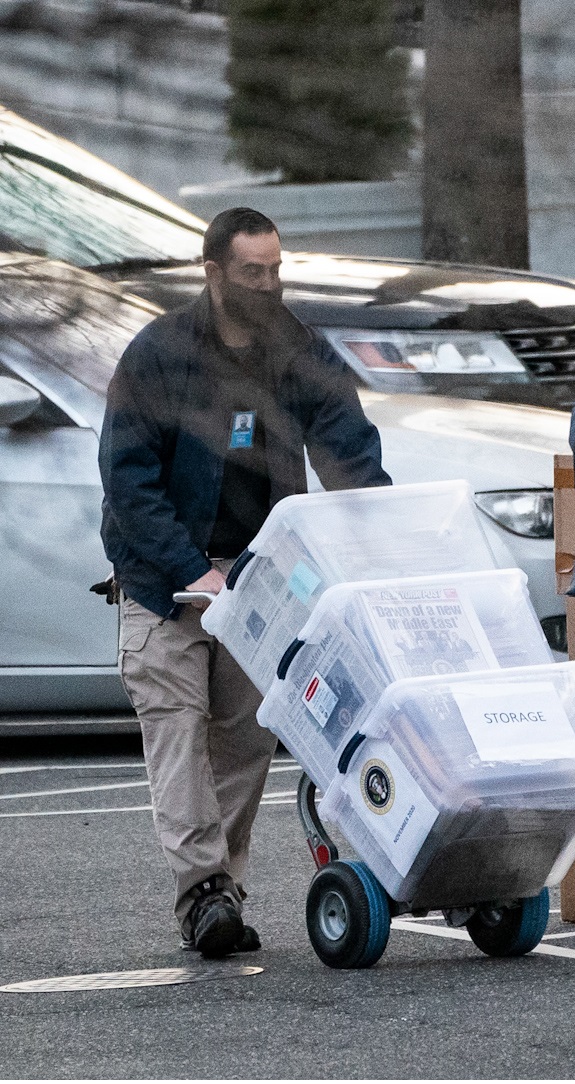 It is almost the same thing.
The media spin has been entertaining.
Day One. AP reported, "Trump says FBI conducting search of Mar-a-Lago estate."
The story said, "The FBI searched former President Donald Trump's Mar-a-Lago estate as part of an investigation into whether he took classified records from the White House to his Florida residence, people familiar with the matter said Monday. Trump disclosed the action in a lengthy statement, asserting that agents had broken into his safe in a search he decried as evidence of 'dark times for our nation.'
"The search, which the FBI and Justice Department did not immediately confirm, marks a dramatic escalation in law enforcement scrutiny of Trump and comes amid a separate but intensifying probe into efforts to overturn the results of the 2020 presidential election."
Trump Says! Might not be true.
Day Two. AP reported, "The FBI's unprecedented search of former President Donald Trump's Florida residence ricocheted around government, politics and a polarized country Tuesday along with questions as to why the Justice Department — notably cautious under Attorney General Merrick Garland — decided to take such a drastic step."
Notably Cautious! Must have been totally non-political.
Day Three. AP reported, "FBI's Wray denounces threats following search of Trump home."
FBI Threatened! If only they had some way of protecting themselves.
Day Four. AP reported, "FBI seized top secret documents in Trump estate search."
Top Secret! Trump is a spy.
Maybe not. Paragraph 8 said, "While incumbent presidents generally have the power to declassify information, that authority lapses as soon as they leave office and it was not clear if the documents in question have ever been declassified. And even an incumbent's powers to declassify may be limited regarding secrets dealing with nuclear weapons programs, covert operations and operatives, and some data shared with allies."
Nuclear Weapons Program! Trump was going to build nukes and destroy the world.
Day Five. AP had no new angle but Insider reported, "Mary Trump speculates that Jared Kushner could be the 'Mar-a-Lago mole' after reports say an informant close to Trump guided FBI agents to the documents."
A Mole! Trump might have cancer.
Oh wait, it was not that kind of mole but rather someone who will spill the beans.
Day Six. AP reported, "Police: Man killed himself after ramming US Capitol barrier."
Paragraph 3 said, "It comes at a time when law enforcement authorities across the country are facing an increasing number of threats and federal officials have warned about the potential of violent attacks on government buildings in the days since the FBI's search of former President Donald Trump's Mar-a-Lago estate in Florida."
Man Killed Himself! Trump is driving people to suicide.
Day Seven. AP reported, "Giuliani targeted in criminal probe of 2020 election."
Criminal Probe! They won't investigate the possibility of stealing an election. Instead they investigate those who called for one.
Day Eight. AP reported, "The Justice Department on Monday rebuffed efforts to make public the affidavit supporting the search warrant for former President Donald Trump's estate in Florida, saying the investigation 'implicates highly classified material' and the document contains sensitive information about witnesses."
Sensitive Information About Witnesses! There are witnesses. To what, no one says and the press does not ask. But it must be important because the Notably Cautious attorney general raided the home of a former president, which is unprecedented which makes it justified because the FBI would never lie the American people.
***
AP is not alone in trying to spin the politicization of the FBI by Obama and his flunky Biden and Biden's flunky Garland, who is Jewish and therefore any criticism is anti-Semitic. ("ABC News Says Anti-Semitism Behind Outrage Over FBI Raid Because Merrick Garland Is Jewish.")
The press says this will bring him down.
Politico reported, "Trump Steamrolls His Way Past Accountability. The Mar-a-Lago Search Might Be Different."
Sure, Jan.
Just like using the word "pussy" to Billy Bush in private 11 years earlier brought him down.
Just like not paying taxes when he was broke brought him down.
Just like emoluments (foreigners rented rooms at his hotel) brought him down.
Just like Mueller brought him down.
Just like talking to Zelensky brought him down.
Just like January 6 brought him down.
I especially enjoyed the part where he seized the presidential limo to do donuts on the Capitol lawn. (Or something like that. The Washington Post hid its story behind a paywall.)
By the way, the raid on Mar-a-Lago shows the January 6 thing failed because they had to change subjects.
And we know the FBI raid will fail because the press banned using the word raid.
So enjoy Trump Day. His RICO lawsuit against Hillary and the Democrat Party has them so worried that they sent in the FBI to find what dirt he has on them.
Celebrate!
If you are in Alaska, enjoy voting for Palin. If you are in Wyoming, enjoy voting for (checks notes) Hageman.
The rest of us are happy to watch the deep state fail. Again. Live and in living color.