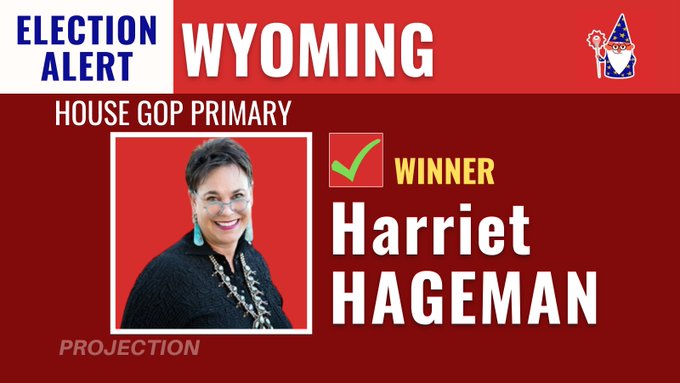 Wyoming Republicans overwhelmingly voted to nominate Harriet Hageman for Congress, dumping Liz Cheney who is a WINO.
Wyomingite In Name Only.
Although the result was not surprising, this is the biggest primary upset since AOC knocked out Joe Crowley in New York in 2018. Like Cheney, Crowley was high in his party's leadership. Unlike Cheney, Crowley didn't try to backstab his party's president.
Hageman likely will become the fourth consecutive woman to represent the state in the House. The state's last congressman was Craig L. Thomas who ran for (and won) a Senate seat in 1994.
Like Cheney, Hageman's father was involved in state politics, serving the legislature for 24 years until his death in 2006. But James Hageman was mainly a rancher. His daughter got a BA and a JD from the University of Wyoming. After clerking for a judge, she became involved in environmental law, representing her state in a dispute with Nebraska over the management of the North Platte River.
On Election Day, the New York Times cranked out, "Lawyer Set to Defeat Cheney Spent Career Fighting Environmental Rules."
Rules, eh?
The story said, "She spent decades as a trial lawyer fighting environmentalists in America's least populated state and opposing federal rules protecting land, water and endangered species. Her most far-reaching case was a successful challenge of Clinton-era federal regulations to protect millions of acres of National Forests from road-building, mining and other development. A federal judge placed an injunction on the regulations in 2003."
She didn't oppose protecting land, water and endangered species.
She opposed illegal and unconstitutional rules.
The judge agreed.
The story also said, "Miss Hageman also represented groups that sought to remove protections for the gray wolf under the Endangered Species Act and allow the state to manage hunting."
Gray wolves were removed from the Endangered Species list in 2020. We have plenty of them.
The story quoted her as telling businessmen in Rock Springs, "I think we need to make the federal government largely irrelevant to our everyday lives."
Indeed we do.