Vice President Kamala Harris just spoke at the scene of the Highland Park mass shooting.

"We have to take this stuff seriously, as seriously as you are because you have been forced to take this seriously," she said. pic.twitter.com/vpLSydpJM0

— Jake Sheridan (@JakeSheridan_) July 6, 2022
ITEM 1: Once again, animatronic Kamala's record skipped. This time it got stuck on the word seriously.
She is about as serious as a Daffy Duck cartoon.
She needs speech writers who can stick to her 50-word vocabulary.
ITEM 2: The Independent reported, "Supermarkets have been spotted adding security tags to basic food items like cheese, as the cost of living crisis sees pricing spiraling.
"Britons took to social media to share pictures of tags more commonly used on bottles of alcohol attached to £3.99 blocks of Aldi cheddar.
"Security warnings were also seen on £8 lamb chops in a Co-op store in Wolverhampton amid the cost of living crisis, and supermarkets have also been putting tags on baby milk cartons.
"It comes as Britain's largest dairy producer has warned grocery prices will continue to rise after customers saw Lurpak butter selling for more than £9 a pack."
Do we still have government cheese?
We may need it.
ITEM 3: The Wall Street Journal reported, "46 million people moved to a different ZIP Code in the year through February 2022, the most in any 12-month period in records going back to 2010, according to a Moody's analysis of Equifax Inc. consumer-credit reports. The states that gained the most, led by Florida, Texas and North Carolina, are almost all red, as defined by the Cook Political Report based on how states voted in the past two presidential elections. The states that lost the most residents are almost all blue, led by California, New York and Illinois.
"Analysts who have studied the migration attributed much of it to the pandemic's severing of the link between geography and the workplace. Remote work allowed many workers to move to red states, not because of political preferences, but for financial and lifestyle reasons—cheaper housing, better weather, less traffic and lower taxes, the analysts said.
"There is no data on what role, if any, political preferences have played in migration decisions. Some researchers have reported that pandemic restrictions played a role for some people who moved. It is too early to know whether the Supreme Court decision on abortion also might affect migration patterns."
(I began the quote in the sixth paragraph because journalists have forgotten how to write a straight news story.)
People fled the left states because of jobs, taxes, crime and good weather.
But hey, politics had nothing to do with it.
How bad is it?
Even the governor of California fled to a red state!
SCOOP: @GavinNewsom is on vacation in Montana. His office had been loath to disclose the location until now.

Montana is one of 22 states to which CA bans state-funded travel due to anti-LGBTQ+ policies. It's also likely to institute an abortion ban.

More in tmrw's newsletter

— Emily Hoeven (@emily_hoeven) July 6, 2022
ITEM 4: AP reported, "Canada is going to throw out about 13.6 million doses of the Oxford-AstraZeneca COVID-19 vaccine because it couldn't find any takers for it either at home or abroad.
"Canada signed a contract with AstraZeneca in 2020 to get 20 million doses of its vaccine, and 2.3 million Canadians received at least one dose of it, mostly between March and June 2021.
"Following concerns in the spring of 2021 about rare but potentially fatal blood clots from AstraZeneca, Canada focused on using its ample supplies of the mRNA vaccines from Pfizer-BioNTech and Moderna.
"In July 2021, Canada promised to donate the rest of its procured supply, about 17.7 million doses. But in a statement Tuesday, Health Canada said that despite efforts to meet that pledge, 13.6 million doses have expired and will have to be thrown out."
The company doesn't care. It made a sale.
The politicians don't care. They got their kickbacks.
Meanwhile, the convoy of truckers was right about their rights and the possible ill-effects of the vax. They got their lives ruined by the government.
ITEM 5: CNN reported, "Debra Messing was fed up. The former Will & Grace star was among dozens of celebrity Democratic supporters and activists who joined a call with White House aides last Monday to discuss the Supreme Court overturning Roe v. Wade.
"The mood was fatalistic, according to three people on the call, which was also co-organized by the advocacy group Build Back Better Together.
"Messing said she'd gotten Joe Biden elected and wanted to know why she was being asked to do anything at all, yelling that there didn't even seem a point to voting. Others wondered why the call was happening."
40 years ago, Biden and other Democrats mocked President Reagan for being just an actor.
Now they seek the advice of actors.
ITEM 6: Just the News reported, "The suspect in the Fourth of July parade shooting outside Chicago posted disturbing content online before the massacre and had previous encounters with police, continuing a pattern of troubled young men dropping off law enforcement's radar despite expressing violent thoughts and demonstrating erratic behavior before becoming accused mass shooters.
"Robert (Bobby) Crimo III was detained by police on Monday hours after a gunman opened fire on parade-goers in Highland Park, Ill., a suburb of Chicago where the community was celebrating Independence Day. Seven people were killed, and dozens more were injured.
"Investigators identified Crimo, 21, as a person of interest and took him into custody after an hours-long manhunt. Crimo climbed onto the roof of a building and fired off 70 rounds from a 'high-powered,' AR-15-style rifle, according to police, who said the suspect purchased the gun legally within the greater Chicago area.
"Crimo then fled from the roof, abandoned his rifle, and blended into the chaotic crowd, disguising himself as a woman to evade authorities."
Once upon a time, we trusted law enforcement.
Then the ATF left guns at the Mexican border and the FBI spied on Donald Trump and the FBI got 4 losers involved in a fake kidnapping attempt of a governor. Illinois has strict gun laws that go unenforced. We don't need more gun laws. We need the laws we already have enforced by trustworthy people.
ITEM 7: The Daily Wire reported, "The 21-year-old suspect who allegedly opened fire on Independence Day parade attendees at Highland Park, Illinois, on Monday, was wearing women's clothing during the mass shooting, police said Tuesday."
Which means arresting him was in itself a hate crime.
The media is deadnaming by calling him "Robert Crimo."
Oh wait. I used the wrong pronouns. Sorry.
ITEM 8: Putin, the monster under the bed America needs.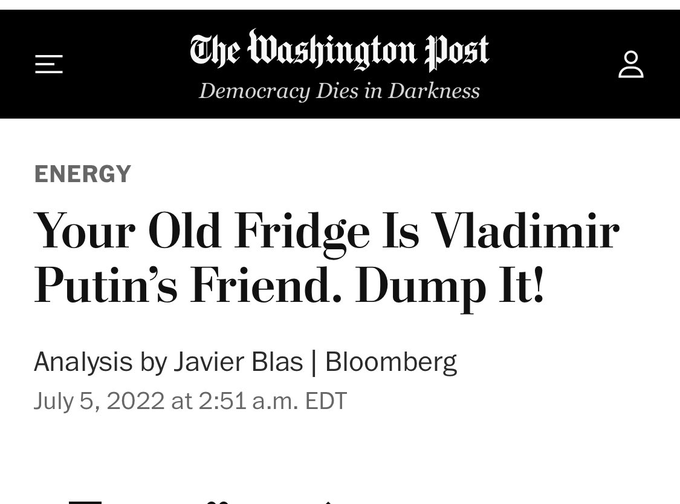 I am wondering, whose friend my stove is? My washer? My dryer? How come my appliances have more friends than I do?
And good heavens, how did Putin meet my old refrigerator? Is there an appliance dating app?
ITEM 9: Education spending skyrocketed in the last 50 years. Academic achievement fell and teacher pay barely rose above inflation.
CA's new state budget will spend a mind-blowing $128.6 bil for K-12 education this year. That's $23,893 per kid!

And we're still LAST in literacy. 50th out of 50 states. Let that sink in.

Does your child get a $24k education in our public schools?https://t.co/Vv5sFtMiKH pic.twitter.com/DTR2w6SguF

— Lance Christensen (@lancelands) July 5, 2022
Has anyone thought of tying spending to outcomes? If Johnny graduates from high school and he still can't read, the school board would return to taxpayers all the money it received for Johnny.
ITEM 10: Just the News reported, "Medical professionals are pushing back against licensing investigations based on their statements challenging both longstanding and recent medical orthodoxies.
"A 30-year veteran of pediatric medicine filed a $35 million lawsuit against Oregon regulators for enforcing CDC vaccine recommendations, while British Columbia authorities dropped a 'medically inaccurate' charge against a nurse for defending sex-based rights against gender ideology.
"Investigations have proliferated in the COVID era. The highest-profile target is Minnesota Republican gubernatorial nominee Scott Jensen, now several months into his fifth investigation for allegedly promoting civil disobedience against President Biden's employer vaccine mandate, which the Supreme Court later blocked."
What ever happened to You Can Keep Your Doctor?
ITEM 11: Legal Insurrection reported, "Maryland Republican Gov. Larry Hogan said the state will no longer require a 'good and substantial' reason for people to receive a wear-and-carry permit for their guns.
"Hogan cited the recent Supreme Court decision striking down New York's conceal carry requirements."
That's a good and substantial thing to do.
ITEM 12: NBC reported, "Justice Department sues to block Arizona's proof of citizenship voting law.
"An attorney employed by the GOP-controlled state House had warned legislators that implementing the legislation, which applies to federal elections, would violate U.S. law."
Democrats dismiss as racist the statement that they are trying to replace American voters with foreigners.
And then they do everything they can to get foreigners to vote.
ITEM 13: Reuters reported, "More than 5 million barrels of oil that were part of a historic U.S. emergency reserves release to lower domestic fuel prices were exported to Europe and Asia last month, according to data and sources, even as U.S. gasoline and diesel prices hit record highs.
"The export of crude and fuel is blunting the impact of the moves by U.S. President Joe Biden to lower record pump prices. Biden on Saturday renewed a call for gasoline suppliers to cut their prices, drawing criticism from Amazon founder Jeff Bezos."
Roll out the barrel. We'll get a barrel of bribes.
Roll out the barrel. We'll take the rubes on a ride.
Zing boom tararrel, ring out a song of good cheer.
Now's the time to roll the barrel, for the crooks are here.
ITEM 14: ET reported, "Macy Gray Says She Has 'Nothing But Love' for LGBTQ+ Community After Backlash for Transphobic Comments."
What were the singer's transphobic comments?
She said, "I will say this, and everyone's gonna hate me, but as a woman, just because you go change your parts, doesn't make you a woman. Sorry. I know that for a fact."
Biology therefore is transphobic.
It never seems to occur to anyone anymore that the transvestites might be wrong.
ITEM 15: Forbes reported, "Economists at Goldman Sachs hiked their inflation projections this weekend and warned clients that recent strong price spikes seem similar to those that preceded record inflation decades ago, joining other experts in forecasting inflation will last longer than previously expected.
"In a note to clients Sunday night, Goldman economists said they expect consumer prices to rise more quickly later this summer as transportation and health insurance costs continue to surge, pushing core inflation, which excludes volatile food and energy prices, from 6% in May to 6.3% in September.
"Goldman expects health insurance and automobile prices—two of the largest contributors to inflation during the pandemic—should start outright falling by the end of this year as Covid-era growth begins to subside, pushing core inflation down to 5.5% at year-end and 2.4% in December 2023."
We shall see if Biden's plan to wreck the economy worked.
ITEM 16: WOWK reported, "The City of Huntington and Cabell County will not be receiving the billions of dollars they sought from three major drug distributors after a federal court made the rare release of a decision on July 4.
"The city and county sued Cardinal Health, Amerisource Bergen, and McKesson, saying they dumped millions of opioid pills in West Virginia for over a decade, fueling the opioid epidemic.
"Federal judge rules in favor of pharmaceutical companies in West Virginia opioid case
"Federal Judge David Faber ruled that the city and county did not prove their case, that these drug distributors caused a 'public nuisance,' and therefore no damages were awarded. Huntington's mayor says he will fight on."
The drug companies deserve to be bankrupted for flooding West Virginia with opioids.
But the politicians turned a blind eye the problem for 20 years.
Why should the city and county collect billions? It is blood money from the 100,000 or so West Virginians who overdosed on this junk while the cities, towns and counties sat on their hands.
FINALLY, do liberals realize what they are saying when they call Justice Clarence Thomas an Uncle Tom?
Uncle Tom was a fictional character who was a Christian slave in the Old South. He endured many hardships and beatings but he never lost faith in the Lord. When he refused to whip his fellow slaves, he was whipped himself by the evil slave master Simon Legree.
Instead of seeking vengeance, Uncle Tom read the Bible, prayed and helped comfort his fellow slaves. He encouraged slaves to escape and refused to tell Legree where they went. He ordered his overseers to kill Uncle Tom and they did.
But Uncle Tom lived on in the hearts of the slaves and the owners he helped convert to Christianity
Harriet Beecher Stowe's novel, Uncle Tom's Cabin, humanized slaves and fired up the abolitionist cause. Upon meeting her, President Lincoln said, "So this is the little lady who started this great war."
Calling Justice Thomas an Uncle Tom is a compliment because Uncle Tom was a hero. The only person who really hated him was Simon Legree, who perfectly describes today's villains -- liberals.