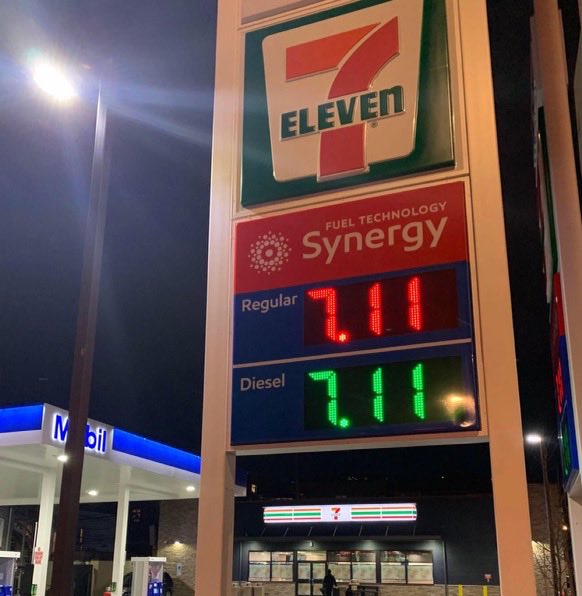 ITEM 1: Government Executive reported, "EPA Employees Told to Stop Pooping in the Hallway."
The pooping in the hallways is in a Denver regional office, not San Francisco.
EPA now stands for Everyone Poop Anywhere.
ITEM 2: National Review lamented, "Why Didn't Democrats Codify Roe When They Had the Chance?"
For the same reason they didn't codify slavery.
ITEM 3: Just the News reported, "Gas prices continued their modest decline over the past week ahead of the July 4 holiday, coming down from just below a $5-per-gallon average while remaining significantly higher than a year ago.
"Average national gas prices tracked by AAA put the average gallon of gas in the United States at $4.84 per gallon, down from $4.85 yesterday and $4.92 a week ago."
That's good news for drivers and Democrats. This likely reflects a drop in demand.
ITEM 4: America First Legal announced it is suing Loudoun County Public Schools, its superintendent and its school board on behalf of 11 parents, "for the district's deliberate, egregious and systemic violation of parents' rights."
Its allegations include:
Requiring schools and teachers as a matter of policy to deceive parents and secretly promote and facilitate a child's gender transition.
Requiring schools as a matter of policy to provide children with psychological or psychiatric counseling and treatment without parental knowledge or consent.
Soliciting and obtaining information about student attitudes, habits, traits, opinions, beliefs or feelings regarding sensitive regulated topics such as sex, religion, race, and familial relationships without either express prior parental consent or a direct relationship to academic instruction.
Invidiously using racial "balancing" and quotas to favor some children at the expense of others.
Illegally hiding information about school operations and curriculum from parents.
Illegally charging exorbitant fees and/or claiming legally deficient exemptions to Freedom of Information Act Requests.
Retaliating and discriminating against parents and children whose beliefs do not align with the woke LCPS agenda.
When did schools become the enemy of schoolchildren? We used to complain that Johnny can't read. In the 21st century, Johnny cannot even tell if he is a boy or a girl.
ITEM 5: Fox reported, "Chick-fil-A is America's favorite restaurant for 8th year in a row."
The chain inspired me to take Sundays off.
ITEM 6: Zero Hedge reported, "A WalletHub survey of the largest U.S. cities discovered that the top three worst-run are primarily controlled by Democrats.
"WalletHub examined the operating efficiency of 150 cities to determine which ones are managed best. They used a Quality of Services score of 38 metrics grouped into six service categories (financial stability, education, health, safety, economy, infrastructure, and pollution), which revealed Washington, D.C., San Francisco, and New York City are the worst three."
America turned its cities over to Democrats, which was a big mistake.
ITEM 7: The Epoch Times reported, "DOJ Has VA Suspend All Benefits of Jan. 6 Prisoner.
"'This is what you have when vindictive leftists get in charge of major parts of the government': Rep. Gohmert."
I doubt any of Biden's Band of Cowards behind this caper served. Biden and the rest stopped the benefits without a trial for charges alleged about a Fake Insurrection.
I want the next president to not only pardon all of them but also to settle their civil lawsuits out of court for $1 million each.
ITEM 8: Fox reported, "Singer Halsey doubled down on supporting abortion rights Wednesday while responding to fans who left upset from her Sunday night concert in Phoenix, Arizona.
"That night, Halsey criticized the recent Supreme Court decision to overturn Roe v. Wade, prompting some fans to leave the show."
As they say, shut up and sing.
ITEM 9: Foreign Desk News reported, "On Thursday, CNN International's Christiane Amanpour warned that the U.S. Supreme Court overturning the 1973 Roe v. Wade ruling last week would result in the Taliban no longer respecting the United States."
Wait a minute. This self-proclaimed expert on geopolitics believes the Taliban ever respected us?
ITEM 10: The Daily Mail reported, "Climate change activists with a group calling itself Tire Extinguishers are celebrating their first 'action' in New York City- - deflating the tires of 40 SUVs on Manhattan's Upper East Side.
"The movement, which originated in the United Kingdom, seeks to dissuade people from owning SUVs in urban areas, and switch instead to more environmentally-friendly vehicles.
"The SUVs they vandalized had leaflets left on the windshield, which stated: 'Attention: Your gas guzzler kills.'"
One more reason not to live in Manhattan.
ITEM 11: Arizona Democrats show how much they love their country.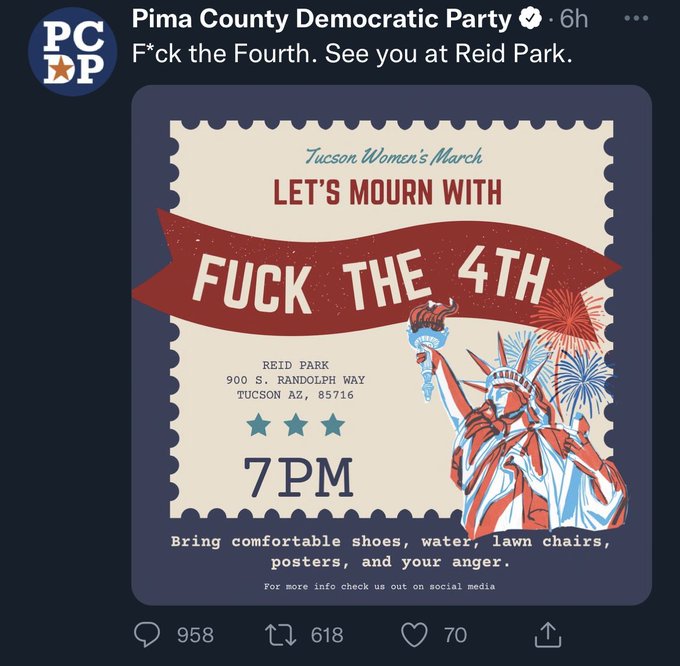 Never question their patriotism. They are very patriotic.
Just not to this country.
Meanwhile, Republicans are holding their own event.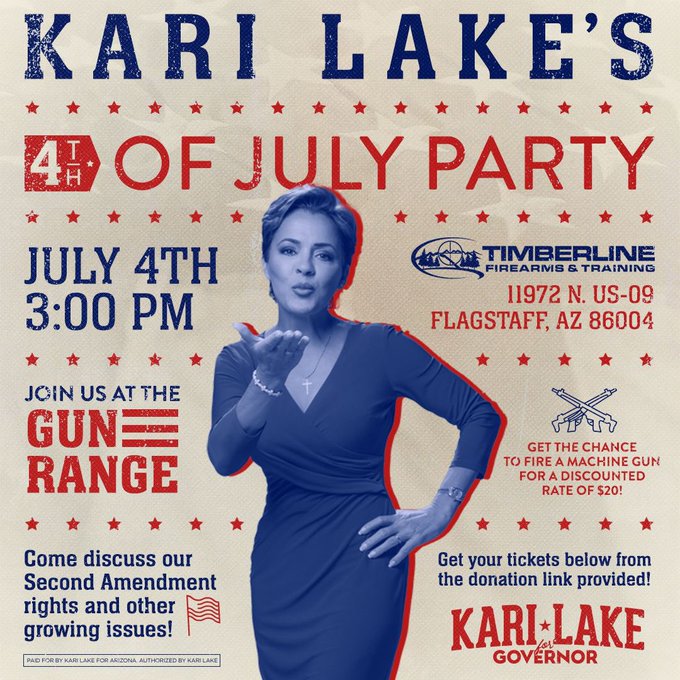 Remember, the person with the smallest grouping wins.
ITEM 12: The Post Millennial reported, "When 93-year-old Joe Teague's Los Angeles home was broken into, he leapt into action to defend himself and his property.
"Attempts at peaceful resolution came up fruitless, and when the intruders attacked him, Teague grabbed his gun."
They pulled a fishing pole on him.
He pulled a gun. He shot one of the bandits.
The story said, "Teague held the group at gunpoint as he called the police and awaited their arrival."
ITEM 13: Politico reported, "When foreign ministers from 30 NATO nations met for dinner this week on the sidelines of the military alliance's annual summit here, their discussions took an unexpected turn to the U.S. Supreme Court.
"At least four diplomats in the room aired concerns with the Court's decision last week overturning Roe v. Wade and striking down the constitutional right to abortion, according to one of the only two Americans in attendance."
NATO is a military alliance. The USA must leave before the others turn it into EU Junior.
ITEM 14: The New York Post reported, "Amy Schumer buys legendary home from Moonstruck, last listed for $11 million."
According to Procter and Gamble, her commercials sold so many tampons that she created a shortage. You would think she could afford something newer than a 114-year-old house.
ITEM 15: Just the News reported, "Former President Donald Trump on Thursday questioned why Jan. 6 committee witness Cassidy Hutchinson is not being prosecuted for lying under oath about her experiences in the White House while serving as an aide to then-chief of staff Mark Meadows.
"The former president and his White House officials have disputed much of Hutchinson's testimony to the House Jan. 6 Capitol riot committee. Trump continued defending himself on Thursday through posts on his platform, Truth Social."
Parading inside the Capitol is a major crime.
Perjury isn't.
DC values are Satanic.
ITEM 16: The Daily Mail reported, "Bill Gates is the largest single owner of US farmland, with some 270,000 acres."
Gates turned into a Bond villain before our very eyes.
Landfinger.
FINALLY, Fox reported, "Viral Burger King employee who never missed a day of work in 27 years receives over $270,000 in donations."
He helped support a wife and 4 kids. Mainly he stayed for the health benefits. It's a union shop.
The story said, "Thinking only of others, Ford said the entire experience still feels new but the reality finally set in when he was flown out to New York to share his story on NBC's The Today Show, where he was reunited with his grandchildren which he says was a greater gift than money can buy."
Nice.