ITEM 1: Former NFL player and Republican congressional candidate Jerone Davison of Arizona released a campaign video, Make Rifles Great Again.
His ad will be tough to top.
ITEM 2: Hamas-shielding AP announced, "Over a year after the building housing the news agency's Gaza bureau was destroyed in an Israeli airstrike, the Associated Press announced today it has reopened its Gaza Strip offices in a new location.
"AP President and CEO Daisy Veerasingham and Senior Vice President and Executive Editor Julie Pace were on site to mark the bureau's official reopening.
"'AP's resilient Gaza team has never wavered, even in the moments our bureau collapsed and in the weeks that followed,' said Veerasingham. 'The Associated Press has operated in Gaza for more than half a century and remains committed to telling the story of Gaza and its people.'
"The news agency's Gaza staff continued to cover the war and its aftermath from temporary workspaces after the bureau was destroyed last year.
"Twelve AP staffers and freelancers were inside on May 15, 2021, when the Israeli military telephoned a warning, giving occupants of the building one hour to evacuate. AP journalists rushed to a neighboring tower to capture live video of the building crumbling.
"In the days and weeks following the airstrike, the Israeli government claimed Hamas had been operating inside the building. AP has repeatedly pressed for any evidence to be made public, but none has been provided."
Hamas owned the building.
ITEM 3: Megan Fox reported, "The story about a 10-year-old pregnant girl who had to go from Ohio to Indiana for an abortion gives me serious pause for a number of reasons. There are many red flags."
Fox found there was only one source for the story: the abortionist.
Impregnating a 10-year-old is a crime. Abortionists are supposed to report such crimes. She hasn't.
It's a hoax.
ITEM 4: Harvard-Harris Polling released its June poll. 72% said reversing Roe will affect their vote.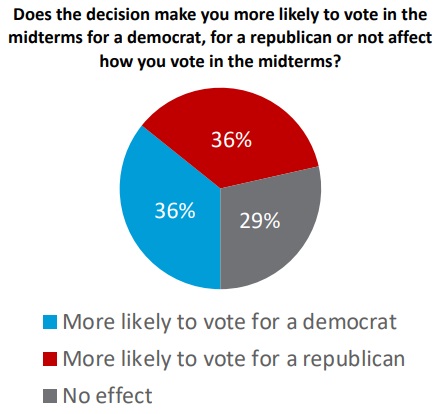 One nation indivisible.
Yeah, right.
In this poll, FJB's approval is 38%, disapproval 57%.
ITEM 5: The Monmouth Poll reported, "A majority of 57% say that the actions of the federal government over the past six months have hurt their family when it comes to their most important concern.
"Just 8% say Washington has helped them and 34% say federal actions have had no real impact on their top concern.
"In prior polls, between 34% and 47% said government actions have hurt them on their biggest family concern. The current poll marks the first time this sentiment is in the majority. The results also indicate little optimism about the future – just 23% expect that future government actions over the next few years will help improve their family's top concern while 45% say Washington will hurt them. One year ago, that response was basically flipped (40% expected to be helped and 34% expected to be hurt)."
As Reagan said, government is not the solution; it is the problem.
In this poll, FJB's approval is 36%, disapproval 58%.
ITEM 6: The Daily Caller reported, "New York state has hit Democratic New York Rep. Alexandria Ocasio-Cortez with fines for dodging tax warrants filed against her former business five years ago.
"The state filed a tax warrant against Brook Avenue Press — a children-oriented publishing house Ocasio-Cortez founded in 2012 — on July 6, 2017, to collect $1,618 in unpaid corporate taxes, the Washington Examiner reported. The tax warrant has increased 52% to cost $2,461 due to the representative not paying the taxes.
"New York issues tax warrants if businesses fail to timely resolve their debt and do not respond to their notices and will proceed with further collection action, according to the New York Department of Taxation and Finance.
"The state filed the tax warrant nearly two months after she launched her campaign for the U.S. House of Representatives against former Democratic New York Rep. Joe Crowley, the Examiner reported. A representative for the Bronx County Clerk's Office told the outlet that the warrant remains open."
So she ran for Congress one step ahead of the tax collector.
ITEM 7: The New York Post reported, "Secretary of State Antony Blinken tapped a rich nephew — or rather, Rich Nephew — to a top anti-corruption position this week, and yes, the new hire is aware of the irony.
"'Alright, I've heard a lot of nephew jokes in my time, but this is straight-up hilarious and had not occurred to me until now,' the new coordinator on global anti-corruption tweeted on Tuesday, after MSNBC writer and editor Hayes Brown responded to news of the appointment by posting: 'I'm sorry but Rich Nephew is a very funny name for an anti-corruption czar.'"
Brown is an idiot.
This in the story bothered me, "Despite the seriousness of the position and Nephew's extensive background in the diplomatic corps — including a stint as deputy special envoy for Iran — other social media users also couldn't get past the name."
Special envoy to Iran?
Is he the guy who arranged the pallets of $100 bills to be flown to Iran?
If true, what was his cut of the action. Did it make Rich Nephew rich?
ITEM 8: ESPN reported, "The Cleveland Browns agreed to trade quarterback Baker Mayfield to the Carolina Panthers on Wednesday for a 2024 conditional draft pick."
The Browns traded their best QB in 30 years for a third-day draft pick -- after trading for a fellow who was benched last year because he was under a criminal investigation. The fellow may be suspended this year for the 24 lawsuits filed against him by massage parlor workers.
To heck with the Browns. Go, Panthers!
ITEM 9: Global Construction Review reported, "EU bank to create €100 billion fund for Ukrainian reconstruction."
The bribes and kickbacks will be awesome. Every crooked politician in Europe and the USA should thank Putin for this opportunity to become as rich as Hunter Biden.
ITEM 10: NPR whined, "'My body, my choice': How vaccine foes co-opted the abortion rallying cry."
The story said, "Now that anti-vaccination groups have laid claim to 'My Body, My Choice,' abortion rights groups are distancing themselves from it — marking a stunning annexation of political messaging."
So the pro-abortion crowd now admits it was not about choice. It was just about killing babies in the womb.
ITEM 11: The Epoch Times reported, "Maya Forstater, who lost out on a job for saying people cannot change their biological sex, has won three claims in a fresh employment tribunal following an appeal, winning praise from the Harry Potter author J.K. Rowling.
"This follows a ruling at an Employment Tribunal in June 2021 when Forstater successfully established a binding legal precedent that 'gender-critical beliefs were in principle protected by the Equality Act.'
"Following that appeal, her case continued at the Employment Tribunal, to determine whether she was unlawfully discriminated against by her former employer on the basis of her protected belief."
Sanity returns to Britain.
ITEM 12: FJB screws up again.
Biden puts the medal on backwards. How dumb can ya get? 🤦‍♀️👇 pic.twitter.com/2oX20XfvJe

— The Laughing Patriot 🇺🇸 (@PicsOrIt) July 7, 2022
His handlers are plumb tired. He needs to go to his basement and stay until January -- and then retire.
ITEM 13: Politico reported, "President Joe Biden is preparing to alter some of former President Trump's tariffs on China, with a decision expected this month.
"The administration is likely to announce action to lift a narrow set of tariffs on Chinese imports this month, said three industry officials and former federal officials with knowledge of administration plans. A senior administration official, who spoke anonymously to discuss policy plans, said no final decision has been made on timing.
"The decision comes as the White House continues to seek ways to tame historically high inflation outside of actions by the Federal Reserve to hike interest rates. Some administration officials and outside economists have identified lifting some of the tariffs on China as a way to partially ease high prices U.S. consumers are now paying.
"But in its current form, the tariff plan would be a defeat for Biden officials like Treasury Secretary Janet Yellen and Commerce Secretary Gina Raimondo, who have pushed for broader tariff relief as a way to combat inflation and show voters ahead of the midterms that Biden is working to counteract rising prices."
We have the best president money can buy, and Red China bought him.
ITEM 14: NYT found a Mexican immigrant it can hate.
It amazes me that because my values are rooted in God, Family, & Country, the liberal media takes it upon themselves to attack me & label me 'far-right'. But at least they used the word 'Latina' over their other made-up terms. Somos gente de Dios, Familia y trabajo! Adelante!

— Mayra Flores For Congress (@MayraFlores2022) July 6, 2022
Jesus is a far-right extremist to the media.
ITEM 15: The Dossier reported, "Zelensky demands another $750 billion."
Demands.
Ukraine is a racketeer influence corrupt organization. But at least he lifted the veil and showed which politicians are on the take.
They are the ones waving the Ukrainian flags.