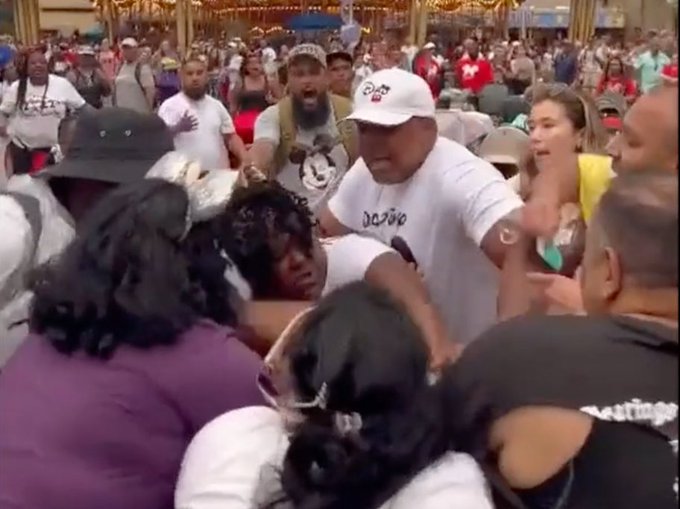 ITEM 1: The New York Post reported, "A massive brawl that erupted at Disney World's Magic Kingdom this week has resulted in two arrests as well as bans from the theme park for several alleged participants, according to a report.
"The wild fracas among at least 10 people erupted outside Mickey's PhilharMagic theater at the Orlando, Fla., theme park on Thursday after two families got into an argument while waiting in line, sparking a tangle of fisticuffs that landed at least one man in the hospital.
"One of the alleged participants, who was hauled off in an ambulance and hospitalized due to a large cut on his chin, confirmed the clampdown in a written message to Disney blog Walt Disney World News Today."
It's becoming the crappiest place on Earth.
ITEM 2: The mayor of a Sanctuary City continues to whine about illegal aliens.
NYC Mayor Eric Adams on migrants being sent to NYC: "Our schools are going to be impacted. Our healthcare system is going to be impacted. Our infrastructure is going to be impacted." pic.twitter.com/IfEJi1Khgb

— Forbes (@Forbes) July 25, 2022
Deport them.
That will discharge the financial burden of feeding, clothing and housing these lawbreakers.
ITEM 3: The Hill complained, "The Atlanta-area prosecutor who is probing the effort by former President Trump and his allies to overturn the 2020 election result in Georgia was disqualified by a judge Monday from criminally investigating one of the 16 Republicans who served on a phony slate of pro-Trump electors."
There is nothing phony about the slate. Each candidate has one because the election is decided by the Electoral College, not the popular vote.
The story continued, "The ruling, a stunning rebuke to Fulton County District Attorney Fani Willis, came after a judge found that a conflict of interest barred Willis and her office from investigating state Sen. Burt Jones, one of the sham electors.
"The district attorney last month hosted a fundraiser for a Democratic candidate who went on to win his party's nomination and will now face off against Jones, whom Willis had identified as a target of the grand jury's investigation."
The only sham is this witch hunt, which seeks to criminalize election disputes.
ITEM 4: Gizmodo reported, "Around 11:15 a.m., Monday, U.S. Capitol Police officers responded to a demonstration that was inside room 322 in the Hart Senate Office Building. Six demonstrators were arrested for DC Code §22-3302 Unlawful Entry for failing to leave the office after they were told to leave. The six people who were arrested are all House staffers."
Arrested were:
Saul Levin, who is a policy advisor for Rep. Cori Bush (D-Mo.)
Aria Kovalovich, who is a staffer for for Rep. Ro Khanna (D-Calif.) on the Oversight & Reform Committee
Rajiv Sicora, who is a policy advisor for Rep. Jamaal Bowman (D-N.Y.)
Courtney Koelbel, who is a staffer for Rep. Jamie Raskin (D-Md.) on the Oversight & Reform Committee
Philip Bennett, who is a staffer for Rep. Ilhan Omar (D-Minn.)
Emma Preston, who is a legislative assistant, also for Rep. Khanna
Don't expect to hear about this again. Like Stephen Colbert's staff, they are rubbing it in the faces of Trump supporters that they can get away with whatever they want, wherever they want and whenever they want.
ITEM 5: The Delaware Valley Journal reported, "At least two families have decided to remove their children from Stetson Middle School after over-the-top gay pride celebrations this year.
"Jim Jacobs said he and his brother have decided to send their children to different schools because of what he believes is cultural indoctrination instead of education occurring in the West Chester Area School District."
They made the lads wear dresses.
Twitter and Facebook won't let you call it grooming, but that is what it is. Also it humiliates straights.
ITEM 6: Fortune magazine reported, "Recession fears and rising rates are a buying opportunity for affluent Americans: 'This is when the wealthy make their money.'"
Biden is their boy.
ITEM 7: Matt Drudge warned me to stay out of Georgia.
Whew! Close call. I almost took that midnight train to Georgia.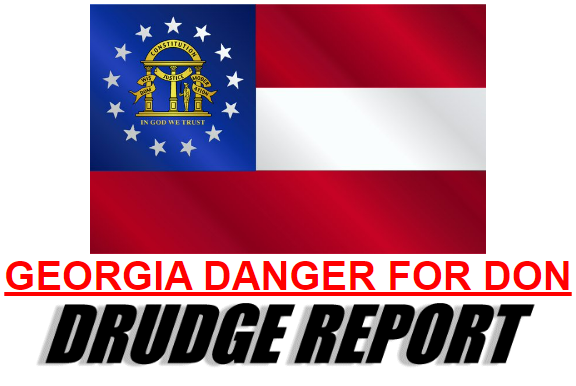 If I had a dime for every time Drudge reported President Trump was finally going down, I'd have that shitload of dimes Slim Pickens wanted in Blazing Saddles.
ITEM 8: Via Legal Insurrection, DeSantis on what the left calls gender-affirming surgery.
DeSantis said, "That's a euphemism. They will actually take a young boy and castrate the boy. They will take a young girl and do a mastectomy, or they will sterilize her because of the gender dysphoria. There is no evidence that this is something that's effective medical care.
"And we know that people that do this when they're kids have huge problems going on. So we believe that this is not appropriate in the state of Florida. We don't think a doctor should get a license if they're doing it.
"And I think these doctors should be able to be sued by these folks when they develop problems later in life. This is wrong. Minors should not be having this type of stuff performed on them."
Ban it for anyone under 18. Give the death penalty to any doctors who perform this.
ITEM 9: Yahoo reported, "Social Security beneficiaries could see their 2023 cost-of-living adjustment hit double digits for the first time in more than four decades as inflation in the United States continues to spiral ever higher despite government efforts to rein it in."
But inflation is transitory.
Soon it will transit into a recession.
ITEM 10: Conservative Brief reported, "California Democrat Rep. Adam Schiff is tearing into President Joe Biden for another failure."
The Schiff Head said, ''I don't know why there aren't more vaccines available. I'm hearing from health care providers in my district that there are people lining up to get vaccinated and they don't have the vaccines for them, and that is a real problem. As I think you indicated, we really don't know the future course of this virus. But what we do now, early on, just as was the case with the pandemic, will determine just how bad this may get. And so, I want to light a fire under the administration and get them to make sure that we up production, that we up distribution, and that people that are ready and willing and able to get vaccinated have the ability to protect themselves."
We don't need a vaccine.
We need gay men to stop having anonymous sex with one another. That is how it is spread.
ITEM 11: Dan Bongino reported, "Ahead of second quarter gross domestic product (GDP) numbers being released this Thursday, the Biden administration is looking to stray from how recessions are usually defined.
"The U.S. economy has already suffered negative GDP growth in the first quarter of the year, meaning that the economy is already in recession if Thursdays numbers show negative growth.
"Ahead of their release, the Biden Administration posted an article to the White House blog answering the question 'What is a recession?' where they veer from the traditional definition; 'While some maintain that two consecutive quarters of falling real GDP constitute a recession, that is neither the official definition nor the way economists evaluate the state of the business cycle.' Naturally, many are interpreting this seemingly out-of-nowhere blog post as being to soften the blow of negative growth numbers this Thursday."
We shall see if the supposedly independent National Bureau of Economic Research calls this a recession.
ITEM 12: Fox News had Bret Baier interview Newt Gingrich, an in-house commentator.
BAIER: You've been in politics a long time. Democrats in some states around the country are funding more right-leaning candidates thinking it's going to be easier for them. They did it in Maryland, Pennsylvania. They failed in Colorado. This can whip around them.

GINGRICH: It's an a huge risk. You're faced with an American tsunami, not a republican. An American tsunami.

You saw some of it just now. 38% increase in New York City in the last year. People are going to go out, look at their gas tank, look at their grocery store, and I guess the Republicans are going to pick up probably five or six Senate seats somewhere between 40 and 70 House seats. It won't be obvious until October and in October will come crashing down. The Democrats are helping nominate the people they least want to see in office. It's crazy.
40 to 70 House seats would give Republicans their largest majority in the House in 90 years.
ITEM 13: Post Millennial reported, "Patricia Elaine Trimble, a biological male who raped two 9-year-old girls and who murdered a developmentally disabled cell mate while incarcerated has been recently celebrated in left-wing media as 'a transgender woman, feminist, and activist.' Trimble has been spending their time in prison advocating for the rights of "the incarcerated LGBTQ+ community."
"Trimble is a regular contributor to the The Prison Journalism Project, a non-profit organization that provides a platform for prison inmates. In 2019, Trimble published an academic paper in the Harvard Kennedy School's Student Publication LGBTQ Policy Journal about the 'systemic discrimination' against the LGBTQ community, of which Trimble only recently became a member. Trimble, 59, decided to transition to a woman in their mid-fifties after learning about transgender identity through an LGBTQ organization that Trimble reached out to following an alleged assault."
Amazon reported, "Patricia is a transgender feminist, activist, and advocate for the incarcerated LGBTQ+ community. She has spent over four decades of her life in Missouri's Prison System, with her first adult incarceration at 17 and her first juvenile incarceration at age eight. Although Ms. Trimble was charged, convicted and sentenced to over a hundred years for a crime she did not commit, she is also serving a life sentence for a murder she committed in 1979. Ms. Trimble has earned her GED, attended a junior college and St. Louis University where she studied theology and made the Dean's List. Currently, Ms. Trimble lobbies Missouri legislators and prison administrators for changes to end mandatory minimum sentences and institute meaningful programs for the rehabilitation of LGBTQ+ prisoners."
His real name is Patrick Edward Trimble who not only raped little girls but in prison raped and otherwise sexually abused a fellow inmate, whom he later murdered.
The left views him as a victim and a hero. This is the utopian world the left wants where babies are either aborted or molested as children.
ITEM 14: CBS reported, "Highly credible whistleblowers have come forward to a senior Senate Republican alleging a widespread effort within the FBI to downplay or discredit negative information about President Joe Biden's son, Hunter Biden, according to letters reviewed by CBS News."
Republican Senator Chuck Grassley said in his letter to FBI Director Christopher Wray and Attorney General Merrick Garland, "The information provided to my office involves concerns about the FBI's receipt and use of derogatory information relating to Hunter Biden, and the FBI's false portrayal of acquired evidence as disinformation.
"The volume and consistency of these allegations substantiate their credibility and necessitate this letter."
The media and the FBI covered for Biden's son and we wound up with a stumbling, bungling president whose only talent is accepting bribes.
What was their cut of the action?
ITEM 15: The Wall Street Journal reported, "Russia said it would further reduce natural-gas supplies to Europe this week, lobbing another volley in its economic war with the West and raising new questions about Europe's ability to avoid shutting down factories and leaving homes cold this winter.
"Russian state-owned energy producer Gazprom PJSC said gas exports through the vital Nord Stream pipeline to Germany would drop to about a fifth of the pipe's capacity, blaming sanctions-related problems with turbines that have already reduced flows. The fresh reduction in the pipeline's capacity—from 40% currently to 20%—is expected to take effect Wednesday, Gazprom said.
"Wholesale European gas prices jumped 12% Monday to 179 euros, or about $183, a megawatt-hour. They have more than doubled so far this year and are expected by analysts to keep rising as winter approaches, adding to inflation that is straining economies, governments and financial markets in the region.
"European officials and analysts say Russia President Vladimir Putin is weaponizing gas deliveries, aiming to retaliate for economic sanctions imposed on Russia and weaken the West's resolve to give military and financial assistance to Ukraine. By keeping some gas flowing, they say, Moscow is keeping Europe guessing and maximizing the leverage it has over Europe's energy security to sow political fissures."
Biden's economic sanctions on Russia backfired. Bigly.
And the war grinds on.
FINALLY, TBS cancelled Samantha Bee's weekly show. She is best known for calling Ivanka Trump the C-word.
Trumpenfreude?
Nope.
Ivankafreude.