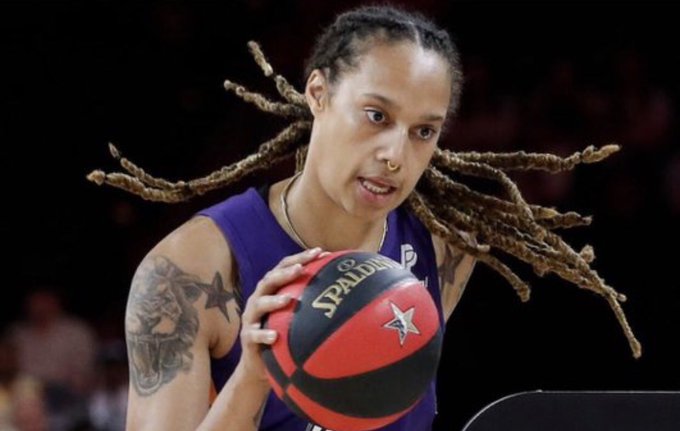 Basketball player Brittney Griner was one of 4 athletes profiled by Glory on February 15 for insulting our national anthem.
The Glory story said
, "In many ways, Brittney Griner's (and many other players in the WNBA) protest was built off of what Kaepernick started. On the opening night of the WNBA season in July 2020, the Phoenix Mercury and Los Angeles Sparks walked off the court before the playing of the national anthem.
"Once the anthem had finished, the players returned to the floor to observe a 26-second moment of silence for Breonna Taylor, who was shot and killed by police in her home in March 2020.
"After a 99-76 loss to the Sparks, Griner spoke to reporters and explained that she would not be present on the court during the national anthem for the rest of the season. The seven-time all-star also suggested that the league could forgo the national anthem before each contest."
She said, "I'm going to protest regardless. I'm not going to be out there for the national anthem. If the league wants to play it, that's fine. It will be all season long; I [won't] be out there."
Two days after the story appeared, she got caught in a drug bust in Russia.
The dirty little secret is the WNBA is a summer league because the gals can make more money overseas playing in Europe in the winter. The WNBA did not make her a millionaire. Russia did. She didn't follow their rules. Now she is learning that the Russian police are not as nice as those American police officers she maligned.
She wants to come back to the land of the free-ee-ee and the home of the brave.
AP did not mention her walking out when the national anthem was played in its story, "Griner sends letter to President Biden pleading for his help."
Instead, AP promoted her spin.
AP ended its sad, sad tale of the millionaire's tale, "Griner has been able to have sporadic communications with family, friends and WNBA players through an email account her agent set up. The emails are printed out and delivered in bunches to Griner by her lawyer after they are vetted by Russian officials. Once the lawyers get back to their office, they'll scan any responses from Griner and pass them back to the U.S. to send along.
"She was supposed to have a phone call with her wife on their anniversary but it failed because of an 'unfortunate mistake,' Biden administration officials said.
"Griner's supporters have encouraged a prisoner swap like the one in April that brought home Marine veteran Trevor Reed in exchange for a Russian pilot convicted of drug trafficking conspiracy. The State Department in May designated her as wrongfully detained, moving her case under the supervision of its special presidential envoy for hostage affairs, effectively the government's chief hostage negotiator.
"Griner isn't the only American being wrongfully detained in Russia. Paul Whelan, a former Marine and security director is serving a 16-year sentence on an espionage conviction."
Maybe Kaepernick could use some of that extra Nike money he got for kneeling to hire her a good Russian lawyer.
They show so much in common. They are both ingrates who show zero love of their native country.