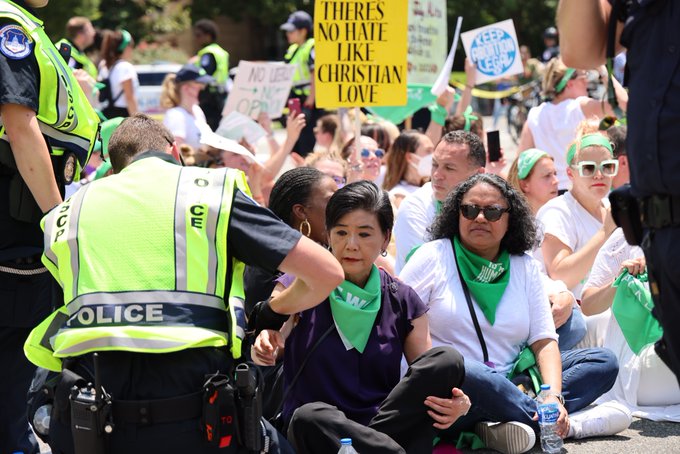 Democrat Congresswoman Judy Chu of California blocked traffic at the Supreme Court. Because this was an officially sanctioned protest, Capitol Police Lieutenant Michael Byrd didn't shoot and kill anyone.
Instead the Capitol Police gave the protesters three warnings before arresting them. There will be no attempts to disqualify Chu for leading an insurrection.
Many tyrannies use street demonstrations to support the regime. The ladies coordinated their outfits. Most wore white with green scarves and headbands. Dear Leader Chu wore black. They carried signs. It was as orchestrated as a symphony concert.
There were no attempts to make this demonstration appear to be grassroots. That is by design as it helps indoctrinate people into the officially accepted viewpoint. It works in making abortion not only acceptable but a right sitting next to the right to cable TV.
While most of the professionally printed signs had the typical baloney on them -- Keep Abortion Legal and My Body, My Choice -- one of the signs said out loud what the larger purpose is of this battle to kill babies in the womb.
The sign read: "THERE'S NO HATE LIKE CHRISTIAN LOVE."
Dictatorships are leery of Christianity because its message of eternal life and being answerable to a higher authority undermines the regime's message of hopelessness and surrender. Once he seized power, Stalin began razing the churches and cathedrals of Moscow. Thou shalt have no God before communism.
To be certain, there are Christians who support abortion. That's none of my business because I am no expert on Christianity. Just because something is inconceivable to me does not mean it does not exist.
But I caution pro-abortion Christians to read that sign.
You're next.
As the Democrat Party's enforcers attack churches and pregnancy centers, Christians must understand that they are next.
People are disposable in a dictatorship.
Most countries unfortunately legalized abortion on demand after Roe. Poland is one exception because the Catholic church is very strong in Poland.
Evil sees Poland as a threat and for good reason. Lech Walesa and Pope John Paul II helped bring the Soviet Union down. The USSR was the devil's masterwork in the 20th century. He would have gotten away with it too, if not for those meddling Poles.
And the fall came on December 25, 1991.
Yes, the Orthodox Christmas is two weeks later for the Russians. But the Poles aren't Orthodox.
In many, many ways.