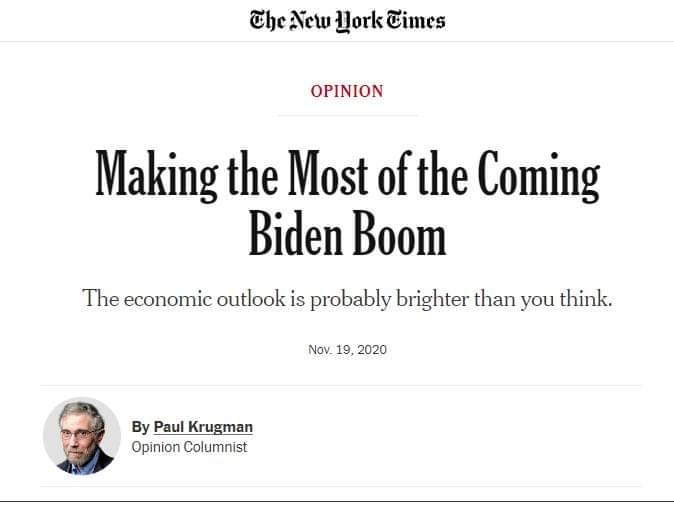 Paul Krugman is a Nobel-winning economist, NYT columnist and advisor to Enron.
In 1998, he wrote
, "The growth of the Internet will slow drastically, as the flaw in 'Metcalfe's law'—which states that the number of potential connections in a network is proportional to the square of the number of participants—becomes apparent: most people have nothing to say to each other! By 2005 or so, it will become clear that the Internet's impact on the economy has been no greater than the fax machine's."
In 2016, upon the election of President Trump, he wrote, "It really does now look like President Donald J. Trump, and markets are plunging. When might we expect them to recover?
"Frankly, I find it hard to care much, even though this is my specialty. The disaster for America and the world has so many aspects that the economic ramifications are way down my list of things to fear.
"Still, I guess people want an answer: If the question is when markets will recover, a first-pass answer is never."
But then Biden became president, and Krugman made up for his bad advice about the Internet, Enron and Trump by correctly predicting the economic collapse of the country under Biden.
He told us to stock up on baby formula, to plant gardens and to stuff our money in a mattress. Save that bacon grease, too.
Oh, I am kidding. The man is a gigantic doofus. His beard is smarter than him. He makes John Kerry seem bright.
Krugman wrote, "Making the Most of the Coming Biden Boom. The economic outlook is probably brighter than you think."
The New York Times actually paid him money to write this.
At the time, the brief Pandemic Panic recession had ended, and the bull was back on Wall Street with the quickest recovery from a bear market in history. Unemployment was lower than it was in 2012 when the people re-elected Obama.
But Krugman insisted we were still in a recession.
He wrote, "This time, however, households entered the pandemic slump with much lower debt. Net worth took a brief hit but quickly recovered. And there's probably a lot of pent-up demand: Americans who remained employed did a huge amount of saving in quarantine, accumulating a lot of liquid assets.
"All of this suggests to me that spending will surge once the pandemic subsides and people feel safe to go out and about, just as spending surged in 1982 when the Federal Reserve slashed interest rates. And this in turn suggests that Joe Biden will eventually preside over a soaring, morning in America-type recovery."
He made a mistake newspaper columnists often make. He wrote from the top of his head without bothering to research.
Had he fact-checked himself, he would have realized those "slashed interest rates" were a cut to 9% interest in October 1982.
Biden will not be able to slash interest rates because they have been discounted to nearly zero for two decades.
What Krugman missed was the inflationary overspending by Biden. His $1.9 trillion infrastructure deal was a payback to donors and special interest groups. Trump left Biden 1.4% inflation.
Less than 18 months later, Biden pumped it up to 8.6%, a rate not seen in two generations.
Krugman wrote, "If I'm right, however, the peculiar nature of the coronavirus slump may give Democrats another big political opportunity. There's a pretty good chance that they'll be able to run in the 2022 midterms as the party that brought the nation and the economy back from the depths of Covid despond. And they should seize that opportunity, not just for their own sake, but for the sake of the nation and the world."
Covid's still there, the economy's tanking and the midterms look bad for Democrats.
I sure hope Krugman is working on his Biden Will Be Re-Elected In A 50-State Landslide column for his post-midterm analysis piece.