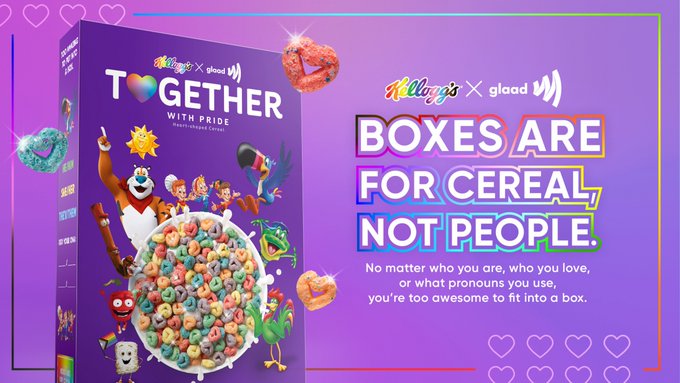 A year ago, Kellogg cereal teamed up with the Gay Mafia -- GLAAD -- to introduce a new product aimed at grooming kids at breakfast. As Tony the Tiger now says, "They're gaaaaaaaaaaaay!"
They called it Together.
A year later, Kellogg is falling apart after 128 years in business.
Kellogg will spin off its North American cereal division, which was its only product when the company began in 1894.
Cereal sales have stagnated for Kellogg, hence the Hail Mary gay promotion. (I always had my suspicions about Froot Loops.) Less than 20% of its revenues come from North American cereal.
Food Business News reported, "The Kellogg Co.'s board of directors have approved a plan to break the company up into three independent businesses — global snacking, North American cereal and plant-based foods. The proposed breakup is scheduled to be completed by the end of 2023, according to the company."
Plant-based foods is a euphemism for Fake Meat. All food derives from plants. Meat comes from animals who ate plants.
80% of its revenues come from snack foods. This reflects American eating habits, which are light on cereal and heavy on Cheez-Its and the like.
Meanwhile, Disney continues to struggle after siding with groomers in Florida. Its gay-themed Lightyear animated flick bombed at the box office worldwide with 14 countries saying Oh Hell No and banning the movie altogether.
Brandon Morse reported, "Over the course of just a year, Disney stock has plummeted nearly 50% as their political-infused productions continue to turn away audiences and garner angry fan reactions."
The price drop is the second-largest among the S&P 500 companies. (PayPal is the biggest loser.) It is odd considering a year ago, Disney parks were just beginning to re-open after closing for the Pandemic Panic. Caving to the woke crowd -- liberals who throw tantrums at things they don't like -- carries a price.
Morse said, "The new Ms. Marvel show on Disney+ has been released with the lowest viewership numbers the streaming service has seen yet. A total of 775,000 households tuned in to watch the new Marvel outing in its first five days, but that's dangerously low compared to other shows such as Moon Knight (1.8 million), Hawkeye (1.5 million), Loki (2.5 million), and WandaVision (1.6 million)."
Ms. Marvel is cultural appropriation of Captain Marvel. Hey, we can play the same game.
But some people are awakening to the nonsense of the woke.
NBC reported, "The International Rugby League banned transgender players from women's international competition on Tuesday until further notice, following global swimming's decision to restrict trans athletes' participation at the elite level."
The swimming group's acronym is FINA.
The TV network, which is owned by Comcast, reported this as a bad thing and discrimination. Given that most transgenders are boys in skirts -- transvestites -- such action protects girls from being bullied by guys who are by nature usually larger and more athletic.
The story said, "The International Cycling Union said last week it had tightened its eligibility rules.
"Other sports are reviewing their policies.
"World soccer governing body FIFA said it is in a consultation process over transgender participation while World Athletics boss Sebastian Coe praised FINA for its stance."
Elitists want us to live in Bizarro World, which I wrote about yesterday.
Grown-ups are starting to say no. And Kellogg's is spinning off Froot Loops and the rest to keep the company solvent.