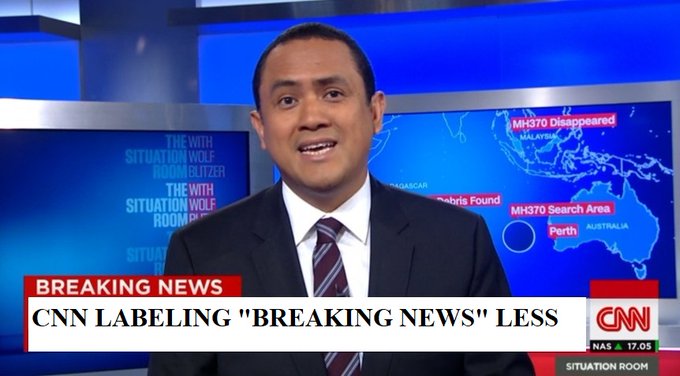 BREAKING NEWS! CNBC reported, "New CNN boss has a message for staffers: Cool it with the 'Breaking News' banner."
ITEM 1
:
Hamas-Shielding AP reported
, "The OPEC oil cartel and allied producing countries including Russia will raise production by 648,000 barrels per day in July and August, offering modest relief for a global economy suffering from soaring energy prices and the resulting inflation.
"The decision Thursday steps up the pace by the alliance, known as OPEC+, in restoring cuts made during the worst of the pandemic recession. The group had been adding a steady 432,000 barrels per day each month to gradually restore production cuts from 2020."
Not mentioned in the story is the world uses 97 million barrels of oil each day. This will add less than 1% to production.
ITEM 2: OutKick reported, "Florida Governor Ron DeSantis plans to veto a $35 million legislation for a Pasco County facility that's earmarked for the Tampa Bay Rays' spring training, OutKick has learned.
"DeSantis's decision is in response to the Rays politicizing recent shootings in Buffalo and Uvalde ahead of a matchup with the Yankees in May."
The Rays tweeted: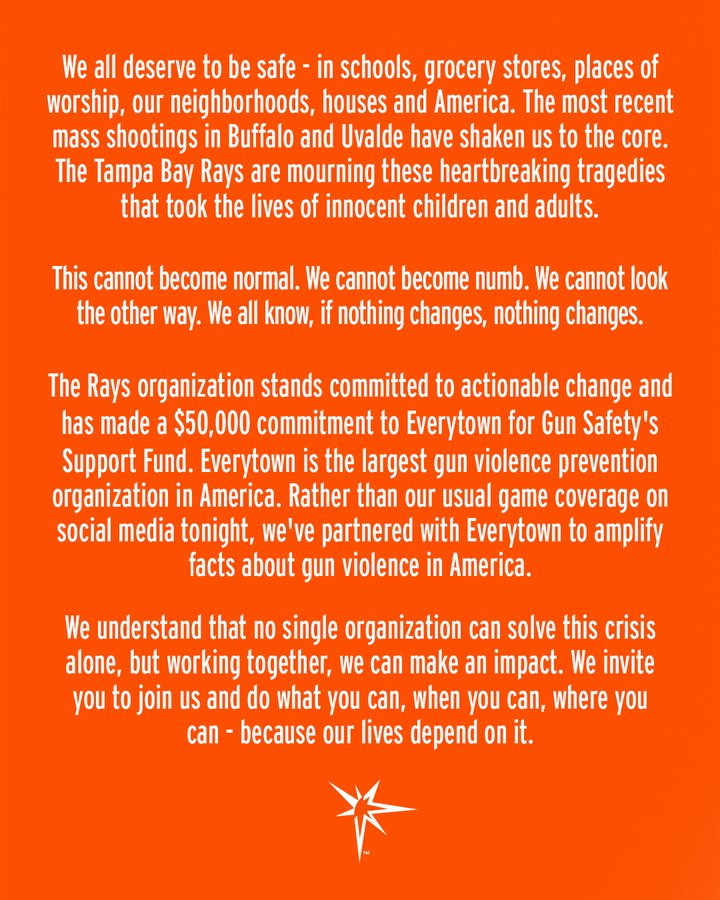 But rather than tweeting, why don't the Rays really do something? The Rays should refuse to play in New York or Texas where the shootings were. Sure, they would forfeit those games and likely not make the playoffs. But it would be a small sacrifice to make if it saves just one life!
ITEM 3: ADN America reported, "South Dakota's Republican Gov. Kristi Noem on Thursday pledged to stand up to the Biden administration's threats to defund lunch programs for schools that do not adopt the president's interpretation of Title IX – a move which conservatives have celebrated as a defense of women's sports."
The story also said, "Noem's comments came just days after the U.S. Department of Agriculture's (USDA) Food and Nutrition Service (FNS) announced that it will interpret 'the prohibition on discrimination based on sex found in Title IX of the Education Amendments of 1972 … to include discrimination based on sexual orientation and gender identity.'"
Accept boys as girls or your children will starve.
Noem said, "President Biden is holding lunch money for poor Americans hostage in pursuit of his radical agenda. He is insisting that we allow biological males to compete in girls' sports or else lose funding for SNAP and school lunch programs.
"South Dakota will continue to defend basic fairness so that our girls can compete and achieve. I would remind President Biden that we have defeated him in litigation before and are ready to do so again.
"Mr. President, we'll see you in court."
Stalin used food to whip people to submission.
Now Biden tries to.
ITEM 4: QTR's Fringe Finance reported, "The Sheer Stupidity Of Student Loan Forgiveness While Inflation Rages Out Of Control."
Stupidity?
How about the unconstitutionality?
Where does it state a president can spend $5.8 billion in "loan forgiveness" without the prior approval of Congress?
Republicans need to stop this in court.
TWEET OF THE DAY:
This is a single 9mm round, capable of tearing through the engine block of a school bus for disabled children. Tell me again why you need this to hunt ducks pic.twitter.com/yuONRtWDel

— Cirsova: Mongoose & Meerkat Kickstarter Live! (@cirsova) June 2, 2022
ITEM 5: Fox reported, "Fox News Channel finished as the basic cable most-watched network during the month of May as The Five finished as the No. 1 cable news program during the busy month that featured the ongoing war in Ukraine, information and analysis of all-things politics and breaking news coverage of the tragic Uvalde, Texas school shooting.
"It was Fox News' second highest-rated May in network history, finishing behind only May 2020 when coronavirus dominated the news cycle in the early stages of the pandemic.
"Fox News averaged 1.5 million total viewers compared to 634,000 for MSNBC and only 500,000 for CNN as Fox News gained 23% compared to last year while MSNBC and CNN were both down double digits. Fox News also crushed the competition among the advertiser-coveted demographic of adults age 25-54, averaging 229,000 compared to 106,000 for CNN and a dismal 70,000 for MSNBC."
Wow, big scoop.
Now you know why they call it the ME-dia.
ITEM 6: The New York Post reported, "Jason Momoa 'likes' both Amber Heard and Johnny Depp's post-verdict statements."
A celebrity liking tweets now passes for a news story.
ITEM 7: Just the News reported, "Attorney Michael Avenatti was sentenced Thursday to four years in prison for defrauding ex-porn star Stormy Daniels, a former client whose legal wrangling with then-President Trump made Avenatti a popular albeit brief cable news celebrity for bashing Trump.
"He was convicted of wire fraud and aggravated identity theft for stealing about $300,000 from Daniels that she was meant to receive in connection with her 2018 tell-all book in which she dishes about her alleged relationship with Trump before he became president."
The story also said, "He was already in prison for having been found guilty in 2020 of trying to extort as much as $25 million from Nike by threatening the company with bad publicity. He was sentenced last summer to two-and-a-half years in prison for the crime."
Don't worry, CNN. The Creepy Porn Lawyer should get out of prison in time to run for president in 2028.
ITEM 8: The New York Times burped, "The inflation of the period between the Gilded Age and World War I gave Americans a taste for peanut butter, pasta and stews and casseroles graced with but not dependent on meat. The 1970s brought us brown rice, granola, exciting vegetables like eggplant and zucchini, and every conceivable way to prepare a lentil. Freed from having meat in every meal and with a world of recipes at our fingertips, what will the delicious culinary legacy of this inflationary period be?"
There was little inflation between 1890 and World War I.
And meat consumption rose slightly in the 1970s.
Once again, liberals make up something and call it history.
ITEM 9: Zero Hedge reported, "A top US food processing company warned of an upcoming shortage of its turkey products at supermarkets following one of the worst bird flu outbreaks.
"'Our Jennie-O Turkey Store team is facing an uncertain period ahead,' Hormel Foods Corporation CEO Jim Snee told investors in an earnings call. 'Similar to what we experienced in 2015, (avian influenza) is expected to have a meaningful impact on poultry supplies over the coming months.'"
He predicted shortages beginning just before Thanksgiving. Maybe NYT will rejoice about tofu turkey.
ITEM 10: The Washington Examiner reported, "A mountain lion made its way into a Northern California high school.
"The cat, believed to be a young cub, wandered into an English classroom Wednesday at Pescadero High School, where a custodian quickly shut the door to trap it until more help arrived, according to the San Mateo County Sheriff's Office."
Maybe he wanted to complain because the school mascot is a Viking and not a Mountain Lion.
ITEM 11: CBS reported, "California is rationing water amid its worst drought in 1,200 years."
It has not built a reservoir in 50 years, even as the population doubled.
CBS blamed climate change because it is staffed by morons.
ITEM 12: Politico reported, "After this week's break in the primary calendar, seven states will hold elections on Tuesday. In the biggest of them, California, Democrats are already looking at some troubling early turnout numbers: So far, only about 2.2 million Californians have returned ballots. That's less than a third of the total early vote at this point in California's recall election last year.
"Primary turnout is traditionally a poor indicator of general election turnout. But Paul Mitchell, a leading political data expert in California, says Democrats have reason to be concerned this year."
Don't worry voters. Thanks to mail-in ballots, Democrats will do your voting for you. It's like Santa at Christmas. Wake up Election Day to find out who you voted for.
ITEM 13: Just the News reported, "President Biden has acknowledged not understanding the immediate impact of the shutdown of an Abbott baby formula plant in Michigan nor the subsequent formula recalls.
"Biden made the acknowledgement Wednesday amid a nationwide formula shortage and moments after formula manufacturers told him, during a White House roundtable on the crisis, that they knew immediately how bad the shortages could get, according to CNN."
Once again, Washington is out of touch with reality.
ITEM 14: Fox reported, "Sandmann lawyer joins Rittenhouse team, says Zuckerberg a 'top' target of numerous 'solid' lawsuits."
Zuckerberg.
Always go for the deepest pocket. That's where the money is.
ITEM 15: ADN America reported, "A uniquely-Las Vegas industry's very existence is in danger after the group with rights to Elvis Presley's image and likeness sent cease-and-desist letters to several chapels in the city.
"Authentic Brands Group, which licenses Elvis-related merchandise, has told the wedding chapels to stop the unauthorized use of 'Elvis Presley's name, likeness, voice image, and other elements of Elvis Presley's persona in advertisement, merchandise, and otherwise,' according to the document dated May 19.
"The letters have 'sent a shockwave through the Las Vegas chapel community,' reported the Las Vegas Review-Journal. Many of them offer Elvis-themed weddings officiated by an impersonator, which are a significant portion of the city's $2 billion per year wedding industry.
"Kourtney Kardashian and Travis Barker recently got married in a Las Vegas chapel, where they demanded an Elvis impersonator oversee their 2 a.m. ceremony."
Courts? No, no, no. This should be settled in a cage match. A Nicolas Cage match.
ITEM 16: The New York Post reported, "A number of people were shot at a cemetery in Wisconsin on Thursday when gunfire erupted during a funeral for a man who was killed during a police dispute last week, reports said.
"The shooting took place at Graceland Cemetery in Racine, Wisconsin at around 2:30 p.m. local time as family and friends gathered to mourn Da'shontay L. King, according to The Journal Times."
My eyes glaze over.
ITEM 17: The New York Post reported, "Woman who is sexually attracted to planes wants to marry a toy Boeing."
I believe her infatuation began with a Blind Faith album cover.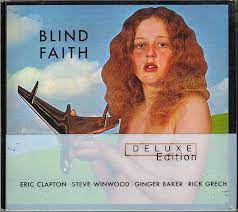 ITEM 18: The Hill reported, "At the risk of overusing a phrase, the 2024 presidential election may be the most important — and perhaps the closest — in history. Last week's Census Bureau announcement of serious errors will impact the next decade's congressional apportionment and delegations, and play a crucial role in the presidential race. Given the nature of the mistakes, Democrats could hang onto the presidency under particularly controversial circumstances due to publicly-acknowledged errors.
"The Census Bureau acknowledged that 14 states had significant miscounts in the 2020 census. See if you notice a pattern here: Among the overcounted states are Hawaii, Delaware, Rhode Island, Minnesota, New York and Massachusetts. Five of these six voted for Joe Biden in that year's presidential election. The undercounted states were Texas, Illinois, Florida, Mississippi, Tennessee and Arkansas. Five of these six voted for Donald Trump."
Man up, Republicans. Sue.
FINALLY:
The new $1 Dollar Bill design looks pretty cool pic.twitter.com/a6SilHIrsm

— Matt Esparza (@matthewesp) June 2, 2022