I want to clear something up so that there is absolutely no doubt.

I'm a Board Certified OB/GYN who has delivered over 2,500 babies.

There's not a single fetal or maternal condition that requires third trimester abortion. Not one. Delivery, yes. Abortion, no.

— Omar L. Hamada, MD, MBA (@OmarHamada) January 23, 2019
ITEM 1: CNN reported, "Hershel Woodrow Williams, the last surviving World War II Medal of Honor recipient, has died, according to the Woody Williams Foundation. He was 98 years old."
He tried to get in the Marines twice. He was too short. Eventually they allowed him in. On the day they raised the flag at Mount Suribachi, Iwo Jima, he was routing the Japanese in caves, earning his medal.
The story also said, "In the early days of World War II, Williams delivered telegrams informing Gold Star families that their loved one had died, the foundation website says – an experience Williams said helped him appreciate life and better understand the 'difference in death in the normal world as expected in life, and those lost serving in the military for their country.'
"After the war, Williams worked for 33 years in the Department of Veterans Affairs. He also created the Woody Williams Foundation to support and advocate on behalf of Gold Star Families after his time as a Marine, according to the foundation's website."
RIP, Woody.
ITEM 2: The Los Angeles Times whined, "In the hours after Cassidy Hutchinson delivered bombshell testimony to the Jan. 6 committee Tuesday, former President Trump and his allies rushed to attack the former White House staffer."
She did not deliver testimony.
She told a pack of lies. She wasn't there. The Secret Service agents who were there say she is lying.
ITEM 3: Fox reported, "A shooting on New York City's Upper East Side on Wednesday night has left one woman dead."
The Samantha Bees of the world are about to discover that the towers they reside in offer them no protection from the evil they provoke.
ITEM 4: AP reported, "An overwhelming and growing majority of Americans say the U.S. is heading in the wrong direction, including nearly 8 in 10 Democrats, according to a new poll that finds deep pessimism about the economy plaguing President Joe Biden.
"85% of U.S. adults say the country is on the wrong track, and 79% describe the economy as poor, according to a new survey from The Associated Press-NORC Center for Public Affairs Research. The findings suggest Biden faces fundamental challenges as he tries to motivate voters to cast ballots for Democrats in November's midterm elections.
"Inflation has consistently eclipsed the healthy 3.6% unemployment rate as a focal point for Americans, who are dealing with high gasoline and food prices. Even among Democrats, 67% call economic conditions poor."
But the good news is, no mean tweets.
ITEM 5: Wow, the New Yorker is $9 a copy.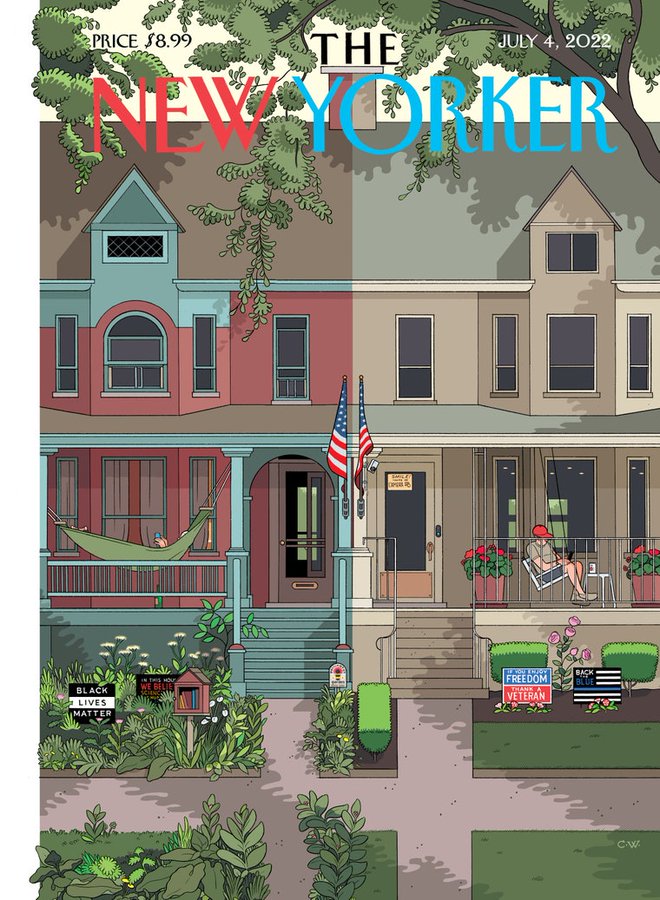 When was the last time a lefty waved an American flag?
Someone made its cover more realistic by adding a rainbow flag.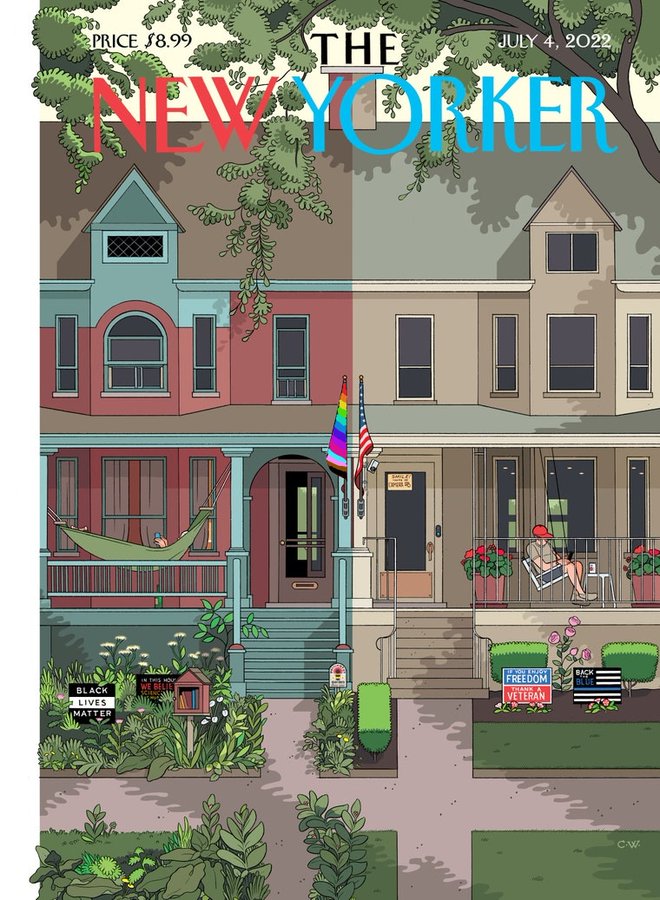 This time when Democrats secede, we should let them go.
ITEM 6: Post Millennial reported, "The Supreme Court on Wednesday issued a ruling stating that states can prosecute crimes against Native Americans, committed on Native American reservations if the defendant is non-native. The case Oklahoma v. Castro-Huerta clarifies some confusion and difficulty had by law enforcement attempting to find justice for victims, despite there being limitations on state law enforcement officials to either investigate or prosecute crimes on Native American designated land.
"The decision was penned by Justice Brett Kavanaugh, and was joined by Roberts, Thomas, Barrett, and Alito, with a dissent from Gorsuch, along with Breyer, Sotomayor and Kagan."
PM included the pertinent point in the decision: "We conclude that the Federal Government and the State have concurrent jurisdiction to prosecute crimes committed by non-Indians against Indians in Indian country."
It makes sense. I also like that he said Indians. 85% of the population is native American.
ITEM 7: The Baltimore Sun reported, "Baltimore Police arrested Joseph Black late Wednesday morning, about half a day after officials alleged he accelerated his vehicle while engaged with a Baltimore police sergeant during a traffic stop Tuesday night, dragging the officer about two blocks and leaving him badly injured.
"Black, 36, barricaded himself in a West Baltimore home Wednesday morning, causing a long standoff with police, but was taken into custody without incident, police said."
The story also said, "Court records show Black had been freed from jail late last year after pleading guilty in two separate cases. Both times, he was arrested on attempted murder and other serious counts, then took a plea deal and was convicted of illegal gun possession—a much lesser charge that allowed him to be released on time served and placed on probation."
Baltimorons inhaled the lefty politics that makes heroes of the villains and targets of the cops.
It is time to dump Democrat politicians and elect Republicans.
ITEM 8: Who is this handsome man with the Lincoln top hat hairdo?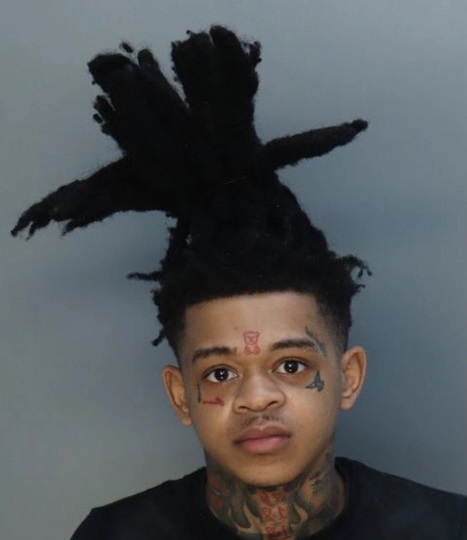 WFLA reported, "A Florida rapper was arrested in Miami for eluding law enforcement and recklessly operating a jet ski on Sunday.
"According to an arrest affidavit, Nehemiah Harden, 19, also known as SpotemGottem, of Jacksonville was arrested in Miami after official noticed a jet ski in a restricted speed zone, with posted signs."
Every criminal these days is a rapper.
ITEM 9: Paul Sperry tweeted, "Special Counsel John Durham has failed to beat the 5-year federal statute of limitations to indict any FBI officials/agents related to the fourth & final invalid application for wiretap warrant to spy on Trump adviser Carter Page OK'd by FISA court on June 29, 2017."
Well played, Bullshit Durham. Well played.
ITEM 10: The Washington Examiner reported, "Former President Donald Trump is scheduled to participate in a rally in Anchorage, Alaska, to show his support for congressional candidates Kelly Tshibaka and Sarah Palin, as well as Gov. Mike Dunleavy (R).
"The event, set for Saturday, July 9, will take place at the Alaska Airlines Center. The festivities are slated to begin at 11 a.m. local time, and Trump is scheduled to present his remarks at 4 p.m.
"Trump's rare excursion across the country to Alaska could provide a boost in particular to Tshibaka, who is attempting to unseat Republican Sen. Lisa Murkowski, one of seven Republican senators who voted to impeach Trump last year. There are more than a dozen others in the top-four primary contest, which includes all parties, set for August."
North to Alaska, the vote rush is on.
ITEM 11: AP reported, "Ferdinand Marcos Jr., the namesake son of an ousted dictator, is to be sworn in as Philippine president Thursday in one of the greatest political comebacks in recent history but which opponents say was pulled off by whitewashing his family's image.
"His rise to power, 36 years after an army-backed People Power revolt booted his father to global infamy, upends politics in the Asian democracy, where a public holiday, monuments and the Philippine Constitution stand as reminders of his father's tyrannical rule.
"Activists and survivors of the martial law-era under his father staged protests to welcome Marcos Jr.'s inauguration, which was to be held at the steps of the National Museum in Manila. Thousands of police officers, including anti-riot contingents, SWAT commandos and snipers, were deployed in the bayside tourist district for security.
"Chinese Vice President Wang Qishan and U.S. Vice President Kamala Harris's husband, Doug Emhoff, are among foreign dignitaries attending the noontime ceremony."
Imelda told him to run because mama needs a new pair of shoes.
ITEM 12: The Daily Wire reported, "Twitter Suspends Jordan Peterson After He Tweets 'Ellen Page Just Had Her Breasts Removed.'"
Since she now is passing herself off as a man, shouldn't we call them moobs?
ITEM 13: Tucker Carlson is on the march.
Tucker Carlson: "Noticing a pattern here? Speak up against Joe Biden, dare to organize other people to speak up against Joe Biden, dare to run for office against Joe Biden and you raise your chances of the FBI showing up at your house exponentially." pic.twitter.com/SoP1fphRI6

— The Columbia Bugle 🇺🇸 (@ColumbiaBugle) June 30, 2022
They will never give him an Edward R. Murrow Award. Instead, he will just live it.
ITEM 14: The New York Post reported, "House Speaker Nancy Pelosi received Holy Communion while attending a papal Mass at the Vatican Wednesday — despite her public support for abortion rights that have led to her being barred from receiving Communion in her hometown of San Francisco.
"The California Democrat was administered Holy Communion while at St. Peter's Basilica, according to two witnesses, who told the Associated Press that Pelosi was seated in a VIP diplomatic section of the cathedral."
The Red Pope strikes again.
But I found this interesting, "She was accompanied by her husband Paul, who was charged in California last week with DUI causing injury following a drunk driving arrest over Memorial Day weekend."
How did he keep his passport while charged with a crime?
ITEM 15: CNN reported, "Disgraced R&B singer R. Kelly was sentenced to 30 years in prison Wednesday, according to the U.S. Attorney's Office for the Eastern District of New York, following his conviction last year on federal racketeering and sex trafficking charges stemming from his efforts over years to use his fame to ensnare victims he sexually abused."
The story also said, "A jury convicted Kelly last September on nine counts, including one charge of racketeering and eight counts of violations of the Mann Act, a sex trafficking law. Prosecutors from the Eastern District of New York accused Kelly of using his status as a celebrity and a 'network of people at his disposal to target girls, boys and young women for his own sexual gratification.'
"The five-week federal trial in Brooklyn included testimony from witnesses who said they were sexually and physically abused by Kelly. The court also heard from people involved with orchestrating the disgraced R&B singer's 1994 marriage to the late singer Aaliyah when she was just 15 and he was an adult after she believed she'd gotten pregnant."
Another pedo bites the dust.
FINALLY, all you need to know about gun laws in one tweet.
To the evangelical leaders telling us we shouldn't celebrate overturning Roe when we're not doing enough for moms and children: you're wrong.

For decades, Pro-lifers have been doing all the work you say needs to be done. You are welcome to get off the couch and join us. pic.twitter.com/8NMKCnLOzy

— Allie Beth Stuckey (@conservmillen) June 30, 2022