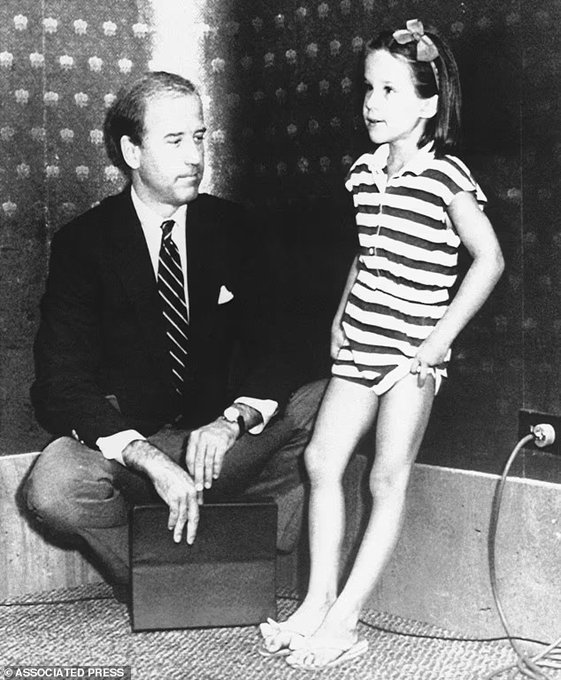 ITEM 1: The president's daughter comes clean, writing, "I remember having sex with friends @ a young age; showers w/ my dad (probably not appropriate)."
The Daily Mail reported
, "A Florida woman who found Ashley Biden's private diary is being investigated by the FBI – not for stealing the journal but for selling it, DailyMail.com has learned.
"The diary's explosive contents include Ashley's speculation that showering with her father, then-Senator Joe Biden, as a young girl may have contributed to her sex addiction.
"'I remember having sex with friends @ a young age; showers w/ my dad (probably not appropriate),' she wrote in a January 2019 entry.
"After a stint in rehab, the president's daughter, now 41, briefly lived in a Palm Beach home often used by recovering addicts, and left her diary there when she moved back to Philadelphia in June 2020."
She wrote this as her dad received the nomination for president.
Her brother left a tell-tale laptop behind around the same time.
It is almost as if the two people who knew him best were trying desperately to stop his election.
ITEM 2: Meanwhile, in the disinformationland that we call the news media, USA Today is CYAing.
Scoop: USA Today is removing 23 articles from its website this afternoon after an investigation into accusations of fabrication by a reporter, Gabriela Miranda. Story TK.

— Ben Mullin (@BenMullin) June 16, 2022
From her web site, "Hello, I'm Gabriela! I'm a News Now reporter for USA TODAY, covering trending news nationwide. [SNIP] I've covered health, crime and politics as well as enterprise projects. My fluency in Spanish has helped me write, translate and speak to sources within the Latinx and Hispanic community."
Great. She can lie in two languages. Next stop, NYT!
ITEM 3: The Recount reported, "Gov. DeSantis (R-FL) defends Florida being the only state to not pre-order covid vaccines for kids under 5 and recommending against taking it."
DeSantis said, "Parents are really frightened about covid for their kids … It's because of media hysteria, it's because of a lot of misinformation."
The M in media stands for Misinformation.
ITEM 4: Just the News reported, "Two California police officers were murdered in broad daylight on Tuesday while responding to a domestic dispute at a motel in Los Angeles County when the suspect, who was reportedly already on probation for a gun charge, ambushed them.
"The El Monte Police Department announced that Cpl. Michael Paredes and Officer Joseph Santana were 'killed in the line of duty, while faithfully carrying out their sworn duties.'
"El Monte Mayor Jessica Ancona said the officers were 'essentially ambushed while trying to keep a family safe.'
"Pardes, a 22-year-veteran of the department, is survived by his wife and two children.
"Santana, who had only been on the department for less than a year, leaves behind his wife and three children."
On probation for a gun charge.
No new gun laws until they start enforcing the ones on the books.
ITEM 5: A Zogby Poll found that if Biden doesn't run, roughly 40% of Democrats want a first lady to be the next president (Michelle 21.1%, Hillary 11.2% and Dr. Jill 7.4%).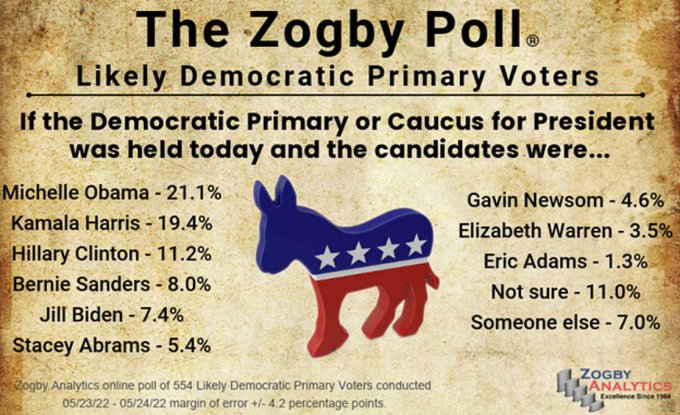 2024 is your year, Rosalynn Carter.
ITEM 6: The Daily Wire reported, "During an all-hands meeting with Twitter employees on Thursday, Elon Musk explained that users should be able to post pretty outrageous things."
That was why I signed on in December 2008.
People then said it was the wild, wild west. And what exactly was wrong with that? The Old West was an unexplored wilderness and desert with few Indians and even fewer rules. Be outrageous. Don't fence me in, bro.
Meanwhile, the Verge reported, "An open letter to SpaceX decrying CEO Elon Musk's recent behavior has sparked open discussion among the company's employees in an internal chat system. Employees are being encouraged to sign onto the letter's suggestions, either publicly or anonymously, with a signed version of the letter to be delivered to the desk of SpaceX president Gwynne Shotwell.
"The letter, reviewed by The Verge, describes how Musk's actions and the recent allegations of sexual harassment against him are negatively affecting SpaceX's reputation. The document claims that employees "across the spectra of gender, ethnicity, seniority, and technical roles have collaborated on" writing the letter. It's not known which SpaceX employees wrote the letter; the employees who posted the letter in the internal chat system have not responded to requests for comment."
Kane at Citizen Free Press said, "Elon Musk should fire every employee who signs this letter."
Absolutely.
UPDATE: Reuters reported Musk took Kane's advice.
ITEM 7: Jonas Salk did not get polio.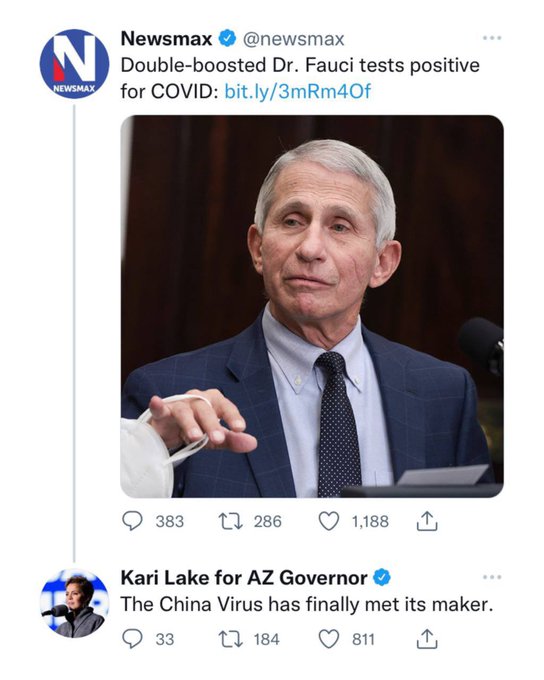 Just saying.
ITEM 8: Just the News reported, "With May's fiscal numbers now in the books, Virginia has recorded a 17.8% revenue increase on a year-to-date basis.
"In addition to improvements over the year, the commonwealth's revenue numbers this May were 9.9% higher than May of last year. Gov. Glenn Youngkin said the numbers confirm that it is time to deliver tax cuts to Virginians."
Zero out the income tax because you are punishing people for working.
Oh, and there was this tidbit: "Virginia ranked 47th in the country in jobs recovered since the pandemic, despite being 16th during the first four months of 2022, according to the governor's office."
Youngkin's term began in January.
ITEM 9: Civiqs poll has Biden's approval at 33%.
It is 24% for voters under 35.
That FJB chant that began last September really did him in because it made not liking him cool.
ITEM 10: Twitter has its moments.
They are conditioning you to view your freedom as "selfish."

— Kevin Sorbo (@ksorbs) June 15, 2022
What freedom is that? The freedom to own a weapon of war like the AR-15, a gun that has rate of fire undreamed of in the days of our Founding Fathers?

— Lee (@Lee68895052) June 15, 2022
This argument crumbles into water when you find out that a private citizen in the "time of the Founding Fathers" could own a fully armed frigate. https://t.co/3HOGUlUsax pic.twitter.com/yUVZmY2zDc

— Carbonation Grimace (@MAWKVLT) June 16, 2022
The Founding Fathers weren't fools. They imagined AR 15s and would have required every adult male to own one.
ITEM 11: The Guardian reported, "'I'm through talking': top Republican negotiator walks out of Senate gun talks.
"John Cornyn says he is heading back to Texas, dimming hope of vote on bipartisan gun safety bill before July recess."
It was his Four Seasons moment when he decided to Walk Like A Man.
ITEM 12: Via AP, Biden said, "People are really, really down.
"Their need for mental health in America has skyrocketed because people have seen everything upset. Everything they've counted on upset. But most of it's the consequence of what happened, what happened as a consequence of the, the covid crisis."
Blame covid. Blame Putin. Blame climate change.
But by all means Biden should take credit if the sun rises in the east tomorrow.
ITEM 13: AFP reported, "Abbott Nutrition has once again shut down a baby formula plant, this time due to heavy rains and flooding, less than two weeks after it reopened to try and mitigate a crippling US shortage.
"The facility in Sturgis, Michigan resumed production on June 4, only to close down again earlier this week so the company could assess rain damage."
It's tough to be a baby in America. The odds of being aborted are 1 in 4. Now this.
ITEM 14: The Hill reported, "Walmart said it pulled MyPillow products from its stores as the pillow company's founder and CEO Mike Lindell continues to falsely claim the 2020 presidential election was rigged against former President Trump."
Wal-Mart was great. It sold American-made products.
Walmart sucks. It is woke.
ITEM 15: CBS reported, "Stock market's fall has wiped out $3 trillion in retirement savings this year."
Trump left Biden a Dow Jones Industrial Average that was above 30,000.
It has taken Biden 17 months, but by golly he has moved the Dow below 30,000.
Momma warned me that get-rich-fast schemes are a good way to lose money. But having Biden as president is even worse.
ITEM 16: Reuters reported, "Liberal Justice Sonia Sotomayor said on Thursday the U.S. Supreme Court's mistakes in high-profile cases can be corrected over time as she adopted a positive tone ahead of a decision in which its conservative majority is expected to curtail abortion rights."
Roe itself was a mistake that Sam Alito is fixing.
ITEM 17: Wonderwall reported, "Ron Perlman, Ethan Embry, Donald Trump Jr., Bill Maher and more celebrities react to the House committee's Jan. 6 hearings."
The story actually was more objective than anything the news media has produced on the subject.
I still don't care.
FINALLY, Fox reported, "World War II veteran reflects on meeting Patton, getting 'chewed out' on 100th birthday."
It's a great story. And Patton was right -- both in chewing him out and calling him a good soldier.