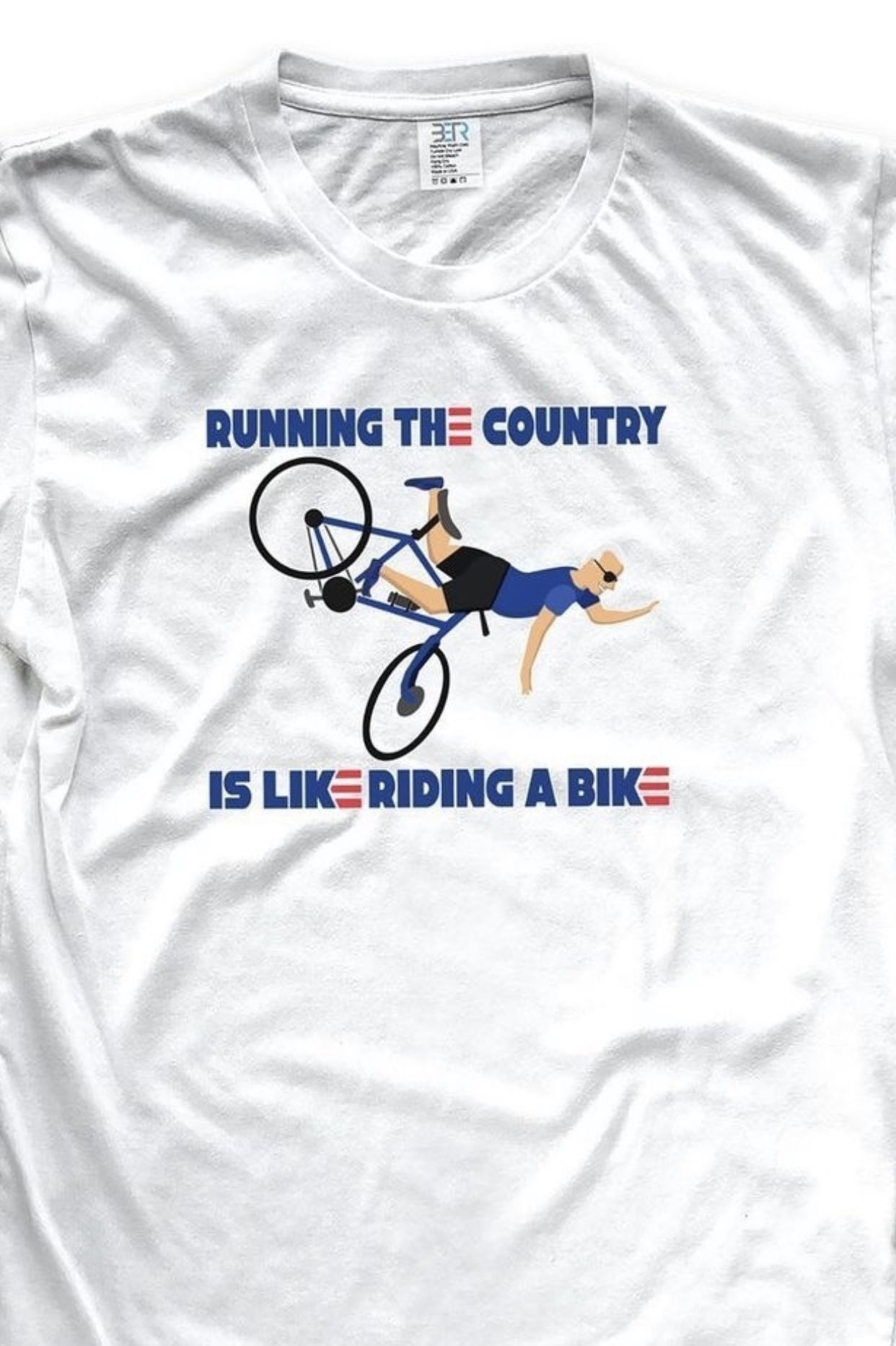 ITEM 1: Just the News reported, "Eight Republican House members have introduced legislation to defund climate czar John Kerry and other climate tyrants inside the Biden administration, blaming them for an energy crisis that has sent gasoline soaring to $5 a gallon.
"The group, led by Rep. Chip Roy of Texas, introduced the No Taxpayer Funding for CZARS Act that would ban federal funding for any activity of the special presidential envoy for climate, including salary and both administrative and travel expenses."
The warmup to 2023 has begun.
ITEM 2: Biden fell off his bicycle on Saturday morning. Looking at the Zagruder film, I noticed something.
DOWN GOES BIDEN pic.twitter.com/yxHhRWOJyC

— Barstool Sports (@barstoolsports) June 18, 2022
Everyone else was veering to the right, but he kept straight ahead, followed only by a Secret Service man.
Metaphor for his disastrous presidency?
All he needs is a meeting with the Killer Rabbit to complete his transition to Jimmy Carter.
ITEM 3: Fortune magazine reported, "Between a tanking stock market, soaring inflation, and mounting recession fears, Americans are turning on the economy.
"And somewhere, Vladimir Putin is probably smiling about it.
"Amid all the chaos, inflation has become the biggest financial concern of nearly every American as prices rise for everything from gas to groceries.
"There are several reasons that inflation reached a 40-year-high of 8.6% last month, including rising rents and labor costs. But economists say a major driver is Russia's invasion of Ukraine, and the subsequent disruption to commodities that it has caused."
So we imposed economic sanctions on Russia that backfired on behalf of a backward country that is run by a comic named Zelensky who gave Democrats an excuse to impeach Trump.
It is almost as if Zelensky and Putin cut a deal to bring us down.
ITEM 4: The Wall Street Journal reported, "Germany will restart coal-fired power plants and offer incentives for companies to curb natural gas consumption, marking a new step in the economic war between Europe and Russia.
"Berlin unveiled the measures Sunday after Russia cut gas supplies to Europe last week as it punched back against European sanctions and military support for Ukraine."
Putin is killing the Climate Change Hoax.
Bloomberg reported, "Britain spearheaded commitments to end dirty power when it hosted COP26. Now energy security is the top priority."
Why should England close its coal plants while India and Red China open new ones?
HAPPY 159TH BIRTHDAY, WEST VIRGINIA!
And don't even think of starting that BS about our statehood not being legitimate. The Supreme Court decided it was more than a century ago.
West Virginia seceded from the British Empire, then seceded from the United States, then seceded from the Confederacy. Mess with Texas before you mess with us.
ITEM 5: NOLA reported, "A gigantic Afro hair pick, decorated with a peace sign and surmounted by a clenched Black fist, popped up in Lafayette Square on Friday evening. A social media video shows New Orleans Mayor LaToya Cantrell pulling away sheeting to expose the estimated 24-foot-tall steel creation, 'All Power to All People,' by artist Hank Willis Thomas."
Democrats embraced white supremacy for 100 years, then traded it in for black supremacy because Democrats see power in playing the races against one another.
By the way, the "peace sign" is actually Churchill's V for Victory sign.
ITEM 6: AP cheerfully reported, "Democrats are going to hold onto the House after November's midterm elections. They will pick up as many as four seats in the Senate, expanding their majority and overcoming internal dissent that has helped stifle their agenda.
"As the challenges confronting President Joe Biden intensify, his predictions of a rosy political future for the Democratic Party are growing bolder. The assessments, delivered in speeches, fundraisers and conversations with friends and allies, seem at odds with a country that he acknowledged this week was 'really, really down,' burdened by a pandemic, surging gas prices and spiking inflation."
AP.
Almost Pravda.
ITEM 7: The Spectator reported, "Joe Biden's tampon shortage.
"It's his fault, period."
But others disagree. The Independent reported last month, "Tampon producer Procter & Gamble blames Amy Schumer for shortage."
Ow, ow, ow. I just bit through my tongue holding back the jokes.
My wife laughed at them.
ITEM 8: Move over transitory inflation. Make room for transitory recession.
ABC reported, "A coming recession is not at all inevitable as the Federal Reserve takes increasingly aggressive actions to address sharply rising inflation, Treasury Secretary Janet Yellen said Sunday."
Yellen said, "I expect the economy to slow. It's been growing at a very rapid rate, as the economy, as the labor market, has recovered and we have reached full employment. It's natural now that we expect a transition to steady and stable growth, but I don't think a recession is at all inevitable."
Fact check: The economy shrank by 1.5% in the first quarter.
She looks like my dear old grandmother now.
Grandma didn't know jack about the economy either.
ITEM 9: Kane at Citizen Free Press reported, "Fina, swimming's world governing body, has voted to stop transgender athletes from competing in women's elite races if they have gone through any part of the process of male puberty.
"The new policy requires transgender competitors to have completed their transition by the age of 12 in order to be able to compete in women's competitions. Fina will also aim to establish an 'open' category at competitions for swimmers whose gender identity is different than their birth sex."
Sanity arrives a swimming season too late.
FRESH-BAKED TRUMPENFREUDE: The Hollywood Reporter reported, "Oscar-winning director Paul Haggis (Crash) was detained on Sunday in the southern Italian town of Ostuni on charges of sexual assault and aggravated personal injury, according to multiple reports in the Italian media and a statement by the public prosecutors of the nearby city of Brindisi.
"A young woman, identified only as being "foreign," that is not Italian, has pressed charges against Haggis, accusing the two-time Oscar winner of forcing her to engage in sexual intercourse over the course of two days in Ostuni, where Haggis was scheduled to hold a series of master classes at the Allora Fest, a new film festival launched by L.A.-based Italian journalist Silvia Bizio and Spanish art critic Sol Costales Doulton that is set to run from June 21-26."
"The story also said, "In 2018, the publicist Haleigh Breest sued Haggis, who wrote the Oscar-winning screenplay to Million Dollar Baby and wrote and directed Oscar best picture winner Crash, alleging he had violently raped her in her New York apartment after a premiere in 2013. In the wake of her allegations, three more women came forward with separate sexual misconduct allegations against Haggis. Haggis has denied all the claims."
On October 27, 2017, Haggis said, "Trump is allowing us to see how truly racist our society is."
He also piled on Harvey Weinstein who at the time was accused of, well, what Haggis is accused of.
ITEM 10: AP reported, "Lightyear did not go to infinity (or beyond) in its first weekend in theaters: Pixar's first major theatrical release since March 2020 blasted off with $51 million in its debut weekend in North America, according to studio estimates on Sunday."
The film cost $200 million to make.
Paragraph 11 said, "Lightyear opened in 4,255 locations domestically and in 43 markets overseas. Thirteen nations from the Muslim world and the Palestinian territory barred Lightyear from playing in their cinemas because of the inclusion of a brief kiss between a lesbian couple."
Happy Pride Month, groomers.
ITEM 11: Margaret Menge reported, "Five months after breaking the story of the CEO of One America insurance company saying deaths among working people ages 18-64 were up 40% in the third quarter of 2021, I can report that a much larger life insurance company, Lincoln National, reported a 163% increase in death benefits paid out under its group life insurance policies in 2021.
"This is according to the annual statements filed with state insurance departments — statements that were provided exclusively to Crossroads Report in response to public records requests.
"The reports show a more extreme situation than the 40% increase in deaths in the third quarter of 2021 that was cited in late December by One America CEO Scott Davison — an increase that he said was industry-wide and that he described at the time as unheard of and 'huge, huge numbers' and the highest death rates that have ever been seen in the history of the life insurance business.
"The annual statements for Lincoln National Life Insurance Company show that the company paid out in death benefits under group life insurance polices a little over $500 million in 2019, about $548 million in 2020, and a stunning $1.4 billion in 2021."
For 40 years, Iran has shouted death to America.
Fauci and all those governors who panicked over covid may have accomplished this. We shut the country down for a virus that 99% of those infected survive -- in fact most have to be told they have the virus.
ITEM 12: Jack Phillips of The Epoch Times reported, "Transportation Secretary Pete Buttigieg said that the federal government may take action against airlines on consumers' behalf amid numerous flight cancellations in recent weeks, including more than 2,000 that were canceled on Saturday and Sunday morning."
Paternity Leave Pete shows he has no idea of how the airline industry works.
None.
Hiring a man for a Cabinet post simply because he is gay and gays donate millions to the Democrats will kill airlines. Congress needs to stop this unqualified ninny from suing anyone.
Maybe if Biden hadn't told pilots to be vaccinated or be fired they would not be quitting their jobs.
ITEM 13: 2020 Mules.
Trump on the 2000 Mules pic.twitter.com/8bOeRdDbda

— Election Wizard 🇺🇸 (@ElectionWiz) June 19, 2022
Really, that should have been the name.
ITEM 14: NYT reported, "When Sally Buzbee joined The Washington Post a year ago this month, she took over a newsroom that had nearly doubled to more than 1,000 journalists under the ownership of Jeff Bezos, who bought it in 2013. Its coverage regularly won Pulitzer Prizes.
"The newspaper has continued growing in the months since. It has opened breaking news hubs in Seoul and London to become more of a 24-hour global operation. It expanded coverage of technology, climate and personal health. Its reporting won the Pulitzer Prize for public service this year.
"But Ms. Buzbee is now on the defensive, yet to completely win over the newsroom and facing internal strife that has eclipsed some of her bold plans.
"Internal frustration with Ms. Buzbee has spilled into public view. Much of it resulted from two social media storms — one that led to the firing of a reporter, and another that led to accusations that a feature editor's promotion was unfairly rescinded. Many journalists at the newspaper say the problems resulted from an outdated policy on how employees should conduct themselves online, and a star system that has led to uneven enforcement of that policy. Ms. Buzbee released a draft of a new social media policy on Wednesday."
Sounds like Buzbee is in over her head.
The story said, "Ms. Buzbee, 57, joined The Post last June, becoming the first female executive editor in its 145-year history. She had spent her career at The Associated Press, most recently serving as executive editor. She replaced Martin Baron, who remade the newsroom over eight years to much acclaim, including 10 Pulitzer Prizes."
Maybe WaPo should go back to what worked for 145 years.
ITEM 15: 100% Fed Up reported, "Radical left pro-abortion activists march outside Justice Amy Coney Barrett's house while holding bloody baby dolls
"The pro-abortion radical left have gotten increasingly bold since the leak revealing an impending overturning of Roe v. Wade.
"Their protests outside of the homes of conservative Supreme Court Justices Barrett and Kavanaugh have gotten more and more grotesque and threatening in the past few weeks as well."
Interesting because today is the 56th anniversary of the Beatles releasing their Yesterday and Today album.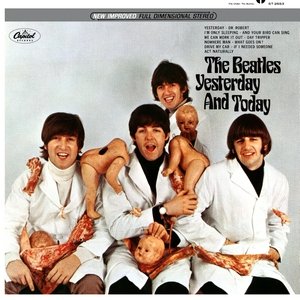 Baby, you can drive my car...
ITEM 16: The Epoch Times reported, "Cleveland Federal Reserve Bank President Loretta Mester said it will take two years for inflation to fall to the central bank's 2% target, adding that it will be moving down gradually from the current level."
Her exact words were, "It isn't going to be immediate that we see 2 percent inflation. It will take a couple of years, but it will be moving down."
The cure for inflation is spelled R-E-C-E-S-S-I-O-N.
FINALLY, people ask me why I still do Twitter.
One Father's Day, when I was 9, my Dad asked me to hop in the car.

We drove to an elementary school. It was Sunday at 11 am. Inside the gym, cigarette smoke filled the air as three dozen adults milled about.

Confused, he told me to sit.

— Dave Kline (@dklineii) June 19, 2022
He then walked to the front. He was the only one up there.

Were they here to listen to my Dad?
Was this his meeting?

My Dad went to a lot of meetings. That is what I thought work was.

He asked for quiet and began to speak.

— Dave Kline (@dklineii) June 19, 2022
"My name is Dave, and I'm an alcoholic."

What!?!?

Stunned, I learned about a life I didn't know.

Of cases of beer that disappeared and days that did the same.

Of a war we didn't speak of and the birth certificate he forged to join it.

Of parents who showed love with fists.

— Dave Kline (@dklineii) June 19, 2022
When it ended, I watched something else.

A parade. It seemed like each person had to greet my Dad.

He was a celebrity.

I'd learn that in these circles, 10 years sober was quite a miracle.

And miracles inspire.

Sharing was his gift to them. And a burden he gladly wore.

— Dave Kline (@dklineii) June 19, 2022
But that Father's Day, he gave me a gift.

A gift he had started to wrap a decade earlier.

He was determined that I would not grow up as he had. That my normal would be a safe and sober normal. That his duty as a parent was to be better.

His gift to me was a broken chain.

— Dave Kline (@dklineii) June 19, 2022
My Dad passed a few years ago.

While he asked for a quiet send-off, 100s of strangers disagreed.

For hours, they shared stories of timely visits, encouraging words, or the occasional kick-in-the-ass.

Many shared a line I heard repeatedly:

Choose your tomorrow but start today.

— Dave Kline (@dklineii) June 19, 2022