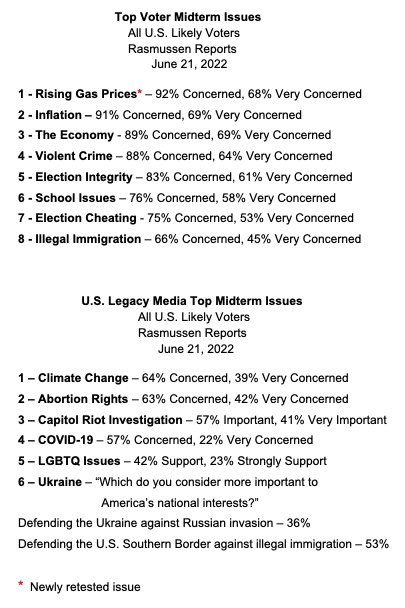 ITEM 1: Good news, Democrats. Illegal aliens no longer are the top concern of voters.
The poll also showed that the public (likely voters) tuned the media out. None of the 6 things the media talks about most made the top 8 public concerns.
ITEM 2
:
Cars.com reported
, "Cars.com's American-Made Index returns to rank all qualifying vehicles built and bought in the U.S. for the third time in its 17-year history."
Four of the top 6 were Tesla cars. Four of the top 10 were Hondas. Also cracking the top 10 were the Lincoln Corsair and the Jeep Cherokee.
Hmm. A Tesla. Be American, buy a coal-powered car.
ITEM 3: Unity News Network reported, "A woman whose fiancée died after receiving the covid jab has received the first covid vaccine damage payment of £120,000.
"Vikki Spit, who filed for claims under the Vaccine Damage Payment Scheme, said she had been paid in compensation after the death of her husband Lord Zion in May 2021.
"Lord Zion received the AstraZeneca jab in May last year and died shortly after, Spit said."
The Brits are paying reparations.
Will we?
ITEM 4: AP reported, "Jurors at a civil trial found Tuesday that Bill Cosby sexually abused a 16-year-old girl at the Playboy Mansion in 1975.
"The Los Angeles County jury delivered the verdict in favor of Judy Huth, who is now 64, and awarded her $500,000.
"Jurors found that Cosby intentionally caused harmful sexual contact with Huth, that he reasonably believed she was under 18, and that his conduct was driven by unnatural or abnormal sexual interest in a minor.
"The jurors' decision is a major legal defeat for the 84-year-old entertainer once hailed as America's dad. It comes nearly a year after his Pennsylvania criminal conviction for sexual assault was thrown out and he was freed from prison. Huth's lawsuit was one of the last remaining legal claims against him after his insurer settled many others against his will."
Why, Bill?
You were a childhood hero of mine.
I saw you on Mike Douglas when it was in Cleveland and you were so funny. Noah. Why Is There Air? Out-of-Bounds Cosby. Buck-Buck. You didn't do race humor. You were a role model.
Now I am ashamed I ever heard of you.
ITEM 5: Just the News reported, "Georgia Congresswoman Marjorie Taylor Greene said Tuesday night she has decided to seek a restraining order against a House Democrat staffer who was captured by Capitol Police on security cameras defacing posters outside her Washington office.
"Greene told Just the News that she felt like she had no choice but to seek the protective order against Timothy Hysom, the chief of staff to Massachusetts Democrat Rep. Jake Auchincloss, after the U.S. attorney's office in Washington declined a police request to issue an arrest warrant and charge the staffer."
Democrats are repulsive people now. Nancy doing backclaps and making goo-goo faces behind President Trump's State of the Union speech. She ripped apart his second one.
Their president is a perv. His son is a coke-addled bribe collector. His daughter is a sex fiend. She was raised that way when he showered with her as a little girl.
Republicans must make these degenerates pay in January. We have a nation to save. We cannot allow this creepiness to continue.
ITEM 6: The New York Post reported, "Mayor Eric Adams promised on Tuesday to review regulations after press reports that bureaucratic snafus and union rules are exacerbating the Big Apple's lifeguard shortage, which has already limited operations at city-run outdoor pools.
"Hizzoner's remarks came after The City, an investigative news non-profit, revealed officials at the Department of Citywide Administrative Services are rejecting waiver requests from paramedics and other first responders to work as lifeguards, despite having signed off on the paperwork in prior summers.
"It also highlighted other shortcomings in the lifeguard division, including a testing regime that conceals key information from applicants and allegations that union bosses retaliate against critics."
Nothing in the city works.
But by golly mayors can get crews to paint "Black Lives Matter" on the streets in a jiffy.
ITEM 7: France 24 reported, "France's top administrative court on Tuesday ruled against allowing swimmers to wear full-body burkini swimwear for religious reasons in public pools, arguing that it violates the principle of official government neutrality on matters of religion (secularism or laïcité).
"Led by a mayor from the Green party, the city of Grenoble voted in May to allow women to wear burkinis in public pools after campaigning by local activists.
"The city also voted to allow women to swim topless as part of a broader relaxation of swimwear rules."
When in France, do as the French do.
ITEM 8: Fox reported, "Republican campaigns in the race to be Michigan's next governor are blasting Democrat Gov. Gretchen Whitmer for referring to women as menstruating people during a recent Zoom event put on by the state's Democratic Party.
"Whitmer made the comments after being asked a question about a proposed amendment to the Michigan state constitution protecting access to abortion for its citizens should the Supreme Court overturn Roe v. Wade."
ITEM 9: Zero Hedge reported, "Any day now (likely Thursday), the Supreme Court could publish its final decision on whether or not to overturn Roe v Wade. If the nine Justices overturn the court case, the decision to ban abortions will become a state matter. It would spur demonstrations as disturbing flyers have already begun appearing across Washington D.C., warning about riots if the case is overturned.
"National Reviews' Ramesh Ponnuru tweeted a picture of a flyer slapped on the side of what appears to be a concrete base of a light pole on the side of a street in D.C. "
The flyer reads:
DC CALL TO ACTION NIGHT OF RAGE ... THE NIGHT SCOTUS OVD.CTURNS ROE V. WADE HIT THE STREETS YOU SAID YOU'D RIOT.

'TO OUR OPPRESSORS: IF ABORTIONS AREN'T SAFE, YOU'RE NOT EITHER.' JANE'S REVENGE.
The FBI and Homeland Security look the other way.
ITEM 10: Reuters reported, "Former President Donald Trump's pick for U.S. Senate in Alabama, Katie Britt, won the Republican nomination on Tuesday, defeating Mo Brooks, the firebrand congressman whom Trump had originally backed before changing his mind, Edison Research projected.
"Britt, a former chief of staff for the man she is running to succeed, retiring Republican Senator Richard Shelby, earned Trump's endorsement this month."
Another homer by Babe Trump.
His batting average is well above .900. No one's endorsements have ever won more primaries.
MAGA rolls on.
ITEM 11: Breitbart reported, "Incumbent Rep. Henry Cuellar (D-TX) won the Democrat nomination for Texas's 28th Congressional District on Tuesday against socialist Jessica Cisneros following a recount for the primary runoff battle between the two, according to the Associated Press who called the race."
Not good news. A Cisneros win would have flipped the seat red because she is as socialist as they come.
ITEM 12: Fox reported, "The Supreme Court ruled 6-3 Tuesday that a Maine tuition assistance program violated the First Amendment's Free Exercise Clause for excluding religious schools from eligibility.
"The program provides tuition assistance for students without a local public school to attend private institutions – as long as the funding is not used for religious or sectarian teaching."
If you fund one, you fund them all.
ITEM 13: Via Yahoo, Target CEO Brian Cornell said of inflation, "I recognized after a few weeks of looking at our own stores, analyzing our business, looking at competition, and hearing from our team that we [had] to address this problem upfront.
"And as opposed to letting it linger quarter after quarter for three or four quarters, we made the tough decision based on what we were seeing in the industry, and back from our guests, our team, the best thing to do was: Let's deal with this upfront and deliver on time."
We all saw this coming, some of us on the day they gave the election to Biden.
ITEM 14: AP reported, "Senate bargainers reached agreement Tuesday on a bipartisan gun violence bill, potentially teeing up final passage by week's end on an incremental but landmark package that would stand as Congress' response to mass shootings in Texas and New York that shook the nation."
None of the provisions would have prevented Uvalde -- or the daily mass shootings' in city after city with tough gun laws.
I question the constitutionality of opening juvenile court records to gun bureaucrats.
Heck, I question the constitutionality of any of this.
ITEM 15: The Daily Mail reported, "'We're the only country in the world doing this right now': Biden boasts about vaccinating under-5s as he takes selfies with toddlers and comforts crying boy named Joe."
You know how to stop this?

Start a rumor the vaccines neutralize puberty blockers.
Biden said, "Everybody knows I like kids better than people."
Um, that's the problem.
Do not let this man shower with your kid unless you want to see them in rehab 30 years from now.
ITEM 16: Louder with Crowder reported, "Biden's Daughter, Granddaughter Try to Save Him From Reporters' Questions but Just Make POTUS Look Worse."
Must have been shower time.
ITEM 17: Conservative Brief reported, "Tensions between President Joe Biden and Vice President Kamala Harris have been heating up for several months.
"Former President Bill Clinton strategist Dick Morris claimed that Biden's aides are leaking stories criticizing Harris because they are concerned she will invoke the 25th Amendment in an attempt to remove the president from office."
Note to Kamala, don't pick Hillary as your veep. Two words Ark and Cide.
ITEM 18: Yahoo reported, "Consumers must be prepared to endure up to five years of turbulent oil markets, the head of ExxonMobil said Tuesday, citing under-investment and the coronavirus pandemic.
"Energy markets have been roiled by the Ukraine war as Russia has reduced some exports and faced sanctions while Europe has announced plans to wean itself off dependency on Russian fossil fuels in coming years.
"Speaking ahead of ExxonMobil's unveiling as the fourth international partner for Qatar's natural gas expansion, chairman and chief executive Darren Woods said major uncertainty lies ahead."
5 years of $10 gasoline.
Lovely.