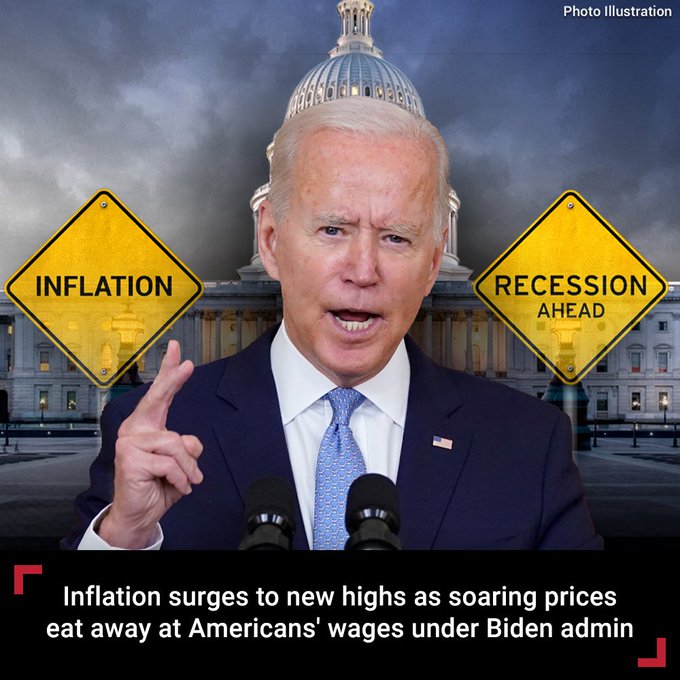 Democrats are progressing in their plan to destroy America in order to save it. In the past year, they have pushed the price of groceries up 11.9% while having the FDA shut down a Similac plant to create a nationwide shortage of baby formula.
An army marches on its stomach. Democrats are making sure we will go nowhere.
The Wall Street Journal reported, "U.S. consumer inflation reached an 8.6% annual rate in May, its highest level in more than four decades as surging energy and food prices pushed prices higher."
That 8.6% number understates the case.
The Journal said, "May's increase was driven by sharp rises in the prices for energy, which rose 34.6% from a year earlier, and groceries, which jumped 11.9% on the year. Prices for used cars and trucks rose 1.8% in May from April, reversing three months of declines. Shelter costs, an indicator of broad inflation pressures, accelerated on a monthly basis in May and were up 5.5% compared with a year ago."
Gasoline was $3.03 a gallon a year ago.
Now it is $4.99.
That's a 65% increase.
But it is the grocery price hikes that really hit home. Bloomberg said, "Grocery prices rose 11.9% annually, the most since 1979." That's 43 years and 7 presidencies ago.
Meat, Poultry, & Fish: +13.1%
Milk: +15.9%
Eggs: +32.2%
Coffee: +15.3%
For years I have mocked Starbucks and its $5 coffee.
McDonald's coffee is halfway to $5 now!
Renters are in for a surprise. WBTV reported, "For the first time, the median monthly rent in the United States surpassed $2,000 a month, according to Redfin. That's 15% higher than this time last year."
Landlords must be making up for that covid moratorium on paying rent.
Inflation is depressing. In a second report, Bloomberg said, "U.S. consumer sentiment plunged in early June to the lowest on record as soaring inflation continued to batter household finances.
"The University of Michigan's preliminary June sentiment index fell to 50.2 from 58.4 in May, data released Friday showed. The figure was weaker than all estimates in a Bloomberg survey of economists which had a median forecast of 58.1.
"Inflation expectations, which the Federal Reserve watches closely, also moved higher early this month and 46% of respondents attributed their negative views to persistent price pressures. Just 13% expect their incomes to rise more than inflation, the lowest share in almost a decade."
Consumers are right. Keeping up with Bidenflation is nearly impossible for most people.
Inflation is so bad that it is affecting police protection. Click On Detroit reported, "A Michigan police department says higher gas prices have forced them to re-think how to handle non-urgent calls.
"The Isabella County Sheriff's Office in Central Michigan, home of Mt. Pleasant, said in a Facebook post this week that due to higher fuel prices, they have asked deputies to manage what they can over the phone:
"Isabella County Sheriff's Office is feeling the pain at the pump as well. We have exhausted what funds were budgeted for fuel with several months to go before the budget reset.

"I have instructed the deputies to attempt to manage whatever calls are acceptable over the phone. This would be non-in-progress calls, non-life-threatening calls, calls that do not require evidence collection or documentation.

"Deputies will continue to provide patrols to all areas of the county, they will respond to those calls that need to be managed in person. Any call that is in progress with active suspects will involve a response by the deputies. I want to assure the community that safety is our primary goal, and we will continue to respond to those types of calls."
Maybe deputies can hitchhike to your home to catch that burglar.
Inflation began when Democrats inflated Biden's support through ballot harvesting -- voting by mail in someone else's name. Turnout hit 67% -- the highest in a century. Only 1964's race hit 60% turnout. The rest were 57% or lower.
Now America pays the price.
Inflation was 1.4% when Trump left office. Now look at it.
The Democrat reaction is as expected.
I see we're at the point of "you know who else hated inflation? Hitler." pic.twitter.com/yHoq2oHkTM

— Carlos (@txiokatu) June 10, 2022
They do not want you to notice they are destroying our nation one price increase at a time.