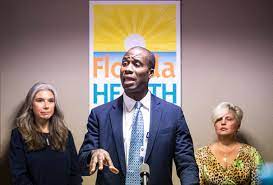 Dr. Joseph A. Ladapo, surgeon general of Florida, sent a letter to the Florida Board of Medicine asking it to protect children from puberty blockers, hormone treatment and sex-reassignment surgery.
His letter said in full
:
On April 20, 2022, the Florida Department of Health (Department) released guidance on the treatment of gender dysphoria for children and adolescents. As State Surgeon General, I recommended against certain pharmaceutical, non-pharmaceutical, and surgical treatments for gender dysphoria. The recommendations are based on a lack of conclusive evidence and the high risk for long-term, irreversible harms from these treatments.

Since then, the Agency for Health Care Administration has conducted a full review to determine if these treatments are 'consistent with generally accepted professional medical standards (GAPMS) and not experimental or investigational.'

The Agency's review included an overview of systematic reviews on puberty blockers, cross-sex hormones, surgeries, or a combination of interventions. While some professional organizations, such as the American Academy of Pediatrics and the Endocrine Society, recommend these treatments for 'gender affirming' care, the scientific evidence supporting these complex medical interventions is extraordinarily weak.

For instance, the overview conducted by Dr. Brignardello-Peterson and Dr. Wiercioch states that 'there is great uncertainty about the effects of puberty blockers, cross-sex hormones, and surgeries in young people with gender dysphoria.'

The current standards set by numerous professional organizations appear to follow a preferred political ideology instead of the highest level of generally accepted medical science. Florida must do more to protect children from politics-based medicine. Otherwise, children and adolescents in our state will continue to face a substantial risk of long-term harm.

The Agency ultimately concluded that 'Available medical literature provides insufficient evidence that sex reassignment through medical interventions is a safe and effective treatment for gender dysphoria.'

I encourage the Board to review the Agency's findings and the Department's guidance to establish a standard of care for these complex and irreversible procedures.
The media that fawned over Fauci has its claws out for Ladapo.
NBC reported, "Florida Gov. Ron DeSantis' administration Thursday asked the state board regulating doctors to essentially ban transition-related care for transgender minors, according to a letter obtained by NBC News.
"The state Health Department made the request hours after another state agency issued a 46-page report to justify banning Medicaid coverage for transgender people of any age who want puberty blockers, hormone therapies or gender-assignment surgery.
"The two-pronged effort, which ensures DeSantis can act quickly and without the need for legislative approval, drew instant opposition from activists and medical professionals. They have increasingly clashed with DeSantis, a Republican, as he seeks re-election and builds a national brand as a culture warrior and potential 2024 White House contender."
It never occurs to the media that perhaps these treatments harm children.
Instead, NBC looked at the issue through the lens of politics, writing, "Republican-led states have focused on transgender-related issues since Biden took office in 2021 and recommitted the federal government to expanding and protecting rights for transgender people. Biden appointed the first transgender assistant secretary of health and human services for health, Dr. Rachel Levine, whose office released a fact sheet promoting gender-affirming care, which Ladapo's office criticized.
"Republican candidates throughout the country have also unleashed a wave of transgender-related political ads this year."
But my question is if a 5-year-old (or a 15-year-old) cannot be trusted to decide for himself on whether or not he wears a mask, how can he be trusted to make a good decision on changing sexes?