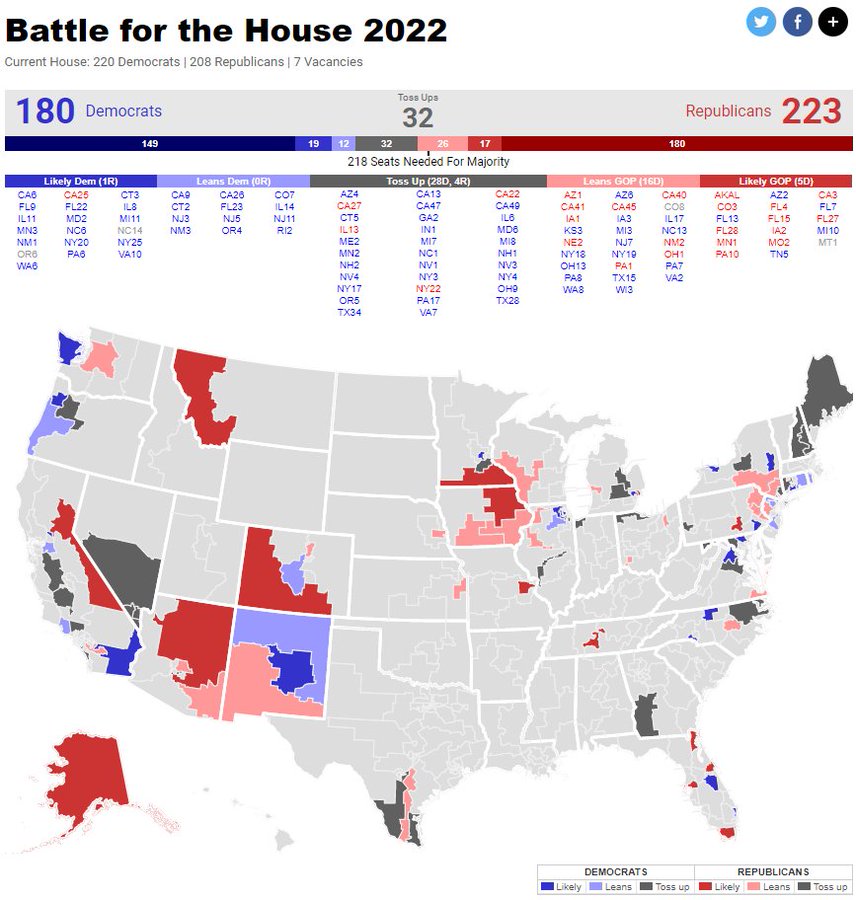 120 years ago, Texas added two congressmen and created its 15th congressional district. Democrats have held it for 120, beginning with John Nance Garner who represented it for 30 years until he became vice president under FDR. Al Gore carried it by 10 points despite running against the governor of Texas, George W. Bush. 4 years later, Bush won it by 2 but Obama carried it by 20 points. Hillary carried it by 16. The district is 81% Hispanic.
Democrats can expect to lose it in November. The seat is one of 21 Democrat seats that Real Clear Politics say are likely or lean Republican in November.
Only 1 Republican seat is expected to flip.
The Democrat seats next to 15 are overwhelmingly Hispanic (79% and 84%). No Republican has represented them. In 2020, the Democrat won by 15 and 19 points respectively. Nevertheless, Real Clear Politics lists those races as tossups.
Real Clear Politics lists 32 seats as tossups. 28 of those are held by Democrats.
Without those tossups, Real Clear Politics has Republicans winning 223 seats, Democrats 180.
Republicans need only 218 seats to take back the House.
The 2022 election is shaping up to be a blowout for Republicans as big as 2010 when they added a century-high of 63 seats.
Republicans are off to a better start.
12 years ago today, Real Clear Politics had it at Democrats 201, Republicans 199 with 35 tossups.
The final score would be Republicans 242, Democrats 193.
In that June 10, 2010 prediction, Real Clear Politics said Republicans had 165 safe seats and Democrats had 150.
Today, Republicans have 180 safe seats and Democrats have 149.
Much can and will happen between now and Election Day, November 8, that could affect voting. The stock market could crash. Inflation could hit double digits. Gasoline could hit $5 a gallon. Stores could start running out of basic products. Crime could ravage our cities. And Biden could make another gaffe.