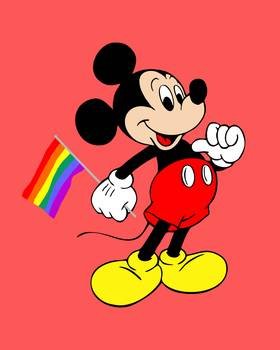 Glenn Reynolds popularized the saying Get Woke, Go Broke, which mocks the insufferable liberal preening and virtue signaling.
Until now, the evidence has been anecdotal.
But three public opinion polls show that yes, there is a backlash against companies that take sides in the cultural war between Real Americans and people who don't even know their pronouns.
The Washington Times reported, "Nearly 9 in 10 American voters want corporations to stay out of politics, according to a poll released Monday.
"The survey by the Trafalgar Group found that 87.1% of likely voters from all political affiliations said they were either very or somewhat likely 'to stop using a product or service of a company that openly advocates for a political agenda' that contradicts their beliefs. The remaining 12.8% said they were either not likely or not very likely to do so."
Taking sides in a political debate could cost you half your customers. Perhaps they should teach that in business school.
And despite years of liberals organizing boycotts (usually of companies they don't patronize anyway such as Hobby Lobby) the reality is going woke is a real deal breaker for conservatives.
The newspaper reported, "While 93.4% of Republican voters said they are likely to boycott a company that takes stances against their values, 84.5% of Democrats and 82.6% of independents said the same."
Politics and business don't mix.
A year ago, the Hill reported, "A majority of voters believe it's inappropriate for corporations to engage in political speech, a new Hill-HarrisX poll finds.
"61% of registered voters in the April 16-19, 2021, survey said it is not appropriate for corporations to engage in political speech.
"By contrast, 39% said it is appropriate."
There is a price to be paid for politicking as Disney discovered when it meddled in Floridian politics. It tried to pressure lawmakers to block passage of the Don't Groom Kids act, which bans teachers for talking about sex to kids 4 to 9.
Not only did Disney lose its special tax treatment and exemptions from state law, but the world's largest entertainment conglomerate also lost the respect of half the country.
Breitbart reported, "In a poll released over the weekend, NBC found (and hid) the fact that Disney's net favorability rating has crashed 53 points to a devastating +3.
"A fall from a +56 to just a +3 in one year.
"Those numbers are fine for a politician. They are death for a corporation.
"NBC found that only 33% of those polled had a positive opinion of Disney, while 30% felt unfavorably towards the degenerate child grooming company."
It was 77% favorable/21% unfavorable a year ago.
That was a 53% shift. The long-admired company known for Dumbo, Bambi and Mickey Mouse lost the goodwill of half the country in one year's time.
That is a tidal shift that should cost its corporate management their jobs because they lost a company's reputation that took nine decades to build.
In that Breitbart piece, John Nolte wrote, "Along with its brand, the stock has tanked from $156 one year ago to just $107 today."
That's an $89 billion loss for its shareholders in one year's time.
Disney cannot simply flip a switch and regain the public's trust again. What sort of moron makes entertainment for children and then supports teaching kindergartners about sex?
Answer: Disney CEO Bob Chapek.
But his peers seem to have learned. I notice that the CEOs are shutting the heck up about abortion. Americans do not care to be lectured on the subject from CEOs.