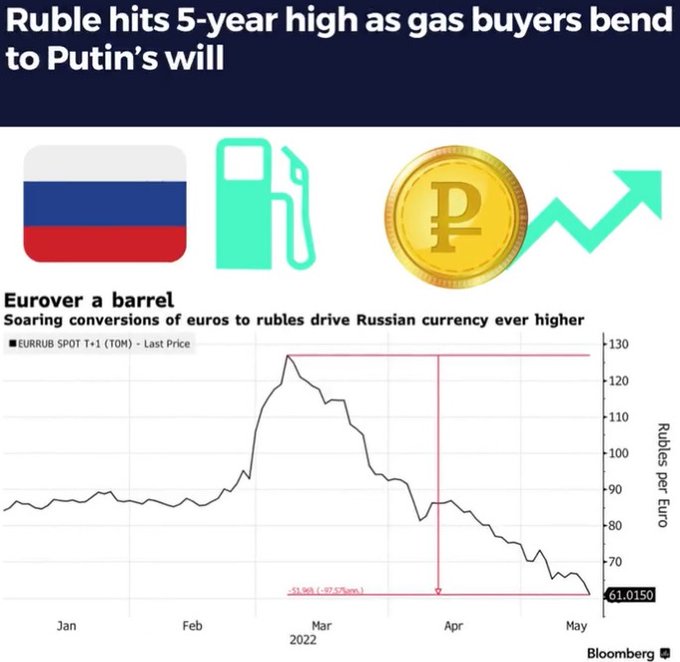 I have no idea of what is going on in the battlefields of Ukraine. Neither do you. The first casualty of war is the truth. But I do know one thing: Biden's economic sanctions backfired bigly.
The idea was to isolate Russia and turn it into an international pariah.
The problem with that is most of the world does not care about Ukraine. Everyone has problems of their own.
Red China kept doing business with Russia, as did India. Those two countries have a combined population that tops 2.5 billion people.
The USA and Europe have less than one-third as many people. We are not as important as we think we are.
Africa and South America don't care about Ukraine, although Russia blocking grain shipments from Ukraine will create a world food crisis that will hit Africa hardest. (This raises a question as to why Africa which enjoys a more agricultural friendly climate has to import basics from a country so far north.)
The economic sanctions not only failed to hurt Putin, the sanctions hurt Europe which relies on Putin for energy.
The economic sanctions actually are making Russia great again.
Bloomberg reported, "The ruble closed at the highest level in five years against the euro as more European companies appeared to be complying with Vladimir Putin's demand that they switch to paying in Russia's currency for natural gas.
"The ruble jumped as much as 9% against the euro and ended Friday's session 2.8% stronger against the dollar in Moscow. The Russian currency is the best performer globally this year.
"Capital controls, collapsing imports and surging energy prices have left the ruble about 20% stronger than before the invasion of Ukraine almost three months ago. The central bank's gradual easing of the restrictions on the market hasn't been able to reverse the appreciation, which could become a problem for the budget as a large share of revenue comes in foreign currency.
"On top of that, many foreign clients of Gazprom PJSC are complying with Putin's demands by opening foreign-currency and ruble accounts with the gas giant's lending arm, Gazprombank, to transfer funds for conversion."
The ruble is doing so well, that I wonder how much Putin paid Hunter to get his dad to impose sanctions on Russia.