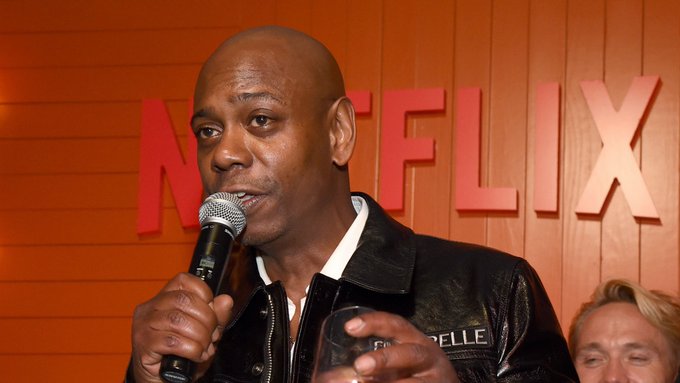 Elon Musk will market Twitter as a free-speech forum once he owns it. Netflix is next to market itself as an anti-censorship service. It just sent a memo to employees that says if they don't like working on a TV show, they can leave.
Variety said
, "The updated Netflix Culture memo also includes a new section called Artistic Expression, explaining that the streamer will not 'censor specific artists or voices' even if employees consider the content harmful, and bluntly states, 'If you'd find it hard to support our content breadth, Netflix may not be the best place for you.'"
Netflix is losing customers and its stock price tanked. It has cut some loser shows and projects, including that royal pain Meghan Markle's animated series. Clearly, Netflix has to cut expenses, which means cutting staff. Getting Woke employees to quit makes personnel decisions easier.
Woke employees are a headache. Last year, they tried to get Dave Chappelle's special, The Closer, cancelled over a joke.
Management resisted. Bravo. It was Netflix's top show, but as we saw with ABC ending the Roseanne show over one bad joke, being No. 1 and making money no longer protects an artist. The irony is Netflix hired the ABC president who canned Roseanne, which returned without its namesake as The Connors.
Netflix is not ABC because it is not owned by Disney. Netflix management just made that clear in revising its employee rules.
The new section reads, "Entertaining the world is an amazing opportunity and also a challenge because viewers have very different tastes and points of view. So we offer a wide variety of TV shows and movies, some of which can be provocative. To help members make informed choices about what to watch, we offer ratings, content warnings and easy to use parental controls.
"Not everyone will like — or agree with — everything on our service. While every title is different, we approach them based on the same set of principles: we support the artistic expression of the creators we choose to work with; we program for a diversity of audiences and tastes; and we let viewers decide what's appropriate for them, versus having Netflix censor specific artists or voices.
"As employees we support the principle that Netflix offers a diversity of stories, even if we find some titles counter to our own personal values. Depending on your role, you may need to work on titles you perceive to be harmful. If you'd find it hard to support our content breadth, Netflix may not be the best place for you."
In short, if you don't like a show, change channels. And if that show still bugs you, change jobs and work somewhere else.
Which brings me back to Chappelle. In his special, he defended rapper DaBaby from the onslaught of the LGBT crowd.
Chappelle said, "A lot of the LGBTQ community doesn't know about DaBaby's history. He once shot a nigga and killed him in Walmart. Oh this is true, Google it. Nothing bad happened to his career. Do you see where I'm going with this? In our country, you can shoot and kill a nigga, but you better not hurt a gay person's feelings."
And of course he is correct. The LGBT that attacked him for saying that proved his point.
You see, Americans don't care if young black men kill other black men because if we did, the killing would have dropped dramatically decades ago. Instead it is on the rise in Democrat-controlled cities. The only solution offered is to take everyone's guns away which is an impossibility. But it shifts the blame for young black men killing one another to inanimate objects.
But I have gone way off tangent.
My point is Netflix management is making good decisions. That cartoon series that management canceled was called Pearl. The Cut reported, "Pearl was meant to be an animated series following the adventures of a 12-year-old girl, named Pearl, who is finding herself with the help of various female historical figures."
Just what the nation needs, another preachy TV show about empowering girls because girls have it so bad that they now outnumber boys on college campuses 3-to-2.
But Woke employees would rather have an animated series by a struggling actress (Markle) than a comedy special by one of the few remaining comics in America who makes people laugh.
2022 is seeing a pushback against Woke bullies.
Disney's CEO caved to the 1% of its employees who opposed Florida's new Don't Groom Kids act.
Now Disney has lost a big tax break, lost its exemptions to state laws for Disney World, and lost the trust of parents across the world.
Sadly, Disney has not learned. Jacob Smith reported, "The Walt Disney Company has announced that a portion of the sales expected from their upcoming 2022 Pride Merch collection will be donated to an organization that has been promoting the teaching of LGBTQ curriculums in public schools for the last 20 years."
But others are learning. CEOs are staying silent about the reversal of Roe v. Wade.
Musk is buying Twitter to return it to its free-speech format.
And Netflix not only is standing by Chappelle (as it did last year) but standing up for anyone else that may run afoul of Woke employees.
But hey, RINOs keep telling conservatives we cannot win on social issues.