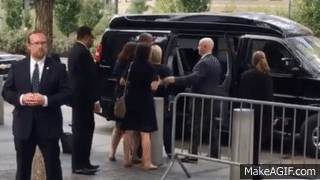 John Durham has done the impossible. He has the media actually covering his Russian Hoax/Obama Spied trial. Reporters are giving his prosecution a chance that perhaps (or likely perhaps not) a D.C. jury will give him.
CNN reported, "Hillary Clinton personally approved her campaign's plans in fall 2016 to share information with a reporter about an uncorroborated alleged server backchannel between Donald Trump and a top Russian bank, her former campaign manager testified Friday in federal court.
"Robby Mook said he attended a meeting with other senior campaign officials where they learned about strange cyberactivity that suggested a relationship between the Trump Organization and Alfa Bank, which is based in Moscow. The group decided to share the information with a reporter, and Mook subsequently ran that decision by Clinton herself.
"'We discussed it with Hillary,' Mook said, later adding that 'she agreed with the decision.'"
Mook is not the only one throwing Her Hillaryness under the Political Bus.
The headline made it clear that the decades of covering up her lies are over. It read, "Hillary Clinton personally approved plan to share Trump-Russia allegation with the press in 2016, campaign manager says."
Yahoo News was even darker.
It reported, "Hillary Clinton personally approved leaking to the media information alleging a connection between Donald Trump and a Russian bank in 2016, which the campaign itself had not fully confirmed, according to testimony Friday by Clinton's campaign manager.
"Robby Mook, Clinton's campaign chief, said in federal court that as the campaign against Trump heated up in the late summer and early fall of 2016, Marc Elias, who was then a lawyer with the Perkins Coie law firm and served as the campaign's top legal adviser, told Mook that 'people with expertise' in cyberactivity had briefed the campaign on data alleging links between the Trump Organization and Alfa Bank, a Russian financial institution with ties to the Kremlin."
The wheels are coming off the narrative and many news organizations are running away to escape the pending collapse.
CBS reported, "Former Clinton campaign manager Robby Mook says Clinton agreed to give Trump-Russia material to reporter."
The story said, "Robby Mook, the former campaign manager for Hillary Clinton, testified on Friday that the 2020 Democratic presidential nominee agreed to provide information about a link between her opponent Donald Trump and Russian Alfa Bank to a reporter, despite the fact that her campaign was not certain about the truth of the allegations.
"During cross examination, Mook said the campaign was not fully confident in the Alfa Bank allegations and wanted to give them to a reporter so the reporter could 'run it down further' and verify it."
Mook could not bring himself to say they knew it was a lie. But it was.
Of course, the Murdoch-related media -- the New York Post, Fox and the Wall Street Journal -- all covered it.
Mini Mike's news service also didn't cover up for her this time.
Bloomberg reported, "Hillary Clinton Approved Trump-Russia Leak to Media, Her Campaign Manager Says.
"Alleged link between Trump servers and Russian was discredited
"Campaign manager testifies he had low confidence in the theory."
The mega-billionaires never had much use for the Clintons. They and the Obamas are the hired help. You remember their birthdays and give them a Christmas bonus, but you would never let their children marry yours.
Of course, the Washington Post and New York Times ignored the story because it undercuts those Pull-It-Surprises repeating the lie brought. The online front pages of each failed to carry the story, although NYT had an obituary for the Vlasic behind Vlasic pickles.
Democracy Dies in Darkness and both newspapers are billionaire toys (Bezos at WaPo, Carlos Slim at NYT) that care little about the truth. They still believe that there is a power in the press. Poor things.
Hillary is old and a loser. Gone are the days when she could show up at a 9/11 ceremony drunk and have the media cover it up by calling it pneumonia.
The world has changed on her. It has been 16 years since she won an election. Her glory days were not that glorious. She was a cuckolded first lady and her accomplishments in presidential elections was losing to Obama and Trump.
Plus, Biden's imbecility does not help her. The media senses a disturbance in The Force. The November election could be a wipeout for Democrats. A return of President Trump is in the offing.
Meanwhile, the economy is about to collapse, store shelves have empty sections, and inflation is about to dissolve everyone's savings account. The media must adjust to the post-Obama, post-Clinton reality.
The media scrambles to remain relevant. Hillary isn't relevant. She's old news. Under the bus she goes.