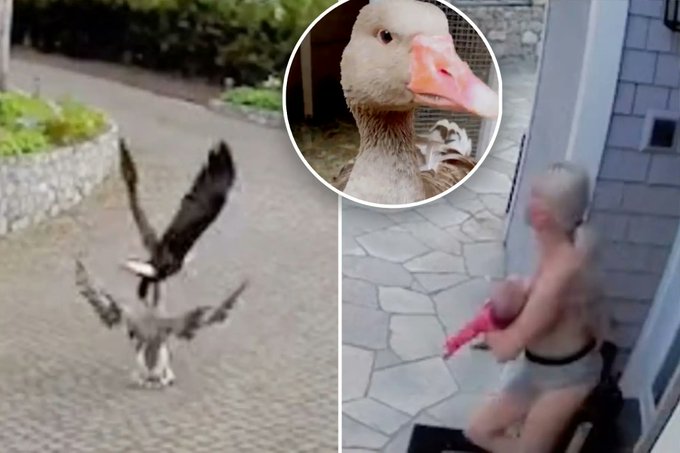 ITEM 1: The New York Post reported, "Topless mom in her undies rescues pet goose from bald eagle in shocking video."
Once she ran out, the bald eagle knew if it harmed the bird, its goose was cooked.
She yelled, "Duck. Duck, goose."
Of course, everyone wanted to take a gander at the topless mom.
ITEM 2: Nick Arama reported, "Former FBI official James Baker's testimony on Thursday buried former Clinton campaign lawyer Michael Sussmann. The charge against Sussmann is that he lied to the FBI, specifically Baker, telling him that he wasn't acting on behalf of any client when he told Baker about the false Alfa Bank allegations, supposedly showing a back channel between the Trump organization and Russia."
Looks like John Durham is proving everything we knew all along.
But while there is excitement over the indictment, there will be no celebration until incarceration.
The media covers the Johnny Depp trial to divert attention to the most important criminal trial in history. A president used the FBI to spy on a political opponent.
The media aids and abets this coup de FBI.
ITEM 3: Small Dead Animals posted this under the headline, "Coulda Had A Pipeline."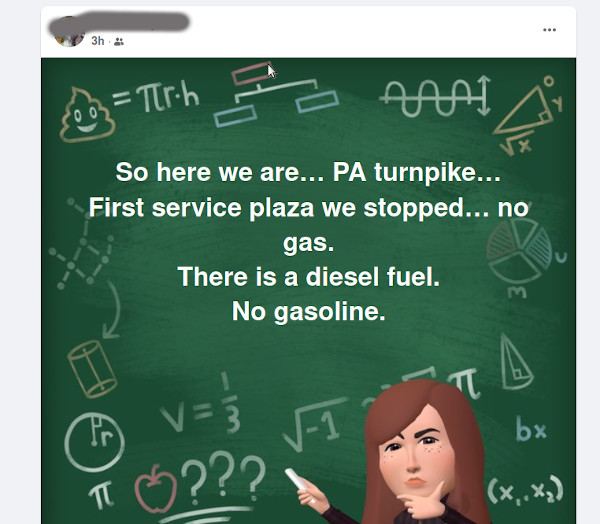 Meanwhile, there is another fire at a food processing or distribution center.
⚠️🇺🇸#DEVELOPING: Massive fire reported at distribution plant in Phoenix, Arizona#Phoenix l #AZ
Emergency personnel on scene confirm a large fire is spreading from a pallet yard behind the US Foods distribution center. Flames can be seen from miles away.
Updates to follow. pic.twitter.com/5IJkOTCF7y

— Intel Point ALERT (@IntelPointAlert) May 18, 2022
In politics, there are no coincidences or unintended consequences. If that makes me a conspiracy theorist, so be it. The right-wing conspiracy theories keep coming true while the communist ones about climate change and Russian collusion prove to be as fake as Jussie Smollett.
ITEM 4: John Solomon tweeted, "Constitutional Carry is now recognized by 25 states throughout the US."
Reversal of Roe will mean an immediate ban to abortion in 21 states.
Conservatism is on the rise.
And pro-lifers proved prayer works. God bless them for having faith in the Lord.
ITEM 5: Sarah Arnold reported, "June 1st marks the beginning of gay pride month, which means the season of rainbow colored everything is right around the corner.
"Obviously it's no surprise Disney, the head of brainwashing kids, launched a LGBTQ- friendly clothing and accessory line.
"The 2022 Disney Pride Collection has been rebranded from its original name Rainbow Disney Collection in order to mold to the woke mob's narrative.
"The line will feature non-gender specific items such as backpacks, jewelry and T-shirts, so that everyone is aware you support the left's propaganda."
Disney should be honest and change its name to Groomer.
Its ABC network should change its name to LGBT.
And its ESPN network should change its name to BLM.
ITEM 6: The Verge sobbed, "A Meta executive told employees on Thursday that they are prohibited from talking about abortion on Workplace, an internal version of Facebook, citing an increased risk that the company is seen as a hostile work environment.
"The policy, which Meta put in place in 2019 but hasn't been reported until now, prohibits employees from discussing 'opinions or debates about abortion being right or wrong, availability or rights of abortion, and political, religious, and humanitarian views on the topic,' according to a section of the company's internal Respectful Communication Policy seen by The Verge. Some employees have called on management to do away with the policy in the aftermath of a leaked Supreme Court draft opinion that would overturn Roe v. Wade, arguing that the ban is at odds with employees being allowed to talk respectfully about issues like Black Lives Matter, immigration, and trans rights.
"During an all-hands meeting with employees Thursday, Meta's VP of HR, Janelle Gale, said that abortion was 'the most divisive and reported topic' by employees on Workplace. She said that "even if people are respectful, and they're attempting to be respectful about their view on abortion, it can still leave people feeling like they're being targeted based on their gender or religion," according to a recording of her comments obtained by The Verge. 'It's the one unique topic that kind of trips that line on a protected class pretty much in every instance.'"
Folks, this is called winning. The days of Marxists bullying conservatives at work are over.
ITEM 7: Fox reported, "A Black Lives Matter activist leading a Boston anti-violence nonprofit indicted for fraud and is now requesting a speedy trial to challenge the allegations against her, according to a report.
"The Boston Herald reported that Monica Cannon-Grant, the head of Violence in Boston, and her husband, Clark Grant, are accused of using the nonprofit 'as a vehicle to personally enrich themselves and their designees,' according to a federal indictment unsealed on March 15.
"The couple is facing 18 fraud related charges, including conspiracy, wire fraud, mail fraud, and making false statements to a mortgage lending business. Grant's husband is charged in a more limited capacity."
It's Boston, a Democrat stronghold. We shall see if DOJ gets a conviction.
ITEM 8: The return of the Mexican Pizza missed me.
I'll trade both for a Mexican Pizza. Nitro Taco Bell ran out https://t.co/yj26t5pzk6

— Don Surber (@donsurber) May 20, 2022
Old and busted: My kingdom for a horse.
New and hot: My senators for a fast-food fix.
ITEM 9: Newsweek reported, "Ukraine's hopes of quickly joining the European Union (EU) were dealt a major blow on Thursday as the leader of the German government suggested there would be no accelerated process for the country.
"Chancellor Olaf Scholz addressed the Bundestag (German parliament) on Thursday and expressed support for Ukraine but warned that there are no shortcuts on the road to membership of the economic bloc.
"His comments appear to reiterate remarks made by French President Emmanuel Macron on May 10 in which the newly re-elected leader of France said Ukrainian membership could take decades."
Sounds like other people want their sons to get no-show jobs at Burisma, and they are just Biden their time until they get those jobs.
ITEM 10: Insider reported, "A SpaceX flight attendant said Elon Musk exposed himself and propositioned her for sex, documents show. The company paid $250,000 for her silence."
Sounds like the FBI is doing oppo research on the man.
Meanwhile, Twitter officials lied about the number of their actual customers and most of the media do not see this as a problem.
ITEM 11: The New York Post reported, "An OnlyFans creator who was blocked on Instagram claims to have devised a salacious way to get her account restored — by having sex with Meta (formerly known as Facebook) employees."
The woman, Kitty Lixo, is curing virginity, one incel at a time.
ITEM 12: KSTP reported, "The principal of a middle school in Savage has been arrested and charged with trying to pay someone he thought was 15 for sex.
"Mohamed Ali Selim, 38, was arrested Tuesday and is now charged with trying to hire a minor for sex. He's the principal at Eagle Ridge Middle School in District 191.
"St. Louis Park police said, on Tuesday, officers from several agencies engaged in an undercover operation to arrest people who were trying to sexually exploit minors. Four men were arrested during the operation, with three of them being booked and released. The fourth — Selim — is being held in Hennepin County Jail.
"A criminal complaint states officers placed advertisements on multiple websites offering prostitution services as part of the operation. Selim responded and texted with an undercover officer, who was posing as a 15-year-old girl."
Entrapment or finally caught?
That is for a judge and a jury to decide.
ITEM 13: The Daily Mail reported, "Forty principal owners in the NBA reportedly have more than a combined $10 billion tied up in China -- investments that have significant impact on the valuation of the teams.
"Between the personal investments and NBA China having grown into a $5 billion business, 'the China value of each of the league's 30 teams [is] an estimated $150 million,' according to ESPN, which commissioned the New York firm Strategy Risks to conduct an assessment.
"NBA owners invested in China reportedly include the Charlotte Hornets' Michael Jordan, the Brooklyn Nets' Joe Tsai, and the Miami Heat's Micky Arison. "
Maybe Michael Jordan and the NBA should pay reparations to the slaves that make the shoes they peddle.
ITEM 14: Valiant News reported, "MSNBC host Nicolle Wallace has been accused of being the Typhoid Mary of Disinformation in a new trailer that depicts many of now-disproven claims she made on national television.
"The trailer, created by Matt Orfalea for a mini-documentary by Glenn Greenwald, features Wallace making wild allegations that range from claims 45th President Donald Trump wanted to 'exterminate Latinos,' to the false claim that Capitol Police officer Brian Sicknick was 'beat to death' by election integrity protesters on January 6."
MSNBC is a Marxist Misinformation Machine.
ITEM 15: The Daily Mail reported, "Average gas price in the US hits record high of $4.589 as JPMorgan says to expect national average to hit $6 by the end of summer."
Judging by this week's relentless rise, we'll be lucky if it isn't $6 a gallon when summer begins next month.
ITEM 16: The Orange County Register reported, "With a gallon of milk up about 25% since before the pandemic, and retail bacon 35% higher, it's hard to imagine how US food inflation could get any worse. But evidence suggests that even higher prices are on the horizon.
"Consumers have actually been shielded so far from the full brunt of soaring expenses that are facing producers, distributors and small businesses like restaurants. But they can only hold back for so much longer.
"Take the case of Jeff Good, who co-founded three restaurants in Jackson, Mississippi. Around 18 months ago, a 40-pound box of chicken wings cost him about $85. Now, it can go as high as roughly $150. Expenses for cooking oil and flour have nearly doubled in the past five months, he said. But it's not just ingredient prices going up. He's paying more for labor and services, too. Even the company that maintains his air conditioners has tacked on a $40 fuel charge per visit. To cope, he's raised menu prices.
"A 15-piece order of chicken wings, a signature dish at his Sal and Mookie's pizzeria, went for $13.95 before Covid hit. Now, wing costs can vary so much they're labeled at 'market price,' like some restaurants do with lobster. At peaks, the menu price can be be about $27.95 — but that represents a barely-there margin — and Good estimates the 'real cost' is closer to about $34. He's trying to decide whether to keep raising prices or take wings off the menu."
Red Bull gives you wiiiiiings.
Biden gives you $34 wings.
ITEM 17: National Pulse reported, "Increased testosterone levels can cause Democrats to become more conservative in their political affiliation, a recent experiment analyzing voters in U.S. elections found.
"The study – Testosterone Administration Induces A Red Shift in Democrats – was published on November 14th, 2021 by Professor Paul Zak, the Director of the Center for Neuroeconomics Studies at Claremont Graduate University."
Meet the new and improved Ultra MAGA Man, now with OxiClean and enough testosterone to kill a moose.
ITEM 18: CNBC reported, "A 1955 Mercedes just nabbed $143 million at auction, making it the most expensive car ever sold."
Sigh.
The mean old wife did not buy my latest argument that buying a Bentley is an investment.
ITEM 19: Breitbart reported, "Senate Republicans on Wednesday introduced legislation aimed at curbing Wall Street's largest asset managers' woke capitalist activism.
"Sens. Pat Toomey (R-PA), the Senate Banking Committee ranking member, and Dan Sullivan (R-AK) introduced the Investor Democracy is Expected (INDEX) Act to curb Wall Street's control over corporate ownership and voting power becoming increasingly concentrated within Wall Street's largest investment advisers and their index funds.
"As leaders in passive investing index funds, BlackRock, Vanguard, and State Street, which manage over $20 trillion in combined assets, have become some of the largest owners in most American public companies. Due to their outsized control over American companies, they can leverage their use of millions of index fund investors into becoming the dominant voting bloc at many investor meetings."
I hate adding new laws but this one seems necessary.
FINALLY, BPR reported, "The boss of Warner Bros. Discovery, which also now owns CNN, reportedly plans to have a sit-down with Harry Potter author J.K. Rowling, which could lead to her being uncancelled.
"CEO David Zaslav, 62, also oversees HBO, Discovery Channel, TNT, the Food Network, Turner Classic Movies, Animal Planet, HGTV, and various other entertainment entities. As part of the mega-merger, he is supposedly scheduled to meet with Rowling in the next few weeks to discuss new Harry Potter-related content for the HBO Max subscription streaming service, according to what insiders told the Wall Street Journal.
"Warner Bros. Pictures produced all eight movies in the successful Harry Potter franchise."
She should tell them fine but dump all those virtue signaling weasels who abandoned her even though her movies turned them into millionaires.