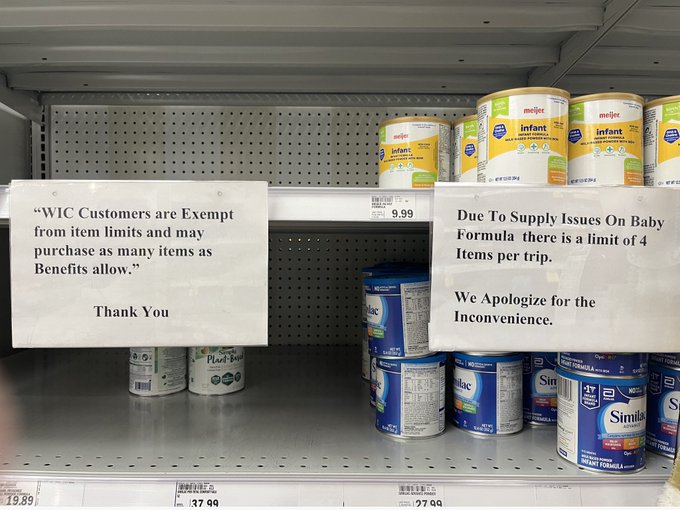 ITEM 1: Obama sent pallets of money to Iran in the middle of the night.
Biden sends pallets of baby formula to illegal aliens along our border.
The first photo is from this morning at the Ursula Processing Center at the U.S. border. Shelves and pallets packed with baby formula.

The second is from a shelf right here at home. Formula is scarce.

This is what America last looks like. pic.twitter.com/OO0V99njoy

— Kat Cammack (@Kat_Cammack) May 11, 2022
Why can't we send pallets of soldiers to stop this invasion?
(Kat Cammack is a Republican congresswoman from Florida.)
ITEM 2: The New York Post reported, "A strip club outside of Las Vegas is supporting Ukrainians in their struggle against the Russian invasion by hiring strippers from the war-torn country.
"The venue Little Darlings recently posted an ad on their club's signage that declares: 'Now Auditioning Ukrainian Strippers.'
"The ad also includes a Ukrainian flag and the words 'We Stand With Ukraine' written underneath."
Well, Ukraine girls really knock me out. They leave the West behind.
Besides, for $40 billion in aid we should get a cheap thrill or two.
ITEM 3: Florida's Voice reported, "The Naples United Church of Christ will be hosting a Youth Pride Conference on May 21st for LGBTQ youth ages 12-18.
"The event is free and will feature a drag show as an 'exploration of LGBTQ-related issues facing today's youth.' The form for children to apply is here. Attendees are asked to enter their pronouns, the name of their school, and free shuttle transportation will be provided to and from Immokalee and Golden Gate Middle Schools."
Imagine the reaction if someone tried to use the middle schools to ferry kids 12-18 to attend a Vacation Bible School.
ITEM 4: The Washington Times reported, "Rumors circulating in China and among overseas Chinese social media are claiming Chinese President Xi Jinping, under fire for draconian COVID-19 lockdowns in Shanghai and elsewhere, will step down from power.
"The rumors followed a meeting last week of the Party Politburo Standing Committee, the collective leadership group that rules China. They were traced in part to a Chinese-language YouTube video May 4 by Canadian-based blogger appearing under the persona Lao Deng. Details of the video quickly spread to social media outlets in China but were quickly censored.
"The blogger, citing what he said was a senior Chinese Communist Party security source, said a coup was launched against Mr. Xi at the meeting of senior party leaders in Beijing. According to the blog, Mr. Xi was forced to step aside but will stay in place until a major party meeting later this year."
If Trump were president, the USA could use this opportunity to make its move.
But Biden's son is on Red China's payroll, so expect nothing to change.
ITEM 5: The Daily Beast reported, "The two main contenders for the Republican nomination in Pennsylvania took a short break from savaging each other this week to train their collective fire on an unexpected rival who is experiencing a surge in popularity in the eleventh hour of the high-profile contest.
"In fact, on Wednesday afternoon, it seemed like anyone with a Fox News show or a follower count in the six-digits on MAGA Twitter is speaking with the same voice: if Kathy Barnette wins the primary Tuesday, she is going to lose the Senate seat to a Democrat.
"But for Barnette—a previously little-known author whose only other political credit is a landslide congressional defeat in 2020—all the attacks just showed that leading candidates David McCormick and Mehmet Oz think of her as a threat."
Liberals believe they can turn her into another Christine "I Am No Witch" O'Donnell.
They overlook the obvious: Donald John Trump can turn her into a senator.
Or Oz. Or McCormick. My advice to readers in Pennsylvania is follow your heart. Vote on Tuesday and then on Wednesday, start working for whoever wins because Donald Trump will.
ITEM 6: When Joe Manchin is wrong, meh. Then he is just one of 50 wrong Democrat senators.
But when he is right, woo-boy.
MANCHIN: "Make no mistake. It is not Roe v. Wade codification. It's an expansion. It wipes 500 state laws off the books. It expands abortion." pic.twitter.com/yfj6w3gTXU

— Townhall.com (@townhallcom) May 11, 2022
Birth is a human right. In fact, it is the first human right.
ITEM 7: I keep harping on this, but here is more proof that abortion is a losing issue for Democrats.
House Dems: On abortion, we've decided that "decision" is a better word than "choice."

House GOP: Cool, on it. pic.twitter.com/KK8Ia0gGNg

— David Weigel (@daveweigel) May 12, 2022
After decades of saying choice, Democrats suddenly change it to decision. The name ain't the problem. Times have changed. Boomers want grandchildren and birth control now is easier to obtain than baby formula.
ITEM 8: The Texas Tribune reported, "George P. Bush's family name proves to be key obstacle in his race against Ken Paxton for attorney general."
Sitting in my living room in Poca, West Virginia, I could have told the Texas Tribune that three years ago. The Republican Party belongs to Donald Trump much as the Democrat Party belongs to Obama.
And for the same reason. Both men are winners who advanced their party's agenda. Never overlook the basics. Journalists overthink these matters and miss the obvious.
ITEM 9: The St. Louis Post Dispatch reported, "The Missouri House sent a series of election changes to Gov. Mike Parson's desk Thursday, including a renewed attempt to require voters to present a photo ID in order to cast a ballot."
The story also said, "Under the legislation, voters without a photo ID on Election Day could cast a provisional ballot. These provisional ballots may be verified if a voter returns to the polling place with a photo ID or the election authority verifies the ballot signature matches a signature on file."
The story quoted 4 Democrat legislators and only 1 Republican, and he originally had voted against the measure.
The media fools no one any more.
As for Republicans, a reporter who skips your party on a story like this does not deserve to have his phone calls returned.
ITEM 10: Is perjury an impeachable offense?
BREAKING: It appears that the Biden Administration did in fact mobilize FBI counterterrorism resources to investigate parents for expressing protected political speech at school board meetings.

This directly contradicts AG Merrick Garland's sworn testimony. pic.twitter.com/h5EMeyu61L

— Parents Defending Education (@DefendingEd) May 12, 2022
Maybe Garland should have talked to Bill Clinton before he talked to Congress.
ITEM 11: Lending Tree listed the least popular places for Gen Z (people born between 1997 and 2012 -- or ages 10 to 25).
Topping the list is San Francisco, followed by New York City and San Jose.
But why are 10-year-olds buying houses? I read a lot of stuff online each day. This is one of the dumber things I read on Thursday. Naturally, Matt Drudge linked it.
ITEM 12: The Daily Mail reported, "The Biden administration adamantly denied that its multi-million dollar harm reduction program would help dole out crack pipes to addicts, but smoking kits distributed all over the east coast include such paraphernalia.
"The Washington Free Beacon visited five harm reduction organizations in New York City, Boston, Richmond, Va., Washington, D.C., and Baltimore, and every single one included crack pipes in their safe smoking kits.
"All of the centers were non-profit health organizations and governmental agencies, exactly the types of groups eligible to apply for funding under the Biden administration's $30 million grant program.
"Asked if there were steps in place to prevent organizations from using these dollars for crack pipes on Thursday, White House press secretary Jen Psaki said: 'This is a conspiracy theory being spread out there.'"
When Democrats call something a conspiracy theory, they mean it is true.
ITEM 13: Breitbart reported, "Hollywood executives are reportedly hesitant about taking a public stance against the Supreme Court's expected reversal of Roe v. Wade as they look to avoid the kind of public relations disaster the Walt Disney Co. is currently experiencing after it picked a fight with Florida.
"Studio and talent agency executives, who lean overwhelmingly to the left, have become 'much more nervous' when it comes to responding to politically divisive issues, including abortion, according to a report from The Wrap.
"The firestorm Disney is going through over Florida's Parental Rights in Education law has become a Hollywood cautionary tale and a template of what not to do in the case of the abortion debate."
The days of Hollywood bullying conservatives are over because Ron DeSantis stood up to Disney.
ITEM 14: Blue State Conservative reported, "Hillary Clinton's Name Floated As Possible Replacement Host On The View."
Will they pay her in cash or Chardonnay?
ITEM 15: Mark Tapscott reported, "Undisclosed royalty payments estimated at $350 million from pharmaceutical and other firms to Dr. Anthony Fauci and hundreds of National Institutes of Health (NIH) scientists do present 'an appearance of a conflict of interest,' according to the agency's acting director.
"Dr. Lawrence Tabak, who took over as NIH director following the December 2021 resignation of the agency's long-time leader, Dr. Francis Collins, told a House Appropriations Committee subcommittee that federal law allows the royalty payments, but he conceded that they don't look ethical."
Appearance of a conflict of interest?
How about an appearance before a grand jury?
ITEM 16: ADN America reported, "Harvard Study: Florida, Texas students excelled while students in Democratic lock-down states lost academic ground."
So attending school actually helps children learn.
Who knew?
ITEM 17: The Hollywood Reporter reported, "One of modern comedy's greatest talents made one final stand-up special before he passed away — and it's been kept a secret, until now.
"Norm Macdonald, who died last September at the age of 61, privately shot an unreleased one-hour stand-up special.
"The acclaimed Saturday Night Live actor-comedian known for his deadpan delivery was diagnosed with cancer in 2012 but kept his illness private. He was working on new material for a Netflix special when he had to go into the hospital in the summer of 2020."
Always leave them laughing.
ITEM 18: I can sit here all day trashing Biden to no effect.
But this guy -- wow.
Here's @lcvelez, closing out tonight's #LineaDeFuego (Firing Line), on Univision 24/7. 👀 pic.twitter.com/RMm0NZ6vmm

— Jorge Bonilla (@BonillaJL) May 11, 2022
The power of the press is its ability to remain objective and trusted. It must be wielded with care, as this fellow did.
FINALLY, Rand Paul was able to use Senate rules to delay passage of that $40 billion gift to Ukraine, a racketeer-influenced criminal organization.
He said, "My sympathies are with Ukraine; I wish them luck, I want them to defeat the Russians, I want them to push the Russians out of their country. But we also have to be concerned with our country and with double-digit inflation here, this will make it worse. We can't just shovel piles of money out the door and have nobody oversee it."
I do not know about you, but he speaks for me.