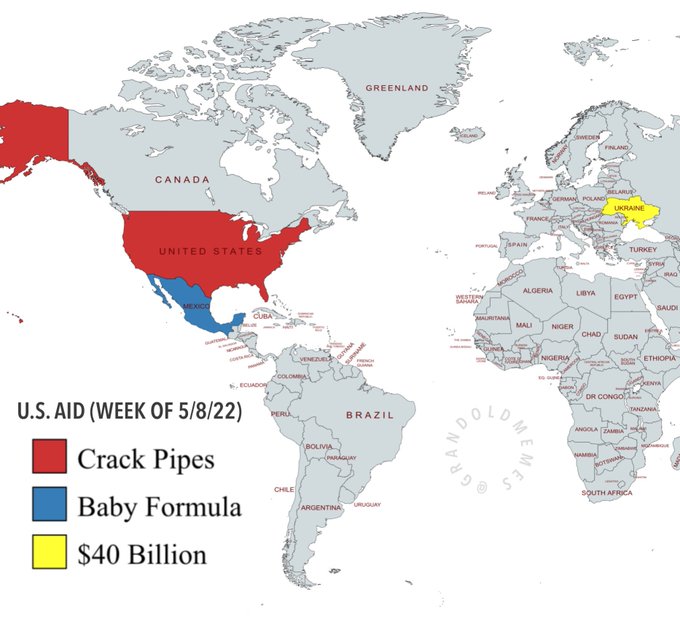 ITEM 1: The New York Post reported, "An academic who resigned from a Virginia university after saying it wasn't necessarily immoral for adults to be sexually attracted to kids has been hired by a Johns Hopkins University center aimed at preventing child sexual abuse."
Groomers, groomers, groomers.
Defund Johns Hopkins because this hiring was a deliberate attempt to sabotage efforts to stop pedophiles.
ITEM 2
: Alex Theodoridis of UMass polling tweeted, "A stunning 68% of Republicans say the House should impeach Joe Biden if the GOP wins the majority..."
Republicans paid attention to Hunter's laptop. Bribery is a felony. Impeach, remove, and recommend prosecution.
ITEM 3: RT reported, "British Prime Minister Boris Johnson on Thursday ordered cabinet ministers to significantly reduce departmental staffing levels in a push to lower government spending. According to media reports, the PM has set out plans to terminate up to 90,000 civil servants, which is equivalent to a fifth of Whitehall."
Let's do that here.
ITEM 4: David Horowitz and John Perazzo reported, "How Zuckerberg Used a Tax-Exempt Foundation to Help Biden Fix the 2020 Election."
The how is interesting but the why even more so because lefties leaned on Zuck and Jack Dorsey at Twitter for allowing The Donald to use social media to get around Big Media.
ITEM 5: Politico reported, "In the last 48 hours, the Oz and McCormick campaigns and their allies have been suddenly forced to recalibrate as Barnette has surged to the front of the pack. In a sign of how seriously they take her rise, both men have gone on the attack against Barnette on conservative media outlets, while their allies have scrambled to disseminate opposition research and prepare anti-Barnette ads.
"Even former President Donald Trump, who has endorsed Oz, decided Thursday that it was time to throw up a roadblock. In a statement, he cast doubt on her electability in the critical battleground state that could determine party control of the Senate: 'Kathy Barnette will never be able to win the General Election against the Radical Left Democrats.'"
She can win in November if Trump (Oz) and Pompeo (McCormick) rally behind her.
If she wins.
If not, she must rally behind whoever wins. That is how it works. Or should work. Remember, party insiders said Trump would hand over the presidency to Hillary in 2016.
ITEM 6: From the upcoming musical, The Ultra MAGA King and I.
The Great Maga King!#TheGreatMagaKing pic.twitter.com/8zmwvaNrVq

— Mad Liberals (@MadLiberals) May 12, 2022
Politics aside, the choreography beats Hollywood at its best.
ITEM 7: Townhall reported, "One year ago on May 14, 2021, Rep. Elise Stefanik of New York's 21st Congressional District was chosen by her Republican colleagues to chair the House GOP Conference after Rep. Liz Cheney was ousted from the post amid a dustup over her escalating criticism of Republicans rather than President Biden and Democrat lawmakers.
"In the year since taking the helm as number three Republican in the House, Stefanik has made big changes in the way the conference treats their members and messages their priorities, welcomed a baby boy, Sam, with her husband Matt Manda, and led the charge to show the American people a distinct contrast between conservative and liberal policies ahead of the critical 2022 midterms."
Oh, credit where credit is due. Biden did that.
But Liz wasn't there to save him. And Stefanik refused to.
ITEM 8: Via The Burning Platform.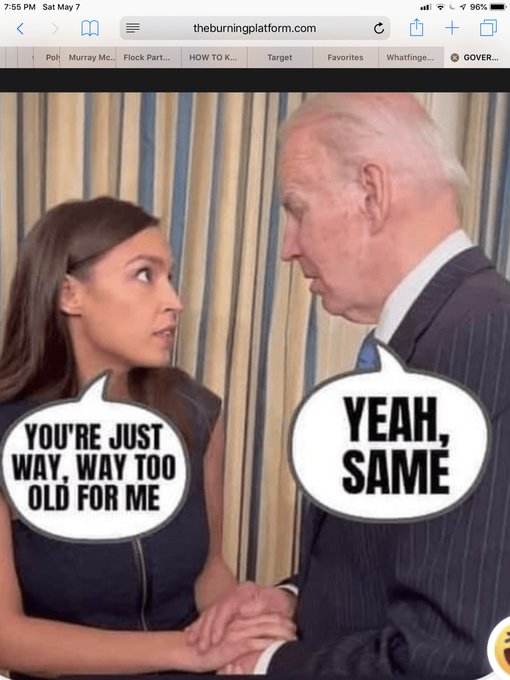 They say age is just a number.
For some ages, that number is 20 years in prison.
ITEM 9: The New York Post said, "Mississippi school board upholds firing of administrator over I Need a New Butt book."
The story said, "A Mississippi school district upheld a decision to fire an administrator for reading a book called I Need a New Butt! to second-graders — but the booted administrator vowed to take the fight to court.
"Toby Price was sacked as assistant principal at Gary Road Elementary in Byram in March, but he appealed the Hinds County superintendent's decision and only found out how the school board voted this week, the Clarion-Ledger reported."
None dare call it grooming, but it is.
ITEM 10: Fox reported, "A federal appeals court has reinstated a Republican-backed Texas law that prevents large social media companies from banning users over their political views.
"The 5th U.S. Circuit Court of Appeals panel did not explain its reasoning for granting the state's request for a stay of a December order from a federal judge. The order also did not evaluate the law on its constitutionality. It merely allows the law to go back into effect while the case continues in the lower district court."
Texas Attorney General Ken Paxton is fighting back, which may explain why George P. Bush is trying to primary him.
ITEM 11: NBC reported, "Two New York City school workers were arrested on the same day for allegedly committing sex crimes against children — and in both cases, police believe there may be more victims still out there.
"In what is being seen as an almost unbelievable break of trust, police said that a girl, about 10 years old, at PS 70 in the Bronx was fondled by science teacher Norman Dunkley. The student at the Claremont Village school told police that the 48-year-old Dunkley touched her breast inside a classroom and showed her a picture of a naked woman.
"Police said the crime happened within the last two weeks but was reported Wednesday. Investigators also fear there may be more victims, or reports from other students of possibly inappropriate behavior."
As for the other case, the story said, "State attorneys said Midwood High School paraprofessional Brian Quinones requested sexually explicit videos of a boy he met over the internet. Quinones is facing a number of charges including sexual exploitation after prosecutors alleged he blackmailed the victim — threatening to post the images on the internet if the boy refused to send more videos."
Teacher unions need to assure the public that they are adamantly against grooming because the public has lost trust in schools and in teachers.
ITEM 12: MSN reported, "President Joe Biden's use of the term ultra-MAGA reportedly followed six months of research into the best ways to target Republicans.
"And it only took days for Republicans to put it on T-shirts for fundraising sales.
"The House Republicans' campaign arm is offering ultra-MAGA shirts with former President Donald Trump's likeness and a US flag. MAGA, which stands for Make America Great Again, which was Trump's 2016 campaign slogan."
Ultra MAGA Man. I want to be an Ultra MAGA Ma-aa-an.
ITEM 13: The Freedom Times reported, "Sen. Kennedy on Biden Suggesting Inflation Isn't His Fault: 'Right, and Jimmy Hoffa Died of Natural Causes.'"
The Republican senator from Louisiana cuts to the chase so quick that he should direct the next Fast and Furious movie.
ITEM 14: David Artavia wrote, "Yep, trans men can get pregnant. Why Calvin Klein's ad depicting a trans family is causing a stir."
Chad Prather tweeted, "I'm getting my vasectomy reversed so I can get pregnant."
ITEM 15: AP reported, "Turkish President Recep Tayyip Erdogan said Friday that his country is not favorable toward Finland and Sweden joining NATO, indicating Turkey could use its membership in the Western military alliance to veto moves to admit the two countries."
I trust the Senate also will stop this calamity. We have to stop NATO from being expanding because that increases the odds of American soldiers dying for some other country.
Where were Finland and Sweden when we could have used help stopping the Soviet Union?
ITEM 16: The Daily Mail reported, "Trump's media company has begun hiring staff for its video streaming platform as it seeks to build a MAGA challenger to mainstream providers such as Netflix, Hulu and Disney+.
"In recruitment adverts posted on Wednesday, the Trump Media and Technology Group announced it was seeking a content buyer and a development manager to create programming for its TMTG+ service.
"The service is part of Trump's attempt to build an alternative media ecosystem after being kicked off Facebook and YouTube in the wake of the January 6 violence last year."
What will the content be? I don't believe anyone wants to watch Celebrity Apprentice 24/7.
ITEM 17: The RAIR Foundation reported, "Over 10,000 Canadians marched in downtown Ottawa Thursday for the annual March for Life, a pro-life rally. Pro-life citizens came to Parliament Hill to defend life, as defined by conception to natural death. This year's gathering is unique because it marks the march's 25th anniversary, and it's the first since a stolen and leaked U.S. Supreme Court draft decision document breathed new life into the fight to save children's lives."
Surprisingly, Castreau did not send in the Royal Canadian Mounted Police to trample them.
FINALLY, as I said yesterday, birth is a human right. It is the first human right. Abortion is a human wrong.
The Verse of the Day happens to be Psalm 139:13-14 today.