A 9-year-old girl was killed by her fiancé on Friday, 20 May, in Shawali Kot district of southern Kandahar. https://t.co/gc9A9DUeCH

— Zahra Joya (@ZahraJoya) May 21, 2022
ITEM 1: Has anyone thought of moving Disney World to Epstein's Island to avoid the wrath of that mean old Ron DeSantis?
Or Kandahar. I mean who ever heard of a 9-year-old having a fiancé?
The price of Biden surrendering Afghanistan to the Taliban keeps going up.
ITEM 2: The San Francisco Chronicle reported, "After decades of negotiation, the largest dam-removal project in U.S. history is expected to begin in California's far north next year.
"The first of four aging dams on the Klamath River, the 250-mile waterway that originates in southern Oregon's towering Cascades and empties along the rugged Northern California coast, is on track to come down in fall 2023. Two others nearby and one across the state line will follow.
"The nearly half-billion dollars needed for the joint state, tribal and corporate undertaking has been secured. The demolition plans are drafted. The contractor is in place. Final approval could come by December."
A state that faces rolling blackouts in the summer and water shortages year-round is blowing up its hydroelectric dams.
You know how to fix the national grid? Remove California because it is an energy-sucking machine. If Californians want to live in the 19th century, let them.
ITEM 3: Media-ite whined, "Almost 70% of Republican voters say the House of Representatives should impeach President Joe Biden if their party takes over the chamber in the 2022 midterms — doubling the number of all other Americans who say the same.
"Former President Donald Trump was impeached twice, the second time for inciting the Jan. 6 attack on the Capitol. Overwhelming majorities of Americans believe the actions surrounding that event are a crime — over 71% in one recent poll.
"A roughly equal percentage of Americans (66%) do not believe that President Biden should be impeached if Republicans retake the majority in November — perhaps as a consequence of the fact that Biden has not been credibly accused of any crimes in office."
Hunter Biden collected millions in bribes for his father.
Clown Media like Media-ite pretend that a rally of 200,000 people at the national mall was an insurrection while decades of international corruption are no big deal.
ITEM 4: The Sun reported, "Monkeypox outbreak explodes across Europe as cases in Spain and Italy traced to island festival with 80,000 revelers."
It was a gay pride festival.
Now we know why Pride is a deadly sin.
ITEM 5: A longtime reader wrote about Glycogen Storage Disease and Biden's incompetence. His grandkids have this ailment.
The reader said, "GSD is the short term for it. Years ago if kids got it they just died Now with advancements kids can have a normal life. A Doctor David Weinstein is working on a cure with stem cell therapy. But until a cure is put into use (experimental stage now) to survive the kids need ingestion of cornstarch once every four hours. Reason being is with this disease the body cannot store sugar.
"Cornstarch is used because it is slow to digest and can last four hours. Five hours without cornstarch -- the kids go into convulsions. Six hours they are dead. It's been a long haul and we are hoping for cure in five years. It affects about one birth per 100,000. Jimmy is now nine and Anna is five. Found out this weekend in addition to baby milk shortage, there is a cornstarch shortage. Has not reach critical state yet but I would like to know what the hell is going on?"
He sent pictures. They are beautiful children.
The elitists don't care. We are dirt to them. Black, white, male, female, LGBT -- the elitists do not care. They just want power.
ITEM 6: The media continues its anti-Semitic streak.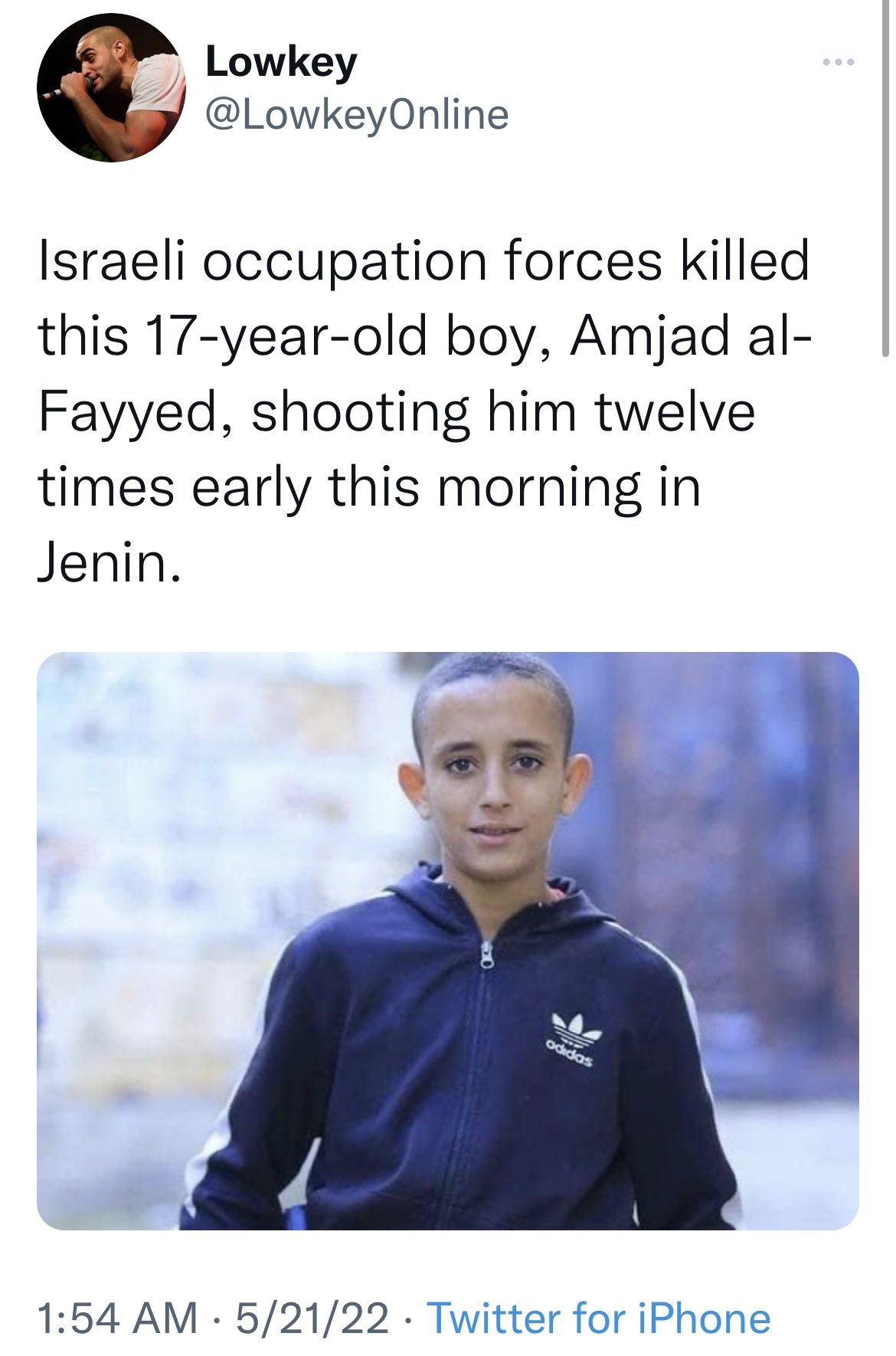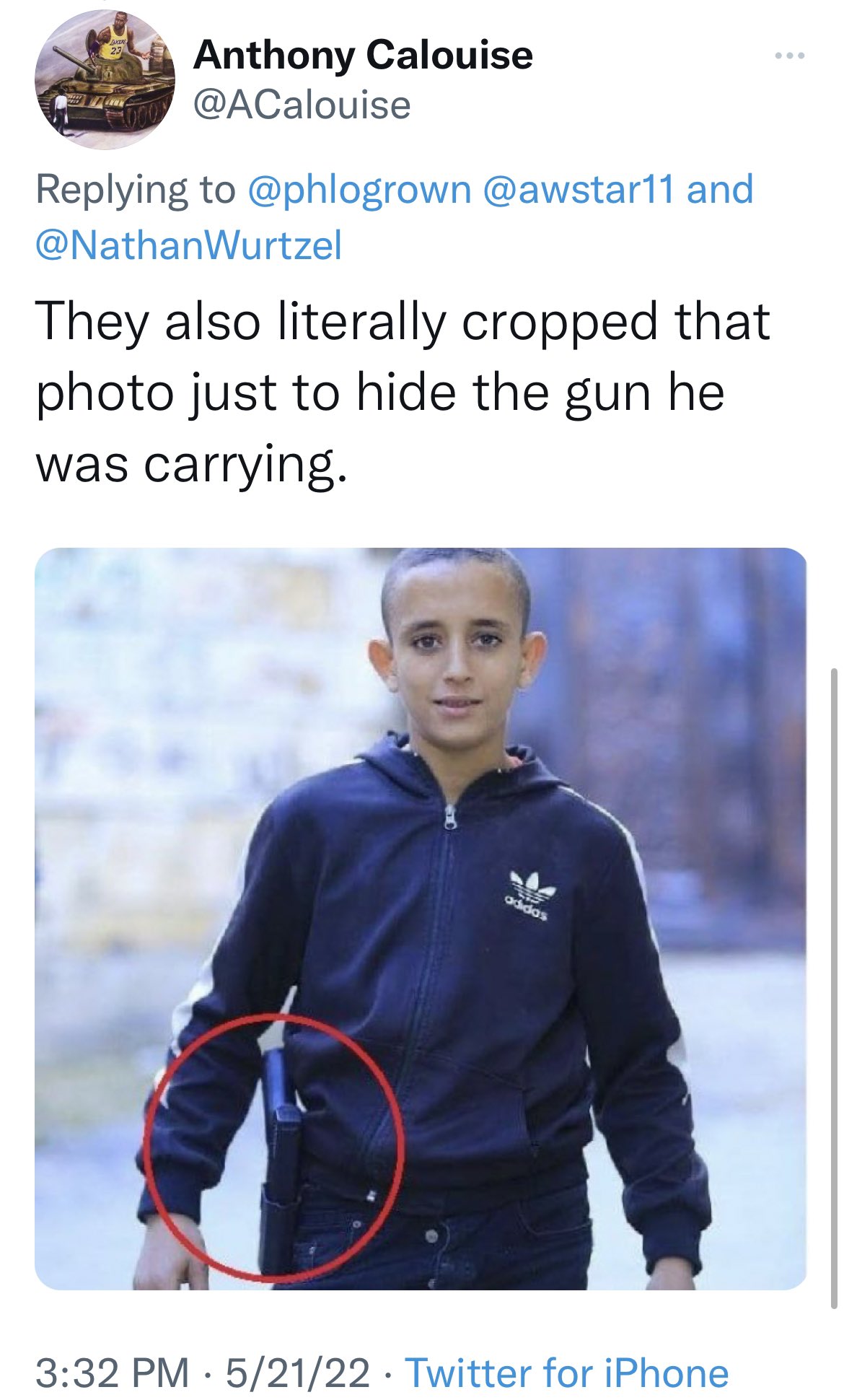 The IDF goes out of its way to fight an actual insurrection with a minimum of collateral damage. A fair, just and impartial press would give the IDF the benefit of the doubt.
That is not the media we have, however.
ITEM 7: A reader wrote to complain about Item 10 in Saturday's Highlights of the News about Ukrainian wheat.
He said, "Ukraine's annual wheat production is about 26 million tons a year. Sounds like a lot and it puts Ukraine ahead of Germany but behind Pakistan. 26 million tons is not nothing but it is close. It is about 3% of total world production and less than the normal year to year variability in total world production."
I will be more careful in the future.
But the numbers raise the question: If wheat is so important to Africa, why are so few African countries growing any?
We are being misinformed on food production, just as they misinform us about climate change, covid and this Russo-Ukrainian war.
ITEM 8: The masquerade continues.
Joe Biden arrived in South Korea wearing a mask outdoors to walk down the stairs all by himself and then immediately took off the mask to shake everyone's hands. Science! Seriously, is this pointless, anti-science masking insanity ever going to end? pic.twitter.com/EuyxfYFoGo

— Clay Travis (@ClayTravis) May 22, 2022
The fall of the American empire will come without emperors. Just old goats.
ITEM 9: The Pennsylvania primary was six days ago. Still no winner because Democrat judges ignored the law and allow mail-in ballots without postmarks to come trickling in.
President Trump tweeted on his social media outlet, "So, what's going on with Pennsylvania? Five days now, and watched over by incompetent Democrat Gubernatorial Candidate Josh Shapiro. The entire Nation of France was done during the evening of the ONE DAY Presidential Election. USED PAPER BALLOTS, no discrepancies. ARE WE A THIRD WORLD NATION??? Are we becoming Venezuela (YES!)."
We need to go back to voting at the courthouse or on Election Day at the polls because both parties can watch the votes being cast and object to any that seem illegal.
ITEM 10: J.D. Rucker wrote, "Progressive HBO show host Bill Maher is sounding more red-pilled every day. By no means am I suggesting he's suddenly conservative or that he'll be joining Elon Musk in switching to voting for Republicans any time soon. But the leftist show host has not stayed silent about the Democrats' increasingly radical agenda, especially when it comes to the fact that they're using our kids as lab rats, attempting to indoctrinate them into embracing a LGBTQIA+ lifestyle.
"'According to a recent Gallup poll, less than 1% of Americans born before 1946, that's Joe Biden's generation, identify that way, 2.6% of Boomers do, 4.2% of Gen X, 10.5% of Millennials and 20.8% of Gen Z, which means if we follow this trajectory, we will all be gay in 2054,' he said on his show. 'I'm just saying that when things change this much this fast, people are allowed to ask, 'What's up with that?'"
It is grooming. America needs to stop it. Either public schools ban LGBT indoctrination or we ban public schools.
ITEM 11: Fox reported, "Elon Musk moving Twitter to Miami would be the icing on the cake, says Miami mayor."
Mayor Francis Suarez said, "So the pitch is you want to move to the city with the lowest taxes, lowest crime rate. Best quality of life that embraces success. You know, cities across America are pushing out-famously- New York pushed out Amazon not too long ago and San Francisco pushed out Elon Musk, we are a city that is fundamentally pro-free market.
"We believe that the American dream is one where people can do whatever it is that they want to do and be successful. That's not something you should be ashamed of, it's not something you should, you know, you should run from or hide from. And so I think that's one of the things that's made Miami so unique. We've brought so much capital to scale and grow companies here.
"We just think that, you know, Elon's acquisition of Twitter would be a perfect sort of icing on the cake if he were to move it to Miami, because Miami is the freest city in America, the most successful city in America. And I think him bringing Twitter here and revolutionizing Twitter to make it, you know, a better platform is something that would dovetail nicely with Miami."
He's a Republican. 44. The next DeSantis?
ITEM 12: Elon Musk tweeted, "Tesla is building a hardcore litigation department where we directly initiate & execute lawsuits. The team will report directly to me.
"Please send 3 to 5 bullet points describing evidence of exceptional ability.
"justice@tesla.com
"My commitment:
"- We will never seek victory in a just case against us, even if we will probably win.
"- We will never surrender/settle an unjust case against us, even if we will probably lose.
"Looking for hardcore streetfighters, not white-shoe lawyers like Perkins or Cooley who thrive on corruption.
"There will be blood."
Republicans need to do the same. The party need to recruit tough lawyers for their next administration because they must learn from last time.
ITEM 13: Jonathan Turley reported, "National Science Teachers Association Guide Advises Against the Use of Parent, Male, Female, Mother and Father."
Science, eh?
Under Disney ownership, ABC would cancel Ben Casey today.
ITEM 14: Notes From The Bunker reported that boneless skinless chicken breast started the year at $1.98 a pound at the local store and hit $2.78 last week.
That is a 40% increase in 5 months.
Oh and the store limits people to 4 packages.
Well, my investment in an S&P 500 index fund should keep me abreast of rising chicken prices. (Checks portfolio. Down 18% since January.)
We are so screwed.
ITEM 15: The Washington Free Beacon reported, "Whitmer Pledged To Cut Her Pay for Duration of Pandemic. She Gave Up After Five Months. Michigan Democrat ended her salary sacrifice even as her pandemic restrictions dragged on."
A reader said, "To be fair, that's just because she's dishonest, selfish, and awful."
ITEM 16: The New York Post reported, "A sidewalk accordion player is making Upper West Siders sing the blues. Russian-born Vadim Klimenko set up shop on West 74th Street and Broadway about a year ago, cranking out classics such as Raindrops Keep Fallin' On My Head and America from West Side Story for hours on end."
Rachel Rodgers told the paper, "I didn't sign up for this when choosing to live here and I don't think the noise level is appropriate."
The story said, "Rodgers said she filed a complaint with the 20th Precinct last year about the maddening polka-geist."
The story included a picture of NYPD officers talking to the musician, Meanwhile, violent crime is soaring in New York.
Remember, Highlights of the News is your source for accordion news.
Oh and curling too. The Curling News reported, "Japan and Scotland are the World Junior curling champions for 2022." Japs got the women's title, Scots the men's.
ITEM 17: Meanwhile, on Twitter, the hypocrisy continues.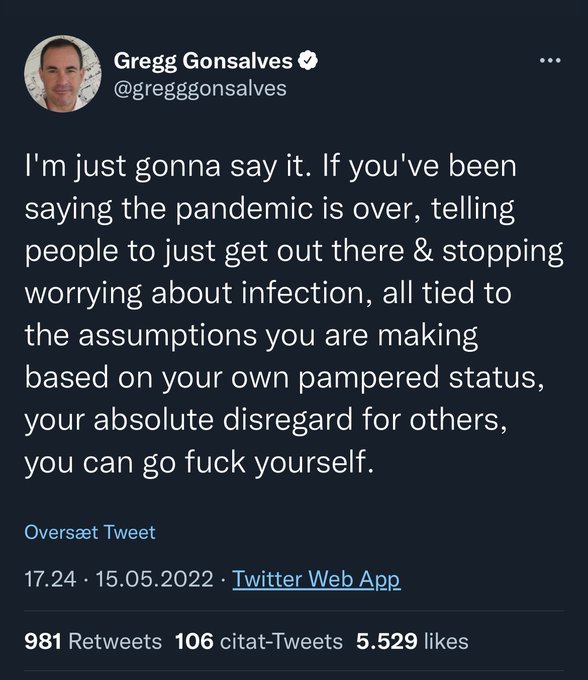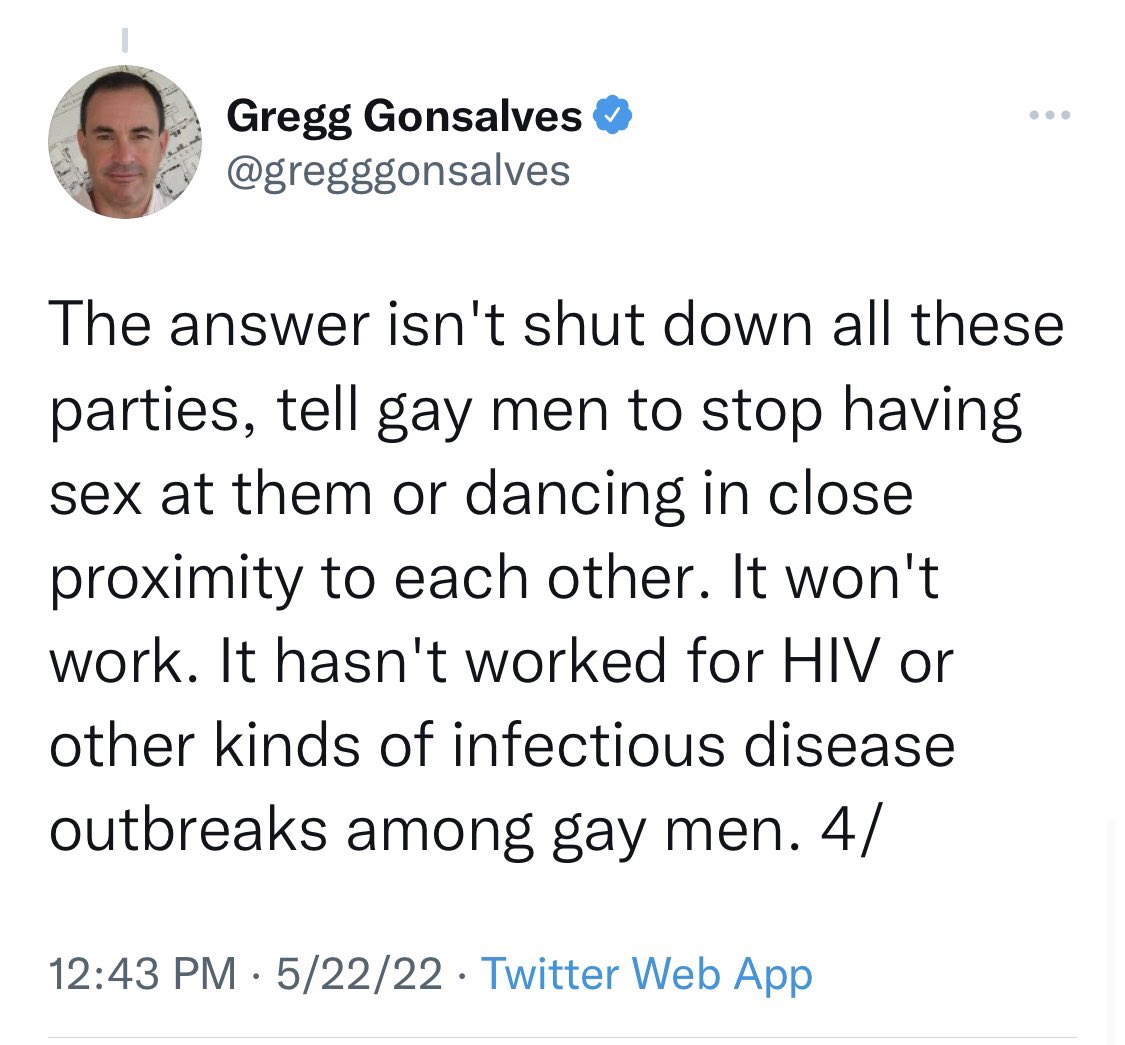 "Gregg Gonsalves works at Yale focusing on operations research/epidemiology for infectious disease. In the real world: been an AIDS activist for ~30 yrs. Assoc. Prof YSPH."
He tweeted that his critics are homophobes. Sure Jan.
ITEM 18: Fox reported, "SF Examiner editorial board demands Pope remove archbishop who barred Pelosi from communion over abortion."
To show the pope they mean business, the editorial board members can hold their breaths till they turn blue.
ITEM 19: KPLC reported, "Marijuana violations have taken over 10,000 truck drivers off the road this year, adding more supply chain disruptions."
Legalize pot, they said.
Pot taxes will pay for schools, they said.
What harm could it do?
FINALLY, Todd Starnes reported, "The Wisconsin GOP state convention straw poll voters this weekend favored Florida GOP Gov. Ron DeSantis over former President Donald Trump for the 2024 presidential nomination.
"DeSantis drew a 38% plurality of support, while Trump came in second at 32% and former South Carolina GOP Gov. Nikki Haley was third at just 7%."
Americans like new.
Also, DeSantis is kicking it in Florida. He has Disney and the LGBT crowd on the run.