Life really is good: Guy has flat on I-84. State trooper shows up to help. Guy is Lech Walesa. Trooper is a native of Poland.https://t.co/pJQmzWBoRk pic.twitter.com/qQfSkYNAAM

— Rick Green (@VTConfidential) May 11, 2022
ITEM 1: Connecticut state troopers for the win.
Trooper Lipert showed solidarity with his homeland.
Happy National Police Week!
ITEM 2: AP tweeted, "Elon Musk boasts that he's acquiring Twitter to defend freedom of speech. But he has long used the platform to attack those who disagree with him."
Um, AP, that is what free speech is about. People say mean things to one another and disagree.
AP opposes free speech online because its clients -- Big Media -- see Twitter, bloggers and the rest as a threat to their power.
We are.
ITEM 3: Joe Manchin just saved the nation from Satan by voting with 50 Republicans to stop making Roe v. Wade the law of the land.
My understanding is the proposal contained many more abominations from the party of the purple-and-green-haired freaks.
I TWEET, THEREFORE I AM.
Well at least there will be future generations. https://t.co/QJS5VwDGLa

— Don Surber, Ultra MAGA (@donsurber) May 12, 2022
ITEM 4: Salena Zito asked, "Who is Kathy Barnette?" Incredibly, Barnette won't answer.
Zito wants to know:
The name of her hometown.
Where was she an adjunct professor and when?
When was she in officer candidate school?
What financial institutions did she work at and when?
When did she move from Virginia to Pennsylvania? (She says in her book bio from 2018 that she lived in Virginia, so what year did she move to Pennsylvania?)
And a confirmation that the college she graduated from was Troy State University.
I suggest Barnette answer them quick because the clock is striking 12 for this Cinderella.
ITEM 5: AP reported, "A U.S. appeals court ruled Wednesday that California's ban on the sale of semiautomatic weapons to adults under 21 is unconstitutional.
"In a 2-1 ruling, a panel of the San Francisco-based 9th U.S. Circuit Court of Appeals said Wednesday the law violates the 2nd Amendment right to bear arms and a San Diego judge should have blocked what it called 'an almost total ban on semiautomatic centerfire rifles' for young adults. 'America would not exist without the heroism of the young adults who fought and died in our revolutionary army,' Judge Ryan Nelson wrote. 'Today we reaffirm that our Constitution still protects the right that enabled their sacrifice: the right of young adults to keep and bear arms.'
"The Firearms Policy Coalition, which brought the case, says the ruling makes them optimistic other age-based gun bans will be overturned.
"The ruling was not a total victory for gun rights advocates, who had sought to block the state from requiring a hunting license for purchases of rifles or shotguns by adults under 21 who are not in the military or law enforcement."
Judge Nelson is a Trump judge.
ITEM 6: The New York Post reported, "A series of ads for the new Adidas sports bra was banned from the UK for showing images of women's bare breasts.
"The ad campaign — which was launched in February of 2022 — features the bare flesh of dozens of women in various skin colors and sizes to promote the sports bra's 43-size range, according to the BBC."
Given the amount of money manufacturers and retailers spend advertising on these garments, the mark-up on brassieres must be fantastic.
ITEM 7: Biden called us Ultra MAGA on Tuesday and Trump the Great MAGA King on Wednesday.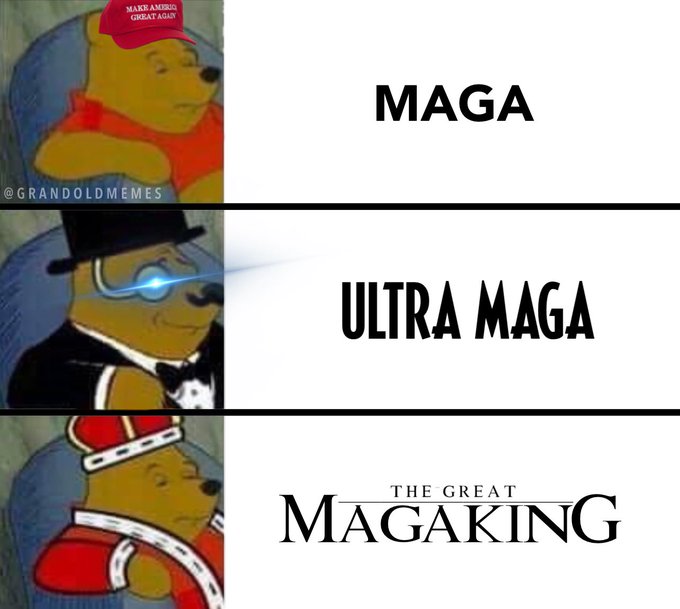 Stop, Biden. All these compliments are going straight to our heads.
ITEM 8: All it took was one Samaritan to do the right thing to make all Samaritans look good for the next 2,000 years.
INCREDIBLE MOMENT: Boynton Beach police sent this video out in the hopes to honor the people who got out of the car to help the woman who had a medical episode while driving. https://t.co/5XDUhTg570 pic.twitter.com/2o6G9d6MJP

— WPBF 25 News (@WPBF25News) May 11, 2022
God bless, Floridians.
ITEM 9: Outkick reported, "ESPN couldn't make the Kentucky Derby about race, so they switched to politics.
"On Wednesday, during an Outside the Lines episode, ESPN host John Barr interviewed Eric Reed — owner of Mercury Equine Center, which houses reigning Kentucky Derby-winning horse Rich Strike — and asked Reed if he had ever tweeted anything remotely negative about Vice President Kamala Harris.
"In typical ESPN fashion, the host had a tweet in question hiding in his back pocket after a considerable investigation over a matter that no one would care about if not for the hard-hitting journalism at ESPN.
"Barr's tweet in question, posted back in January, poked fun at Kamala Harris by stating that her only qualification for the role was being 'good on her knees.'"
Once again, telling the truth gets you in trouble in America today.
ITEM 10: I could never serve on a federal grand jury.
Sharyl Attkisson Says FBI Intended to Plant Child Porn on Husband's Computer pic.twitter.com/3Sa71NKqgq

— Breitbart News (@BreitbartNews) May 11, 2022
I no longer believe the FBI on anything.
ITEM 11: That the biggest distributors of porn to children are the public schools.
A parent in @Adams12 school district attempts to read from the book "Gender Queer" and gets silenced by board members.

This graphic book containing pornography can't be read in front of adults yet is available for kids to read in schools across the country. pic.twitter.com/3Zl66tfKkx

— Libs of TikTok (@libsoftiktok) May 10, 2022
School boards work for parents, not superintendents. Sadly, too many boards have it backward.
ITEM 12: After Tuesday, Trump is 58-1 in primary endorsements.
How did Matt Drudge play it? "BLOW TO THE DON: Pillen wins Nebraska gov primary..." and "Losing More Races Than He'd Like You to Know..."
Trump's endorsements are historic because no one has backed so many winners before.
98.3% of those he backed won.
ITEM 13: Congress voted to give $40 billion to "Ukraine."
Much of that aid will come back to the USA in kickbacks, bribes and military sales.
ITEM 14: Politico reported, "In what may prove to be Florida's last stand as a battleground state, Democrats are launching a $15 million voter organizing effort ahead of this year's elections.
"Democratic candidates up and down the ballot — even those running in contested primaries — have agreed to pour in money that will be used to hire at least 200 organizers and open as many as 80 offices as part of a coordinated effort to pump up turnout across the state.
"Florida Democratic Party Chair Manny Diaz contends Blue Shift Florida is the start of an ambitious, institutionalized year-round effort that he has been touting since he took the helm of the battered party soon after Democrats were routed across the state in the last election. The idea, he said, was to create an operation that will remain intact after the elections and will be in place for the next presidential election in 2024."
$15 million?
That's about 50 cents per resident in Florida.
I see a party waving a white flag, and it isn't the Republican one.
ITEM 15: Did you ever wonder why Harvard Law School sucks? Consider this logic from a recent Harvard law professor.
.@SenWarren: "I believe in democracy, and I don't believe the minority should have the ability to block things that the majority wants to do. That's not in the Constitution. [...] It's time to get rid of the filibuster." https://t.co/2tBTIfvv2q pic.twitter.com/UwZuKxrotg

— The Hill (@thehill) May 11, 2022
The majority won.
ITEM 16: The New York Post reported, "An actress who starred in Marvel's Doctor Strange was convicted alongside her husband Tuesday of repeatedly having sex with a 13-year-old girl over a three-year period.
"Zara Phythian — a martial artist who played a sorcerer alongside Benedict Cumberbatch in the 2016 Marvel flick — was unanimously convicted of 14 sex offenses against a child aged 13-15, the Nottingham Post said.
"Her husband, fellow martial artist Victor Marke, 59, was also found guilty of the same charges, as well as three others against another young girl.
"The husband and wife were remanded in custody and warned that they will get a "considerable period in custody" when sentenced on Monday, the local paper said.
"Their victim said she was just 13 when the couple plied her with rum and made her have oral sex with Marke after Phythian, then in her early 20s, first taught her how to do it, the paper said."
Doctor Strange is a Disney movie.
Forget yanking its copyright on Mickey Mouse. How about a RICO investigation into the grooming by so many Disney employees?
ITEM 17: Just the News reported, "Support for a Democrat-backed measure to expand the number of justices on the Supreme Court — a practice known as court-packing — has regained some momentum following the leak last week of Justice Samuel Alito's draft opinion signaling the court will reverse the Roe v. Wade decision on abortion.
"Since the leak, five additional House Democrats have added their support to the bill introduced last year.
"Reps. Brendan Boyle of Pennsylvania, David Cicilline of Rhode Island and Californians Nanette Diaz Barragan, Mark DeSaulnier and Jimmy Gomez have attached their names to the legislation, bringing the total number of sponsors to at least 56."
When they are back in charge, Republicans should expand it to 11 and pass a constitutional amendment limiting it to 9 but allowing sitting justices to complete their lifetime terms. This would rob Democrats of appointing a justice for decades.
ITEM 18: Bay Street reported, "Average U.S. Mortgage Rate Hits 5.53%, The Highest Level Since 2009."
Take it from a baby boomer, today's buyers are not even halfway to where the mortgages will top off.
ITEM 19: MSN reported, "A Florida state judge has thrown out the congressional map passed by the Republican legislature and pushed by Governor Ron DeSantis, ruling that it violated state law by drawing Black voters out of a north Florida district.
"Circuit Judge Layne Smith ruled Wednesday that the enacted map violates the state's constitutional amendments on redistricting because 'it diminishes African Americans' ability to elect candidates of their choice' in Florida's 5th District."
Democrats sued because they just cannot let segregation go. They demand congressional districts for coloreds and districts for whites.
ITEM 20: Life News reported, "Leading pro-life U.S. Sen. Steve Daines called out Democrats' abortion extremism Wednesday, saying they want sea turtle eggs to have more rights than unborn babies."
The actual quote was, "Under this radical abortion bill, an unhatched sea turtle would have more protections than an unborn human baby. Why do we have laws in place that protect the eggs of a sea turtle or the eggs of eagles? Because when you destroy an egg, you're killing a preborn baby sea turtle or a preborn baby eagle."
Good point.
FINALLY, the Daily Mail reported, "An air traffic controller printed out a picture of a plane's cockpit controls to help a passenger with no flight experience land the plane in Florida so he could visit his pregnant wife.
"Robert Morgan, who has worked in the industry for 20 years, was on his break Tuesday afternoon reading a book outside after switching shifts with a colleague, when he received an emergency call that a passenger with no flight experience was trying to land a flight safely after the pilot suffered a medical emergency and fell unconscious.
"Morgan had never flown the Cessna 208 Caravan plane before, WBPF reports, but is an FAA-certified flight instructor with around 1,200 hours of flying time under his belt.
"He quickly decided to print out a layout of the cockpit, which he used to guide the passenger through the steps of flying and landing the plane as he struggled with the navigation system."
They should make a movie of this story.