ITEM 1: Kathy Barnette said she won't support Oz if he wins the Senate primary today. Nor will 41% of Pennsylvania Republicans, because that's how high his disapproval is.
Oz was booed at his own rally! And he voted in the last election in Turkey.
For all the Republican Establishment's talk about electability, Oz is the one a plurality of Republicans dislike. For all the Republican Establishment's talk about vetting, Oz is the one with the shady background and past liberal positions on issue after issue.
Susquehanna Polling and Research gave Oz a 1-point lead over Barnette in its final poll.
Insider reported, "House Freedom Caucus Chair Scott Perry backs Kathy Barnette in Pennsylvania Senate primary, breaking with Trump."
Time to vote, Republicans in Pennsylvania. YOU get the final say, not we outsiders.
ITEM 2: The Wall Street Journal reported, "The stock market's selloff has been bad news for most investors.
"Not for Warren Buffett and his team.
"Mr. Buffett's Berkshire Hathaway Inc. has used the slump as an opportunity to increase spending on stocks, deploying tens of billions of dollars the past couple of months after ending 2021 with a near-record cash pile.
"The Omaha-based company bought 901,768 shares of Occidental Petroleum Corp. last week, according to a regulatory filing. The move likely makes Occidental, in which Berkshire began buying shares in late February, one of its 10 biggest holdings."
Matching Buffett's investments can make you rich. Matching Pelosi's can make you richer.
ITEM 3: The Washington Examiner reported, "Biden greenlights plan to redeploy hundreds of troops to Somalia."
All this means is taking in more Somalians as refugees. The Forever War never ends, it just changes locations.
ITEM 4: John R. Lott Jr. reported, "To President Biden, public health researchers, and the media, violent crime is all about guns. But a new survey finds that people are badly misinformed about how much violent crime involves guns. The average likely American voter is way off, thinking that over 46% of violent crimes involve guns. In fact, the true figure is less than 8%."
Gun control never was about fighting crime. Democrats love crime. They run every high crime area in America. No, they want to disarm Americans for fascist reasons.
ITEM 5: Legal Insurrection reported, "Cleveland State University's Board of Trustees is set to meet Tuesday to discuss a university-wide policy for 'space, unity, and entity naming' as students are campaigning to remove John Marshall from the law school.
"Marshall College of Law was named after John Marshall, who served as the fourth chief justice of the U.S. Supreme Court.
"Marshall held that position in 1803 when the Supreme Court established the 'principle known as judicial review' in Marbury v. Madison.
"Marshall, however, was also a slave owner, which is why the campus group Students Against Marshall (SAM) wants the name removed from the college of law."
As a member of Cleveland State's Class of 1981, I say rename it the Clarence Thomas College of Law.
ITEM 6: Politico reported, "House Democratic primaries are drawing record cash — even as they're almost guaranteed to lose their majority.
"Super PACs and other organizations have already dropped more than $53 million in Democratic House primaries this year, according to OpenSecrets, with four more months of nominating contests to go. The outside spending has zoomed past the approximately $30 million spent in each of 2018 and 2020, much of it focused on safely blue seats, where different wings of the Democratic Party are battling to elect primary winners likely to go to Congress — and stay there for years."
Let us call PAC donations what they are.
Down payments.
ITEM 7: AP reported, "Sweden on Monday decided to join neighboring Finland in seeking NATO membership, ending more than two centuries of military nonalignment in a historic shift prompted by Russia's invasion of Ukraine."
Neither country helped us stand up to the Soviet union.
Both countries helped the Nazis until 1943 when Sweden saw the allies were winning and flipped sides.
Their membership makes America weaker by spreading our military out too thin.
ITEM 8: The Wall Street Journal reported, "A state judge struck down a California law requiring companies in the state put female directors on their boards, the second legal setback in as many months for efforts to mandate board diversity.
"Judge Maureen Duffy-Lewis of the Superior Court of California in Los Angeles ruled that the 2018 law was unconstitutional because it violated the equal protection clause of the state's constitution, according to a copy of the verdict."
Diversity is racist, sexist and undermining America.
ITEM 9: AP reported, "Under fire from parents and politicians, President Joe Biden's administration on Monday is expected to announce an agreement to reopen the largest domestic manufacturing plant of infant formula and to ease import rules to allow supplies in from overseas, amid a nationwide shortage spurred by the Michigan plant's shutdown earlier this year over safety issues."
Why do I get the feeling a bunch of coke and cash were given to Hunter over the weekend.
ITEM 10: Zero Hedge reported, "Almost two months after Europe rushed to declare it would impose unprecedented sanctions on Russia in response to Putin's invasion of Ukraine with no regard for how such sanctions would boomerang and cripple its own economies, the old continent which was and still remains hostage to Russian energy exports, is finally grasping the underlying math which was all too clear to Vladimir Putin long ago.
"According to new projections from the European Commission, the euro area's pandemic recovery would grind to a halt, while prices would surge even more quickly if there are serious disruptions to natural-gas supplies from Russia.
"Under the severe (i.e., realistic) scenario, the currency bloc's economy would expand about 0.2% this year, with inflation topping 9%, as governments struggled to replace the imports, the European Union's executive arm said. After this initial stagflationary period, growth would be one percentage point below the baseline in 2023.
"In its first forecasts since Russia invaded Ukraine, the EU also cut its base-case outlook predicting GDP will only grow 2.7% this year and 2.3% in 2023, down from February's 4% and 2.7%. The revisions suggest Germany, the continent's biggest economy, won't reach pre-crisis output until the final quarter of 2022, while Spain must wait until the third quarter of 2023, the commission said."
Don't poke the bear.
Those virtue-signaling economic sanctions backfired bigly. The ruble is at a 5-year high against the Euro.
Hahaha.
ITEM 11: Bloomberg Law reported, "The US Supreme Court ruled against immigrants seeking to challenge administrative decisions in federal court, in a case that could make the difference between someone staying in the US or being deported.
"In a 5-4 ruling on Monday authored by Justice Amy Coney Barrett, the justices said a law barring courts from considering relief left up to the discretion of immigration officials applies to factual disputes as to whether someone is eligible for that discretionary relief."
The case involved an illegal alien from India who lied about being a citizen for 30 years.
Kick him and his family out!
ITEM 12: Fox reported, "The Republican Party is investing heavily in outreach to the Asian American community ahead of November's midterm elections, viewing it as an opportunity to bring minorities permanently into the GOP fold as voters are growing frustrated with the Biden administration's policies.
"The Republican National Committee (RNC) led by chairwoman Ronna McDaniel is launching a five-figure digital and print ad campaign in May, which is Asian American and Pacific Islander (AAPI) Month, and the organization says it's an expansion of a multi-million dollar investments in minority communities.
"According to Pew Research Center, Asian Americans are the fastest growing group in the U.S., currently making up close to 7% of the population, and are a target of both Democratic and Republican leaders as potential voters in the contentious midterm elections."
Better late than never.
ITEM 13: Gateway Pundit reported, "Kamala Harris Arrives in United Arab Emirates to Meet New President Sheikh Mohamed as Feeble Joe Stays Behind."
Of all the things to complain about, this isn't one. Attending funerals is the main foreign policy duty of a vice president. As long as she does not have to make a speech, we're safe.
ITEM 14: Media-ite reported, "WHCA Threatens Reporter Who Interrupted Psaki Briefing With Possible Expulsion in Scathing Email."
He asked a question. How dare he!
Flashback to June 5, 2020, when AP reported, "The federal appeals court in Washington, D.C., ruled Friday that the White House last year unfairly suspended the press credentials of a Washington reporter for Playboy."
At a ceremony, the reporter threatened a fistfight with a Trump administration official.
The story said, "Jonathan Karl, president of the White House Correspondents Association praised the ruling in a statement: 'Today the DC Circuit affirmed what we all know – the work of journalists reporting from the White House is essential to our republic. The WHCA stands ready to fend off efforts by any administration to constrain the rights of journalists or to threaten our ability to exercise our First Amendment rights.'"
The next Republican president should decertify the WHCA.
ITEM 15: Zero Hedge reported, "Reuters is being widely mocked for publishing an article Monday morning which is headlined, Ukraine says it has repelled Russian incursion in Sumy region - given it is accompanied with the below photograph. The photo tweeted by Reuters naturally created some confusion, to put it lightly.
"Yes, a Ukrainian military photo showing troops beating back the Russians... apparently with paintball guns."
The dirty not-so-secret is no one in a modern newsroom these days has used or owns a gun.
ITEM 16: Climate Realism reported, "A Google search for Climate Change this morning turned up an article from USA Today, which says that maple syrup production is at risk because of climate change, and that the range of maple trees will be restricted farther north. Data, however, shows that maple syrup production has increased over time in the United States despite modest warming and shorter sugaring seasons."
Journalists know as much about the climate as they do guns.
ITEM 17: Hey, look who pushed that White Replacement Theory.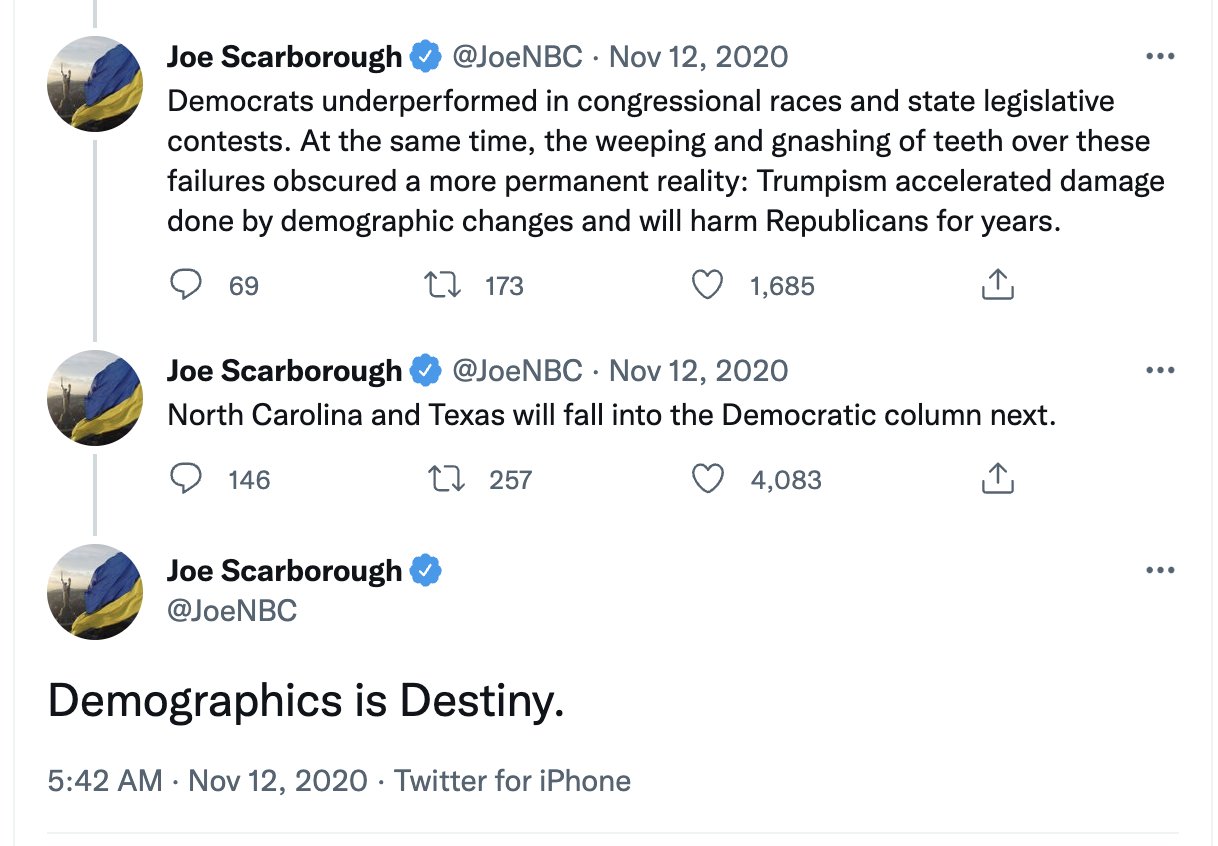 Liberals have bragged about non-whites replacing whites for decades. My argument has been that Hispanics and Asians (and many African imports) will assimilate and vote Republican.
ITEM 18: Post Millennial reported, "Top Engineer tells Project Veritas that Twitter employees are 'commie as f*ck', hate Elon Musk's commitment to free speech."
Twitter responded by censoring Project Veritas's account.
When an online company does this, its Section 230 protections must be revoked.
ITEM 19: Conservative Brief reported, "Justice Thomas to Media: 'I Will Absolutely Leave The Court When I Do My Job As Poorly As You Do Yours.'"
Dude.
ITEM 20: The New York Post reported, "As many as three Hillary Clinton donors — including one who also supported US Rep. Alexandria Ocasio-Cortez — are among the prospective jurors for former Clinton campaign lawyer Michael Sussmann's trial.
"Special counsel John Durham's team objected to putting one Clinton contributor on the panel after the man said he would 'strive for impartiality as best I can.'
"But the prosecution was overruled by Washington, DC, federal Judge Christopher Cooper, who said the man — who works in public policy for Amazon and appeared to be in his 40s — 'expressed a high degree of confidence' that he could be impartial.
"Cooper, nominated by former President Barack Obama, also said Durham's prosecutors could use one of its peremptory challenges to strike him from the panel for the trial, the first to result from his three-year probe into the government's investigations of purported ties between former President Donald Trump and Russia."
The fix is in.
ITEM 21: Disney is going to replace Johnny Depp with an actress.
Jerry Bruckheimer confirms that they are developing a script for a 'PIRATES OF THE CARIBBEAN' film, starring Margot Robbie.

(Source: https://t.co/auTKCzS0qy) pic.twitter.com/iQjINYmND5

— DiscussingFilm (@DiscussingFilm) May 15, 2022
Why didn't they go to the original source for Jack Sparrow and hire Keith Richards?
FINALLY, Post Millennial reported, "MSNBC 'military analyst' posts video game clip claiming it's Ukraine war footage."
But it looked so realistic.