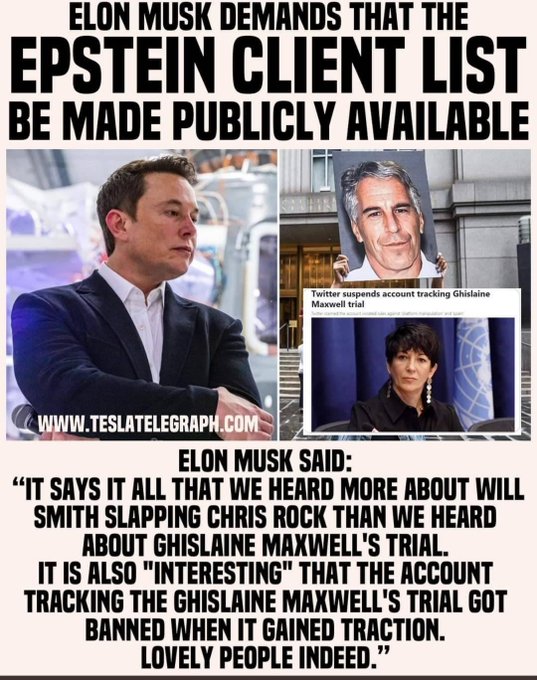 ITEM 1: Matt Drudge's site for the second day screamed:
MUSK ACCUSED OF SEX HARASSMENT
CASH PAYOFF
'WILD ACCUSATIONS'
Makes you wonder what the deep state has on Drudge.
ITEM 2
:
Just the News reported
, "San Francisco Archbishop Salvatore Cordileone announced Friday that House Speaker Nancy Pelosi cannot receive Holy Communion due to her public pro-abortion stance."
You do not have to be a theologian to know he just told her to go to hell.
But he might want to brush up on what happened to Archbishop Thomas Becket in 1170.
ITEM 3: The Daily Mail reported, "A Louisiana federal judge on Friday temporarily blocked the Biden administration from ending Title 42, the CDC public health order border agents rely on to turn migrants away.
"Judge Robert Summerhays, a Trump appointee in the Western District of Louisiana, granted a preliminary injunction on the Biden administration's move to end the restriction on Monday in response to lawsuits from two dozen Republican states, led by Arizona, Louisiana and Missouri.
"Summerhays had said he would rule on the matter before Monday.
"The states claim the Centers for Disease Control and Prevention is violating the Administrative Procedures Act because they did not provide a notice-and-comment period for the plan to lift Title 42. The law also bars moves deemed 'arbitrary and capricious.'"
They make the rules. Make them play by them, Without a notice-and-comment period, there can be no changes.
ITEM 4: The New York Post reported, "Elon Musk called the woman who accused him of sexual misconduct a far-left actress who has a major political axe to grind — and challenged her to verify her claims by describing a part of his anatomy not known by the public.
"Musk took to Twitter late Thursday and said that the 'wild accusations are utterly untrue.'"
They settled out of court for $250,000 which to a billionaire is like $250 to a millionaire which is like 25 cents to a thousandaire.
ITEM 5: NBC reported, "From 2013 through 2018 Hunter Biden and his company brought in about $11 million via his roles as an attorney and a board member with a Ukrainian firm accused of bribery and his work with a Chinese businessman now accused of fraud, according to an NBC News analysis of a copy of Biden's hard drive and iCloud account and documents released by Republicans on two Senate committees.
"The documents and the analysis, which don't show what he did to earn millions from his Chinese partners, raise questions about national security, business ethics and potential legal exposure. In December 2020, Biden acknowledged in a statement that he was the subject of a federal investigation into his taxes. NBC News was first to report that an ex-business partner had warned Biden he should amend his tax returns to disclose $400,000 in income from the Ukrainian firm, Burisma. GOP congressional sources also say that if Republicans take back the House this fall, they'll demand more documents and probe whether any of Biden's income went to his father, President Joe Biden."
Either appoint a special prosecutor or repeal the special prosecutor law.
ITEM 6: Post Millennial reported, "During the trial of former Hillary Clinton Campaign lawyer Michael Sussmann on Friday, a former Clinton campaign manager testified that Clinton had personally approved giving the media the Alfa Bank story regarding then-presidential candidate Donald Trump."
That would be Robby Mook, who was best known for being the first gay campaign manager.
The story also said, "Mook testified that he had first been briefed on the Alfa Bank subject by then-Perkins Coie partner Marc Elias, with Mook saying that he was told the data had come from 'people that had expertise in this sort of matter.'
"He said that the campaign had not been entirely confident with the legitimacy of the data, but that the campaign had expressed hopes to give the information to a reporter who could further 'run it down' to determine if it was accurate or substantive, according to Fox News.
"Mook said that Clinton had been personally briefed regarding the story, with the FBI later found to be unsubstantiated, and gave it the go ahead to send to the press.
"'I discussed it with Hillary as well,' Mook said."
Mook is now on the Arkancide Watch.
ITEM 7: David Hawkins reported, "Tesla CEO Elon Musk went scorched earth on Hillary Clinton today saying he was doubly pissed off campaign funds were used to spread lies about Trump and Russia because he donated to her.
"Jim Jordan said on Twitter: 'Christopher Steele created the dossier. Glenn Simpson sold it to the press. Michael Sussman took it to the FBI. And Democrats and the media lied to you about it all.'
"Elon Musk responded: 'All true. Bet most people still don't know that a Clinton campaign lawyer, using campaign funds, created an elaborate hoax about Trump and Russia.'
"He added, 'Makes you wonder what else is fake.'"
ITEM 8: The New York Post reported, "A Louisiana Army National Guard officer was allowed to retire with full benefits after he was convicted of assault for motorboating a subordinate soldier during an informal promotion ceremony last year, a report said.
"Capt. Billy Crosby, a logistics officer with the 256th Infantry Brigade Combat Team deployed in Jordan, spent 30 days in the brig for 'placing his face between [the junior solider's] breasts and moving his face from side to side,' in May 2021, according to court documents."
When was this ever permissible behavior?
ITEM 9: UPI reported, "Vice President Kamala Harris on Friday announced $500 million in Environmental Protection Agency funds for zero-emission school buses.
"The funds were secured through the administration of President Joe Biden's bipartisan infrastructure law and allow for school districts and eligible school bus operators to replace their buses.
"Harris made the announcement at Meridian High School in Falls Church, Va."
Forbes said, "Falls Church has for years enticed rich families, making it the nation's richest county with median annual household income of $113,313."
It is 8 miles from the Capitol. The incomes of the households come from government contract. This was just another one of those contracts.
We have government of the government, by the government, and for the government.
ITEM 10: The Telegraph reported, "Mountains of grain left to rot as Vladimir Putin 'blackmails the world.'
"The Kremlin's blockade of Ukrainian ports is crippling the world's food production as shipping containers sit loaded with immovable crops."
A world run by leaders who are interested in the welfare of their people would have ended this war months ago. Instead, they are giving Ukraine billions in aid to continue fighting, even though that created and exacerbates a worldwide food crisis.
If NATO leaders want to see the face of evil, I suggest they look in the mirror.
ITEM 11: The Daily Wire reported, "As President Joe Biden was landing in South Korea early Friday, two members of the Secret Service were being sent home after a booze-fueled incident that involved local police, according to a report.
"The employees, described by ABC News as an agent and an armed physical security specialist, went bar-hopping after dinner and the agent wound up in a confrontation with a taxi driver, ABC News reported."
Under Obama, Secret Service agents partied in Brazil and did not pay their hookers. The fish rots from the head. So do rats.
ITEM 12: Just the News reported, "The stock market fell closer to a bear market zone Friday after major losses throughout the week.
"The stock market tumble is a continuation from declines earlier this week, a week that saw record high gas prices continue to rise. The S&P 500 Index has dropped 20%, and if it closes there Friday afternoon, would qualify as a bear market.
"'Since 1928, the S&P 500 has had 1 bear market every 4 years on average,' Charlie Bilello, founder of Compound Capital Advisors, wrote on Twitter. 'With the S&P down 20% from its peak in January, this is now the 3rd bear market we've experienced in less than 4 years.'"
The S&P 500 struggled back and closed the day up as no doubt the Federal Reserve rescued the stock market again. No one wants a third bear in four years because that is bad optics.
But all those rescues over the past decade are why the stock market is in trouble. The Fed needs to butt out. Let the chips fall where they may. The economy can sort it out. Relying on a crutch too much cripples a man, or in this case the stock exchanges.
ITEM 13: Breitbart reported, "This was eighth consecutive weekly loss for the Dow Jones Industrial Average. That is the longest losing streak since 1932."
Bidenomics. The worst economic plan in U.S. history since slavery.
ITEM 14: CNBC reported, "Hyundai Motor on Friday confirmed plans to spend $5.54 billion to build its first dedicated electric vehicle and battery manufacturing facilities in the U.S.
"The plants will be located outside of Savannah, Georgia, in Bryan County, the company said. The operations are expected to open during the first half of 2025, with an annual production capacity of 300,000 vehicles, according to the South Korean automaker. About 8,100 new jobs are to be created."
In case you are wondering why Governor Brian Kemp is so far ahead in the polls, this is one reason.
ITEM 15: The Daily Mail reported, "Only 33% of Democrats say the country is headed in the right direction, down 16 points from 49% in April."
Dropping 16 point a months means by August his support will be down to Jill, Kamala and Chairman Xi.
ITEM 16: ABC reported, "The federal government is investing in machines that suck giant amounts of carbon dioxide out of the air in the hopes of reducing damage from climate change."
We already have them.
We call them trees.
FINALLY, Laura Ingraham is the afterthought on Fox's prime-time schedule. Tucker Carlson makes news by angering liberals. Sean Hannity makes news by disappointing conservatives. She doesn't really have a lane.
But the other night, she picked one.
Boy howdy.
Citing inflation and Biden's 10 other calamities, Ingraham lit into the occupant-in-chief.
She said, "Biden is plenty ignorant. We know that. And his Cabinet is woefully unqualified. We know that. But the headwinds that Americans are now facing in almost every aspect of our lives cannot be an accident. None of this was predestined. Now, the Biden team chose to cancel oil leases, to stop Keystone, ramp up all those regulations. They green-lit a proxy war against Russia… threw tens of billions of military aid to Ukraine? Oh, yeah, we can afford that. They paid people not to work, even after vaccines were available. Of course, they bailed out the blue states that refused to open with Biden's so-called Recovery Act as well. They allowed millions of migrants, we're paying for that, through the southern border. They're ceding U.S. authority to international bureaucracies. And to this day, they refuse to stop scaring Americans about COVID. Oh, for good measure, they're even threatening free speech. Hate speech, of course, is anything they disagree with. Now, I could go on and on, but these policies are all designed to make you poorer and make you more dependent on the government."
Poorer and more dependent on government.
That the best summation of the Democrat plan that I have come across.