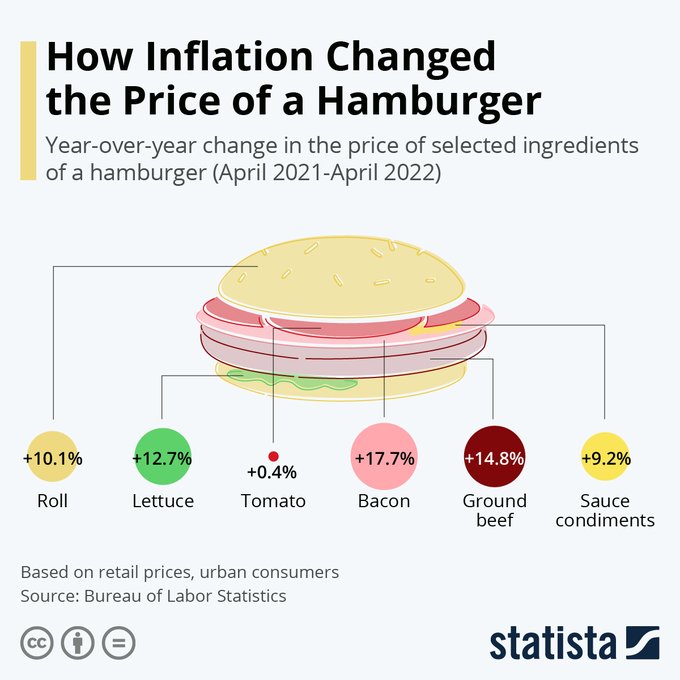 AP amused me with its tale, "After 3 months of war, life in Russia has profoundly changed."
The wire service wrote, "Few visitors walk inside the GUM department store in Moscow, in Moscow, Russia, Friday, March 4, 2022. Three months after the Feb. 24 invasion, many ordinary Russians are reeling from those blows to their livelihoods and emotions. Moscow's vast shopping malls have turned into eerie expanses of shuttered storefronts once occupied by Western retailers."
Just like malls are in America.
Chris Weafer, described by AP as "a veteran Russia economy analyst at Macro-Advisory," said, "We see deterioration in the economy now across a broad range of sectors. Companies are warning that they're running out of inventories of spare parts. A lot of companies put their workers on part time work and others are warning to them they have to shut down entirely. So there's a real fear that unemployment will rise during the summer months, that there will be a big drop in consumption and retail sales and investment."
But enough about the United States, what's going on in Russia?
With Biden's ignorant economic sanctions, he has brought down two economies. I could not care less about Russia, but the United States is in deep trouble.
Destroying America is the goal. I call it the Venezuelation of America. The combination of runaway inflation and shortages is astonishing and unprecedented here, but common throughout the communist world. Along with a rampant rise in violent crime, Democrats are scorching the Earth to punish Americans for daring to elect Donald John Trump as president.
Democrats desperately are speeding up their fundamental transformation of America into a Union of Soviet States of America. The use of mail-in voting to accommodate illegal ballot harvesting installed Biden in the White House. Democrats know they have very little time to make the changes they desire. They use their time well.
Inflation was easy to achieve. They blew trillions in the name of covid and watched inflation ignite.
Running errands in California today:

- Can't find the allergy medication I need

- This Target is still out of baby formula

And gas is over $6 🥴

Thanks #JoeBiden #buildbackbroke pic.twitter.com/6DBwBdFSPk

— Stephanie Hamill (@STEPHMHAMILL) May 21, 2022
But that is not all. Democrats shut down oil exploration and turned America away from the energy self-sufficiency President Trump gave us. Democrats made us slaves to Saudis and other foreign nations again.
Democrats created bottlenecks along the West Coast ports to slow shipping. Shortages popped up.
The party also opened the border to millions of illegal aliens, who bring with them drugs, crime and welfare recipients.
Democrats shut down the nation's largest baby formula plant for no reason at all other than to create another crisis. Europeans are flying in formula to save our babies.
Economic sanctions on Russia are leading to a shortage of fertilizer which will send farm prices soaring.
As the shopper in the family, I know grocery prices. Which came first, the rise in chicken prices or the rise in egg prices?
It doesn't matter. Both have doubled in the past year.
They will get higher. Zero Hedge reported, "Avian influenza has already impacted more than 37 million birds across 34 US states this year. The fast-spreading virus has sent the production of eggs tumbling and prices at the supermarket soaring.
"Bloomberg reports the production of US eggs in April plunged as millions of egg-producing hens were slaughtered to mitigate the virus' spread. The latest data from the USDA shows egg production fell 3.9% to 7.55 billion, while the number of egg-laying birds dropped 5.3% from a year ago."
More bad luck?
I don't think so.
Democrats shut down the nation two years ago in the name of public health just to get rid of Trump. Now they are shutting us down again to get rid of capitalism and freedom.
By disrupting the supply chain, Democrats have endangered the lives of many. For example, the Hill reported, "Supply chain and medical staffing shortages brought on by COVID-19 have decreased access to treatments for many of the 800,000 individuals requiring dialysis or a kidney transplant to live. With hurricane season quickly approaching, these disruptions could be made worse if policymakers do not take actions to protect kidney patients in the face of emergencies.
"For people living with kidney failure and their families, disruptions to dialysis treatments are more than just inconveniences. The typical patient requires three treatments per week, each lasting about four hours. Without timely care, they can develop high potassium in the bloodstream and fluid overload, leading to severe complications and, in some cases, death. Given the current stress on our healthcare system, every unexpected medical supply chain shock can create additional treatment delays and reduced access to health-sustaining medications."
This is just one example of bad policies stacking up to kill people.
Democrats truly do not care. For all their blabber about health care being a right, they have no problem jeopardizing the health of millions.
And yes, Democrats are willing to starve the nation into submission. A score of food processing plants have shut down due to fires and the like, and if you notice this the press will label you a conspiracy theorist.
Democrats are deliberately kneecapping America. A Biden diet is coming for people who eat. A Biden parking lot will follow for people who drive.
The Institute for Energy Research reported, "Petroleum product shortages may be ahead as motorists, truck drivers, farmers and airlines are grappling with increasing demand for gasoline, diesel and jet fuel.
"Despite refiners focusing on diesel in lieu of gasoline this spring, a global diesel shortage is looming. Refiners are planning to spend the summer increasing jet fuel and diesel production instead of gasoline because refining oil into diesel or jet fuel is currently more profitable than making gasoline despite those fuels historically being the least profitable parts of the barrel.
"Currently, the profit margin on distillates is nearly $60 a barrel, while the margin to make gasoline is $34. As a result, it is unclear what the availability or price of gasoline will be this summer as Americans increase gasoline demand by taking vacations as school lets out."
Senator Warren wants to impose price controls, which would lead to shortages as producers will stop providing goods and services because they could not make profits.
Democrats know this won't work. That is why Democrats want to do it.
Malls are bare of customers in Russia. Malls are bare of products in America. And AP says it is all Putin's fault.