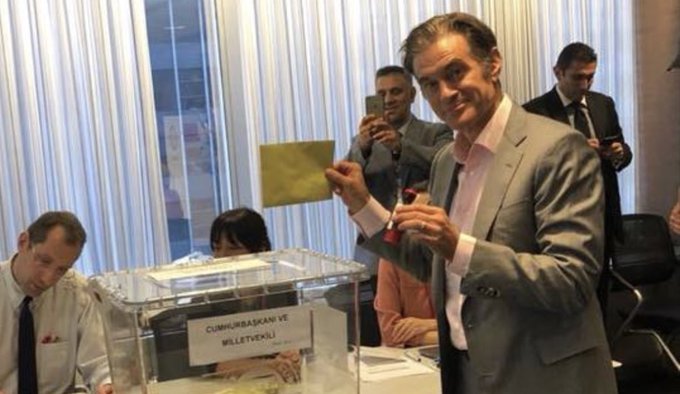 The Turk's a jerk.
Get rid of him.
President Donald John Trump's endorsement of Dr. Mehmet Oz was a bewildering move that now is a national security threat. No one less than Mike Pompeo said so, and with good reason because Oz voted in the last election in Turkey!
Pompeo told reporters, "Maybe it's all innocent, [or] maybe it's all straight up, but we and the people of Pennsylvania and the Americans who he will be representing as one of the 100 members of the United States Senate voting on important national security matters need to understand the scope and depth of his relationship with the Turkish government."
To be sure, Pompeo endorsed Dave McCormick in the race. This is oppo research.
But Oz voting in Turkey's election is a deal killer. Democrats will roll him in November if Republicans are dumb enough to nominate Oz.
Trump supporters hate Oz. Absolutely despise him. They booed Oz repeatedly at Trump's rally last night because everyone knows Oz is a liberal pretending to be a Trump supporter. Pennsylvania voters see through him as if he were made of wet cheesecloth.
A poll showed Republicans hate him.
🚨 BREAKING: New PA poll shows @DrOz favorability is underwater with GOP voters

41% Unfavorable
29% Favorable

This is disastrous for his electability pic.twitter.com/VuBdqOY6P9

— Ultra Poso 🇺🇸 (@JackPosobiec) May 6, 2022
There is no way Oz wins in November with so little Republican help. None.
His ties to Turkey are a deal killer. The Armenian National Committee of America is calling for an investigation of Oz.
Resist the Mainstream reported, "An advocacy group is urging the Justice Department to investigate Pennsylvania Senate candidate Mehmet Oz for doing work for Turkish Airlines without registering as a foreign agent — but Oz says he just made a couple of videos.
"The celebrity doctor is featured in promotional videos shown to passengers of the airline, which is 49.12% owned by the Turkish government, according to a 2015 FARA filing by public relations firm Golin/Harris."
Trump needs to dump Oz. The stakes are too high. Failure to get the nomination right means this Pennsylvania Senate seat flips blue, which could keep Schumer the majority leader for two more years and maybe another Supreme Court nomination.
Trump needs to endorse Kathy Barnette because she can win in November. Oz can't.