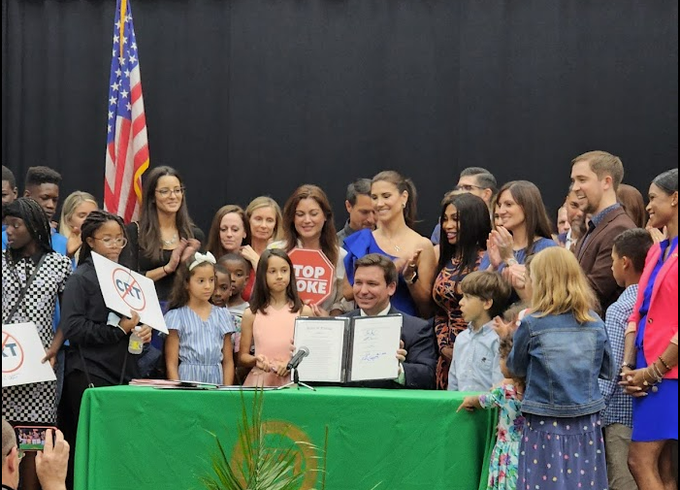 NPR reported, "DeSantis wanted to punish Disney. Repealing its tax status may hurt taxpayers instead."
The story said, "The bill will undercut Disney's autonomy, but it could impose a steep cost on Orange and Osceola counties, where the theme park is located. The two counties would inherit the Disney district's debts, which officials say would result in higher taxes."
That's not true. The only entity to see a tax hike will be Disney because its tax break will disappear.
As for the debts, Disney borrowed the money. Disney is on the hook, not Florida.
And NPR's attribution to "officials" was wrong. Only one official did: Scott Randolph, a Democrat who is the Orange County tax collector.
This speculation is unworthy of a free press. It is hysteria designed to undercut an elected legislature in an election year on behalf of a private company.
Disney is not the victim, no matter how loud and often the media says this.
Disney found itself in the middle of a culture war the same way Russia found itself in the middle of Ukraine.
~ @Iowahawkblog via @DonSurber https://t.co/kMOO2xsglh

— Dan Schwartz (@Dan_Schwartz) April 23, 2022
Disney also isn't the only enterprise to lose its special privileges in this law.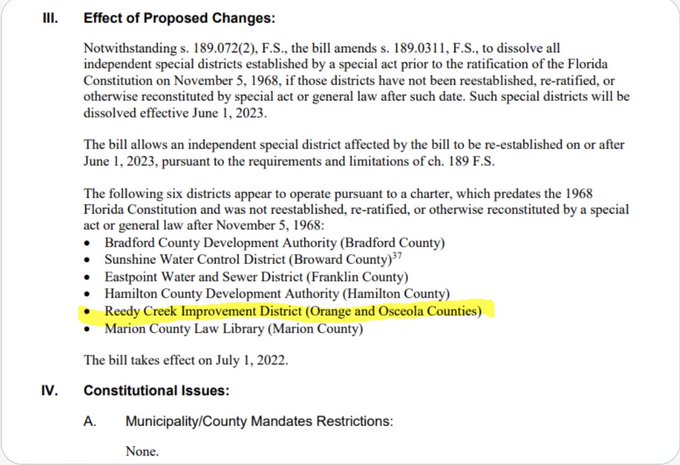 The biggest thing the media got wrong was this was only spiteful retaliation. Oh, disappointment over Disney wanting teachers to push LGBT upon children 4 to 9 helped gain momentum in the legislature to repeal the privilege, but the push began before that. The tax break was used to help Disney turn a swamp into a theme park. After 55 years, the break is well past the time for revocation.
DeSantis wanted to end the privilege before Disney's misguided foray into sex education for pre-pubescent children.
On March 31, WFLA reported, "Florida GOP considers revoking Disney World's right to self-rule over 'Don't Say Gay' opposition."
(Three words that were not in the bill or the law are "don't" and "say" and "gay." To call it such -- even when claiming to quote opponents -- is a lie.)
The story quoted the governor, who said, "I would not say that would be retaliatory. The way I view it is there are certain entities that have exerted a lot of influence through corporate means to generate special privileges in the law. I don't think we should have special privileges in the law at all.
"Some of these things have developed over the years. I had to deal with this last year, when we passed a law last year to protect Floridians from big tech censorship. The idea was to let them be able to sue under the 'Unfair and Deceptive Trade Practices Act,' protect political candidates from being de-platformed, stuff that was good. And it's being litigated in the courts, which we knew it would. But at the 11th hour, the Legislature slips in a provision in that law that said 'If you operate a theme park, it doesn't apply to you.' And that was meant solely to protect Disney."
The story pointed out there were other theme parks in Florida. Indeed, the tax privilege for Disney created a magnet for other theme parks. It worked. But its time is over.
The governor said he could not veto the bill over the Disney protection, but Disney's opposition to the Parental Rights in Education created the opportunity to act.
The regular session had ended which meant the proposal would have to wait till next year. DeSantis struck while the iron was hot. With lawmakers in Tallahassee for a special session on redistricting, he added the tax privilege revocation.
He chalked up a big win by showing leadership to a Republican Party used to having governors named Jeb!
Please clap.
The talk about a billion-dollar debt and 20% property tax increase is Democrat and Disney disinformation. I don't know why Disney would bother fighting it. Disney World is a small part of a multinational corporate giant that owns ABC, ESPN and half of Hollywood. The bad publicity surely costs more than the tax break saves Disney.
In that WFLA story, DeSantis said, "They're not used to having people that will stand in their way and say 'Actually, the state of Florida's going to be governed by the best interests of its people in Florida.' We're certainly not going to bend a knee to woke executives in California. That is not the way the state is going to be run."