JACKSON: "It has taken 232 years and 115 prior appointments for a Black woman to be selected to serve on the Supreme Court of the United States. But we've made it. We've made it, all of us." pic.twitter.com/wJtumyxnt6

— JM Rieger (@RiegerReport) April 8, 2022
ITEM 1: Ketanji Jackson became a justice on Friday. She said, "In my family, it took just one generation to go from segregation to the Supreme Court of the United States."
Baloney.
She was born in 1970, 6 years after segregation was outlawed. Thurgood Marshall was already on the Supreme Court when she was born. Affirmative action cleared the way for her to attend Harvard and Harvard Law.
The color line was was broken before she was born and the sex barrier when she was 10.
Jackson is an elitist trying to steal the valor of those who struggled for freedom.
ITEM 2: The New York Post reported, "A state Supreme Court judge ruled Friday that the city did not have the right to cancel Trump's contract to run the Ferry Point Golf Course. Mayor Bill de Blasio had nixed the deal after the Jan. 6, 2021, Capitol riot, arguing that Trump would not be able to attract golf tournaments.
"In her decision and order filed on Friday, Justice Debra James said there was nothing in the contract that required a tournament — only that the city would share in any proceeds. That means either Trump gets to continue to run the course, or the city needs to pay him to leave. Trump's son Eric said they'll stay."
A contract is a contract. It does not care about your feelings.
ITEM 3: The Washington Free Beacon reported, "Several of Russia's top state-controlled nuclear companies stand to gain billions of dollars in revenue as part of a new nuclear accord with Iran that will waive sanctions on these firms so that they can build up Tehran's nuclear infrastructure, according to a U.S. government-authored document reviewed by the Washington Free Beacon.
"Russia's state-controlled Rosatom energy firm and at least four of its major subsidiaries will receive sanctions waivers under a new accord so that they can complete nuclear projects in Iran worth more than $10 billion, according to the 2019 document, which details all the Russian entities involved in these projects.
"The document's authenticity was confirmed by a former senior U.S. official, who said it was used by the Trump administration during internal talks about potential sanctions on Iran's nuclear program and its Russian enablers."
The economic sanctions on Russia are just for show, folks.
Zelensky is likely in on the deal as well.
ITEM 4: The FBI's attempt to frame four men as kidnappers failed. The jury exonerated two and could not bring itself to convict the other two.
But NBC reported, "A federal jury failed to convict four men accused of plotting to kidnap Michigan Gov. Gretchen Whitmer, whom they despised for the restrictions she ordered early in the pandemic."
Failed?
The jury found two victims of this entrapment not guilty.
They are innocent men.
Not until Paragraph 10 did NBC mention the FBI. NBC was too busy allowing Whitmer to smear these men and the jury to report why the men were innocent.
ITEM 5: The media was wrong about Russian Collusion, wrong about Jussie Smollett, wrong about Rittenhouse, wrong about Hunter's laptop wrong about January 6, and wrong about this fake kidnapping.
Is there anything the media has gotten right?
ITEM 6: AP reported, "Ninth grader Harleigh Walker, 15, spends her his time after school like many girls her boys his age: doing homework, listening to Taylor Swift, collecting records and hanging out with friends.
"But this year, her his spring break also included trying to persuade members of the state House and Senate to reject legislation banning gender-affirming medications for transgender kids like her him under 19.
"She was unsuccessful. On Thursday, Alabama lawmakers passed the measure, and Gov. Kay Ivey signed it into law on Friday, meaning Harleigh's doctor would face prison time if she he continued to prescribe her testosterone-blocking drugs."
The media continues its propaganda campaign to promote the sterilization of American youths through these drugs.
In most states, a girl has to be 18 to get a boob job but a boy can get one at 12.
This is crazy.
ITEM 7: Disney CEO Bob Chapek apologizes to the few pedos in his company for initially refusing to stand up for indecency.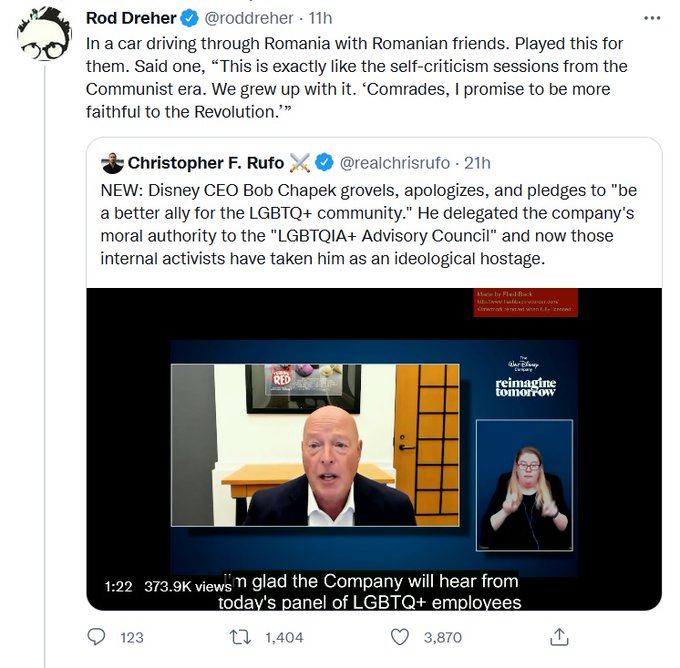 The devil targeted Disney when Walt died. The devil won.
ITEM 8: The Washington Examiner reported, "Florida Gov. Ron DeSantis may have become the first-ever candidate in the United States to raise more than $100 million only in donations, according to a new report.
"The Republican star, who is running for reelection this year, notched $96 million as of last month between his campaign and political committee, Friends of Ron DeSantis, which is expected to report a $6.1 million haul for March on Monday, according to CNN. The funding comes from a variety of people and groups, including former President Donald Trump's donor network, state and national parties, Florida businesses, and small donations from across the country."
Nikki Fried is fried, and Charlie Crist is Crispy Critters.
ITEM 9: Breitbart reported, "Beverly Hills' only gun shop, Beverly Hills Guns, received an order on April 7 advising the shop that it has 60 days to close.
"Store owner Russell Stuart told Breitbart News the order came from property management. He recounted that his secretary received an envelope and walked to Stuart with sorrow in her eyes."
Pot shops are OK in California.
Gun shops are not because it is easier to control stoners than it is to control people who can defend themselves.
ITEM 10: It is grooming.
"The goal of the transition closet is for our students to wear the clothes that their parents approve of, come to school and then swap out into the clothes that fit who they truly are."

-Mr. Martin-Edwards
Fremont High School in OUSD pic.twitter.com/6ykIiKmp6S

— Teachers Exposed (@_TeacherExposed) March 16, 2022
Instead of a classroom, this creep belongs in a prison.
ITEM 11: The New York Post reported, "Jada Pinkett Smith 'never' wanted to marry Will, cried at 'horrible' wedding."
Well, that was a slap in the face.
Or is that a bald-faced lie from her?
ITEM 12: Board Hawk reported, "5% of Denver's Black, Latino 3rd-graders are reading at grade level. That's an emergency."
Bah.
It is no emergency. It is par for the course. Education is not a priority among parents and students. Working hard in school is considered acting white.
Asian and Jewish parents may overdo it, but compare prison populations by race.
ITEM 13: Big League Politics reported, "Michigan Election Clerk Who Denied 2020 Voter Fraud is Charged with Felony Bribery, Witness Intimidation."
Al Capone denied there was any liquor in Chicago.
ITEM 14: AP reported, "A federal judge rejected Girl Scouts' claims Thursday that the Boy Scouts created marketplace confusion and damaged their recruitment efforts by using words like scouts and scouting in recruitment drives.
"Manhattan Judge Alvin K. Hellerstein ruled the Boy Scouts of America can describe their activities as scouting without referring to gender and that the matter does not need to be put to a jury.
"Hellerstein said his written decision caps a serious, contentious and expensive litigation and necessitates dismissal of the lawsuit brought by the Girl Scouts of the United States of America."
Here is an idea Girl Scouts might try. Instead of suing, do a better job. Drop the PC nonsense and make scouting fun.
ITEM 15: Post Millennial reported, "Following internal outcry from triggered Twitter employees over Elon Musk becoming a stakeholder in the company, Twitter CEO Parag Agrawal announced Thursday that they would be holding a question-and-answer town hall with Elon Musk."
The irony is Twitter is supposed to be a town square.
That is why it was given Section 230 protection from libel.
ITEM 16: Politico reported, "The White House has begun to harbor fears that Vladimir Putin could soon notch his biggest victory of Russia's invasion of Ukraine — in Paris.
"There is growing concern within President Joe Biden's administration about the narrowing polls in the French presidential election that show a tight race between incumbent Emmanuel Macron and far-right challenger Marine Le Pen.
"A possible victory by Le Pen, a Putin sympathizer, could destabilize the Western coalition against Moscow, upending France's role as a leading European power and potentially giving other NATO leaders cold feet about staying in the alliance, according to three senior administration officials not authorized to publicly discuss private conversations."
Considering that our president's son collects bribes from all sorts of foreigners (including the wife of a Putin-friendly mayor of Moscow) maybe we should remove the log in our eye before complaining about Le Pen.
FINALLY, the Blaze reported, "Liberal viewers of the progressive cable news network MSNBC raged on social media after host Chuck Todd said that President Joe Biden's successful nomination to the Supreme Court was to be his last victory.
"Chuck Todd made the comment during the celebration of Democrats over the confirmation of Ketanji Brown Jackson to the Supreme Court despite the passionate objections by some Republicans in the Senate Judiciary Committee.
"Todd characterized the Supreme Court victory as possibly the last one for the White House, apparently referring to the impending loss of congressional seats for Democrats in the midterm elections amidst collapsing support in the polls.
"Viewers of the channel were outraged that Todd refused to ignore the sorry state of the future of the Democrat Party."
Maybe Psaki can replace him.