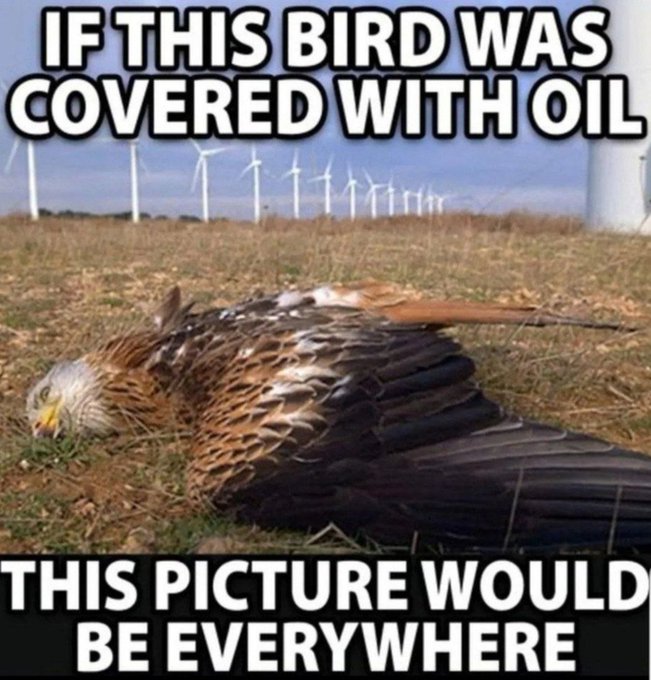 ITEM 1: NPR reported, "A wind energy company was sentenced to probation and ordered to pay more than $8 million in fines and restitution after at least 150 eagles were killed over the past decade at its wind farms in eight states, federal prosecutors said Wednesday.
"NextEra Energy subsidiary ESI Energy pleaded guilty to three counts of violating the Migratory Bird Treaty Act during a Tuesday court appearance in Cheyenne, Wyoming. It was charged in the deaths of eagles at three of its wind farms in Wyoming and New Mexico.
"In addition to those deaths, golden and bald eagles were killed at wind farms affiliated with ESI and NextEra since 2012 in eight states, prosecutors said: Wyoming, California, New Mexico, North Dakota, Colorado, Michigan, Arizona and Illinois. The birds are killed when they fly into the blades of wind turbines. Some ESI turbines killed multiple eagles, prosecutors said.
"It's illegal to kill or harm eagles under federal law."
Imagine if it were covered with oil after a spill.
This is worse because birds covered in oil can be cleaned and fly again.
ITEM 2: CNBC reported, "The consumer price index, which measures a wide-ranging basket of goods and services, jumped 8.5% from a year ago on an unadjusted basis, above even the already elevated Dow Jones estimate for 8.4%.
"Excluding food and energy, so-called core CPI increased 6.5% on a 12-month basis, in line with the expectation. However, there were signs that core inflation appeared to be ebbing, as it rose just 0.3% for the month, less than the 0.5% estimate. That in turn sparked some hope that inflation overall was easing and that March might represent the peak."
Trump left this doofus a 1.7% inflation rate. Within a year, Brandon had it at 7.9%.
This is deliberate because rising inflation like rising crime hits the middle class hard. Biden is no moderate. He wants to destroy the middle class. All dictators do. Of course, he works for the Big Guy.
Obama.
ITEM 3: Washington Free Beacon reported, "Iran's fleet of ghost ships has ferried at least $22 billion worth of illicit oil to China since 2021, providing the hardline regime with a major source of revenue and raising questions about the Biden administration's lax enforcement of sanctions.
"In the first three months of 2022 alone, Iran shipped an average of 829,260 barrels of oil per day to China, according to new figures published by United Against a Nuclear Iran (UANI), an advocacy group that closely tracks Tehran's fleet of illegal tankers. A total of 337,882,520 illegal barrels—worth approximately $22 billion—have made their way to Beijing since President Joe Biden took office.
"Iran's fleet, comprised of 182 foreign-owned and -flagged ships, operates with little interference from the United States, according to UANI. It is known as Tehran's ghost armada because these ships often obfuscate their position at sea and turn off their trackers—a violation of maritime law—so that they can evade detection.
"Iran's black market oil trade has thrived under the Biden administration, fueling accusations the United States is turning a blind eye to sanctions enforcement in order to generate goodwill with Tehran as part of a diplomatic effort to ink a revamped nuclear deal."
Under Bush, we fought the Axis of Evil.
Under Biden, we accommodate it.
ITEM 4: The Daily Mail reported, "Americans say COVID is over: Just 9% think the pandemic is a 'serious crisis' in a warning to lawmakers planning to bring back mask mandates and restrictions in response to latest wave."
After 2 months, it never was a serious crisis given its 99% survival rate.
TWEET OF THE DAY:
Today is a good day to remember Yuri Gagarin, a humble young man who quit drinking, quit smoking and trained for 11 years, all in order to spend 108 minutes outside the Soviet Union pic.twitter.com/bb1frbFtVP

— Max Fras (@maxfras) April 12, 2022
He was a cosmonaut and the first man in space, completing one orbit.
ITEM 5: Never Trumper Rich Lowry wrote, "For the last 100 years, Russia has been a brutalized and brutalizing country. It suffered nearly 3.5 million deaths in World War I, another 8 million dead in the Russian Civil War and then 27 million more in World War II.
"The founder of the Soviet state, Lenin, was a theorist and practitioner of mass terror. After the revolution, the civil war between the Bolsheviks and their opponents was a series of atrocities. Then came the cataract of unspeakable violence in the death struggle with the Nazis.
"The Red Army's decisive march to Berlin at the end of the war was one long, pitiless war crime. The Russians raped 2 million German women. According to Antony Beevor, author of a book on the fall of Berlin, one doctor believed that of 100,000 women raped in the city, 10,000 died as a consequence, many by suicide.
"The English-speaking world features its share of shameful and brutal acts but nothing on the mind-numbing scale of such atrocities. And the crimes in the United States and elsewhere are looked back on with shame, whether slavery or the expropriation of indigenous people. In contrast, in the 21st century, when more civilized practices are supposed to have prevailed, Putin is adding more shameful blots to Russia's woeful record."
Good assessment of the situation. As he said, "It is a reflection of a twisted Russian political culture that has never developed an appreciation for individual worth, democratic accountability or humanitarian norms."
Now for the irony.
The very people who try to shame us for ancient slavery are the ones who supported the Soviet atrocities in real time. Yes, the lefties are making noise about Putin in Ukraine, but only because he is not a communist.
ITEM 6: But we can learn something from Putin. He just fired 150 intelligence officers for getting Ukraine wrong.
We fired no one after 9/11.
Despite failures in Afghanistan, no general lost his gig.
10 days after Pearl Harbor, FDR canned the top commanders in Hawaii, General Short and Admiral Kimmel. The latter was a former aide when FDR was Assistant Secretary of the Navy. Scapegoats? Maybe. But they thought the Japanese would attack Wake Island or Midway. And half Kimmel's fleet was underwater.
There is a lot of talk about holding people accountable in DC but seldom does anyone lose his job.
ITEM 7: The Hill reported, "President Biden held a 'candid exchange of views' on Monday in an hourlong virtual call with Indian Prime Minister Narendra Modi, according to a U.S. senior official.
"India has continued to buy Russian oil as the U.S. and other nations have sanctioned Moscow over its invasion of Ukraine."
Modi was friends with the last three presidents.
He's stiffing this one because Modi does not have the luxury of being oceans away from Russia and Red China. They are up close and personal. Why tick off Putin if he doesn't have to? India may need his support if Chairman Xi makes a move.
ITEM 8: Axios reported, "A modern city starves."
The story said, "Many of Shanghai's 26 million residents are facing food shortages as the Chinese government's strict COVID lockdowns have ground one of biggest and busiest cities in the world to a halt.
"Why it matters: Scenes of residents rationing vegetables and begging local officials to allow them to search for food has cast a shadow on the Chinese government's COVID response.
"State of play: Shanghai reported more than 26,000 new infections on Sunday, as the number of new daily infections continues to rise despite the city's lockdown, which has lasted more than two weeks."
26,000 cases, zero deaths.
99.9% of the city does not have covid.
All must starve.
Chairman Xi is punishing his countrymen to maintain power. We have not seen such inhumanity since Mao.
ITEM 9: WaPo reported on the May 10 primary battle in West Virginia between Congressmen David McKinley and Alex Mooney. The story portrayed McKinley as a pork barreler ("a congressman skilled at bringing federal dollars home") and dismissed Mooney as a Trump supporter.
I have met both. Neither is perfect. Both are better than the AOC candidate Democrats likely will run.
Not my call. Redistricting plopped me in Carol Miller's district. She's nice and Trumpy.
ITEM 10: CNN reported, "A credit card used to rent a U-Haul cargo van helped New York investigators quickly identify a person of interest who allegedly deployed a gas canister and then opened fire on a Brooklyn subway sending nearly 30 people to city hospitals, two law enforcement sources told CNN Tuesday.
"The shooter, who dropped the credit card as he fled the scene was still on the loose Tuesday night, was described by authorities as a 5-foot-5-inch black man with a heavy build who was last seen wearing a green construction vest and a gray hooded sweatshirt.
"Authorities said investigators were able to obtain an image of the shooter from a cellphone video shared by an eyewitness."
Coincidentally, this attack happened just before the new inflation report came in.
Meanwhile, Becker News reported, "NYC Subway Mass Shooter Was on FBI Terror Watch List, NYPD Announce 'Person of Interest' in Nationwide Manhunt."
Sounds like another Michigan kidnapping.
ITEM 11: Fox reported, "NY Lt. Gov. Brian Benjamin arrested on bribery charges, resigns."
Another story muffled by the attack.
Do Democrats have any gubernatorial-level official who isn't a crook, a sexual harasser or a Karen?
Client No. 9, where are you?
ITEM 12: The Washington Examiner reported, "Nearly 7 in 10 Americans, upset with Disney's embrace of the LGBTQ movement, no longer want to do business with Mickey Mouse and instead will seek out family-friendly alternatives, according to a new survey shared with Secrets.
"The latest data said that 68.2% of voters are now less likely to do business with Disney. Of those, 57.2% are much less likely to buy from the entertainment giant known for its kid-friendly parks and movies."
Disney coveted the LGBT crowd. I hope they enjoy it.
ITEM 13: The Independent reported, "Nasa spots record breaking, huge comet headed towards Earth."
Paragraphs 4 and 5 said, "However, we should be entirely safe. The comet will not get closer than a billion miles from the Sun – further away even than the planet Saturn – and that will not happen until 2031.
"The object has been known about since November 2010, at which point it was 3 billion miles from the Sun or the distance to Neptune."
So basically the only things in the headline that are right are Nasa and comet.
Good job, journos.
ITEM 14: The Daily Wire reported, "Eleven-year NFL veteran and three-time Super Bowl champion Matt Light announced that he's running for a seat on the Foxborough, Massachusetts, school board after seeing what his children have gone through in the public school system.
"Light, who doesn't align himself with a party, took major issue with the mandatory mask-wearing for children. While Foxborough schools are no longer requiring children to wear masks, Light is looking forward, for when the next thing pops up."
He may no longer be on New England's roster but he is a patriot.
ITEM 15: Breitbart reported, "El Salvador's President Nayib Bukele slammed the Biden State Department on Monday, saying his government only received American assistance to fight crime under the administration of President Donald Trump, while President Joe Biden has chosen to side with gangsters."
Crime pays -- kickbacks to Democrats.
ITEM 16: Yahoo reported, "New Hunter Biden revelations raise counterintelligence questions."
The story said, "Patrick Ho hardly seemed the profile of a big-time international fixer. A short, pudgy man, affectionately known to friends as "Fat Ping," Ho had been a Harvard-trained ophthalmologist and a Hong Kong government minister. Yet in the fall of 2017, after landing at John F. Kennedy Airport in New York City, he was arrested by FBI agents and charged in an audacious plot to dole out millions of dollars in bribes to African leaders in exchange for major energy contracts that appeared to advance Chinese government interests.
"What emerged in his indictment and later trial and conviction in federal court was a revealing portrait of Chinese influence peddling that included allegations that Ho arranged to broker arms deals — including the sale of rocket and grenade launchers — to countries in war zones in Africa and the Middle East."
I would do the joke about Hunter liking Ho's but this is a serious matter. Hunter is a conduit for auctioning foreign policy to the highest bidder.
ITEM 17: Breitbart reported, "Left-wing Twitter went ballistic on Monday over coach Tony Dungy standing with Florida Gov. Ron DeSantis signing a pro-fatherhood bill into law."
Dungy has done more with his life than most of his critics ever will.
I grew up without a father.
God bless Tony Dungy.
ITEM 18: Citizen Free Press reported (with a video) "Herschel Walker looking strong in Georgia…" (Bartiromo interview.)
Walker looks strong anywhere.
ITEM 19: CNA reported, "Frigid and far-flung Neptune, our solar system's outermost planet, is adding to its reputation as an enigmatic world, with astronomers puzzled by a surprising drop in its atmospheric temperatures during the past two decades.
"Focusing upon Neptune's stratosphere - the atmosphere's relatively stable region above the turbulent weather layer - the researchers had expected to find rising temperatures in the part of the planet visible from Earth with the onset of its southern hemisphere summer, a season lasting four decades. Instead, they found temperatures declining significantly."
They need some SUVs, pronto.
ITEM 20: The New York Post reported, "CNN+ reportedly draws fewer than 10,000 daily viewers."
Podcasters are doing better than CNN+.
Joe Rogan gets 11 million viewers an episode.
FINALLY, a bird does what 58% of Americans want to do.