After Biden finished his speech, he turned around and tried to shake hands with thin air and then wandered around looking confused pic.twitter.com/ZN00TLdUUo

— Washington Free Beacon (@FreeBeacon) April 14, 2022
ITEM 1: If you think Biden is bad, the San Francisco Chronicle reported, "Colleagues worry Dianne Feinstein is now mentally unfit to serve, citing recent interactions."
She is 88 and a crook whose chauffeur was a spy for Red China when she was the top Democrat on the Senate Intelligence Committee.
That she remained on the committee shows how normal it is for members of Congress to have Red China's spies on their payroll.
But she is getting so daft that her hometown newspaper felt compelled to report on her diminished mental capacity.
The story said, "Four U.S. senators, including three Democrats, as well as three former Feinstein staffers and the California Democratic member of Congress told The Chronicle in recent interviews that her memory is rapidly deteriorating. They said it appears she can no longer fulfill her job duties without her staff doing much of the work required to represent the nearly 40 million people of California."
That won't cost her the job. Strom Thurmond and Bobby Byrd kept their Senate seats long after their minds turned to mush. RGB too.
I scoff at the Chronicle's alarm over her representing 40 million people. Did they think her mind would not deteriorate when she sought her last re-election?
ITEM 2: The Daily Caller reported, "Senate Majority Leader Chuck Schumer and Oregon Democrat Sen. Ron Wyden slammed Koch Industries for continuing to do business in Russia amid the war with Ukraine, yet, both Democrats have taken donations this cycle from International Paper PAC which remains in Russia, according to records reviewed by the Daily Caller."
Do you see what I meant in Item 1?
Donations are bribes because senators pretty much can spend campaign donations as they please.
They wrote the rules.
They called it campaign reform.
ITEM 3: Elon Musk offered $54.20 for every share of Twitter he does not own in a buyout bid. He wants to end its fascist censorship by taking it over 100%.
Vanguard stands to make a lot of money.
The Wall Street Journal reported, "Funds held by Vanguard Group recently upped their stake in the social-media platform, making the asset manager Twitter's largest shareholder and bumping Mr. Musk out of the top spot.
"Vanguard disclosed on April 8 that it now owns 82.4 million shares of Twitter, or 10.3% of the company, according to the most recent publicly available filings with the U.S. Securities and Exchange Commission."
This is a very interesting drama in which the white knight for free speech will battle the forces of evil. Will mutual funds move to save the day for Twitter censors? Will the deep state kneecap Musk? Good eventually triumphs over evil but it does not win every battle.
And yes, censors are evil because the Lord granted you free speech. The government is just there to protect that right. It does a lousy job of it.
ITEM 4: Post Millennial reported, "The Insider Paper reported on Twitter on Thursday that one large Twitter shareholder, Saudi Prince Al Waleed, has rejected Elon Musk's large, $43 billion offer to buy the company outright and take it private."
He owns 5% of the company.
He sides with the fascists who want to use corporate America as another tool of the deep state.
The lackeys at Twitter with personalized pronouns who censor people likely will be the first in burkas if the Saudis ever take over this country, after removing the purple and green dye from their hair.
ITEM 5: Jack Posobiec tweeted, "Hillary Clinton donor Ed Buck sentenced to 30 years in prison for repeatedly injecting young black men with meth and killing them."
This was how he got his jollies.
Holding back the black man has been a Democrat Party obsession since it was formed in 1828.
This is Ted Lieu and his big donor, Ed Buck - a serial killer who preyed on black males, killing at least two. pic.twitter.com/k1jRBMONzo

— Cernovich (@Cernovich) April 14, 2022
He's 67. He will do his time in a federal prison. Too bad we ended chain gangs.
ITEM 6: The Washington Examiner reported, "Former President Donald Trump is planning to endorse author J.D. Vance in Ohio's crowded and contentious Republican Senate primary.
"NBC News reported that Trump is planning to endorse Vance, citing three sources with knowledge. Vance, like all the candidates in the field, has openly courted Trump's endorsement as a means of differentiating himself from the rest of the field."
If true, J.D. should change his name to Mehmet Vance.
ITEM 7: Fox reported, "RNC votes to withdraw from Commission on Presidential Debates."
That's about 5 election cycles too late. Having the commission running the debates cost Romney the 2012 election.
Anymore, I am agnostic about that loss.
ITEM 8: Citing a Zogby Poll, the Washington Examiner reported that Republican Governor Glenn Youngkin has a 56.5% approval rate in Blue Virginia.
That's 6 points above the 50.6% of the votes he got just last November.
Biden's approval is 47.3%
That's 7 points below the 54.1% of the ballots he got in 2020.
ITEM 9: Jeff Dunetz reported, "Moses Got Cheated Out Of Recognition On Passover."
It's a funny and theological column. I liked this line, "How do I know he was a tennis player? The Bible says Moses served in the courts of Pharaoh?"
But Charlton Heston played him in the movie. How is that being passed over?
Passover begins tonight. For Christians, it is Good Friday. And we are in the middle of Ramadan.
ITEM 10: Democrat Congresswoman Carolyn B. Maloney tweeted, "Across the country, books are being banned, which are depriving our nation's youth.
"But thanks to the New York Public Library and programs like Draq Queen story hour, NYC's next generation are getting a well rounded education about LGBTQ+ issues and gender identity."
They are groomers.
Why not balance their atheism with Christian Story Hour?
ITEM 11: CNS News reported, "A new study in the Journal of the American Medical Association shows that the number of fatal overdose deaths among teenagers rose from 492 in 2019 to 954 in 2020, an increase of 94%."
A man must have a purpose in life.
The pandemic panic stole that from 100 million Americans, including those 954 kids.
ITEM 12: David Burge had the best take on Musk-a-tweeter: "I don't hope Elon Musk welcomes back banned accounts, I hope he goes Red Wedding and disappears all you mentally ill blue checks.
"First off you have to apply for it, much like membership in the Royal Society of Hysterical Ninnies.
"Twitter is private property and whoever owns it is free to set the house rules, however arbitrary they might be. As always, if you don't like it go build your own Twitter and make your own house rules.
"It's amazing to me how whiplash quick people have gone from 'LOL build your own Twitter' to 'Twitter is a public square that needs government oversight' and vice versa.
"I will note I have steadfastly supported Twitter's right to ban anybody for any reason, including me.
"Here is the fundamental problem with Twitter:
"There are YouTube millionaires.
"There are Instagram millionaires.
"There are TikTok millionaires.
"Nobody but Twitter has made a plug nickel off this site.
"Personally the first thing I'd do if I owned Twitter is allocate 25% of ad revenue as a yearly dividend to, like, the people who create its actual content. This'd probably get me a $2.35 check at the end of the year, but it's the thought that counts.
"Better yet, allow ad placement on individual account timelines.
"Although I shudder to think who would want to place an ad on my timeline."
Burge is wrong about the public square. But if Twitter wants to play publisher, revoke its Section 230 protection from litigation and let it do as it pleases.
ITEM 13: CNS News reported, "The federal government collected a record $2,121,987,000,000 in total taxes through the first six months of fiscal 2022 (October through March), according to the Monthly Treasury Statement."
That's nice, but the story also said, "Even while collecting this record $2,121,987,000,000 in taxes through the first half of this fiscal year, the federal government ran a deficit of $668,267,000,000. That is because the government spent $2,790,254,000,000 during the period."
That's more than $100 billion a week in spending.
At 10%, the kickbacks amount to more than $1 billion a day.
ITEM 14: Seán Ono Lennon tweeted, "For most of my life journalists have asserted without a single shred of evidence that my brother Julian Lennon and I were somehow fighting. People have over the years accepted this as fact. Search the entire Universe and you'll never find me saying one bad thing about him.
"It really worries me how easy it is for all of us to believe things just because they're written or said by a 'journalist.' I think we all need to question our assumptions when it comes to the media, (and everything else for that matter)."
Imagine no journalists.
:)
ITEM 15: Hypocrisy and liberals go together like peanut butter and jelly.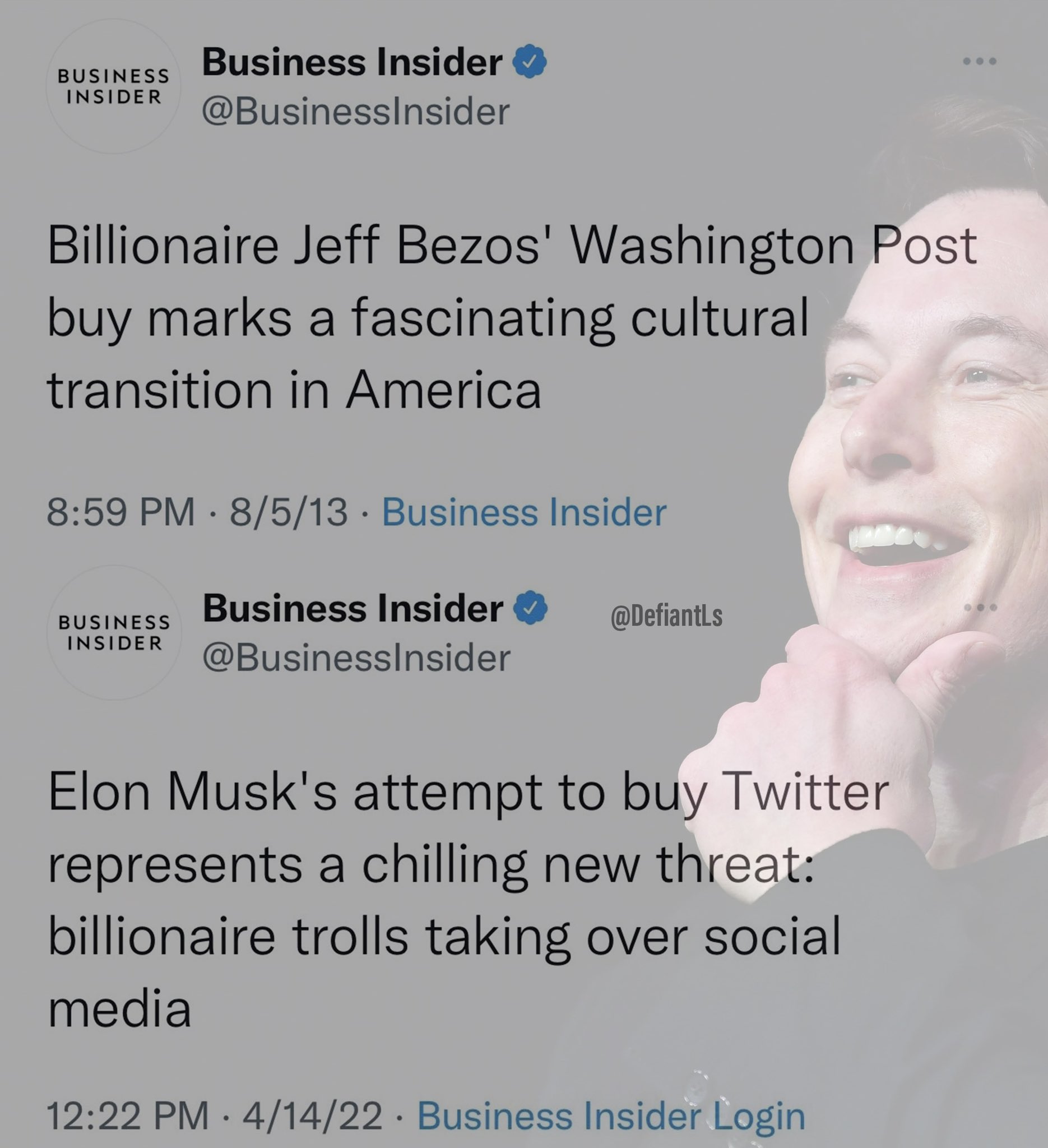 ITEM 16: Just the News reported, "A10-page Parents' Bill of Rights Act of 2022 was perfected in the Missouri House this week after being voted out of the Legislative Oversight committee earlier this month."
The story also said, "The bill provides a list of rights parents can require of school districts, including a review of curriculum, books and instructional materials. The bill allows parents to bring a civil action against the school district or public school where their child is enrolled for violation of stipulations in the bill. It also provides stipulations for how school boards conduct meetings."
Legislative oversight is needed because over the past 50 years school budgets have soared and educrats have run amok without supervision. Too many school board members believe they work for the superintendents. It is the other way around. School boards work for voters.