ITEM 1: National Pulse reported, "42% of Americans want Donald Trump back in office in 2024. The number is 14 points higher than those who want Biden back (28%). Another 27% told Rasmussen Reports they would prefer somebody else other than the 2020 competitors."
1 in 5 Democrats want Trump back.
While the public sings I Want You Back, Trump sings the Jackson 5 ballad, I'll Be There.
ITEM 2: By a 53-47 vote, the Senate made history by confirming the nomination of the First Openly Pedophile Friendly justice to the Supreme Court.
Democrats have always prided themselves on being for the children.
Now we know exactly what they mean.
ITEM 3: The people who run Geico apparently do not vet their speakers for anti-Semitism and other bigotry.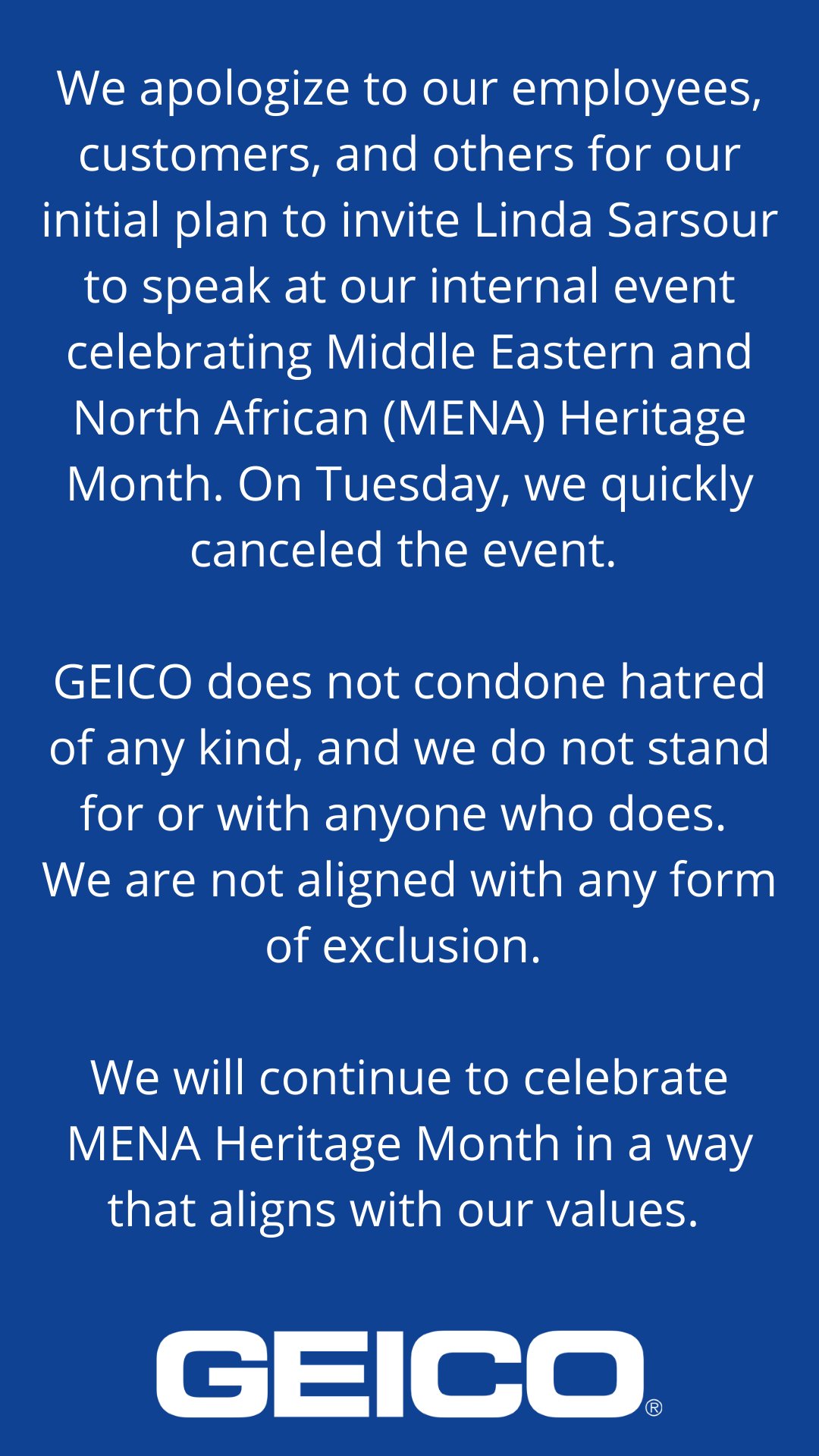 Thanks to a conservative outcry, they do now.
Fight back. Win.
ITEM 4: The Washington Examiner reported, "The National Education Association, the country's largest teachers union, spent more than twice as much money on politics-related expenditures than on its membership, an analysis of the union's filings shows.
"The data, compiled by the right-to-work nonprofit organization Americans for Fair Treatment, shows the teachers union donated $66 million to political activities and another $117 million to 'contributions, gifts, and grants' that were primarily political donations.
"The data reviewed by Americans for Fair Treatment, which was provided exclusively to the Washington Examiner, showed that the political activities donations totaled 18% of the union's $374 million budget for 2020-2021. The 'contributions, gifts, and grants' totaled 32% of expenditures.
"Meanwhile, only 9% of the NEA's budget was spent on direct assistance to its members, who pay an annual fee of $200 to maintain their membership in the union."
Adjusted for inflation, teacher pay rose from $48,343 in 1970 to $53,168 nearly 40 years later.
But also adjusted for inflation, school spending more than doubled.
Something ain't right. If only teachers had a union fighting for them instead of a dues collector.
ITEM 5: The Hill reported, "The New York Times is updating its policies for how its journalists use Twitter, and is emphasizing that use of the social media platform is optional given the dangers of online harassment.
"In a memo to employees on Thursday shared with The Hill, Dean Baquet, the newspaper's top editor, announced what he called a 'reset in our approach,' handing down new guidance dictating that 'maintaining a presence on Twitter and social media is now purely optional for Times journalists.'
"Baquet wrote that he has been hearing from staffers about 'the challenges that Twitter presents,' writing that staffers at the leading national newspaper often 'can rely too much on Twitter as a reporting and feedback tool.'
"Such feedback, Baquet wrote, can be harmful to the Times' journalism when 'our feeds become echo chambers.'"
The Yodeler-in-Chief discovers echoes.
Methinks Twitter is getting too Musky a smell for Baquet.
The Hill story did not mention Musk at all.
ITEM 6: The Sun News reported, "A former Coastal Carolina University employee is alleging she faced years of discrimination primarily based on her race, which the university 'perceived as white.'
"Erika Pomerantz, who worked in CCU's counseling department beginning in 2017, is Asian, Latina and Jamaican but was told by university officials that she 'presented as white,' according to her recently filed lawsuit.
"The discrimination began in April 2019 when the department hired a less qualified, less experienced African American counselor and paid her a higher salary than Pomerantz, the suit claims.
"The mental health practitioner opening was advertised as seeking someone 'multicultural.'"
Um, isn't a person with three races by definition multiracial?
And who said multicultural is a good thing?
United we stand. Diversified we fall.
ITEM 7: Via Kane at Citizen Free Press, Local.DE reported, "German parliament rejects over-60s vaccine mandate."
The story said, "In a stinging defeat for Chancellor Olaf Scholz's coalition, 378 MPs voted against the bill, while 296 voted in favor."
Oh laugh at Olaf.
But even Utin-pay (the name we dare not say) wasn't dumb enough to mandate.
As for Iden-bay, well, let's just say he was never burdened with a triple-digit IQ.
ITEM 8: The Daily Mail reported, "A prospective juror for the sentencing of Parkland school shooter Nikolas Cruz was excused on Monday after telling the judge she didn't have time for it because she is too busy juggling her husband and her sugar daddy."
The story said, "'Miss Bristol' piped up to say not only was the trial expected to take 'a whole entire month,' it conflicted with her birthday and would interrupt her love life.
"'First of all let me clarify myself, July second is my birthday, July Fourth is my son, and the 18th is my other son. And again, I need to figure out something. I have my sugar daddy that I see every day.'
"The judge replied: 'I'm sorry?' Bristol replied: 'My sugar daddy.'
"The judge, looking increasingly confused, said: 'I'm not exactly sure what you're talking about.'
"'Well I am married and I have my sugar daddy. I see him every day.'
"Lost for words, Judge Scherer replied: 'OK. All right. Ma'am, we'll come back to you, OK? Thank you.' 'Miss Bristol' was later excused."
Wise judge.
ITEM 9: CNN reported, "The military horses that carry America's heroes to their final resting place in Arlington National Cemetery are living in unsanitary and potentially life-threatening conditions, according to a US Army report reviewed exclusively by CNN, consuming poor-quality feed, suffering from parasites and standing in their own excrement in tiny mud lots scattered with gravel and construction waste.
"Two military working horses died unexpectedly within 96 hours of each other in February –  one of whom perished from what equine veterinarians say could have been preventable intestinal compaction that was caused by 44 pounds of gravel and sand found in his gut.
"The February report, compiled by the US Army's Public Health Command-Atlantic, found a host of systemic problems with the living conditions of the horses in the 3rd Infantry Regiment, also called the Old Guard, best known for guarding the Tomb of the Unknown Soldier. The regimental commander's office requested the Army Public Health inspection after the two deaths, according to the report."
Excuse me but we spend $1.5 trillion or so every two years and our military horses eat gravel?
That is an insult to the soldiers they carry to a final resting place.
I apologize for this item. I know better than to trust CNN reporting.
ITEM 10: Post Millennial reported, "FLASHBACK: San Francisco Gay Men's Chorus sang 'We're coming for your children.'"
It is a sick song.
Remember it and any time some (bad word) tries to admonish you for calling them groomers, point out the story.
What do you think Drag Queens Story Hour was about?
ITEM 11: The FBI announced, "A Kentucky tobacco warehouse owner, several insurance agents and adjusters, and more than a dozen tobacco farmers have pleaded guilty to criminal charges in a widespread, multimillion-dollar scheme to defraud both federal and private crop insurance programs. In total, 23 people have been criminally charged, while another 17 people have agreed to pay civil fines or penalties."
The FBI sat on Hunter's laptop for a year but here they are busting farmers.
The FBI destroyed evidence and refused to prosecute Hillary but here they are busting farmers.
The FBI lied and spied on Trump to appease Obama but here they are busting farmers.
ITEM 12: We Love Trump reported, "Victorian MP Erupts Reading Constituent's Letter Claiming 10-Year-Old Daughter Was Given Homework to Discuss Father's Erections and Ejaculations."
Victorian as in Victoria, Australia.
Victorian MP Bernie Finn said, "What the hell is going on this state when 10 year old girls are told to go home and talk to your father about his erections and his ejaculations?
"How the hell are we supposed to protect our kids when this sort of perversion is in our schools? This is what's being dished up to them on a daily basis. In a primary school! This is just unbelievable. This is just staggering."
These monsters are groomers and anyone who denies that is a groomer by proxy.
ITEM 13: The New York Post reported, "Video shows the moment a trio of thieves had their getaway foiled by NYPD officers after stealing more than $70,000 in pricey goods from a Soho boutique Sunday, police said.
"The video posted on TikTok shows cops beating on the windows of the crew's Dodge Charger with their batons and eventually arresting two women and a man who attempted to get away in the vehicle, according to police.
"The stop came a short time after the three suspects allegedly went into Kirna Zabete at 477 Broome Street and 'removed items from the display cases and racks,' the NYPD said. The threesome then ran out of the store and jumped into the Charger."
As AOC said they are just trying to feed their families.
Beluga Caviar, Foie Gras and Kobe Beef.
ITEM 14: Breitbart reported, "Overall index crime in New York City jumped a staggering 36.5 percent last month compared to March of 2021 as the state's soft on crime bail laws begin to shape the 2022 gubernatorial race.
"There were 1267 robberies city-wide in March, which is a 48.4 percent leap from the 854 robberies in March of 2021, while the city tallied 1044 grand larcenies auto, a 59.4 percent climb from last year, the New York City Police Department's (NYPD) crime statistics show."
This is the Democrat plan. The want to create a crisis to enable the creation of their Goonstapo. Every Democrat mayor will have his own Capitol Police.
ITEM 15: Just the News reported, "Job Creators Network President Alfredo Ortiz is warning Congress that Democrats' threat of tax hikes combined with continued inflationary spending and the ongoing worker shortage is disproportionately hurting small businesses and minority families.
"In his testimony Wednesday before the House Ways and Means Committee, Ortiz discussed the real change that small businesses experienced under Republican-led tax reform that generated more jobs and higher wages.
"He pointed out that roughly two-thirds of new job growth happens in the hands of small businesses and the 2017 Tax Cuts and Jobs Act created an economic environment in which small businesses were able to succeed."
Trump brought blacks, Hispanics and everyone else up.
Biden shoved them back down with his inflation.
ITEM 16: NYT reported, "The Ruble Has Bounced Back. What Does That Mean?"
It means Biden's sanctions backfired -- as I said they would.
ITEM 17: Reuters reported, "Republicans are registering formerly Democratic voters at four times the rate that Democrats are making the reverse conversion in the battleground state of Pennsylvania, a warning sign for Democrats as they try to keep control of the U.S. Congress.
"The Republican gains in Pennsylvania, home to a critical U.S. Senate race, follow a pattern seen in other states that could have competitive contests in November's elections, as high levels of disapproval with President Joe Biden's handling of his job are helping narrow the long-held advantage held by Democrats in numbers of registered voters."
First people vote Republican, then they switch registration.
That tells you who really won in 2020.
FINALLY, the media and the University of Chicago held a conference on "Disinformation and the Erosion of Democracy."
It backfired.
Almost 2 million views on this version alone of Stelter losing. I've seen other versions. Closer to 3-5MM views total.

Yesterday's Applebum video was over > 5MM across versions.

Compare that to ratings of a big shitlib show like Maddow. Let alone CNN.

pic.twitter.com/d6LuGVpFTZ

— Cernovich (@Cernovich) April 8, 2022
​
WATCH The Atlantic's @anneapplebaum refuse to answer @RealDSchmidt's🔥🔥 question about Hunter Biden's laptop during @UChicago's "Disinformation and the Erosion of Democracy" conference! pic.twitter.com/1OgXBBiiI0

— The Chicago Thinker (@ThinkerChicago) April 6, 2022
"Disinformation" conference's token conservative, Jonah Goldberg, calls out Chicago Thinker's Daniel Schmidt. Goldberg says he "doesn't buy" the Hunter Biden laptop cover up had any impact on the 2020 election and it's "a preposterous counterfactual." pic.twitter.com/mTQProoFdu

— The Chicago Thinker (@ThinkerChicago) April 7, 2022