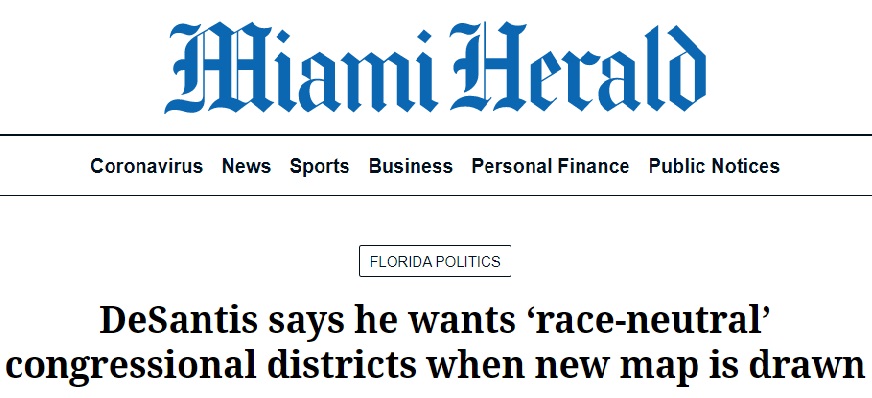 Ron DeSantis is taking on a 57-year-old federal law that requires Florida and other states to herd black voters into majority-minority electoral ghettos. The irony is the law -- the Voting Rights Act of 1965 -- was supposed to defend the 14th and 15th amendment rights of black voters.
Florida is redistricting. Lawmakers gave the governor a map that likely would lead to 18 Republican congressmen and 10 Democrats. The split right now is 16 Republicans and 11 Democrats.
DeSantis vetoed that plan and is developing his own plan, which likely would lead to 20 Republican congressmen and 8 Democrats.
His plan would rearrange Congressional District 5, represented by Al Lawson, whose main claim to fame was defeating Corrine Brown. After 12 terms in Congress, Brown was convicted and sentenced to 5 years in prison. She won a retrial, however, and it is unlikely Biden will allow that.
The district is 46% black, according to the Washington Post. (Scroll down.)
Time is of the essence. Florida has a June 17 deadline for filing for its August 23 primary.
DeSantis told the press about his lawyers mapping out the state on Tuesday. He said, "I think that what they'll produce will be something that will be acceptable to folks and obviously we'd get my signature for proposing it. It will, though, have North Florida drawn in a race-neutral manner."
The Miami Herald said, "He cited Cooper v. Harris, a 2017 case in which the U.S. Supreme Court ruled 5-3 that the North Carolina General Assembly engaged in 'unconstitutional racial gerrymanders' by relying on race too heavily when it drew two congressional districts following the 2010 Census."
Race neutral!
Oh no. That's dog-whistle racial equality. Democrats don't want that! They want power, power, power. Black power, white power. It does not matter. Whatever power is popular at the moment, Democrats want that.
Abel Iraola, a spokesperson for the Democratic Congressional Campaign Committee, told the Tampa Bay Times, "Based on his public comments, there is no doubt that any proposal from Governor DeSantis would be a nonstarter and an attack on black representation in Florida."
The Democrats assume that black candidates cannot attract white votes.
Of course, the election and re-election of Obama as president prove they can.
Take the training wheels off and allow black voters the freedom they and all Americans deserve.
DeSantis expects a lawsuit.
He told reporters, "You're gonna have litigation either way. ... But I think the odds are higher that a map that is race neutral will be approved. And I think it's more likely that one that did that kind of intentional drawing would be ruled to violate the 14th Amendment."