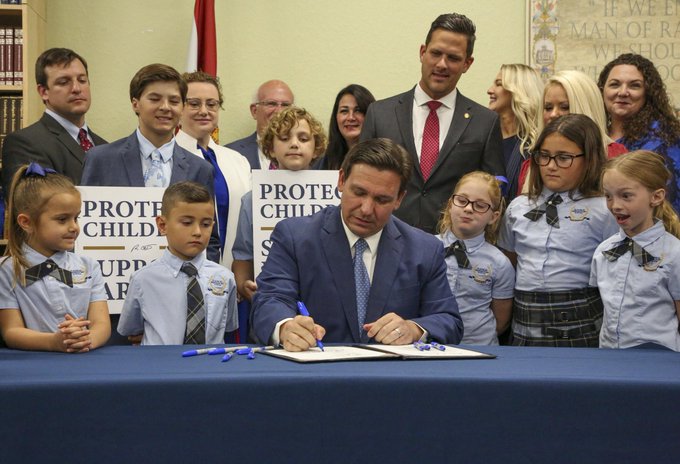 National Review was founded by a guy whose definition of conservatism was standing athwart history yelling stop. In 2016, it yelled stop at Donald Trump, and he rolled to a historic victory. I think that ran the score up to History 73, NR 0.
Now NR is yelling stop at conservatives who are protecting kids from being groomed by the LGBT crowd in grade school. After DeSantis banned it in Florida, NR writers clutched their pearls and said don't call opponents groomers.
Nate Hochman said it in a tweet.
David Harsanyi did it in a column
, "The 'Groomer' Accusation Is Counterproductive."
His argument was pretty lame. Maybe his heart was not really into it.
Harsanyi wrote, "'Groomer' has become the fashionable charge to level against anyone who opposes Florida's parental-rights bill. It's counterproductive. And not because it isn't super creepy to see so many liberals invested in ensuring prepubescent kids, trapped in state-run schools, are force-fed post-modern, pseudoscientific ideas about sexuality and transgenderism in direct contradiction of the wishes of their parents."
He went into a couple more not-because-ofs before getting to his point: "Rather, the accusation is wrong because it isn't really true. Most opponents of the bill, I'm sure, aren't 'grooming' kids for sexual acts. They simply don't believe that parents should have a say in their kids' education. They want to normalize half-baked identitarianism and gender ideology against the will of parents. That's bad enough."
Fact check: Yes, they are grooming kids. Maybe not for their personal pleasure, but they are softening the field. Normalizing "half-baked identitarianism and gender ideology" makes children more vulnerable to perverts who prey on kids.
DeSantis scored a huge win by banning all sex talk by teachers to kids in kindergarten to third grade. An overwhelming majority of Americans favors such a ban. Harsanyi admitted it.
So what is the problem then?
The word groomer offends people who oppose the new law?
So what?
The law passed without them.
And calling opponents groomers is very productive because it rallies supporters around a cause. We are not going to allow pedos to prey on anyone's kids.
The word groomers also shames (and rightly so) those who want teachers to talk about sex to kids ages 4 to 9. We have won the argument and the battle. We should not worry about the butt-hurt feelings of people who oppose letting kids be kids.
Conservatives are rolling up another historic victory while NR is standing athwart yelling stop. I am beginning to believe NR writers love losing.