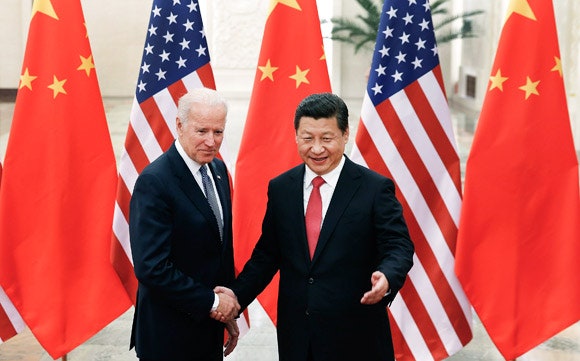 In one headline, the Wall Street Journal today explained Biden's abrupt surrender of Afghanistan and $83 billion in military equipment and cash to the Taliban. The headline read, "China Pursues Afghanistan's Mineral Wealth After U.S. Exit."
Red China now has access to what the Journal called one of world's largest untapped reserves of copper.
There are other treasures to be mined, and of course one of the world's most famous supply of poppies used to make heroin.
The story said, "Following the American exit from Afghanistan, China's move to claim the country's vast mineral wealth is centered on a mountain south of Kabul.
"The mountain and the barren surrounding valley, in Logar province, a two-hour drive from the capital, contain one of the world's biggest untapped reserves of copper.
"China is negotiating with Taliban authorities to start mining at the site, called Mes Aynak, according to Chinese and Taliban officials. Beijing is also in talks to begin work on oil-and-gas reserves in the north of the country, Amu Darya. Both projects were on hold for years because of the war, which ended when the Taliban seized power in August.
"Dozens of Chinese mining companies have descended on Kabul in recent weeks seeking contracts for other mines.
"U.S. officials say they are concerned that China will fill the vacuum left by the American withdrawal from Afghanistan. Beijing developed a relationship with the Taliban in recent years and kept its Kabul embassy functioning when Western missions fled the Taliban takeover.
"Iran, another U.S. rival, is in talks to secure a huge iron ore deposit in the west of the country. Tehran, too, has fostered good ties with the Taliban."
The story answered the age-old question: Cui Bono?
Who benefits?
Now we know who benefited from the surrender of Afghanistan. Red China.
This showed long-term thinking and patience by Chairman Xi.
As vice president, Biden took his son Hunter to Beijing in 2011 and again in 2013, where Hunter picked up billions to invest in places like the Czech Republic for Red China. In exchange, the Biden Mafia received a cut of the action.
On October 4, 2019, WSJ reported, "Hunter Biden, a 49-year-old lawyer and the second son of the former vice president, owns 10% of a private-equity firm called Bohai Harvest RST (Shanghai) Equity Investment Fund Management Co.
"Over the past roughly six years, it has channeled $2.5 billion or more on behalf of its financial backers into automotive, energy, mining and technology deals, according to interviews with people familiar with the private-equity firm and a review by The Wall Street Journal of financial filings and other official business records.
"Hunter Biden is one of nine directors of the firm, known as BHR Partners, which is controlled and funded primarily by large Chinese government-owned shareholders."
That's a lot of moolah and he did not get that investment because he is a good businessman. At the time, he was a ne'er-do-well privileged white boy addicted to hookers and cocaine. Red China bought access not only to mines but to the DC elite.
Last August, Chairman Xi's multi-billion-dollar investment paid off when Joe Biden gave away Afghanistan.
DOJ says, "The Foreign Agents Registration Act (FARA) was enacted in 1938. FARA requires certain agents of foreign principals who are engaged in political activities or other activities specified under the statute to make periodic public disclosure of their relationship with the foreign principal, as well as activities, receipts and disbursements in support of those activities. Disclosure of the required information facilitates evaluation by the government and the American people of the activities of such persons in light of their function as foreign agents. The FARA Unit of the Counterintelligence and Export Control Section (CES) in the National Security Division (NSD) is responsible for the administration and enforcement of FARA."
I suggest Biden register as a foreign agent because Paul Manafort didn't and that was one of the charges Mueller brought against him.
And there had better be a special prosecutor to look into the Biden Mafia the next time Republicans are in charge, or else this land is doomed to being a banana republic.