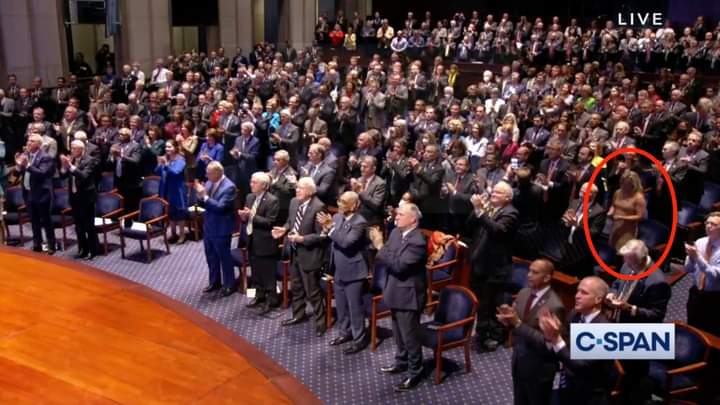 Congresswoman Marjorie Taylor Greene did not applaud Zelensky during his speech to Congress. She represents America, not Ukraine.
Happy St. Patrick's Day. He drove the snakes from Ireland. Somehow they all wound up in Washington.
ITEM 1: AP cried, "Texas threw out mail votes at an abnormally high rate during the nation's first primary of 2022, rejecting nearly 23,000 ballots outright under tougher voting rules that are part of a broad campaign by Republicans to reshape American elections, according to an analysis by the Associated Press.
"Roughly 13% of mail ballots returned in the March 1 primary were discarded and uncounted across 187 counties in Texas. While historical primary comparisons are lacking, the double-digit rejection rate would be far beyond what is typical in a general election, when experts say anything above 2% is usually cause for attention."
Sounds bad until you remember it is just AP trying to stir things up.
Paragraph 8 said, "The AP counted 22,898 rejected ballots across Texas by contacting all 254 counties and obtaining final vote reconciliation reports. Some smaller counties did not provide data or respond to requests, but the 187 counties that provided full numbers to AP accounted for 85% of the 3 million people who voted in the primary."
Let's see, 85% of 3 million is 2.5 million and change, which means the rejected mail-in ballots were less than 1% of the ballots cast.
The solution is clear. Vote in person because mail-in ballots are problematic.
ITEM 2: 100% Fed Up reported, "On Wednesday, Joe Biden delivered some odd remarks during an event celebrating the reauthorization of the Violence Against Women Act, going off on a bizarre tangent about naked pictures and blackmail."
Biden said, "So we've established a new civil rights cause of action for those whose intimate images were shared on a public screen.
"How many times have you heard—I bet everybody knows somebody somewhere along the line, that in an intimate relationship, what happened was the guy takes a revealing picture of his naked friend, or whatever, in a compromising position and then literally, in a sense, blackmails or mortifies that person … sends it out, put it online."
OK, here's my question: Is he saying there is a civil right to put naked pictures online?
Here's my other question: Is he threatening to put pictures of him online?
The reality is more censorship in the name of civil rights.
ITEM 3: The Epoch Times reported, "Ukrainian President Volodymyr Zelensky addressed members of Congress on Wednesday, asking again for the United States and NATO to enforce a no-fly zone over his country and provide fighter planes weeks after Russia started its invasion."
A no-fly zone is an act of war.
Zelensky openly lobbied Congress to start World War 3.
Pelosi called him a hero.
ITEM 4: Breitbart reported, "An appeals court ordered the release of Jussie Smollett from jail on bond on Wednesday as the appeal of his conviction is pending, according to a report by Associated Press. Appellate Court Justices Thomas Hoffman and Joy Cunningham signed the order, while Justice Maureen Connors dissented."
This is celebrity justice because he so obviously lied his appeal should fail.
There is no rule of law. January 6 protesters who should be out on bond languish in a DC gulag.
ITEM 5: Real Clear Politics reported, "The unfolding mayhem unleashed on Ukraine by Vladimir Putin carries one major benefit for China and two much larger losses, plus a boatload of secondary effects. The main benefit is geostrategic: The United States must now keep more scarce military resources in Europe, instead of diverting them to the Pacific, as it had been hoping."
But the story said, "The first is that China's only major ally is now badly damaged, economically and militarily – and a pariah in the eyes of much of the world."
And the story said, "The second, far larger cost to China may be the deterrent effect of crippling economic sanctions. Communist party leaders, determined to seize Taiwan, must have been shocked by the scale, comprehensiveness, and devastating impact of sanctions imposed on Russia. They must have been shocked, too, by the West's surprising unanimity in imposing them and by Germany's swift about-face despite its dependence on Russian energy and decades of concessionary policies."
Hmm. Chairman Xi may not be the winner I thought he would be.
ITEM 6: Fox reported, "Russia duped Europe into energy dependence by funding 'rabid environmental groups': experts."
Putin ain't completely dumb.
ITEM 7: NYT reported, "Putin Assails Russians Who Back the West, Signaling More Repression."
Meanwhile the Internet oligarchs silence RT and other outlets while January 6 protesters sit in a DC gulag for more than a year.
ITEM 8: The Province reported, "Majority of Americans support restarting Keystone XL pipeline to make up for Russian oil ban."
The story said, "The exclusive poll of Americans conducted by Maru Public Opinion for Postmedia found that 71% of Americans think Biden should give an executive order to 'green light the restart of the building of the Keystone XL pipeline that would transport oil from Canada's oil sands region through the Midwest to refineries in Texas.'"
That ship sailed long ago. Sorry.
ITEM 9: Life News reported, "Wyoming Gov. Mark Gordon Signs Bill to Immediately Ban Abortions When Roe is Overturned."
When you are last in population you must save every kid you can.
ITEM 10: The Austin American Statesman reported, "A federal appeals court has ruled for Texas in three lawsuits challenging the state's voting laws, including mail-in ballot provisions and the elimination of straight-ticket voting.
"In a series of 2-1 rulings Wednesday evening, a panel of the 5th U.S. Circuit Court of Appeals ruled that the lawsuits by civil rights groups, political organizations and voters targeted the wrong state agency — the Texas secretary of state's office — when they sought to overturn a string of voting laws and practices.
"Because the secretary of state is not in charge of enforcing the challenged laws, the agency is protected by sovereign immunity in all three lawsuits, said the opinions written by Judge Stuart Kyle Duncan and joined by Judge Don Willett."
The Donald appointed Duncan, 50, and Willett, 55.
How weird were the challenges. AAS reported, "A lawsuit by the NAACP and Texas Alliance for Retired Americans sought to block mail-in ballot regulations that require voters to pay for postage and mandate that ballots be postmarked by 7 p.m. on Election Day and received by 5 p.m. on the next day."
Oh noes!
They have to pay postage!
ITEM 11: Steve Cortes tweeted, "To all the 'conservatives' pushing for escalation -- your team is on the floor. This is your squad.
"This is the team you trust to manage this massive American intervention..."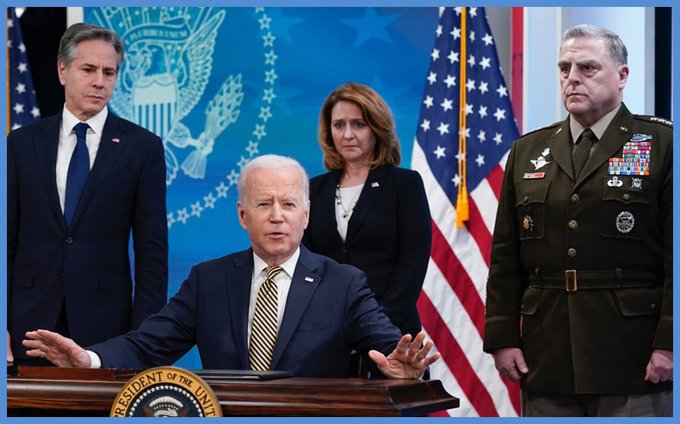 Vietnam was brought to you by the Best and the Brightest.
This one would be brought to you by the Bozos and Biden.
ITEM 12: National Review reported, "A Black Lives Matter activist and her husband are facing federal fraud and conspiracy charges after allegedly using a nonprofit they founded to scam at least $185,000 from donors, federal authorities announced Tuesday.
"Monica Cannon-Grant and her husband, Clark Grant, allegedly used money from their nonprofit, Violence in Boston, to pay for rent, shopping sprees, hotels, car rentals, auto repairs, meal deliveries, and a summer vacation trip to Maryland, the U.S. attorney's office said in a statement.
"The couple was charged in an 18-count indictment with two counts of wire fraud conspiracy, one count of conspiracy, 13 counts of wire fraud and one count of making false statements to a mortgage-lending business. Cannon-Grant was also charged with one count of mail fraud."
Shocking, isn't it?
ITEM 13: The Washington Post reported, "China's attempt to play both sides of the Ukraine crisis is starting to crack."
Sometimes the devil is too clever for his own damned good.
ITEM 14: National Pulse reported, "On Tuesday, a swarm of motorcycles surrounded a car in Harlem and dragged the occupants out. After beating both the driver and a passenger, the assailants fled the scene with the occupants' belongings. The story was initially reported by the New York Post.
"The two motorists were at St. Nicholas Avenue and West 127th Street in NYC's Harlem section around 4:30 p.m. when they were surrounded by four or five bikers, according to police. The assailants pulled the 63-year-old driver and the passenger, 35, out of the car and beat them, then fled with a wallet and cell phone, police said."
Animals.
The mayor is a zookeeper.
ITEM 15: Fox reported, "400 bulletproof vests donated for Ukraine stolen in NYC."
New Yorkers need those vests more than Ukrainians do.