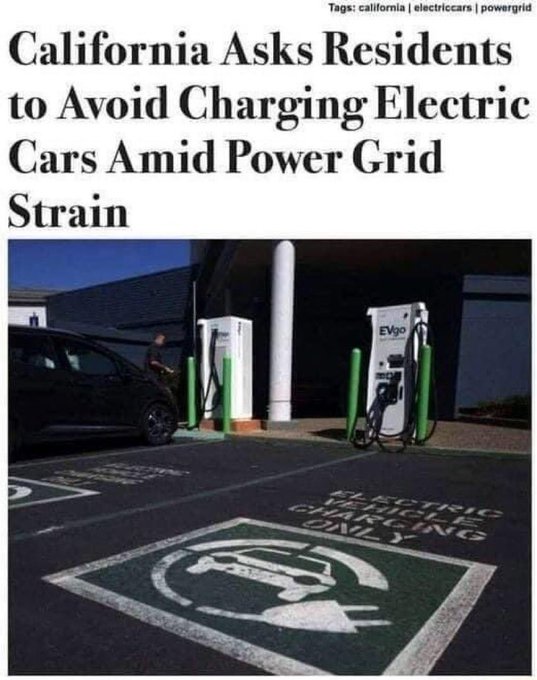 ITEM 1: Bloomberg reported, "President Joe Biden is under pressure to invoke Cold War-era powers to force more domestic oil production as the war in Ukraine strains supplies, raising gasoline prices and fueling inflation."
He doesn't need more power.
He just needs to reverse his own policies.
ITEM 2
:
Politico reported
, "Democrats' own research shows that some battleground voters think the party is preachy, judgmental and 'focused on culture wars,' according to documents obtained by Politico.
"And the party's House campaign arm had a stark warning for Democrats: Unless they more forcefully confront the GOP's "alarmingly potent" culture war attacks, from critical race theory to defunding the police, they risk losing significant ground to Republicans in the midterms.
"The Democratic Congressional Campaign Committee is recommending a new strategy to endangered members and their teams, hoping to blunt the kinds of GOP attacks that nearly erased their majority last election and remain a huge risk ahead of November. In presentations over the past two weeks, party officials and operatives used polling and focus group findings to argue Democrats can't simply ignore the attacks, particularly when they're playing at a disadvantage. A generic ballot of swing districts from late January showed Democrats trailing Republicans by 4 points, according to the polling."
For decades, Washington Republicans and DC conservatives warned us we cannot win on social issues. No, just tax cuts, defense spending and um, well, tax cuts were winning issues.
They lied.
ITEM 3
: How about a nice sip of Trumpenfreude to start the week?
Forbes reported
, "Despite huge breaking news in the form of Russia's invasion of Ukraine, cable news viewers turned away from the longtime leader in covering major world news, CNN, and flocked to Fox News Channel. According to ratings data compiled by Nielsen, Fox News had the five most-watched shows in cable news, with The Five finishing February in first place with an average total audience of 3.692 million viewers."
The story said, "Among the cable networks, Fox News dominated prime time with an average total audience of 2.634 million viewers, representing an increase of 6% from the same period one year ago. MSNBC was second with 1.194 million viewers (down 46% year-over-year, and CNN (774,000 viewers, representing a decline of 54% from 2021)."
Even a war cannot save CNN now.
ITEM 4: Hamas-Shielding AP reported, "Ukraine's President Volodymyr Zelensky says he's open for talks with Russia's President Vladimir Putin in Israel, but only if there is a cease-fire in place.
"Zelensky said Saturday he told Israel's Prime Minister Naftali Bennett that he would be ready to meet Putin in Jerusalem. Bennett visited Moscow for a meeting with Putin and spoke repeatedly with Zelensky and the leaders of France and Germany as he sought to help mediate an end to the war.
"Zelensky said Bennett informed him about his talks with Putin, adding that he can't share details.
"Putin has ignored numerous previous offers of talks from Zelensky."
I mentioned AP serving as a human shield for Hamas in Gaza City as a reminder to readers that AP picks sides in wars now.
ITEM 5: i24 News reported, "During an interview on Sunday, NATO Secretary-General Jens Stoltenberg said Moscow could be planning to deploy chemical weapons and echoed concerns from Western officials on potential Russian war crimes."
Projection?
ITEM 6
:
WND reported
, "While much of the free world is lamenting the deaths, possibly thousands, of Ukrainians in the war launched by Russia's Vladimir Putin against his neighbor's civilian population as well as the deaths of possibly thousands of Russian soldiers, that's all good news for Democrats.
That's according to a Democrat pollster, Celinda Lake of Lake Research Partners, who told the Washington Post, 'The good news is we now have a very specific reason for rising gas prices and a specific villain.'"
Republicans are the party of fools, and Democrats are the party of ghouls.
ITEM 7: The New York Post reported, "A woman shoved an elderly lady to the ground and critically injured her in an unprovoked attack in Manhattan's Chelsea neighborhood, police said on Saturday.
"The 87-year-old victim whacked her head when she was pushed from behind at West 28th Street and 8th Avenue around 8 p.m. on Thursday, police said.
"The victim remained in hospitalized in critical condition on Saturday, according to authorities."
Electing an ex-cop mayor did not stop this because he is as lefty as DeCommio was.
They want street violence. If they didn't, they would stop it.
ITEM 8
: A reader wrote, "Could you put a mention in Highlights tomorrow about this headline I found on
Citizen Free Press
yesterday?"
Sure.
The ACLJ reported, "Maryland Legislature Considers Sick Bill That Could Legalize Infanticide Up to 28 Days AFTER Birth."
The left is now legalizing murder. Pray for them. The devil trained them well.
I can see it now. Some thug in Baltimore beats an 87-year-old woman to death and then tells the police he thought she was only 28 days old.
TWEET OF THE DAY
: From Ricky Smith: "Tom Brady saw those gas prices and unretired."
Some men just can't handle retirement.
ITEM 9: AP reported, "The mayor of Portland, Oregon, recently banned camping on the sides of certain roadways, and officials are exploring other aggressive options to combat homelessness.
"An increasing number of liberal cities like Portland, Seattle and New York are cracking down on encampments after years of tolerating growing numbers of people living in tents.
"Officials justify the moves by citing recent violent homeless outbursts, littered encampments labeled as health concerns, and increasing homeless deaths. But advocates for people experiencing homelessness have denounced the maneuvers."
Ease the rules on involuntary commitment and get these people help. STAT!
ITEM 10: WND reported, "Alex Schadenberg, executive director of the Euthanasia Prevention Coalition, wrote on his blog that Jennifer Monaghan had been suffering for 17 years with an undiagnosed chronic pain condition and was considering euthanasia under the country's medical assistance in dying (MAiD) law. However, she changed her mind after finally being correctly diagnosed with a treatable medical condition. She shared her story with Citytv for an upcoming documentary called Veracity: MAiD in Canada."
Drop the i from MAiD because the law is MAD.
And I don't mean funny like the magazine.
ITEM 11: NBC reported, "Former President Barack Obama announced on social media Sunday that he has tested positive for coronavirus, but says that he is only dealing with mild symptoms from the virus.."
Maybe it was that super spreader birthday bash he had on Martha's Vineyard.
ITEM 12: Page Six, "Police called over dispute between Julia Haart and ex over $132K Bentley."
$132,000 Bentley?
LOL. Might as well drive a Lexus if you are that cheap.
ITEM 13: AFP reported, "Millions of people across China endured lockdowns on Sunday as virus cases doubled to nearly 3,400 and anxiety mounted over the resilience of the country's 'zero-Covid' approach in the face of the worst outbreak in two years.
"A nationwide surge in cases has seen authorities close schools in Shanghai, lock down central neighborhoods in the southern tech powerhouse of Shenzhen as well as whole northeastern cities, as almost 18 provinces battle clusters of the Omicron and Delta variants.
"The city of Jilin -- center of the outbreak in the northeast -- was partially locked down Saturday, while residents of Yanji, an urban area of nearly 700,000 bordering North Korea, were confined to their homes Sunday.
"China, where the virus was first detected in late 2019, has maintained a strict 'zero-Covid' policy enforced by swift lockdowns, travel restrictions and mass testing when clusters have emerged.
"But the latest flare-up, driven by the highly transmissible Omicron variant and a spike in asymptomatic cases, is testing the efficacy of that approach."
Chairman Xi is so addicted to lockdowns that he could run for governor of New York.
ITEM 14: ABC reported, "The U.S. and China are sending top aides to meet in Rome on Monday amid mounting tensions between the two countries over the Russia-Ukraine war and as a U.S. official reports that Russia in recent days has asked China for military equipment to help press its campaign."
Butt out.
Red China and America have enough problems of their own.
ITEM 15: 100% Fed Up reported, "A Delta Airlines flight attendant threatened a young black male wearing a face mask and F*ck Joe Biden sweatshirt that he would be kicked off his flight.
"After she threatened to have him removed from the flight, the young passenger, John L. Brooks, reluctantly agreed to remove his sweatshirt—but that wasn't enough for the triggered flight attendant, she still kicked him off the flight, but only after she threatened to have him placed on a no-fly list."
1950s TV show: SKY KING.
2020s TV show: SKY KAREN.
On the other hand, dude, really? There are children around.
ITEM 16: 7 inches of snow on Saturday in Poca.
Could be a top down day today.
In the meantime, I sing my favorite winter song: "Let it snow, let it snow, someplace else..."
ITEM 17: Breitbart reported, "The man who used to own the Delaware computer repair shop where Hunter Biden left his notorious "laptop from hell" says bankruptcy looms, as his life has been turned upside down by private citizens, tech giants, and federal agencies since the contents of the laptop became public.
"John Paul Mac Isaac, 45, tells the New York Post that he received a slew of death threats after the bombshell revelations on Biden's laptop became public and noted a Wilmington state trooper had to maintain a constant presence outside of his shop in Trolley Square."
The man should be a national hero for exposing the systemic corruption of the Biden Mafia.
Instead he is a pariah and the press ignores and covers up this story of Biden selling out our country to Red China.
The media ignores it because their corporate owners such as Disney sold out our country as well.
The story said, "Working with both the Obama administration and the Clinton campaign, Ukrainian government officials intervened in the 2016 race to help Clinton and hurt Donald Trump in a sweeping and systematic foreign influence operation that's been largely ignored by the press. The improper, if not illegal, operation was run chiefly out of the Ukrainian Embassy in Washington, where officials worked hand-in-glove with a Ukrainian-American activist and Clinton campaign operative to attack the Trump campaign. The Obama White House was also deeply involved in an effort to groom their own favored leader in Ukraine and then work with his government to dig up dirt on – and even investigate -- their political rival."
Once again, what Democrats falsely accused Trump of was exactly what they did.
Do you see why I am so tepid about Ukraine? Great people, but their government is so corrupt it belongs in Cook County.
ITEM 19
: Mitt Romney tweeted, "Tulsi Gabbard is parroting false Russian propaganda. Her treasonous lies may well cost lives."
She's a lieutenant colonel.
ITEM 20: the New York Post reported, "An elderly Ukrainian couple stood up to Russian soldiers who had broken onto their property — earning praise from the US Embassy for their remarkable bravery.
"Surveillance camera footage of the tense encounter was shared on social media by the embassy in Kyiv on Friday."
I have never been in a war. But if the Russians are so ruthless, why did they not just shoot and kill them?