ITEM 1: We will know gasoline prices poll very poorly for Biden when Pelosi calls in the CEO of Exxon to explain the price hikes to a House committee, and Pocahontas and Bernie call for a windfall tax.
Pencil in April 21st.
ITEM 2: The Ottawa Citizen reported, "Ontario may drop mask mandate by end of March; One new death in Ottawa."
They could have announced this a few weeks ago and had a peaceful end to the Freedom Convoy.
Instead the fascists unleashed the Royal Canadian Mounted Police.
Are we really sure we won the Cold War?
ITEM 3: The Economist/You Gov poll showed that despite a barrage of pro-war media coverage only 19% of Americans support "sending soldiers to Ukraine to fight Russian soldiers."
54% oppose.
You have to dig very deep in its poll story to find this gem. It is almost as if they were trying to manipulate the public.
ITEM 4: You learn so much on Twitter.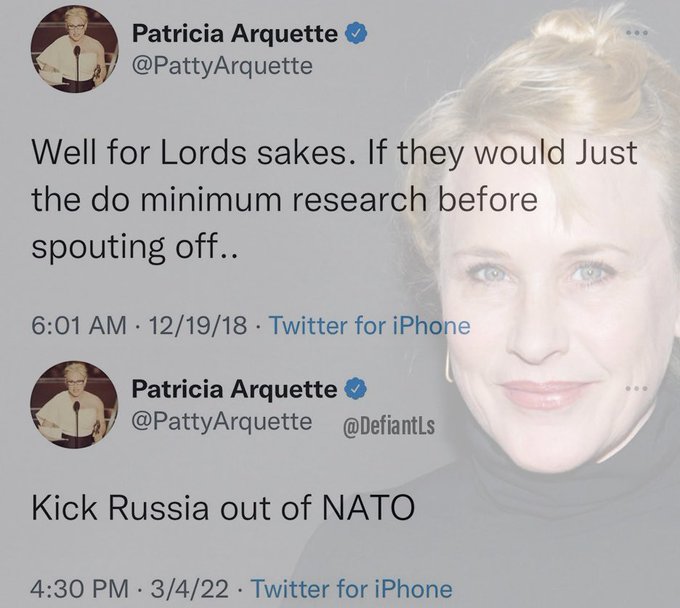 I liked her better when she played Charley Weaver on Hollywood Squares.
ITEM 5: Politico reported, "The Democratic super PAC American Bridge 21st Century is out with a $5 million ad buy in battleground states to boost President Joe Biden as the 2022 midterms kick off.
"TV, digital and radio ads will air in Pennsylvania, Georgia, Arizona and Nevada — a slate of states Biden won in 2020 where top Senate, House and gubernatorial races are on the ballot in 2022. The new ad campaign, shared first with Politico, will start on March 9 in Pennsylvania and Georgia and on March 15 in Arizona and Nevada. They are the first ads rolling out this year as part of American Bridge's midterm spending plan, which will reach into eight figures."
The ads are ahead of the primary races. Are Democrats afraid they will lose their own primary races?
ITEM 6: Fox reported, "The U.S. Senate has been invited to participate in a virtual meeting with Ukraine President Volodymyr Zelensky on Saturday, Fox News Digital has confirmed.
"All U.S. senators are invited to participate in the meeting taking place virtually at 9:30 a.m. Eastern Time."
Wow.
A foreigner gets to lobby all 100 senators directly. He will get billions in aid. What will the senators -- or more likely, their children -- receive in return?
The last time a foreign government had this much power was 31 years ago when Kuwait was invaded by Iraq. Kuwait's pleadings led to a war immediately, and a do-over war 12 years later.
ITEM 7: Gee, I wonder why parents are upset with school boards.
Peak leftist woke derangement is teaching elementary school children to say "Fuck DeSantis" in the name of love and tolerance 🥰 pic.twitter.com/kOj0xyI089

— David Leatherwood 🇺🇸 (@brokebackUSA) March 4, 2022
Johnny can't read but he sure can drop F-bombs.
ITEM 8: The New York Post reported, "Russia's parliament passed a law Friday that criminalizes fake news — and carries a prison sentence of up to 15 years — for journalists who contradict the country's official statements about the Ukraine invasion, according to officials and reports.
"Under the law, which is set to go into effect Saturday, journalists face the potential whopping jail sentence for intentionally spreading false information — including using such words as war and invasion to describe the Russian attack."
CNN and Bloomberg shut down their Russian bureaus.
American journalists demand censoring what they call misinformation and disinformation. Well, here you go. Enjoy it.
ITEM 9: Elon Musk tweeted, "Hate to say it, but we need to increase oil & gas output immediately.
"Extraordinary times demand extraordinary measures."
This is from a man who competes with gas-powered cars. Wherefore art thou, Ford?
ITEM 10: The New York Post reported, "A Canadian diner temporarily renamed poutine in order to show support for Ukraine after Russia invaded it. Poutine is a popular Canadian specialty of French fries and cheese curds, topped with brown gravy. When said out loud, it sounds similar to Putin — the Russian president's last name."
It still tastes like crap.
ITEM 11: Daniel Greenfield reported, "If the United States were being invaded and on the brink of conquest, I'd want a leader willing to do absolutely everything. So I'm not going to fault Zelensky for doing what's best for his country. (Likewise, Putin believes that conquering Ukraine and any other country that used to be part of the Soviet sphere of influence is what's best for his country. Nationalism is only as good as the country or its leader.)
"That said, the willingness of too many people to climb on board with whatever propaganda Zelenskyy or Putin are spouting this week is too much.
"Meanwhile, Jewish people and pro-Israel outlets seem happy to ignore the fact that Ukraine under its various governments has a history of consistently voting against Israel and with the terrorists at the UN. Instead, they're straightforwardly rerunning cringe nonsense like Zelensky comparing the bombing of Ukraine to the Holocaust. A particularly egregious argument considering that Ukrainians played a significant role in helping the Nazis kill Jews."
In not voting for the UN resolution, Israel must put Israel first. Just like Ukraine puts itself first.
ITEM 12: The Tampa Bay Times reported, "DeSantis says he'll veto congressional map. Florida lawmakers passed it anyway."
Three Republican governors worked hard to build up Florida's population in the last decade. The state gained two congressional seats. DeSantis wants Republicans to get both.
ITEM 13: AP reported, "The gunman who killed his three daughters, a chaperone who was supervising his visit with the children and himself in a Northern California church this week was in the United States illegally, immigration officials said Friday.
"David Mora, 39, overstayed his visa after entering California from his native Mexico on Dec. 17, 2018, on a non-immigrant visitor visa, U.S. Immigration and Customs Enforcement spokeswoman Alethea Smock told The Associated Press."
Under California's sanctuary law, no one could tell the cops Mora needed to be deported.
Three little girls and a chaperone paid the price for that law.
ITEM 14: The New York Post reported, "13 states have signed on to a Freedom of Information Act lawsuit seeking Biden administration records on any FBI surveillance of parents protesting school boards.
"Indiana Attorney General Todd Rokita, a former member of Congress, has taken the lead in the lawsuit against President Biden, Attorney General Merrick Garland and Education Secretary Miguel Cardona, citing a failure of U.S. officials to honor FOIA requests."
The FBI harasses Americans and spies on the political opponents of Democrats.
Either defund the FBI or change its name to Gestapo.
ITEM 15: Speaking of the Federal Bureau of Instigation, the Daily Mail reported, "A judge ruled that two undercover FBI agents who posed as members of a far-right militia snared for plotting to kidnap Michigan Gov. Gretchen Whitmer will have to testify in court using their real names.
"Chief U.S. District Judge Robert Jonker said the two agents, who have only been known as 'Mark' and 'Red,' will have to make their real identities known after the trial begins next week at the U.S. District Court in Grand Rapids, Michigan, the Detroit Free Press reported.
"Jonker said it was to ensure militia members Adam Fox, 38, Daniel Harris, 24, Brandon Caserta, 33, and Barry Croft, 46, are given a fair trial for their alleged role in the 2020 plot orchestrated with five other members.
"In his decision, Jonker wrote: 'Making it crystal clear to the jury and the public that inside the courtroom, nothing is undercover and everything is out in the open will best ensure fairness during trial and eventual acceptance and respect for whatever the jury ultimately decides.'"
FBI agents are sworn to defend the Constitution. The Eighth Amendment guarantees the right to face one's accusers.
The defense is this was entrapment. Make the FBI prove otherwise or drop the charges.
ITEM 16: The Washington Post gossiped, "Bolton says Trump might have pulled the U.S. out of NATO if he had been re-elected."
Trump also might have swam the Atlantic if re-elected, thrown a dollar across the Potomac if re-elected, and pinned Bolton down to shave off his stupid moustache if re-elected. We will never know.
We do know that Biden abruptly surrendering Afghanistan permanently rendered the USA untrustworthy in the eyes of NATO. Knifing our allies did more harm than a million mean tweets.
That the weasels in Washington consider fools like Bolton to be experts explains much of the damage DC has inflicted upon the nation in the post-Reagan era.
ITEM 17: Reclaim the Net reported, "President Joe Biden's Surgeon General Dr. Vivek Murthy formally requested Big Tech companies submit data on the prevalence of COVID-19 misinformation on social media, instant messengers, search engines, e-commerce platforms, and crowdsourcing platforms.
"The request for information is part of the Covid National Preparedness Plan that Biden announced during the State of The Union address on Tuesday. The surgeon general's office wants platforms to submit data on the prevalence of alleged Covid misinformation, beginning with the common examples of such misinformation outlined by the CDC."
Given how much misinformation came from government officials, maybe we should ban all federal employees from Twitter.
ITEM 18: The Post Millennial reported, "New York Mayor Eric Adams announced on Friday that, as of March 7, the city will be suspending the Key to NYC requirements, meaning that the city will drop proof of vaccination documents for indoor venues such as restaurants, bars, gyms, and entertainment venues.
"Adams said in his announcement that businesses will be allowed to choose whether they keep proof of vaccination or not. School children will no longer be subject to mask requirements."
The city said people will die without these restrictions.
In lifting them, is the city saying it no longer cares if people die?
ITEM 19: AP reported, "A Florida school superintendent who defied Gov. Ron DeSantis on pandemic masks for students has been fired by the local school board.
"The 3-2 vote to terminate the contract of Carlee Simon came late Tuesday night by the Alachua County school board.
"A key vote for termination was that of board member Mildred Russell, who was appointed in August by the Republican governor to replace a member who did not live within her district.
"In a statement prior to the vote, Simon called it retribution for her stance against DeSantis and his opposition to mask mandates in Florida schools. Alachua County was one of about a dozen districts that risked loss of state funding by requiring masks during the coronavirus pandemic."
Simon played politics instead of taking care of business.
ITEM 20: The Times of London alleged, "Volodymyr Zelensky survives three assassination attempts in days."
Yes, those bullets just bounce off his chest, don't they?
Has Lex Luthor Putin thought of using kryptonite bullets?
FINALLY, as you may recollect, the Cleveland Indians will change their name to Guardians when the new season begins. Opening Day will end 107 years of being named for Louis Sockalexis, the first Indian to play major league baseball. He was a member of the infamous Cleveland Spiders, who in their final season posted a 20–134 record as the owners of the team bought a team in St. Louis and traded all the good players to it.
Chief Sockalexis was not among the players traded.
But Indians name remains as the players union and the owners are arguing over a contract. This is delaying spring training, which likely will push Opening Day back.
From the great diamond in the sky, Chief Sockalexis looks down upon us mere mortals and laughs and laughs and laughs.
Now for a totally unrelated video.