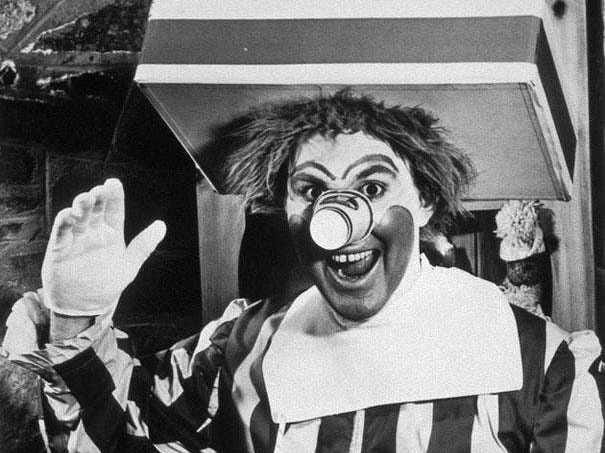 The headline over Michael Goodwin's column in the New York Post today read, "When it comes to Russia, Joe Biden you are no Ronald Reagan."
Reagan? He's not even Ronald McDonald.
In its madness to rid Washington of President Donald John Trump, the New World Order installed an imbecile who gave away Afghanistan last August. The leader of the free world can barely eat an ice cream cone.
Biden was the best The Establishment had to offer. President Buttigieg would be on paternity leave right now. President Sanders would be screaming at the clouds demanding rain equity. And President Romney would be calling Zelensky a moron.
Goodwin's column recalled how Reagan stood up to both the Soviets and their useful idiots in Washington.
Goodwin wrote, "Before the National Association of Evangelicals, Reagan quoted from the Bible and America's Founders to argue that communism was godless and that ministers should understand the two systems of government were fundamentally at odds.
"Here is a key section: 'So, in your discussions of the nuclear freeze proposals, I urge you to beware the temptation of pride, the temptation of blithely declaring yourselves above it all and label both sides equally at fault, to ignore the facts of history and the aggressive impulses of an evil empire, to simply call the arms race a giant misunderstanding and thereby remove yourself from the struggle between right and wrong and good and evil.'"
A DC that sought a President Mondale, denounced Reagan but the Soviet leaders soiled themselves because he dared call them out. We won. They lost.
Today, Goodwin's paper called for the West to consider stopping a slaughter in Ukraine.
Consider?
But sadly, that is all the West can do now. Consider.
The editors at the New York Post know easy times in post-Reagan America have led to soft leaders who leave it to others to do the heavy lifting. Look at gay marriage. Congress ducked the issue and left it to the Supreme Court to decide. This allowed congressmen to continue to pocket donations (bribes) from both sides, which is what Congress does best now.
The editorial ended, "Biden needs to stop saying with certainty that 'we will not fight Russia,' as he's done multiple times. Telegraphing exactly what we will and will not do gives Putin more time and flexibility to tighten his grip on Kyiv.
"Global opinion has turned against Russia. Even erstwhile allies are horrified about where this is going. So far President Biden has shown admirable restraint, hurting Putin where he can and seeing if diplomacy — and the Ukrainians own amazing resolve — can win the day. But like Adolf Hitler and Joseph Stalin before him, Putin does not act rationally or with any care for human life.
"And, like Hitler and Stalin before, history will judge harshly the nations that let him get away with it — and that's us."
But post-Reagan Russia has had easy times as well. The peasants remain peasants but with color TVs. The communist leaders are now billionaire oligarchs with dachas overseas. Some call the capital of England Londongrad.
Putin leads an army of drunkards.
A joke making the rounds is they found the man responsible for the downing of 12 Russian jets in Ukraine. The other Russian mechanics don't like him.
Putin is conducting a surgical strike with a rusty butter knife.
Newsweek reported, "Russia's military is weak and backwards.
"Vladimir Putin's invasion of Ukraine produced this paradigm-shifting surprise—one that should transform the West's view of Russia's prowess, the threat that the country represents, and the Kremlin's future in the global arena."
The story pointed out, "With the exception of long-range strikes, almost everything about the initial salvos of the Russian invasion failed. Ukrainian air defenses were not disabled. Ukrainian airfields were not put out of action. Ukrainian defenders were able to hold their ground and move largely unfettered around the country. Ukrainian reserves and civilian defenders rapidly mobilized. Russian airborne and special forces inserted deep inside Ukraine were isolated from the main Russian force on the ground, cut off from the basics, especially ammunition resupply."
Don't laugh because the incompetence makes the situation more dangerous.
The story said, "After just one day of fighting, Russia's ground force lost most of its initial momentum, undermined by shortages of fuel, ammunition and even food, but also because of a poorly trained and led force. Russia began to compensate for the weaknesses of its land army with more long-range air, missile and artillery strikes. And President Putin resorted to a nuclear threat—a reaction, U.S. military experts say, to the failure of Moscow's conventional forces to make quick progress on the ground."
It's not a nuclear threat. It is a nuclear promise. He is in too deep to quit.
What looked like a stroke of genius last week by invading Ukraine quickly revealed itself to be a trap. Neither Putin nor Zelensky can leave and retain their presidency.
The USA is unable to intervene militarily or diplomatically because we are led by a derelict. The world deserves better.
Animal Farm ends with the pigs dining with the farmers. Sure, Russian oligarchs are pigs, but our leaders are even worse because they are willing to sit at the table with pigs.
And those who dine with swine installed Biden as president.
The solution is to vote Democrats out of Congress and install so many Republican senators that we can shut Romney up. In 2024, we take back the White House and never look back.
***
Coming up at 7 PM: "The Wreck of the Felicity Ace." Gotta lighten up in midweek.